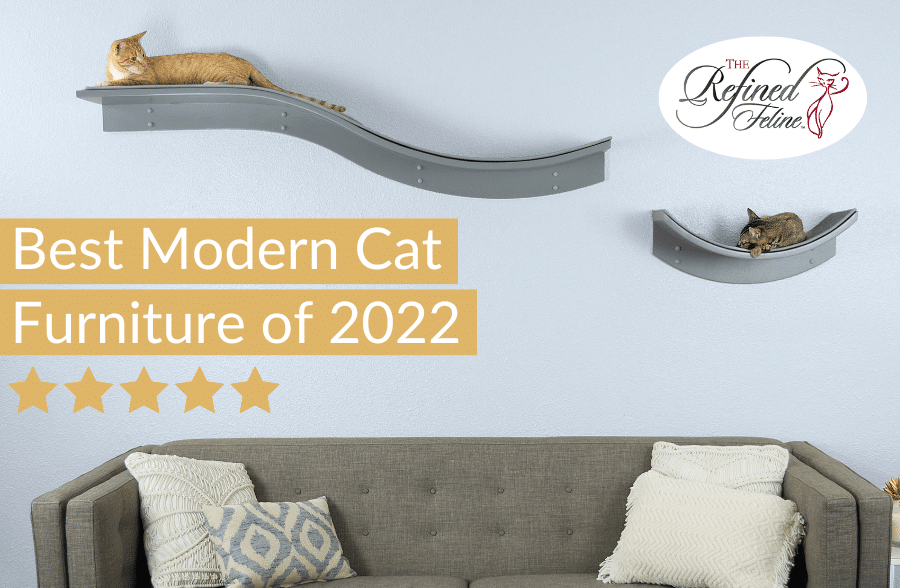 Best Modern Cat Furniture of 2022 From The Refined Feline
As feline fanatics, we know that our cats deserve the very best. From top-quality foods to the best modern cat furniture and toys, we want to ensure that our cats are always as healthy and happy as possible! However, for as long as we can recall, there has been an ongoing struggle between our beautiful homes and the not-so-beautiful cat furniture you frequently see at the pet store. The Refined Feline is here to finally end this struggle!
The Refined Feline designs top-quality modern cat furniture that is durable and stylish. It is made to blend in the decor of your home, instead of being an eyesore. Cat furniture from The Refined Feline is made to last because it's designed in a way so that all of the wearable parts can be cleaned and/or replaced. The cat furniture pieces are available in several types of wood finishes to match your home decor. Many products are even customizable so that you can design the purrrfect piece for your home.  Now is the time to invest in your cat's happiness and transform your home with the best modern cat furniture from The Refined Feline!
Best Modern Cat Furniture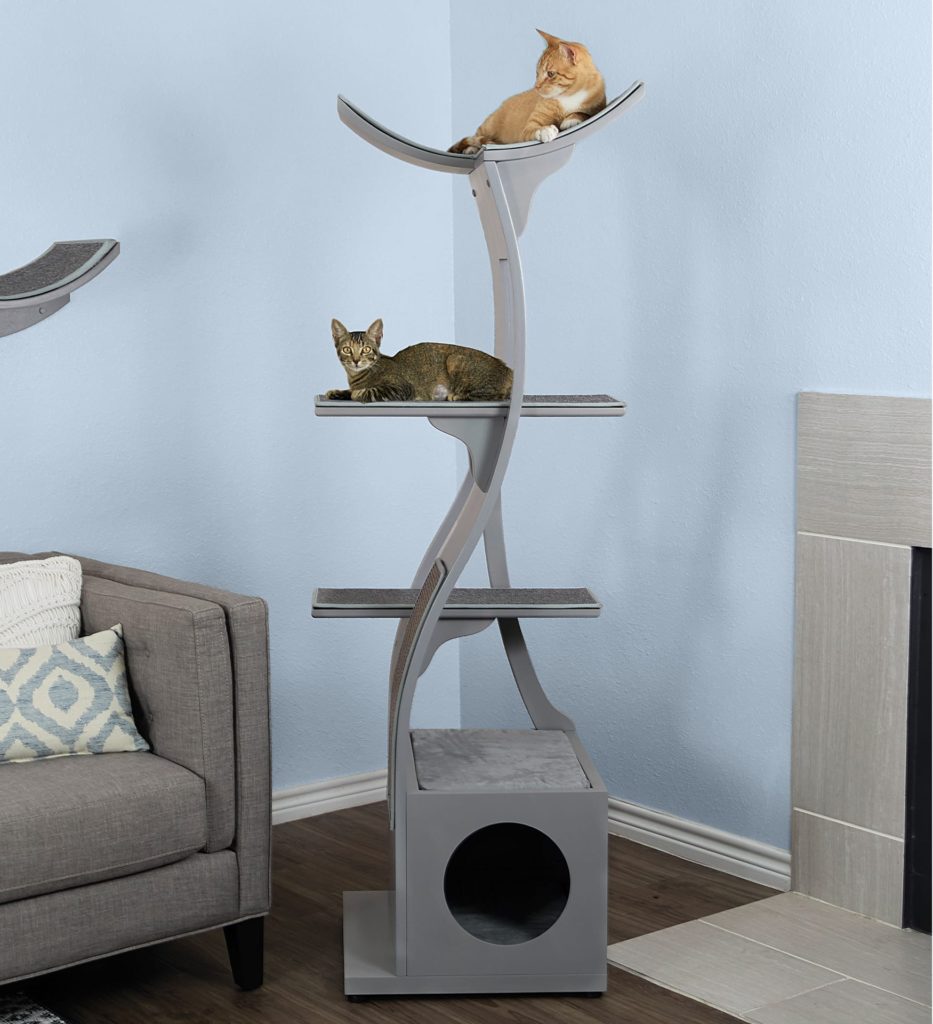 Best Modern Cat Furniture: Best Cat Tree
If you have been searching the internet in search of a sleek modern cat tree, we've got you covered. Finally, there's a cat tree that you'll actually want to have in your living room, bedroom, or both! You no longer have to be stuck with tacky carpeted cat trees that are an eyesore. The Lotus Cat Tower delivers for both humans and felines. You'll love the look of this real wooden cat tower and your cat will love the design of it for its climbing capabilities, lounging areas, and scratchpad!
Cats can keep themselves entertained endlessly on this cat tree, exploring every surface and corner. There are tons of modern colors to select from as well, giving you even more ability to customize and blend this tower in with your existing furniture. With it's large design, your cat will have a great vertical space for peering out of the window or just relaxing. It's also great for single or multiple cat households.
★★★★★"The tower is aesthetically pleasing and very functional. My cats love hanging out on it! A very nice, quality piece of furniture! -Keli
[box]
Features:
Sisal Scratchpad
Multiple perches
Cushion, carpet, & scratchpad are detachable for cleaning or replacement
Cushioned den
Easy assembly with all tools included
Details:
Materials: Ply wood with oak veneer, berber carpet, sisal
Dimensions: 20″ w x 20″ d x 69″ h
Colors: Espresso, Mahogany, Smoke, White (limited edition!
Weight: 72 lbs
[/box]
………………………………………………………………………………………………………………………………………………………………

Best Modern Cat Furniture: Best Elegant Cat Condo
If you're really looking for something extra stylish, the Metropolitan Cat Condo is for you. People will be shocked that it's a piece of cat furniture! The lasting metal frame makes this sturdy cat tree look more like a regal bookcase than your traditional cat condo. With multiple levels, your cats can climb and explore easily. The open design makes it a perfect perch for viewing the outdoors if placed near a window or door. With the ability to customize the colors and platforms, you can find the most elegant, stylish combination for your home.
★★★★★ "And I thought this thing was beautiful in the pictures. It's truly a gorgeous piece of furniture! My cats took to it right away and love it! So do I!" -Christy
[box]
Features:
Easily blends into any home's decor
Carpeting is detachable for cleaning or replacement
Platform with built in food bowl available
Mix and match frame color & platform color
A hanging cat toy can be added on
Includes wall anchor for added stability
Easy assembly, all tools included
Details:
Materials: Metal, fabric, sisal
Dimensions: 31" w x 15" d x 62" h
Platform: 13" h x 18.5" d
Colors: White, Gold, Grey, Black
Weight: 62 lbs
[/box]
………………………………………………………………………………………………………………………………………………………………
The Best Modern Cat Furniture: Best Raised Cat Bed
If your cat needs more resting places, try adding different types of cat beds to your home. Cats like to have several sleeping areas, so providing more for them will keep them happy! The Kitty Ball Bed can satisfy your cat's urge to be at higher elevations while also having a comfy spot to nap. With its single opening, it allows your cats to feel safe while also being able to observe everything going on around them. The faux rattan material is incredibly durable. It can withstand any and all claws that come its way. The weighted base also helps provide support by preventing the ball from toppling over. This cat bed includes a soft cushion inside. The best part is that the Kitty Ball Bed it looks good in any home, regardless of the style!
★★★★★"My cat loves this bed. I never see her out of it now! She watches everything from her cat bed & doesn't seem to want to come out!" -Toni
[box]
Features:
Elevated cat bed
Blends in with your home
Material is claw proof
Machine washable cushion
Details:
Materials: Hand-woven faux rattan
Dimensions: 17" w x 28" h
Dome is 11" off of the ground
Colors: Smoke, Espresso
Weight: 14 lbs
[/box]
………………………………………………………………………………………………………………………………………………………………
The Best Modern Cat Furniture: Best Hideaway Cat Cave Bed
Cat bed and stylish are two words that don't go together often, but the Purrrrfect End Table changes that. This end table is designed to be functional for humans as it doubles as a beautiful modern end table that comes in multiple wood finishes. Your cat will have a comfortable hiding spot right next to you! This hidden spot features a cushioned bed for the cat that wants to be a part of the action but also wants some privacy. The end table is covered in durable scratch pads, so don't worry about the finishes being scratched up. The best part about this cat furniture is that the cushion and scratchpads can be cleaned and/or replaced.
★★★★★"Another successful purchase from The Refined Feline. This was fairly easy to put together. The quality is great and looks really nice as usual with this company. Most importantly my cats all love it." -Michael
[box]
Features:
Multifunctional cat bed, cat scratcher, and end table
Scratchpads can be removed and replaced when worn
Includes machine washable cushion
Details:
Materials: Wood, sisal, fabric
Dimensions: 20" w x 22" h
Colors: Espresso, smoke, mahogany
Weight: 24 lbs
[/box]
………………………………………………………………………………………………………………………………………………………………
The Best Modern Cat Furniture: Best Wicker Cat Bed
If you're searching for a gorgeous and functional napping space for your feline that is low-profile, the Igloo Cat Bed Deluxe is the perfect choice. This versatile cat bed gives cats the privacy they crave, making them feel safe and secure. You'll love this cat bed as it serves a function for you doubling as a wooden tabletop. It's also made of claw-proof, durable faux rattan and is available in two colors. You'll love the versatility of this cat bed and your cat will adore the comfy area for themselves.
★★★★★"I expected her to ignore it, like most cats when you buy them something. By day 5 she regularly used it as her daytime nap spot. She is in it right now as I type this, she has found it very relaxing and comfortable. She is 14 and I thought for sure she wouldn't be into it..I was pleasantly surprised! She is about 14 lbs." – Chase
[box]
Features:
Dual cat bed and end table
Claw-proof material
Includes machine washable cushion
Details:
Materials: Hand-woven faux rattan, wood substrate
Dimensions: 25" d x 20" h
Colors: Espresso and Smoke
Weight: 17.5 lbs
[/box]
Related: Best Cat Beds (A Review From Our Cats)
………………………………………………………………………………………………………………………………………………………………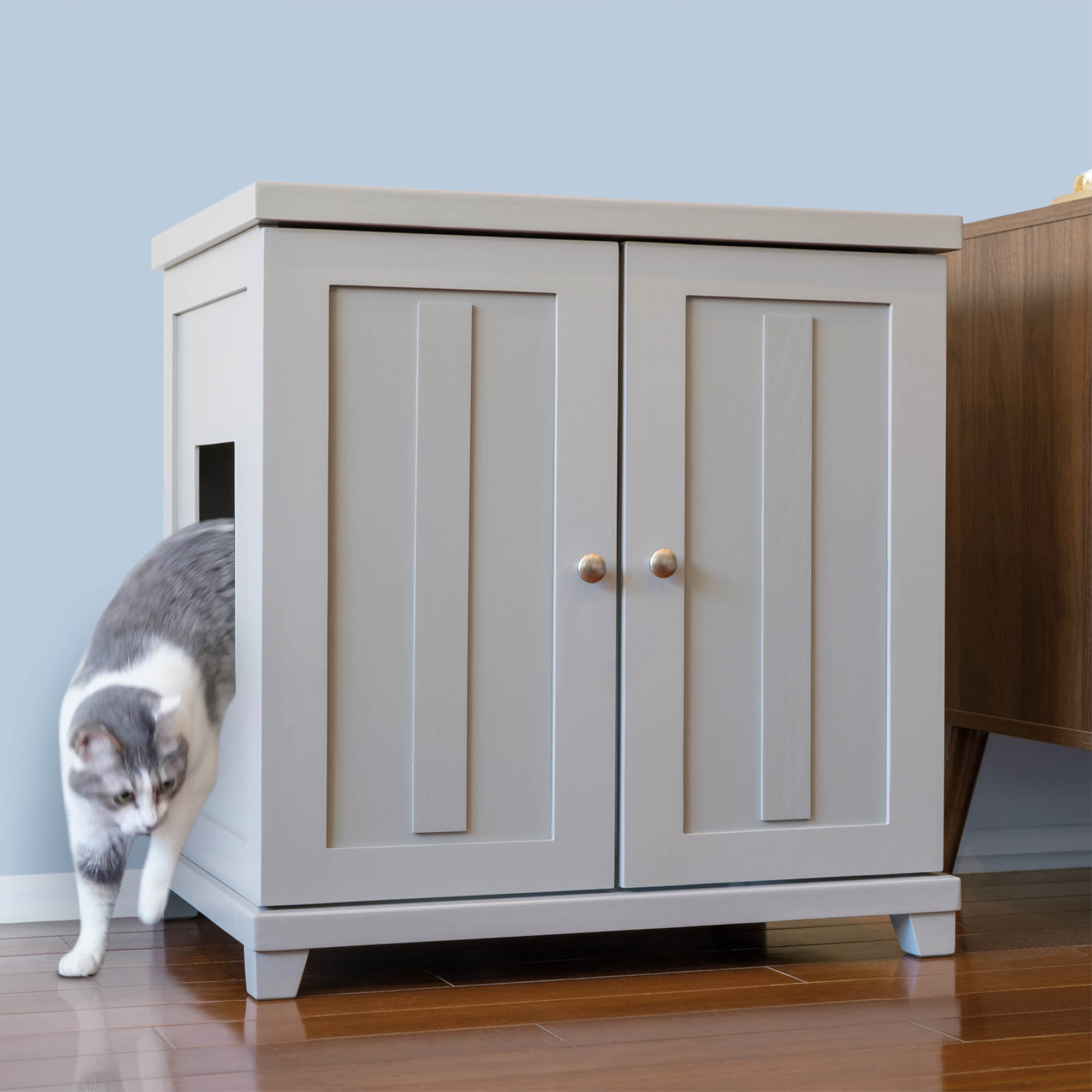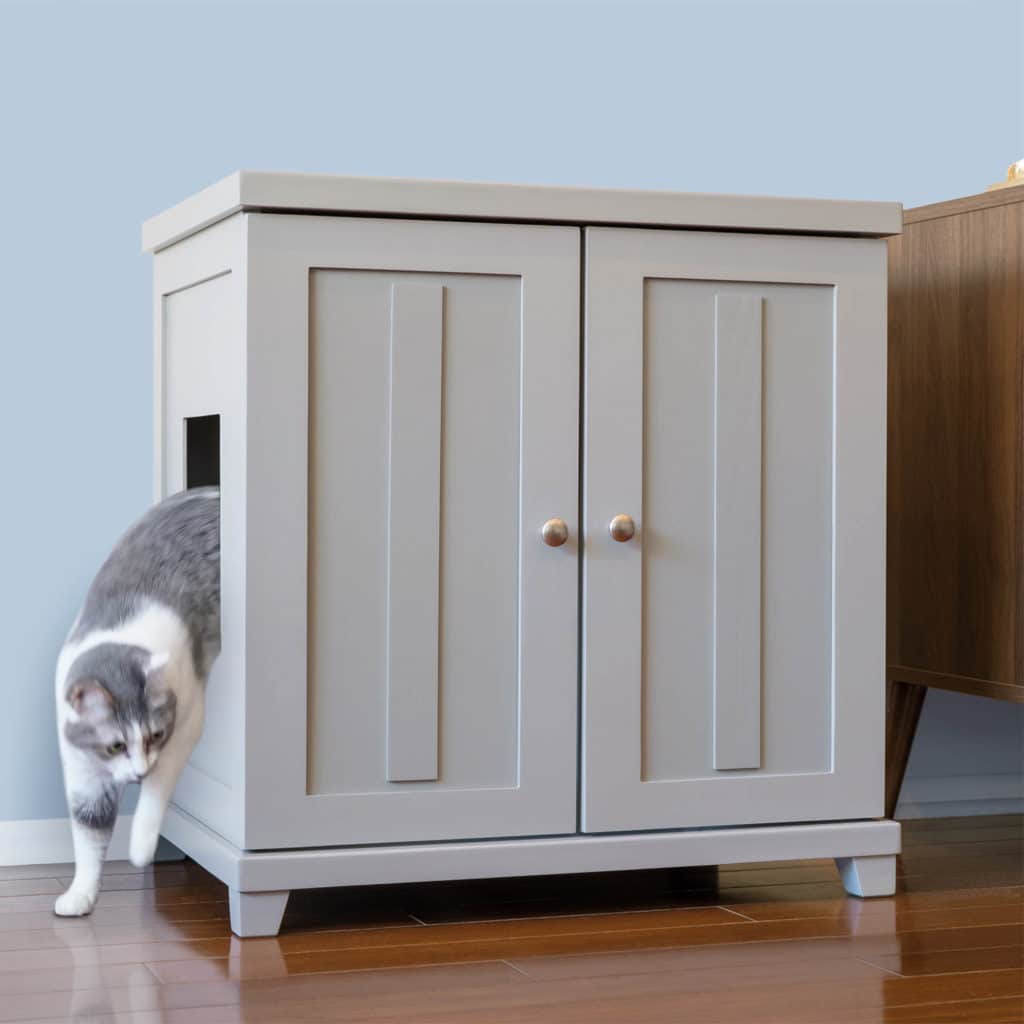 Best Modern Cat Furniture: Best Cat Litter Box Furniture
Being a cat parent also means having to deal with the cat's litter box. Keeping it clean and trying to keep odors to a minimum can be a workload. It's the least favorite chore of anyone who owns cats, but it can be managed. The Refined Cat Litter Box Deluxe is the litter box that can do the job.
This wooden cabinet-style piece of furniture disguises your cat's litter box and looks amazing wherever you place it in your home. With the litter box securely hidden inside, the ventilated slots in the back are made to fit carbon filters that prevent a lot of the odors from going into your home.  This cabinet will also reduce the amount of litter tracked onto your floor.
You can even add on the matching Litter Catch to catch any excess litter that's on your cat's paws as they exit the letter box. This cabinet is fully-customizable too so that it fully blends in with your home decor whatever it may be! The cabinet doors come in Modern, Shaker, Farmhouse and Cottage designs. The available feet styles are Round, Tapered, Tulip, Square, Mid-Century or no feet at all. No one will ever guess that there is a litter box hidden inside this beautiful cabinet. No more pesky litter box odors with this elegant cabinet!
★★★★★"We are extremely pleased with this litter box enclosure. It's built every bit as well as any home furnishings you can buy. The fit and finish are outstanding and it looks great. The size is perfect and tall enough so that you can use the top as work surface or to put a lamp or display magazines etc. It's easy to clean and the inner liner catches a lot of loose litter. Best of all, the cats took to it immediately. Highly recommended." -Bruce
[box]
Features:
Multiple sizes to fit any litter box
Customizable design
Internal storage drawer
Reversible entry
Ventilation slots for carbon filters
Plastic litter liner included
Details:
Material: Wood
Large dimensions: 27.5" L x 20" W x 27" H
XLarge dimensions: 33.5" L x 22.75" W x 28" H
Colors: Mahogany Brown, Espresso Black, Smoke Gray, White
Weight: Large is 40 lbs, XLarge is 50 lbs
[/box]
………………………………………………………………………………………………………………………………………………………………



Best Modern Cat Furniture: Best Wooden Cat Wall Shelves
Walls aren't made for just photos. The Refined Feline's cat wall shelves bring beauty and function to every room of your house. The smaller Lotus Leaf Cat Shelf offers your cat the perfect place to have a little cat nap. Want a little more room? Check out the larger Lotus Branch Cat Shelf! These solid wooden cat shelves give your cat the opportunity to be higher up so they can observe everything around them. Your cat can peer through a window or simply perch on a wall near you in the living room. This shelf offers cats the ultimate opportunity to explore and relax.
Create your cat a playground of its own, by placing the shelves near the cat tree for a way up and access to more height. You can also mix and match multiple shelves. These shelves are super versatile and can be worked to fit into any room decor. The shelf can be lined with a berber carpet for comfort or faux fur if you select the white color.
★★★★★"Our cats love these! It has been great for everyone to have increased kitty territory through putting up shelves and wall beds, and all six of them immediately started using the lotus leaf shelves (we have four, so far). They are well made and look good, too." -Carol
[box]
Features:
Modern finishes match your home's decor
Carpets are removable, washable, or replaceable
Can be screwed into wall studs for extra support
Details:
Materials: Bent ply, berber carpet, faux fur
Leaf dimensions: 22" long, 10.5" deep
Leaf Weight: 6 lbs
Branch dimensions: 60.25″ long, 10,5″ deep
Branch weight: 14 lbs
Colors: Smoke, Mahogany, Espresso, White
Price: $74.99-$79.99
[/box]
………………………………………………………………………………………………………………………………………………………………
Best Modern Cat Furniture: Best Steel Cat Wall Shelves
Cats love to be up high for several reasons. It is in their nature to be both prey and predators so, they enjoy being able to get a birds-eye view of their surroundings. Having lots of locations for your felines to explore can be very beneficial.
The sturdy Cat Clouds Cat Shelf gives your cat a two-step shelf to perch up on their favorite spots around your home. Cat wall shelves are very good for small spaces because they provide cats with the room to roam without taking up any of your floor space. You can also place multiple shelves near each other if you have have multiple cats. The Cat Cloud shelves are made of sturdy powder-coated steel and include soft pads for both of the spacious platforms. The shelves may just become your cat's new favorite lounge area!
★★★★★"Started buying these shelves in 2016 for our cats. As we head into 2022, they still look brand new. When guests visit, the clouds are not only great conversations pieces, but also safe perches. The cats have a place to safely hang out while strangers are around. We've hung enough of them on our walls to create a kitty super highway. All three cats put these to good use. Thoroughly used by all our cats, with years and years of future use. " -Alan
[box]
Features:
Modern finishes match your home's decor
Carpets are removable, washable, or replaceable
Can be screwed into wall studs for extra support
Details:
Materials: Powder-coated steel, magnetic faux sheepskin pads
Dimensions: 38" w x 10" d x 10" h
Platforms: 20" w x 10" d
Colors: Off-White, Titanium, White
Weight: 15 lbs
Price: $149.99
[/box]
You May Also Like: Fashion For Cat Lovers
………………………………………………………………………………………………………………………………………………………………
Best Modern Cat Furniture: Best End Table Cat Scratching Post
Another essential for your cat's health and happiness is a scratching post. Cats have the natural urge to claw to allow for their nails to shed, typically through scratching rough surfaces. Giving your cat specific items to do so will help with keeping your furniture looking as good as new too. There are so many options of scratching posts and items out there that can offer your cat a scratching surface. There is one product that stands out from the rest.
The A-Frame Cat Bed is more than just a comfortable place for your cat to nap. It offers a private spot for your cat to sleep and functions as a scratching post with one side featuring a large sisal scratchpad. The scratchpad is made of highly durable sisal and the height lets your cat to fully stretch while using it. Lastly, the top of the frame serves as a table for your items. How convenient! This multi-functional piece of cat furniture is going to be your favorite new addition to your household. It's perfect for homes of all sizes!
★★★★★"Love this item! It's a side table, a cat scratcher and a cat bed all in one! Sturdy and attractive – highly recommend this. There are a lot of screws but it's not difficult to assemble and once done you won't regret it!" -Maria
[box]
Features:
Dual-purpose cat bed, scratching post, end table
Ventilated base for heating or cooling of the bed
Machine washable cushion
Details:
Materials: Solid wood, sisal, fabric
Dimensions: 23.6" w x 14.8" d x 28" h
Scratchpad: 20" by 20"
Colors: Smoke, Espresso, Mahogany
Weight: 17.5 lbs
[/box]
………………………………………………………………………………………………………………………………………………………………
Best Modern Cat Furniture: Best Cat Scratching Post
More familiar with the traditional scratching post is the Calypso Everlasting Cat Scratcher. Don't be fooled, it is not traditional at all. With its stylish design, it's built to endure claws. It's made of hand-woven faux rattan, making it strong and durable. It will last a lifetime. The Calypso Everlasting Cat Scratcher is built to last and won't leave a mess around the house like those cardboard scratching posts.
It's wired frame is surrounded by poly rattan and features a weighted base to provide support. With it's modern and chic design, there's no problem fitting in with any decor you may have in your home. If you've got a larger cat, there's an option of a larger weighted base to prevent tipping. The height of the post allows cats to stretch out and claw as they may!
★★★★★"Love it! It's sturdy and is a good looking post. Shipping was very fast ordered it on Friday and received by Monday!" -Jeri
[box]
Features:
Modern design made to blend in with your home
Claw-proof material won't fray or break
Weighted base prevents tipping
Wider base available for larger cats
Details
Materials: Wire, wood, faux rattan
Dimensions: 31" h x 16" d
Colors: Espresso, Smoke
Weight: 9 lbs
[/box]
………………………………………………………………………………………………………………………………………………………………
The Best Modern Cat Furniture from The Refined Feline
This list of modern cat furniture should give you tons of ideas on how to design your home to fit you and your cat's needs. All of the pieces are built with design in mind and to last a lifetime. Your cat will love all the exploring, scratching, and sleeping spots they'll have and you'll love how beautifully they complement the design of your home.