Any cat lover knows how much cats love to nap. Did you realize that cats can spend anywhere from 15-20 hours a day sleeping? It's called a catnap for a reason! This is why it's super important to find a cat bed that is purrrfect for your cat. Every cat parent has bought a cat bed only to find out that their furry feline enjoys the box more than the bed. So, we spent our time researching and curating this list of the best cat beds that your cat will (hopefully) like better than the box. Our team of cats tried everything from the cat cave bed to heated cat beds to figure out which was the best. Here are our top picks!
Best Cat Beds of 2021 By Category:
Best Cat Cave Bed: Bedsure Cat Bed for Indoor Cats
This Bedsure Cat Bed for Indoor Cats is the purrrfect cat cave. Made with super soft materials, it gives your kitty a nice enclosed space to feel safe in. Some cats can scare quite easily, and will seek out a small shelter that surrounds them. Cats are prey in the wild too, so having a bed that encloses them will help them feel out of harm's way. The bed can also be folded up to turn into a more flat surface for sleeping too. The bottom of the bed is non-skid offering added security when your kitty shifts around. It can be placed on the floor, couch, bed, closet, anywhere your cat may want to catch a few zzz's.
$22 On Amazon
Pros: Perfect for anxious or shy cats, machine washable inner cushion, soft materials, multiple sizes
Cons: May be a little small for bigger cats – check the dimensions just to be sure!
Features:
Can be used as a cave-like bed or a flat surface bed
Made of supportive foam
4.5 out of 5 stars
Material: Foam, microfiber
Best Plush Cat Bed: The Original Calming Donut Cat Bed
When your cat desires luxury and deep sleep, nothing beats feeling like they're sleeping on a cloud. This soft donut cat bed from Best Friends by Sheri delivers just that feeling, or at least we can imagine. (It's not like we slept on it ourselves… At least we won't' admit that we did). Your cat will be reminded of sleeping on their mom with how plush and furry this bed is. Sinking into faux fur, this cat bed will hug your cat keeping them cozy and warm no matter what the weather. The high-loft recycled polyester fiber inside of the bed helps cushion your feline to slumber away the day. It's deep enough to offer some security while also allowing your cat to stretch out a little. The bottom is also water-resistant and non-skid. Plus, if it ever gets dirty just toss it in the washing machine! (Just make sure to throw it in the dryer right after!)
$33 On Amazon
Pros: Plush material, removable washable cover, pet-safe materials, a wide variety of color choices, different sizes.
Cons: According to reviews, it may not hold up well after multiple machine washes.
Features:
Made of pet-safe materials: nylon faux fur & non-toxic premium filling
Non-skid & water-resistant bottom
The removable cover can be machine washed
Free returns
4.7 out of 5 stars
Best Heated Cat Bed: K&H Pet Products Mother's Heartbeat Pillow
If you live in a colder climate or foster young kitters, you may want a cat bed that gives a little extra warmth. This heated cat bed also features a heartbeat rhythm specifically designed to mimic the heartbeat of a mother cat to help reduce stress & anxiety. (This bed has been tested & certified by MET Labs to exceed USA electrical safety standards). It is also available in multiple sizes with multiple types of heartbeats.
$50 On Amazon
Pros: Great for young kittens or new cats, reduces stress and anxiety
Cons: Requires electricity, Not a lot of stock when we last checked
Features:
Provides warmth and optional heartbeat
One year warranty
Free returns
4.2 out of 5 stars
Best Cooling Cat Bed: The Original Elevated Pet Bed by Coolaroo
Cat owners know how much felines love to lay in the sun and look out windows. Your furry friend can lay in the sun in this elevated cat bed without overheating! The breathable high-density polyethylene (HDPE) fabric helps eliminate hot spots. It also features a lightweight but strong steel frame that is durable and strong enough for cats of all sizes. The design of this bed makes it great for both indoor and outdoor use.
$25 On Amazon
Pros: Easy to assemble, helps keep pets cool, great for indoor & outdoor use, multiple sizes available
Cons: Some recent reviews say that customer service is lacking
Features:
Pet-safe materials: 100% recyclable lead & phthalate-free fabric
Quick assembly
4.6 out of 5 stars
Flea, mite, mold, and mildew resistant
Best Functional Cat Bed: A-Frame Cat Bed
When was the last time you could use your cat's bed too? If the answer is never, you're not alone. Most cat beds serve one purpose and generally, they do it well. Wouldn't it be nice though to have something that serves a purpose for you too? The A-Frame Cat Bed does just this. This functional cat bed offers a great hideaway and also features a ventilated base. So, it can be placed over an air vent for heating or cooling of the cushion. It even offers a large scratchpad for kitties to fully stretch and scratch away on. (Plus, if it ever gets worn out it can be replaced!) Last but not least, it also has a tabletop for you to keep anything and everything. Not only can you provide your kitty a place to sleep and scratch, but also give yourself a little extra surface space.
$99 From The Refined Feline
Pros: Multi-functional, high quality, modern style, available in multiple colors, scratchpad is replaceable if worn out
Cons: Older cats may want a bed closer to the ground
Features:
Easy assembly with all needed tools included
Includes a cushion with a washable cover
Ventilated base allows heating or cooling if placed over an air vent
4.5 out of 5 stars
Material: Solid wood, fabric, sisal
Best Cat Bed For Older Cats: Furhaven Orthopedic Memory Foam Bed
This pet bed may be targeted towards dogs, but it's constructed from supportive orthopedic memory foam. Arthritic or older cats may have trouble getting in and out of a soft plush bed. This orthopedic bed is ideal for both cats and dogs and comes in multiple sizes and colors. The front has a low threshold so cats with mobility issues don't have to lift their limbs excessively. They can stretch out while feeling supported by the backing. The medical-grade foam offers joint support and soothes pressure points for a deeper sleep.
$24 On Amazon
Pros: Perfect for older cats, good for pain relief, multiple sizes and colors, cover can be washed
Cons: Not the best looking
Features:
Washable outer cover
Orthopedic memory foam
4.5 out of 5 stars
Material: Plush faux fur, foam
Best Modern Cat Bed: The Purrrrfect End Table
Seeing a cat sleeping in the Purrrrfect End Table, you'd think the feline simply overtook the space, but looks can be deceiving! This modern cat bed end table is actually a cat bed first and foremost. With its innovative design and functionality, no one will know it's a cat bed until it's occupied. It's made from solid wood and the bed area has a soft cushion that can be machine washed. The tabletop holds all of your essentials easily when placed next to the couch or your bed. There is also a small internal shelf inside the end table as well for added storage. Plus, the sides of the table have scratchpads for your kitty to stretch and sharpen their nails on. The bed area is also enclosed just enough for them to feel secure and safe while still being able to observe their surroundings. It's the perfect place for a cat who loves company but doesn't always want to be on a lap. Available in multiple wood finishes, it truly is the purrrfect accent for any home.
$130 From The Refined Feline
Pros: Dual-purpose saves space, high-quality construction, available in multiple colors
Cons: Your cats may take a minute to realize it's for them!
Features:
Multi-functional for both cats and humans
Machine washable cushion
Easy assembly
Price: $129.99
5 out of 5 stars
Material: Solid wood, sisal, fabric
Best Durable Cat Bed: The Kitty Ball Bed
The Kitty Ball Bed takes cat beds to a whole new level, literally. This elevated wicker cat bed is made of highly durable, claw-proof faux rattan that won't break or fray. With some elevation to the frame, it's perfect for cats who prefer a slightly higher place for lounging. This bed has the security a cat craves as well, being almost fully enclosed. With a weighted bottom, this bed won't topple over either. The wide opening is ideal for large cats as they have plenty of room to maneuver around and get comfy. This cat bed will last for years to come and please any feline in your home.
$120 From The Refined Feline
Pros: Claw-proof material, looks great, elevated sleep space, large size, multiple colors
Cons: Might be difficult for older cats to get in and out of easily
Features:
Includes washable cushion
Weighted base for stability
Large opening
4.7 out of 5 stars
Material: faux rattan, fabric
Best Cute Cat Bed: Cute Banana Cat Bed
If you have a  flair for cute things and bright colors, your cat's bed can go along with it. This cute cat bed offers a plush spot for any feline who wants to kick back and relax. It can easily go into any small space and comes in multiple sizes. It's almost like a cat sleeping bag!  The top can be closed and still provide air circulation. The bottom has a waterproof coating to prevent additional wear and tear to the bed. The main cushion is reversible as well! Canvas is on one side for hotter weather and plush fabric is on the other side for colder temperatures.
$20 On Amazon
Pros: Cute, enclosed design may calm cats
Cons: Not washable, may not fit large cats
Features:
Multiple sizes
1-month free trial
Free returns
4.4 stars
Material: plush sponge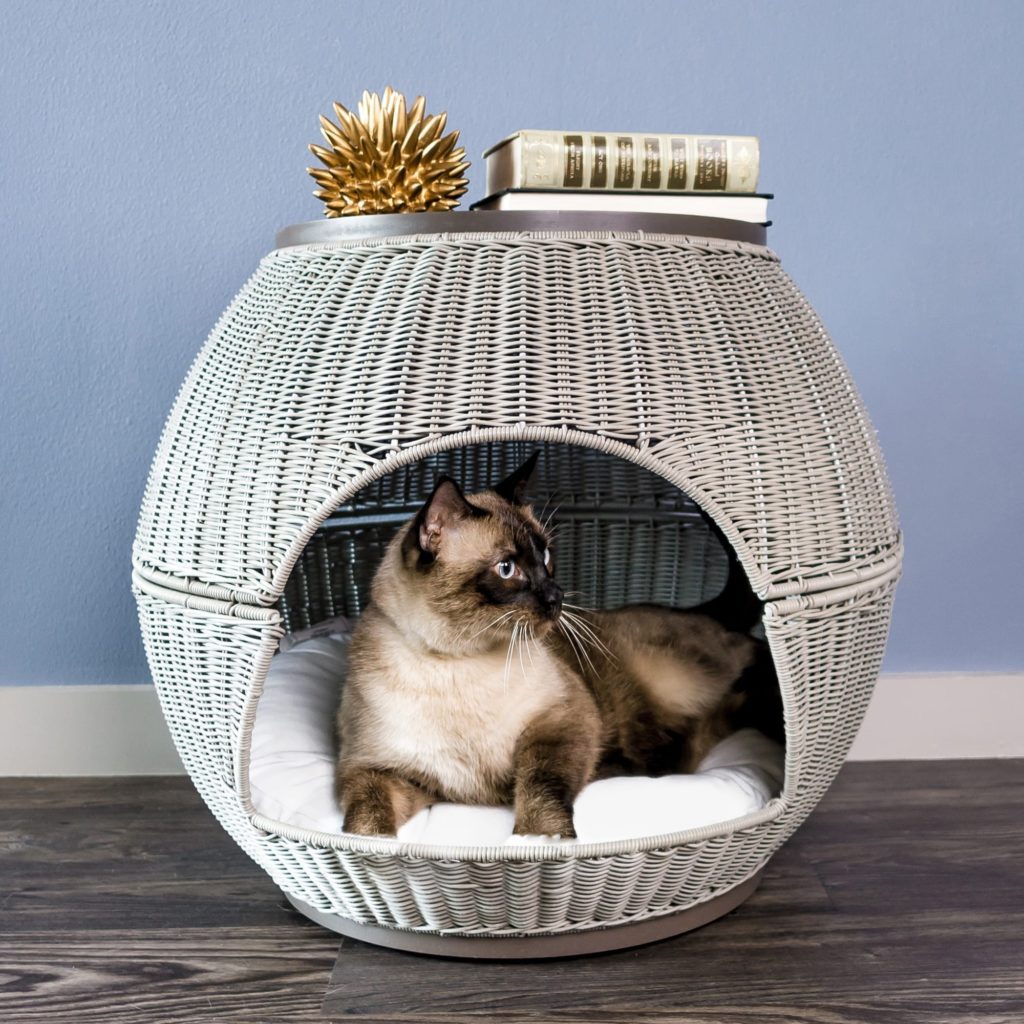 Best Chic Cat Bed: Kitty Ball Cat Bed Igloo
Okay, we admit that your cat won't care if their bed is chic.. but it's going in your home! A cat bed can be great for your cat and also look good in your home.  This chic cat bed serves a purpose for both the human and cat alike. Inside is a comfortable sleeping area for your cats. Up top is a flat surface for your magazines, knick-knacks and more (if your cat doesn't claim this space too)! Made of claw-proof faux rattan, this combination end table and cat bed can withstand the craziest of cat shenanigans. Modern and graceful, it will blend in any home's decor.
$125 From The Refined Feline
Pros: Blends into any home, will last a lifetime, tabletop surface
Cons: Might not be budget friendly
Features:
Machine washable cushion
Available in multiple colors
4.5 out of 5 stars
Material, faux rattan, wood, fabric
What's The Best Type Of Cat Bed For Your Cat?
With all these various choices, there's bound to be a favorite for your feline! To find the perfect fit, pay attention to your cat's sleeping habits. Do they always sleep on something plush and soft? Do they eventually seek out a flat or harder surface to relax on? Most cats crave variety, but some can nap for longer periods of time in one area than others. Keep this in mind while you start your cat bed search and you're bound to find a few good ones. It's always ideal to seek out more natural materials for the bed if you can. Most manufacturers will ensure a level of pet-safety in their materials. Your feline could have an underlying skin condition or allergies, though, and could have a reaction to certain materials. Look for cotton, wool, and polyester as they are easier to clean as other materials.
How Does Your Cat Like To Sleep?
Even if you only have one cat, getting a slightly larger cat bed can make it more alluring. Most cats like to sprawl out at some point in the day, and if all of their beds are small and fit them snuggly, they may keep looking for other options. Cats usually sleep stretched out or curled up, or a combination of the two. Beds that are more enclosed like a tent or cave work well for cats who sleep curled up. Beds with a lower lip and flatter surface are ideal for cats who like to stretch while they sleep. To be on the safe side, you can always get a bed of both styles so your cat has choices.
Find The Best Location For The Cat Bed
Just as important as the style of bed is also the location you place it. Simply placing the new bed in the middle of the floor won't feel secure for most cats. Picking a corner area where they already nap is ideal. If your cat is more social, the couch or a chair works as well. Having the bed in a more secluded or quiet area will be more enticing to your feline. If there are blankets or toys of theirs, you can place them on the bed to attract them to it the first time. No matter how picky your cat might be, there's always a bed out there that's perfect for them. We hope that one of the above cat beds fits your feline's personality purrrfectly!