UBPET Self-Cleaning Litter Box with App & Camera
$575.00
In Stock!
Introducing the UBPET Self-Cleaning Cat Litter Box, a revolutionary way to monitor your cat's litter box. You will never need to scoop again as the UB Pet automatic litter box can be cleaned with a button on the device, through the UPET app, or by setting it to automatically clean after each use.
Real-time data keeps you up to date on your cat's bathroom activity. Up to 6 cats can be tracked and recognized by weight. You can also monitor your cats at any time with the live feed from the internal camera. Your cat's safety is put first with the integrated safety features. Multiple sensors pause all operations if weight or motion is sensed nearby. Regardless, the anti-pinch design features a drum that rotates in one piece making it impossible for cats to get stuck inside.
Keeping the litter box clean and odor-free is easy with the UBPET Self-Cleaning Litter Box. Any type of litter can be used as long as it flows easily through the holes in the grate. However, clumping litter is recommended for best results. The enclosed waste bin features a lid that stays closed to reduce odors. Once the waste bin is full, simply remove the 2-gallon waste bag (bags are not included). When it's time to replace the litter, all of the litter can be emptied into the waste bin with the press of a button. The drum can then be removed from the base and washed for a full cleaning. You will never have to worry about the litter box again with the UBPET Self-Cleaning Litter Box.
Fits inside the xLarge Refined Litter Box Deluxe Cabinet.
Features of this self-cleaning litter box:
Control the litter box from the app
Automatically cleans after each use (if desired)
High-definition internal camera
Operations pause if weight or motion is sensed.
Cats can't get stuck inside
Works with most cat litter
Ultra-quiet operation
Recommended for cats up to 18 lbs.
Waste bin fits a 2 gallon waste bag (not included)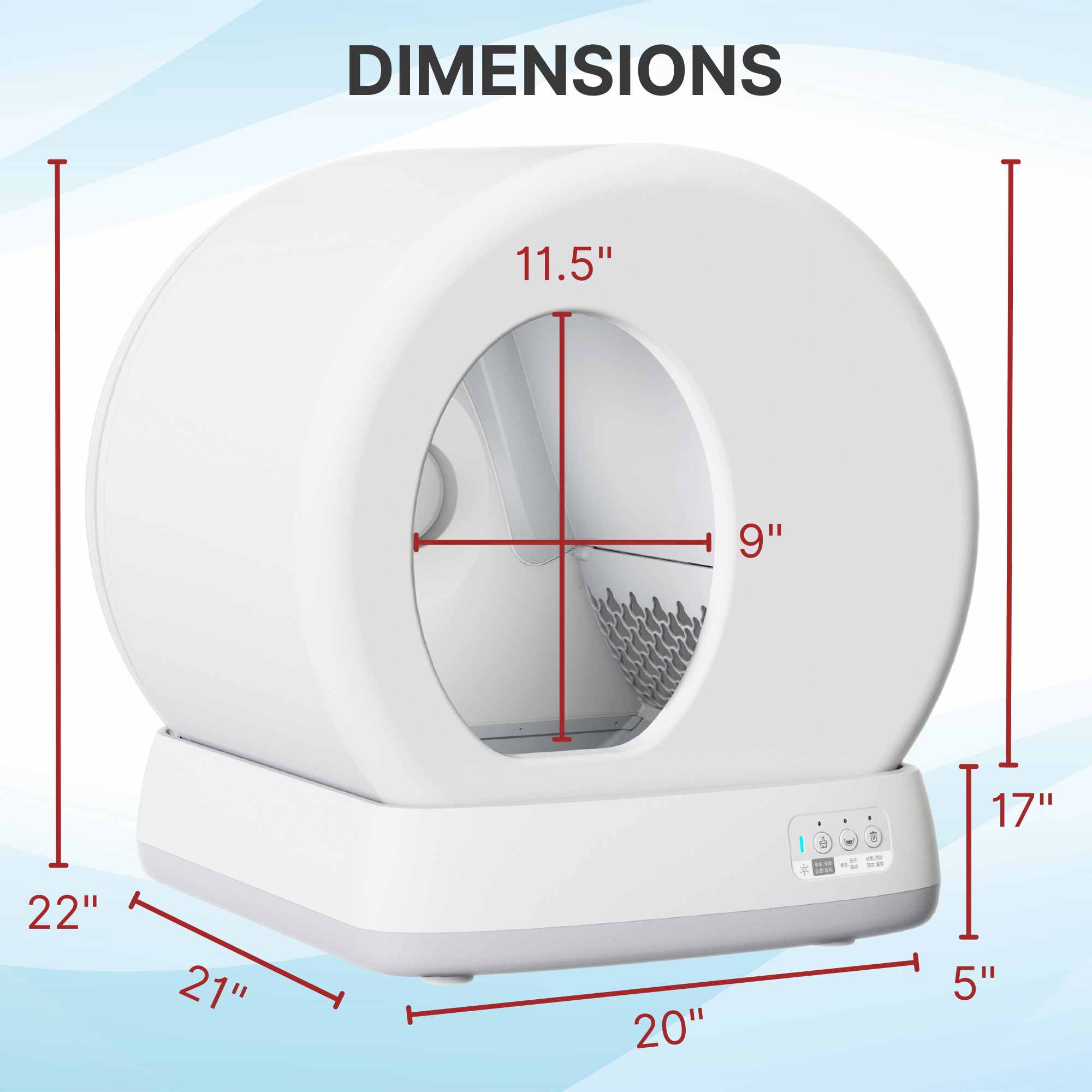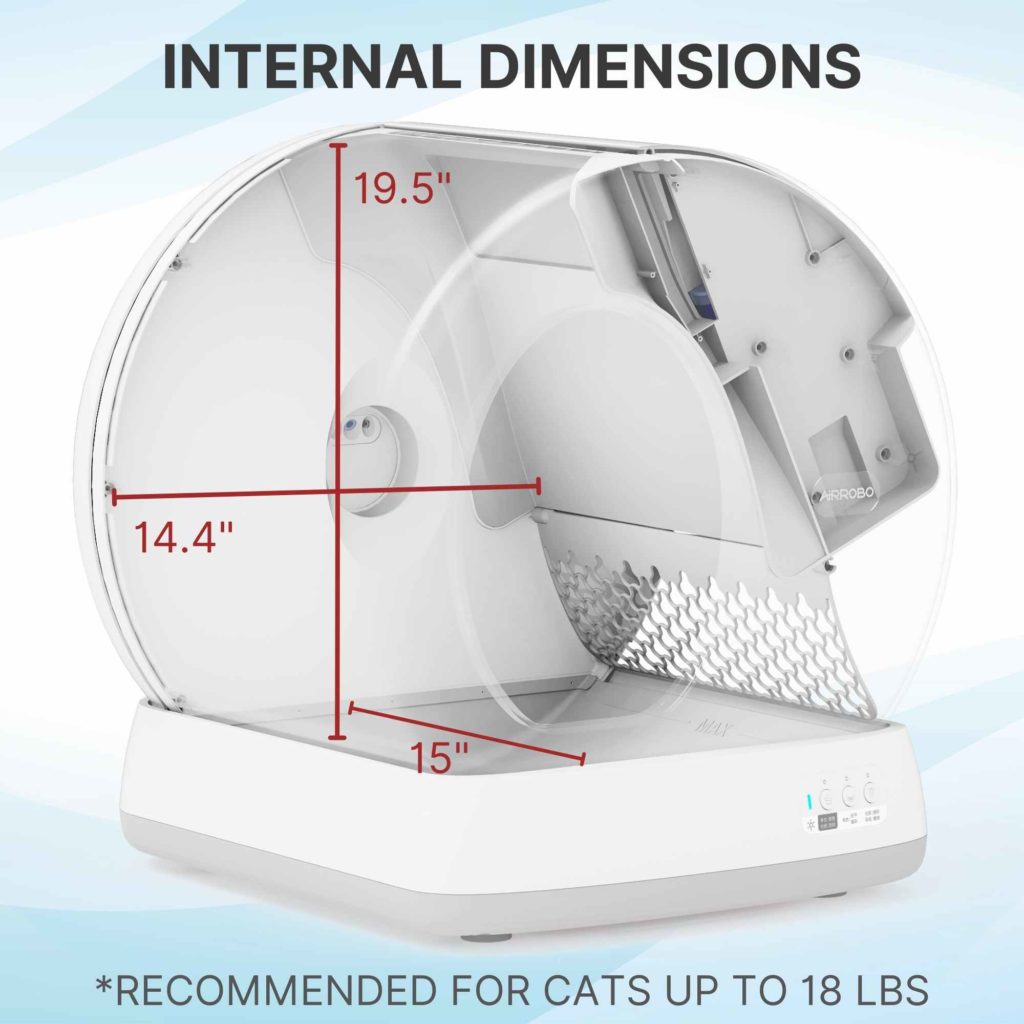 *Fits inside the xLarge Refined Litter Box Deluxe Cabinet.
What makes this automatic litter box different from others?
The UBPET Self-Cleaning Litter Box makes it easy to monitor your cat's bathroom activity. It features an internal camera with a live feed that can be viewed at any time. It is also very easy to set up, clean, and maintain.
How can I get my cats to use this self-cleaning litter box?
Cats tend to take some time to adjust to anything that is new. So, it is recommended to leave your cats current litter box out along with the automatic one until they are comfortable with it. You can also take some of your cats used litter from their existing litter box and transfer it into the new one so that their smell is there and they know what it is for. Waiting until they've used it a few times before running it is also recommended so that they are not startled by the motion.
Can any cat use this automatic litter box?
This litter box can be used by all cats and the app can track up to 6 different cats by weight. However, it may be too small for cats heavier than 18 lbs. The entrance of this self-cleaning litter box is low to the ground making it easy for older cats to use. Kittens that weigh below 3 pounds should not use any automatic litter box without supervision as they may be too lightweight for the litter box to recognize. Therefore, it should not be set to automatically clean after each use. It should only be run when it is visually confirmed that no cats are inside.
How often should automatic litter boxes be cleaned?
This depends on the number of cats you have. For best results though, the self-cleaning should be set to activate automatically after each use. The waste bin should be checked every so often and emptied when full. The litter box should be deep cleaned and the litter completely replaced at least monthly.
Can this automatic litter box really reduce odor?
The UBPET Self-Cleaning Litter Box controls odor the best when it is set to clean after each use. Cat urine releases more odor as it sits and is broken down by the bacteria in the environment. This is why it's important to scoop after each use and keep the litter fresh for your cat. The waste is stored in the enclosed bin until it is emptied.
So far so good!
I was given this litter box to test and have had it for a few months now. I have 3 cats and it has exceeded my expectations! It's low enough for my older cat to get into and I liked that I didn't have to switch litter to use it. The app is great too. My cats do get scared from appliances that make noise like my vacuum and hair dryer so i was worried that they would be scared of this machine. However, it is very quiet and they got used to it after it ran a couple of times. I just wish that it was a little bit bigger as my one cat is quite large (21 lbs) and prefers his big open litter tray. Other than that, I highly recommend this litter box!