array(4) {
  [0]=>
  int(56831)
  [4725]=>
  int(42685)
  [4723]=>
  int(42684)
  [4724]=>
  int(5994)
}
array(3) {
  [0]=>
  int(56829)
  [1]=>
  int(42684)
  [2]=>
  int(5992)
}
bool(true)
bool(true)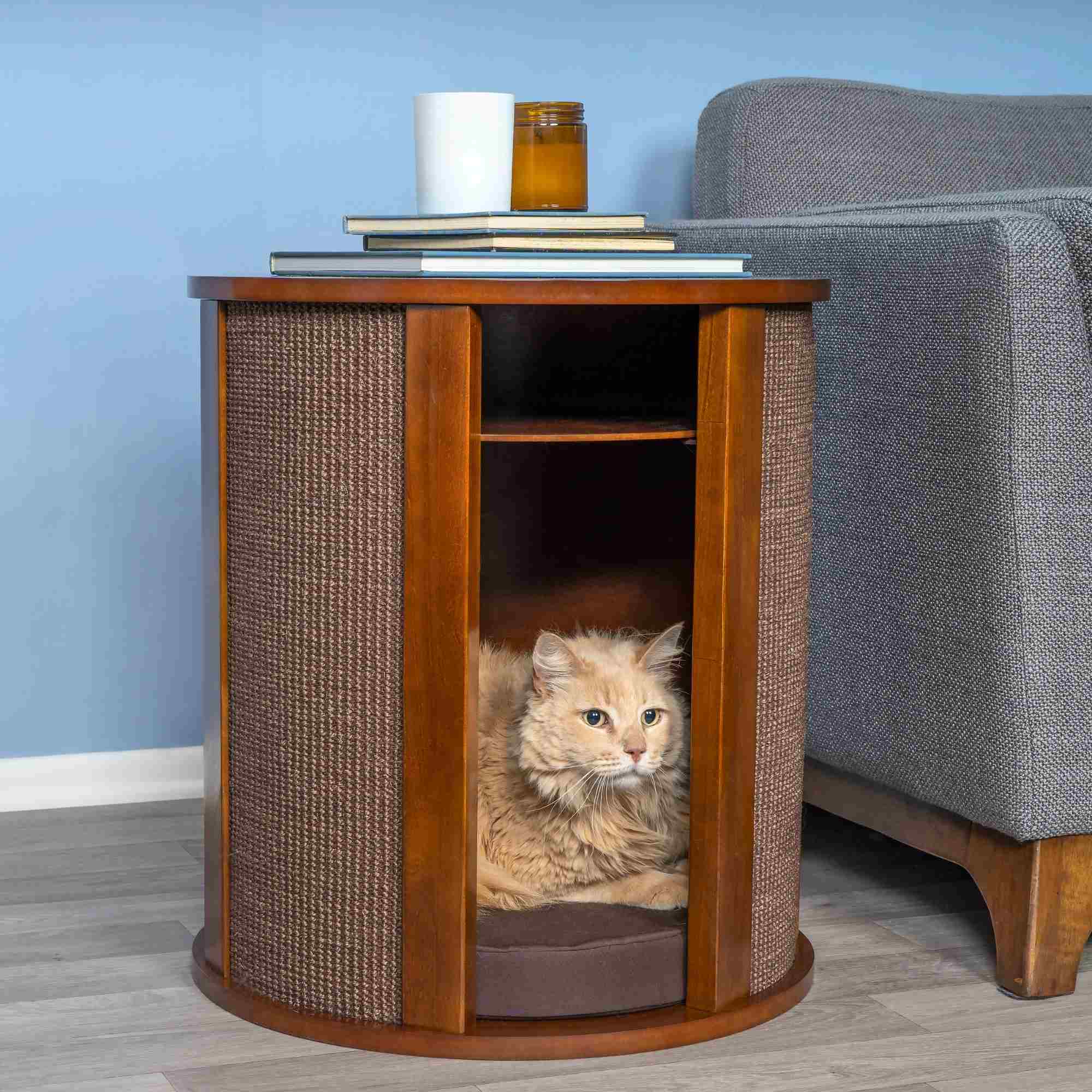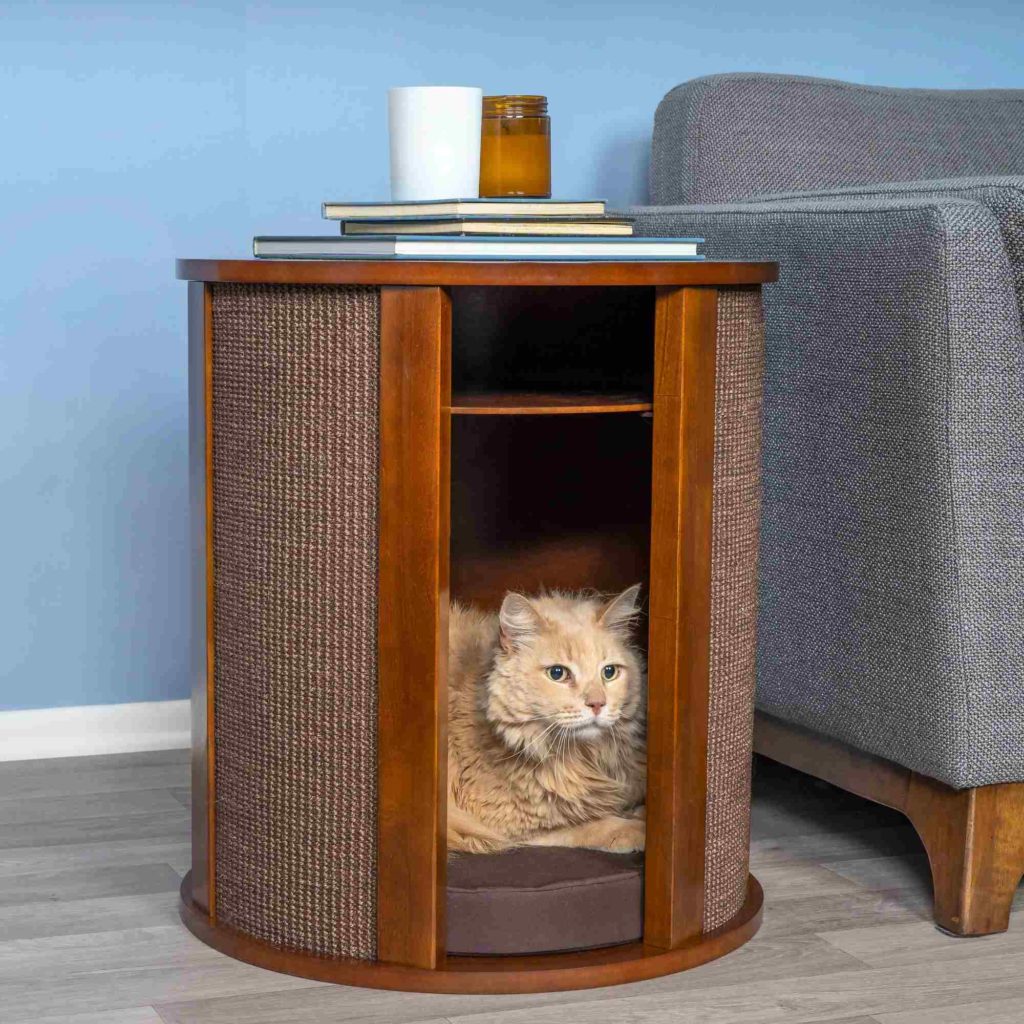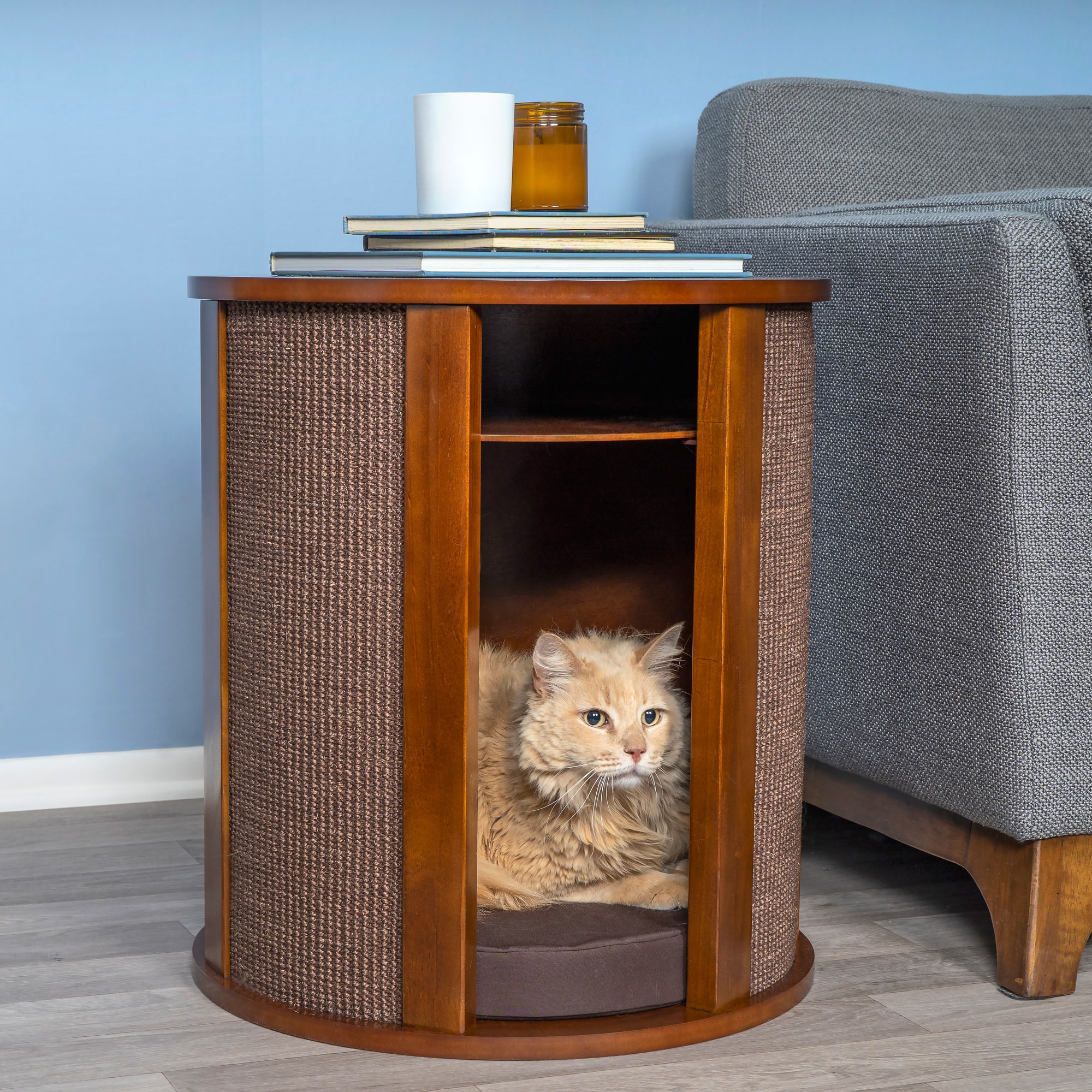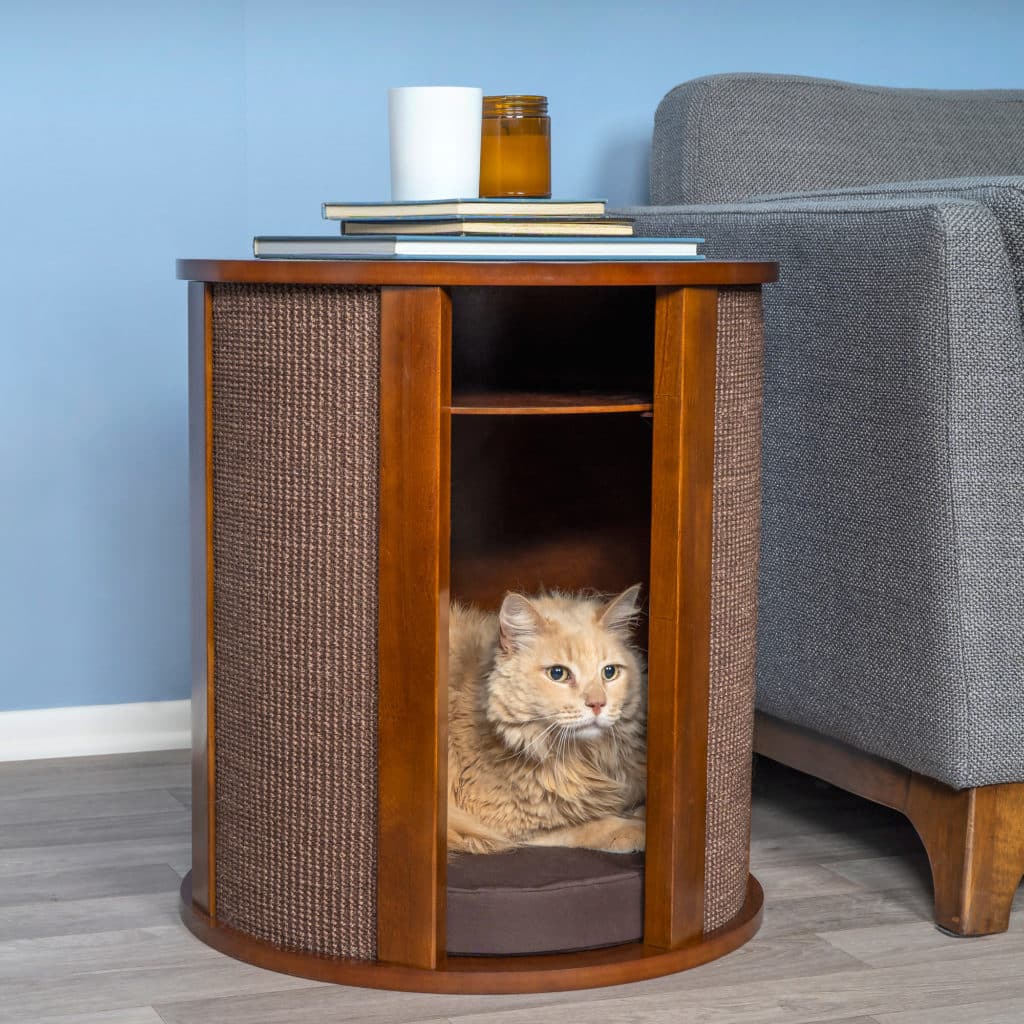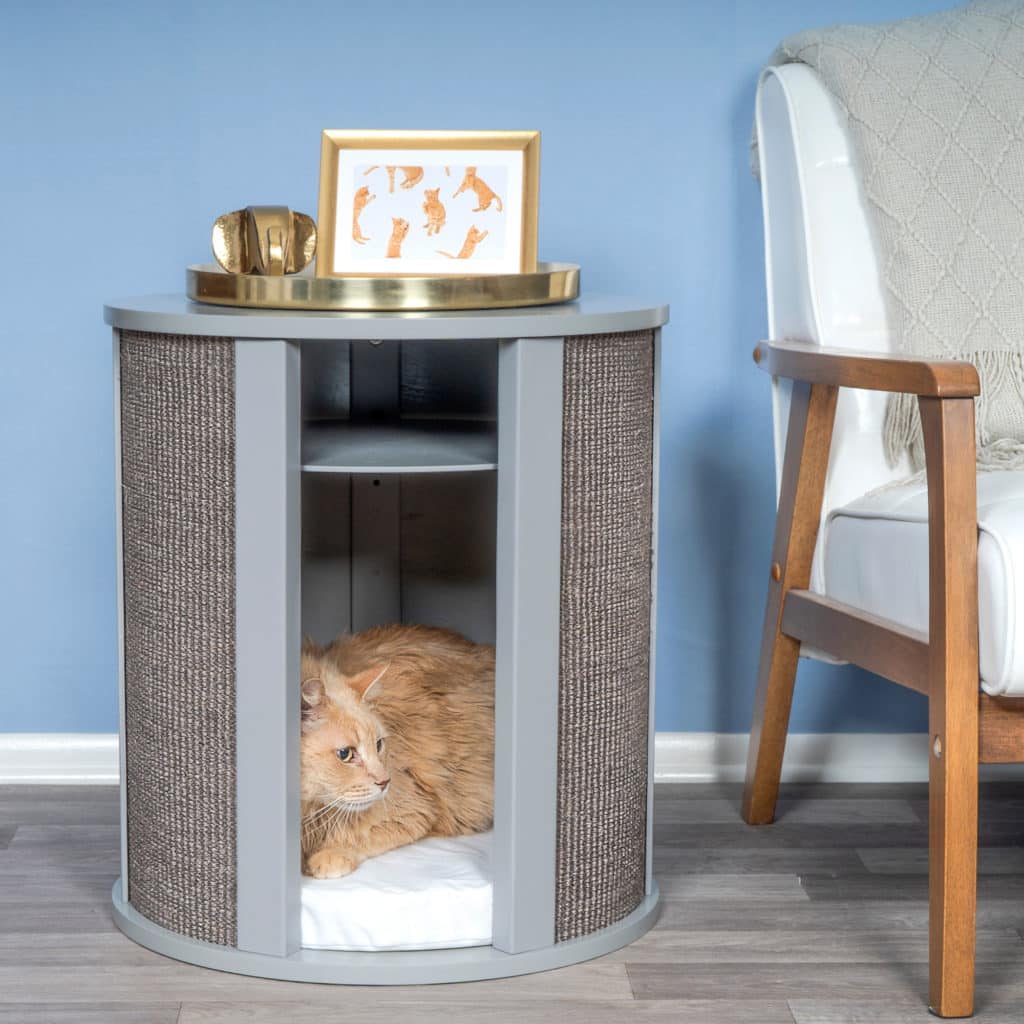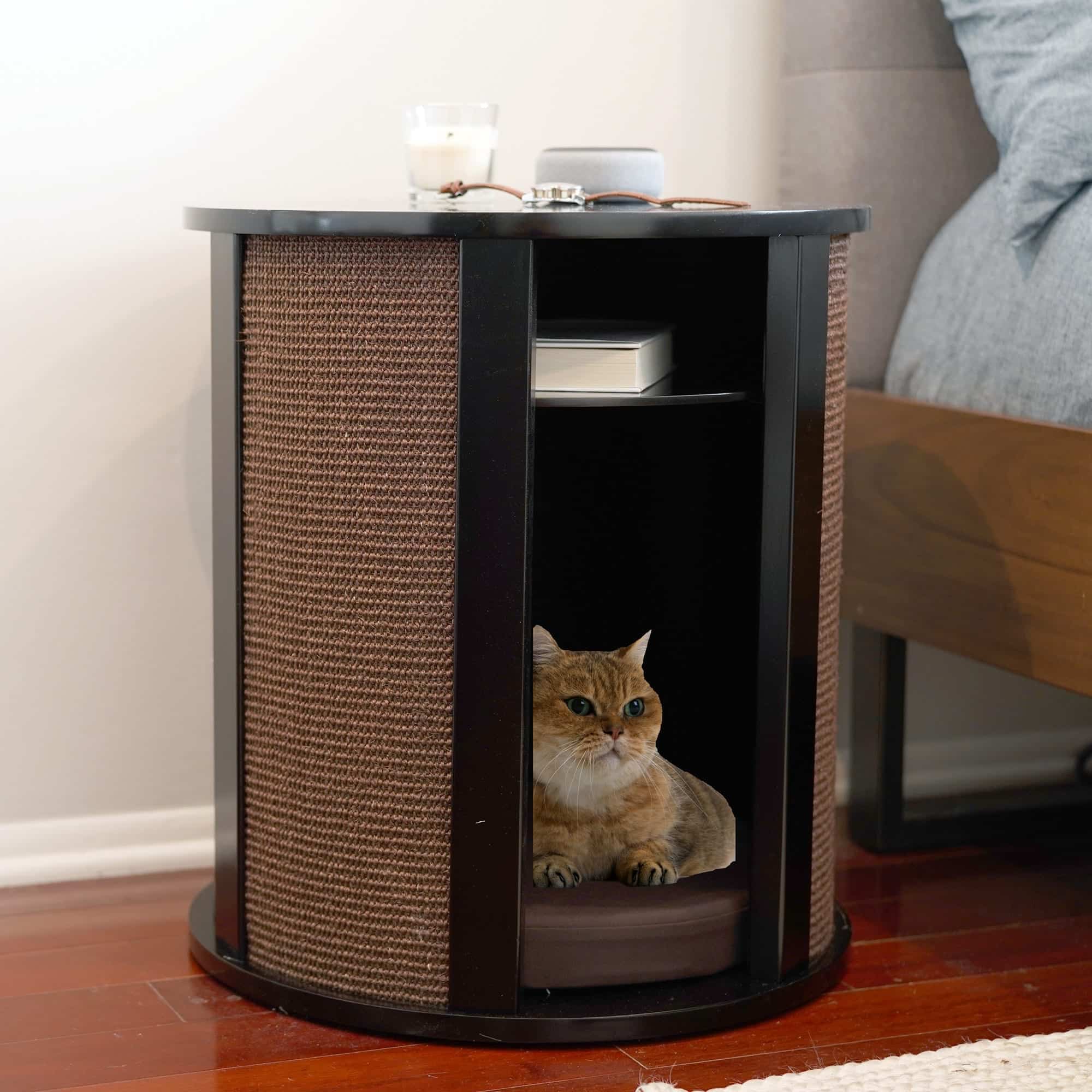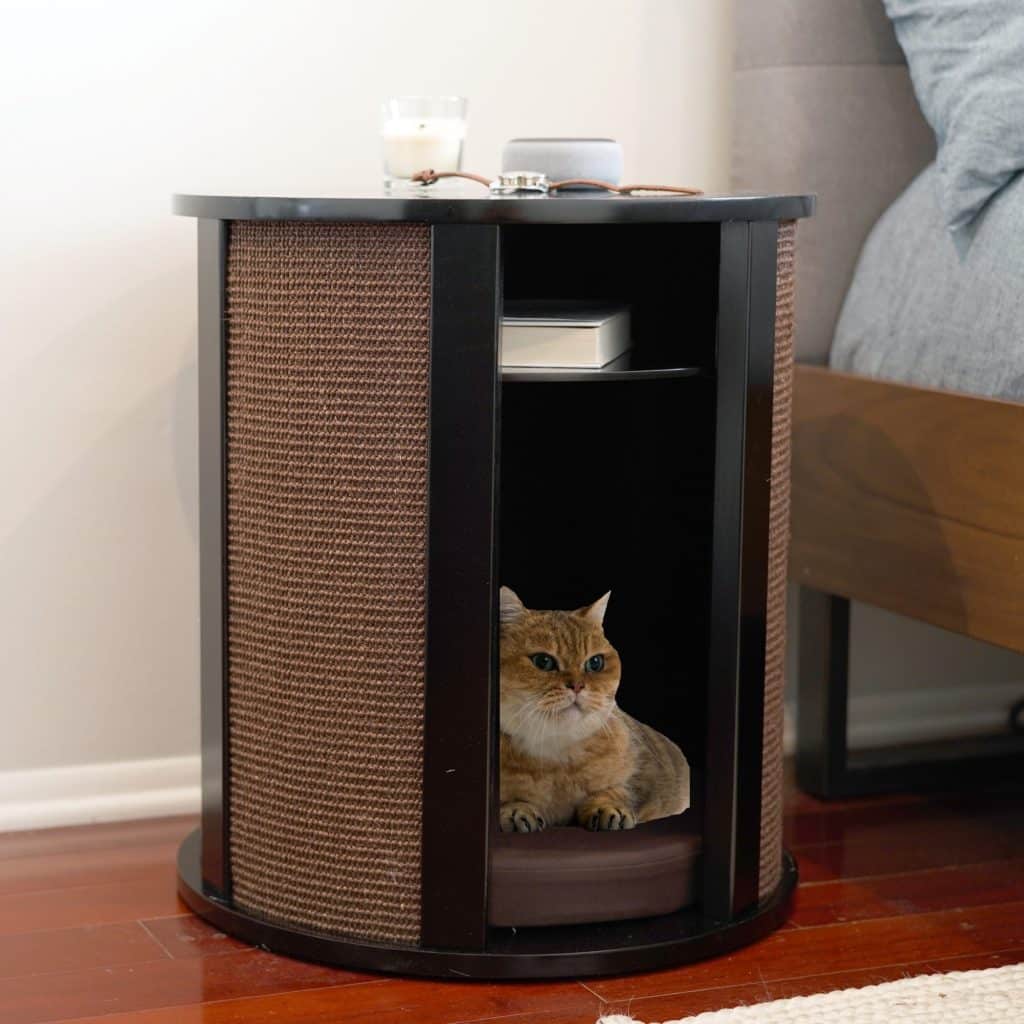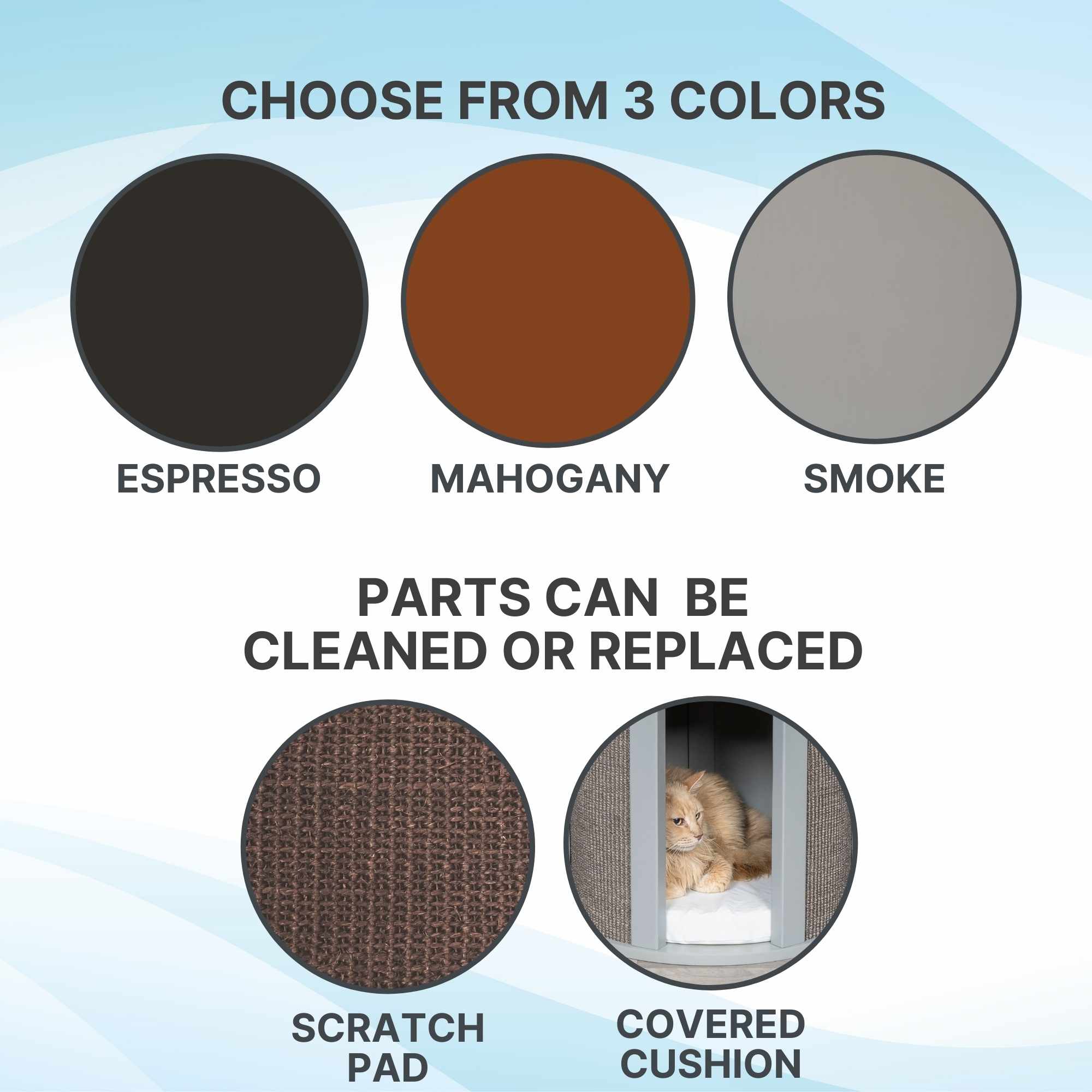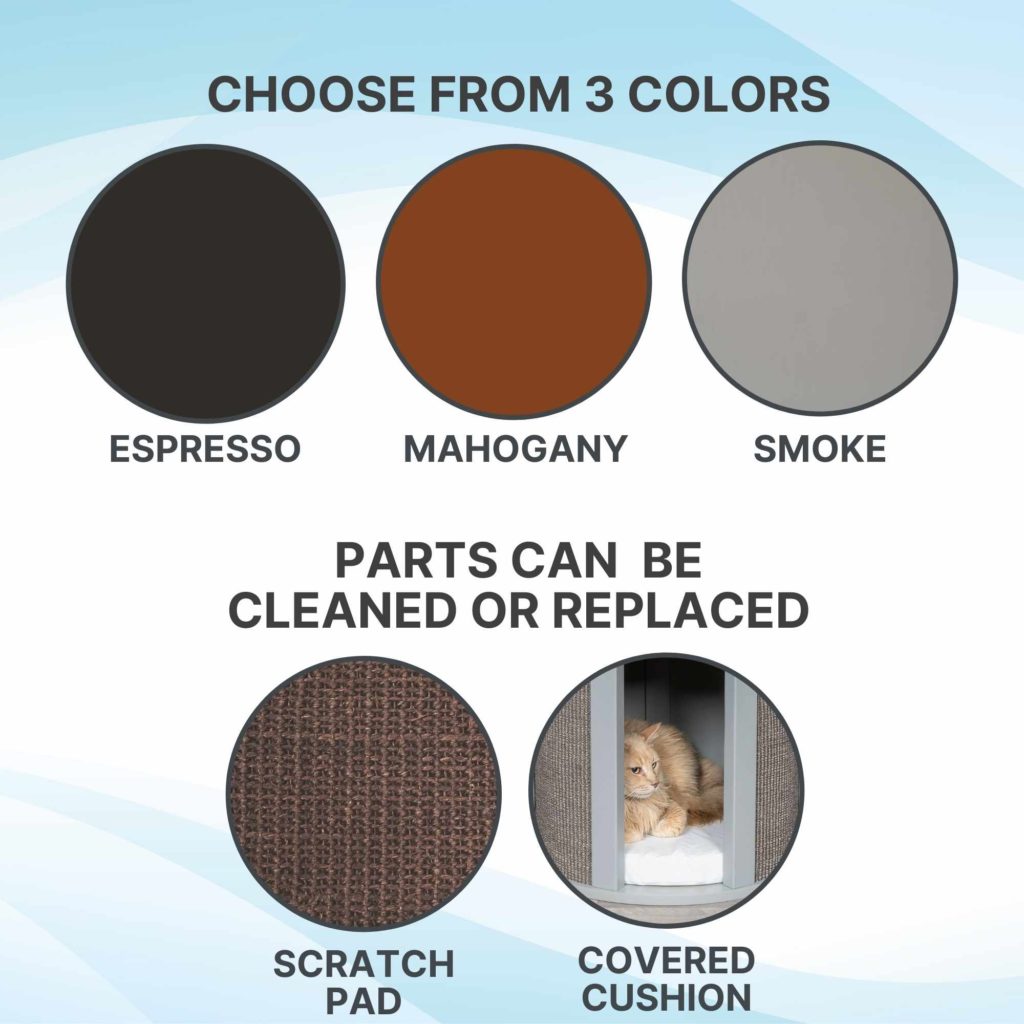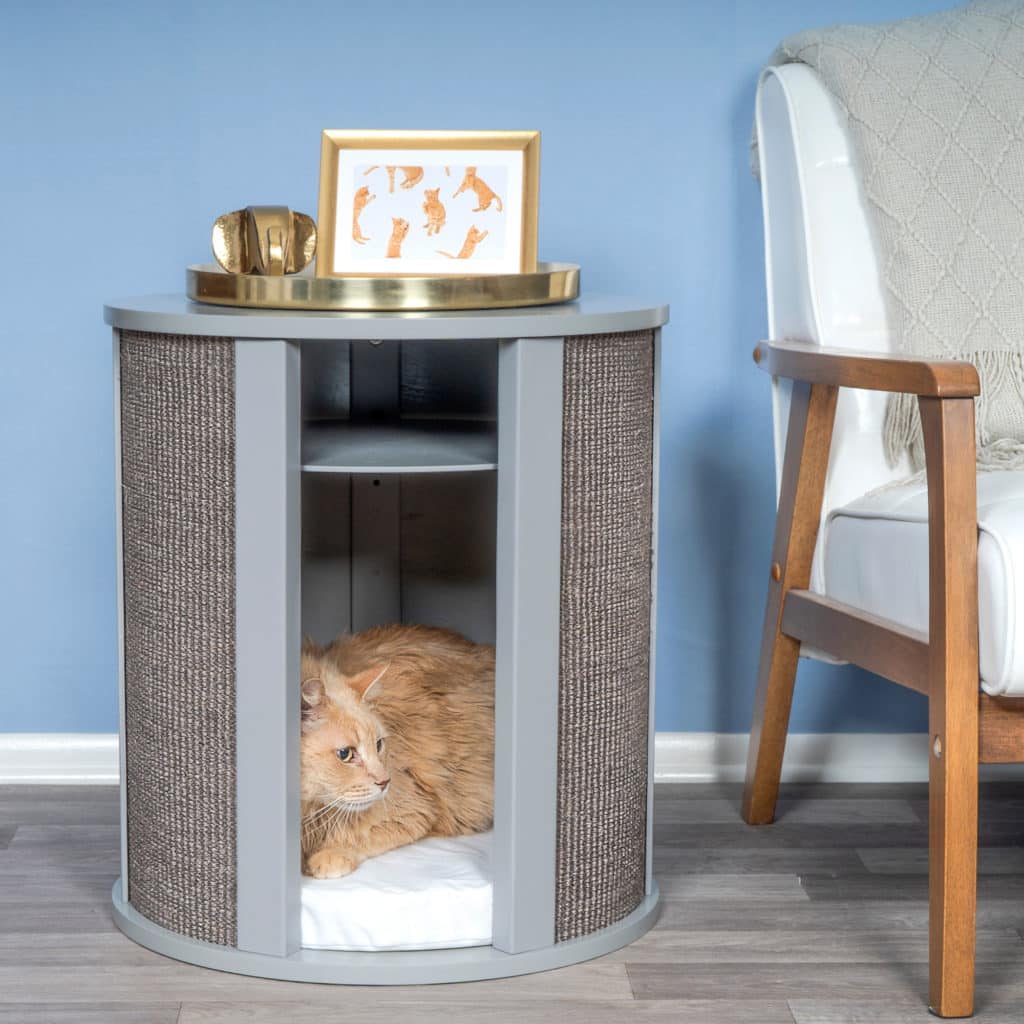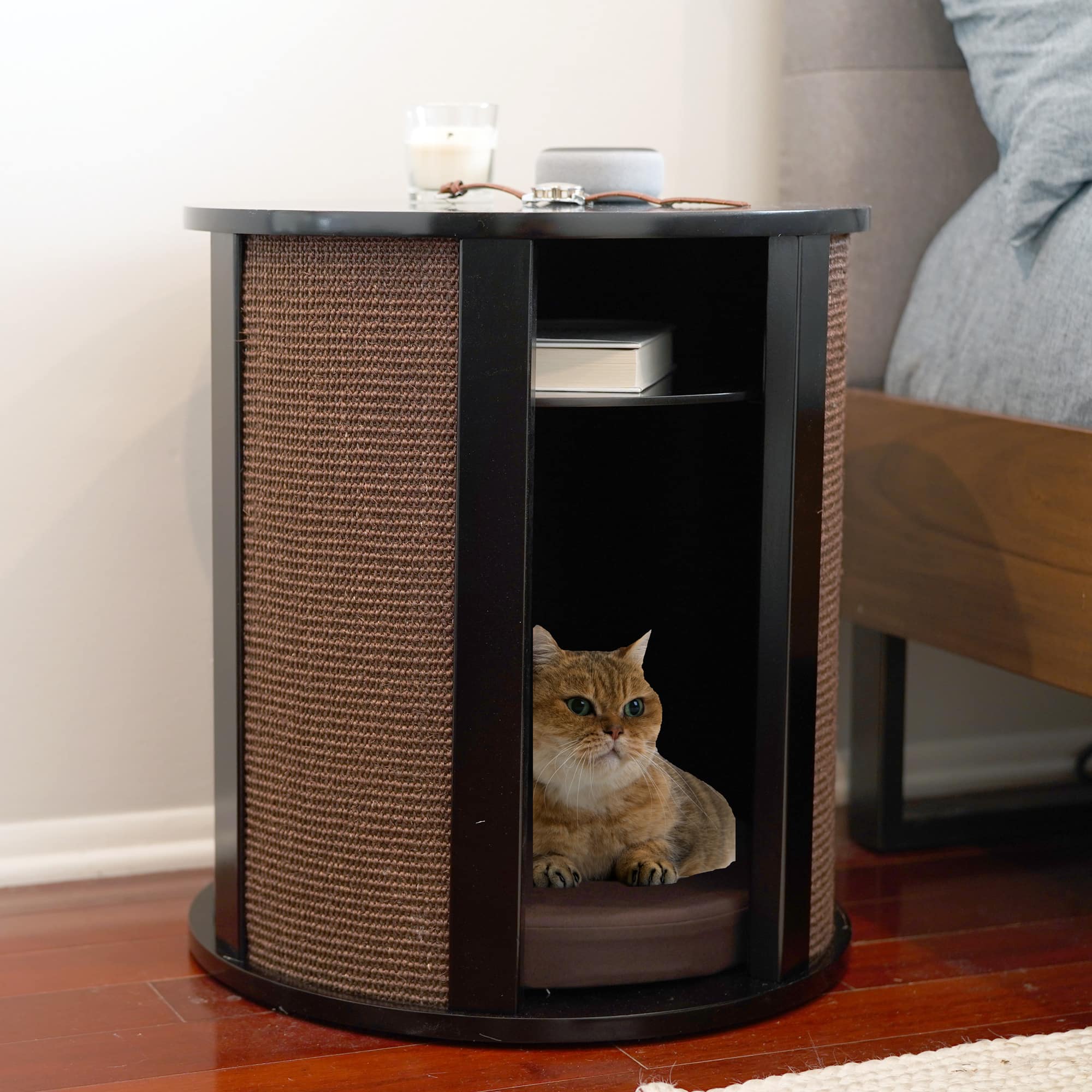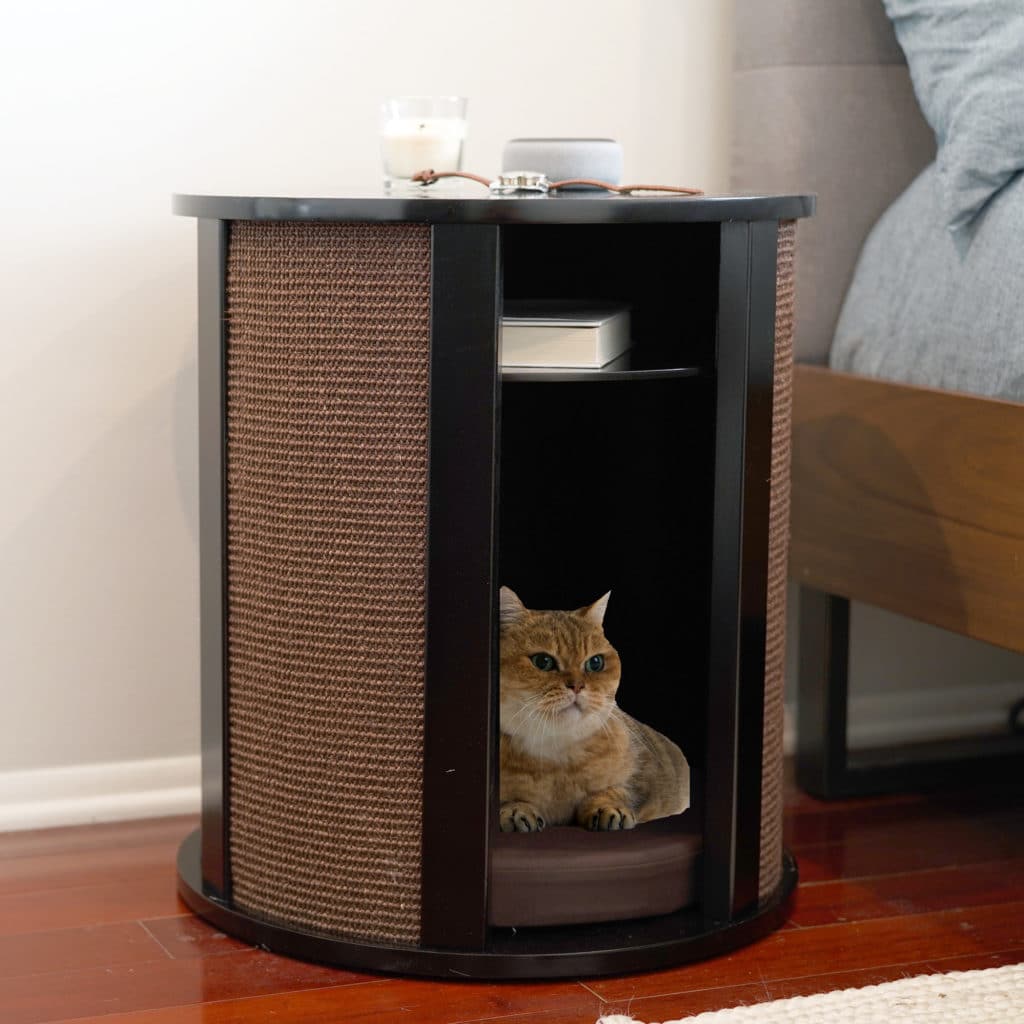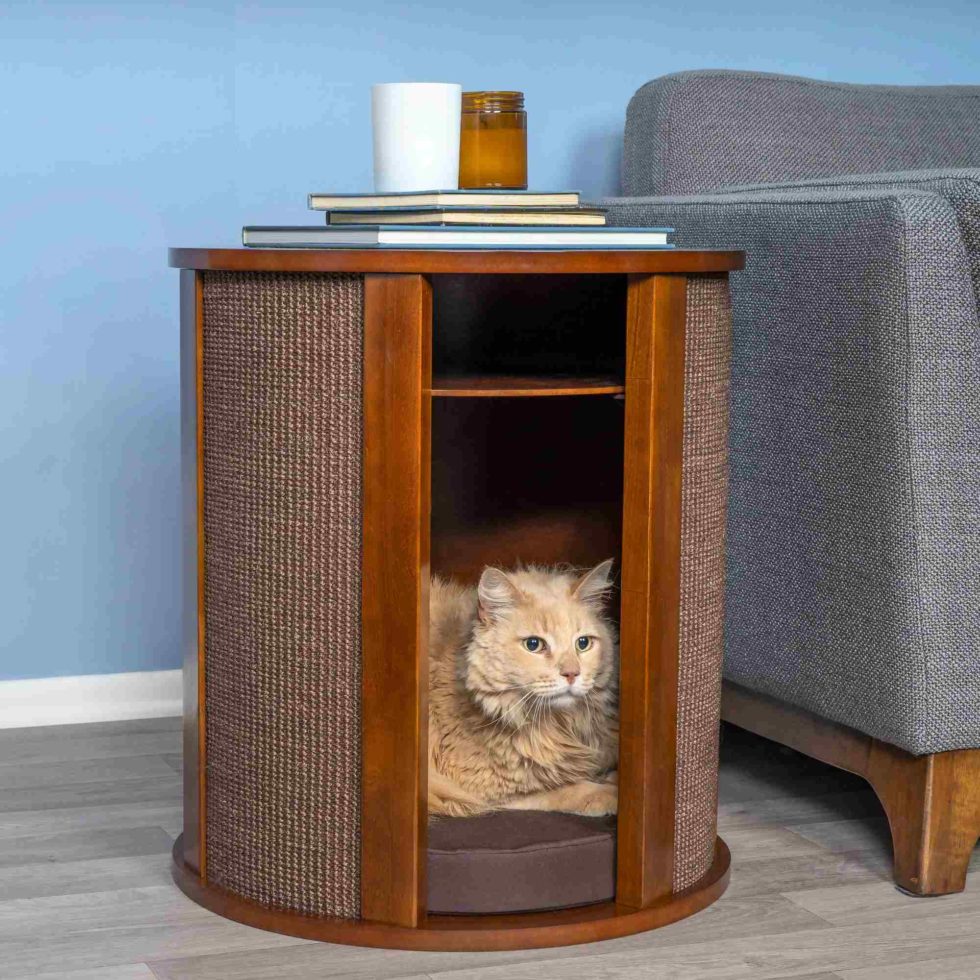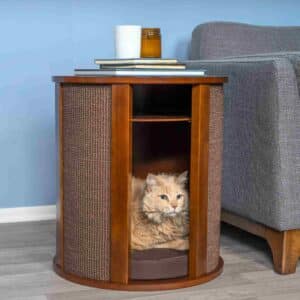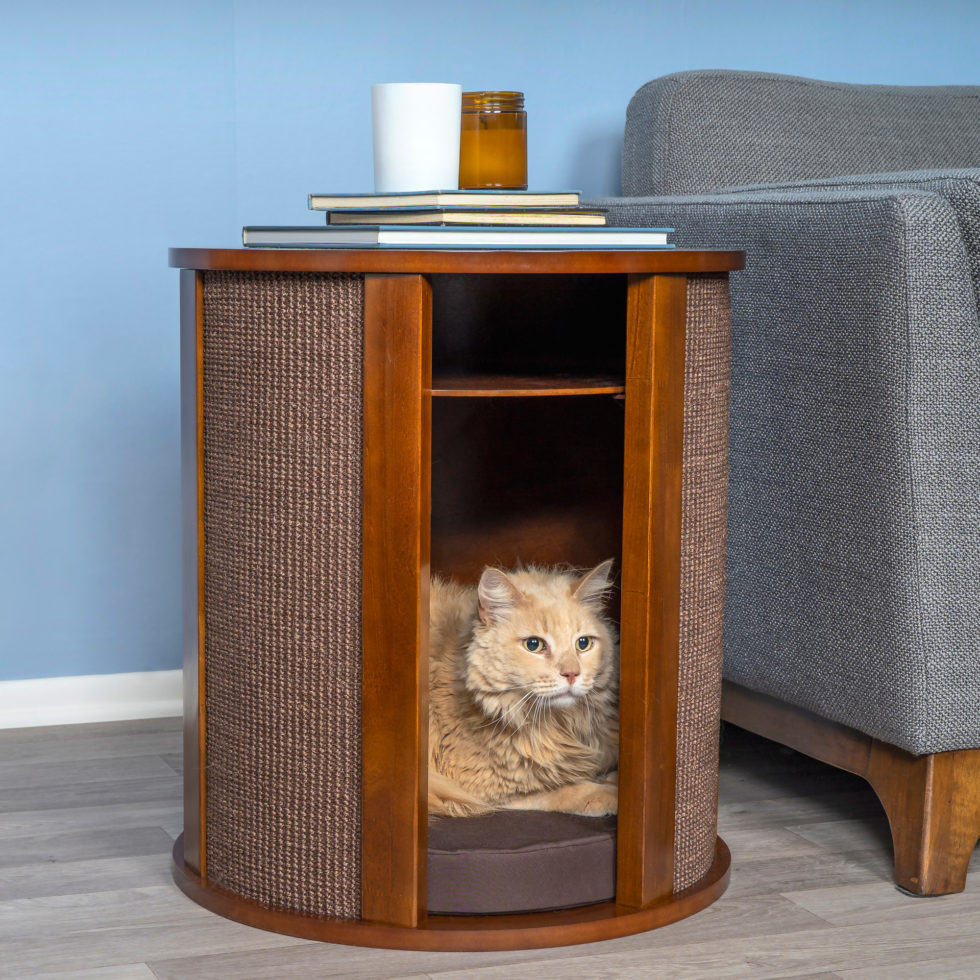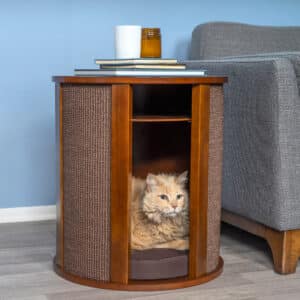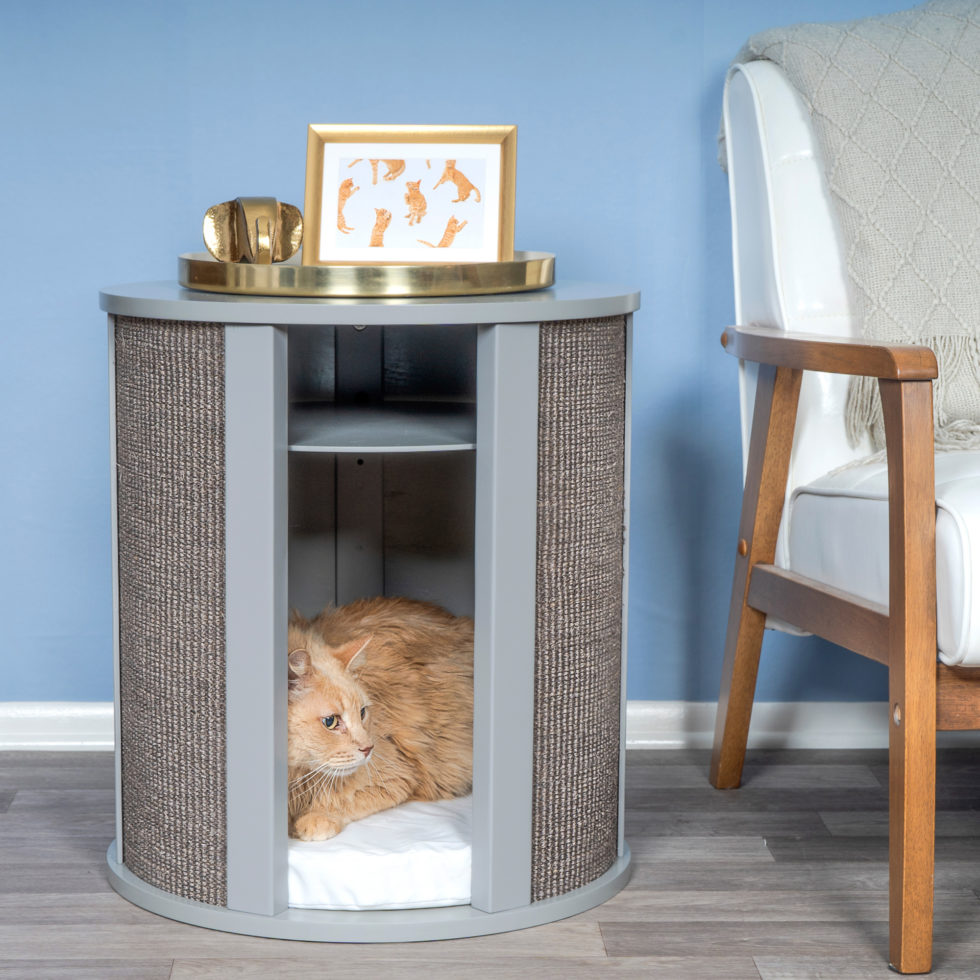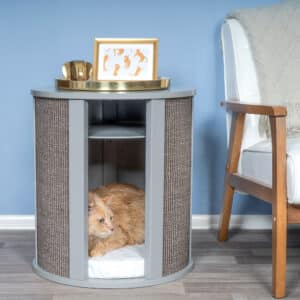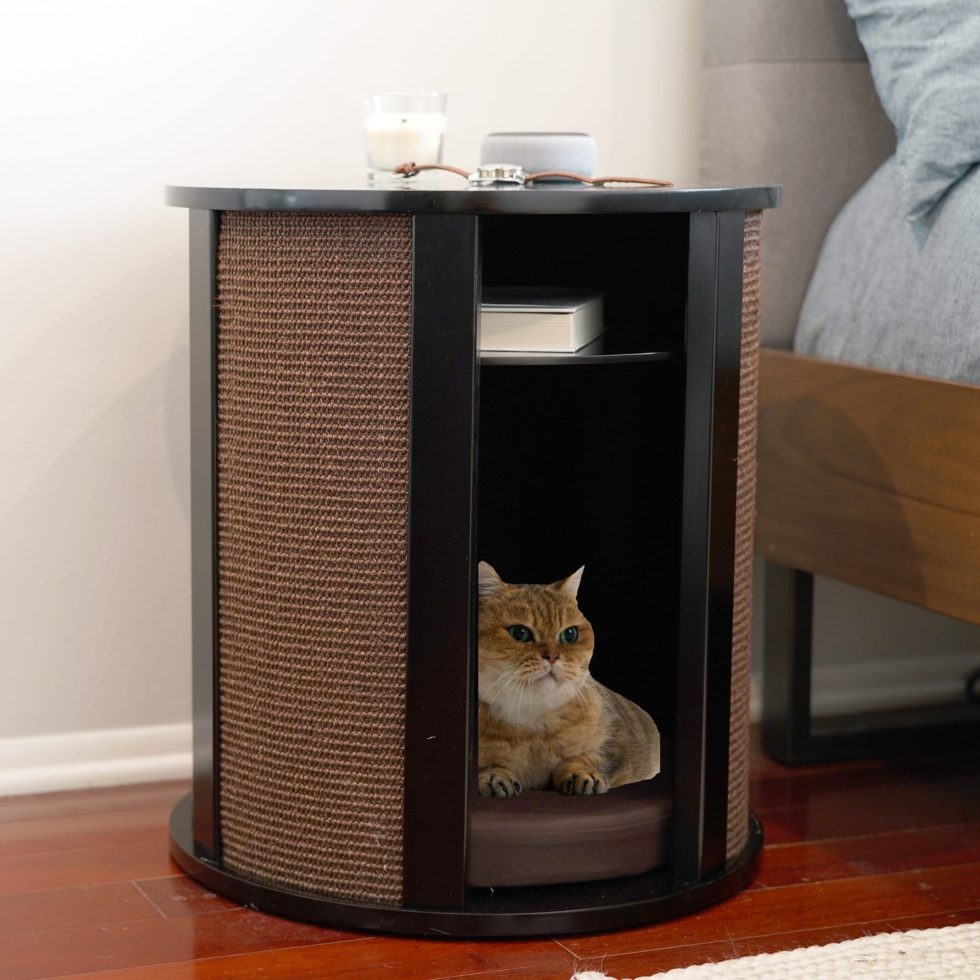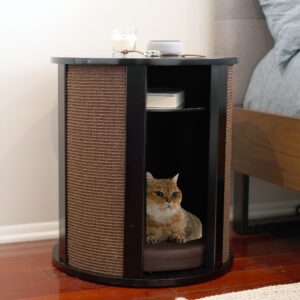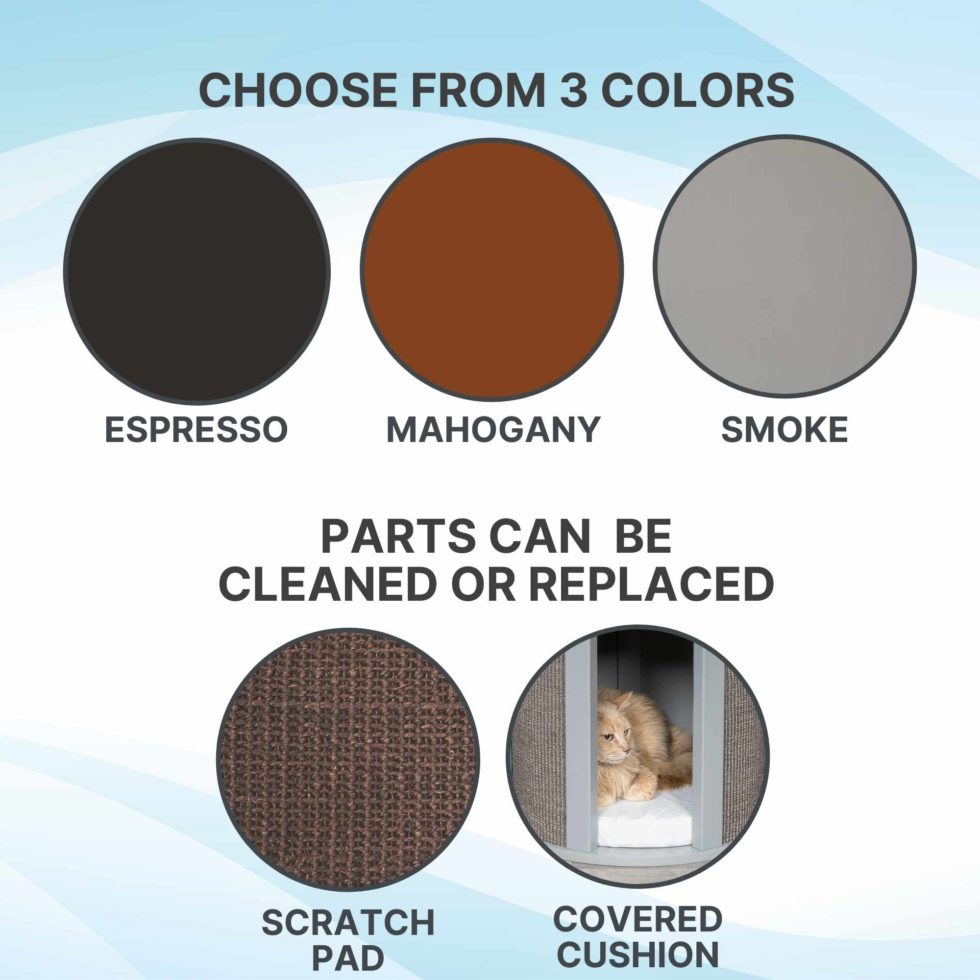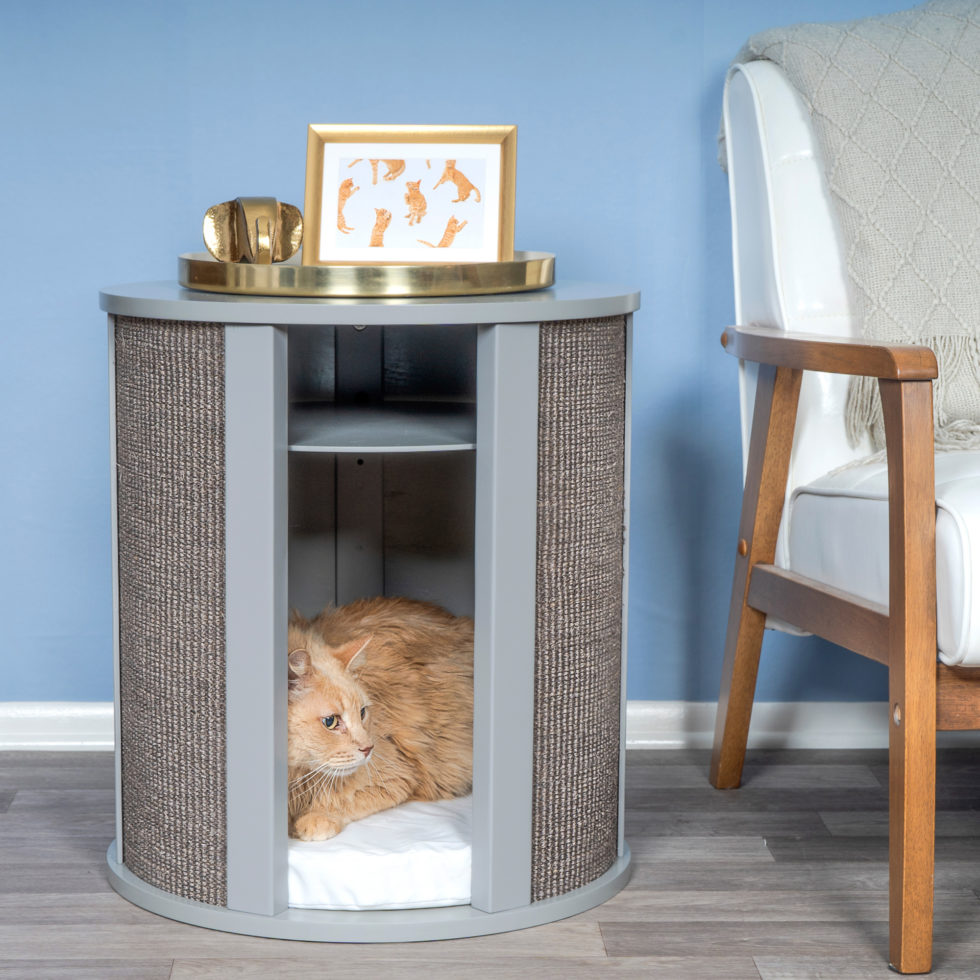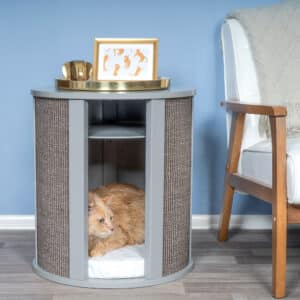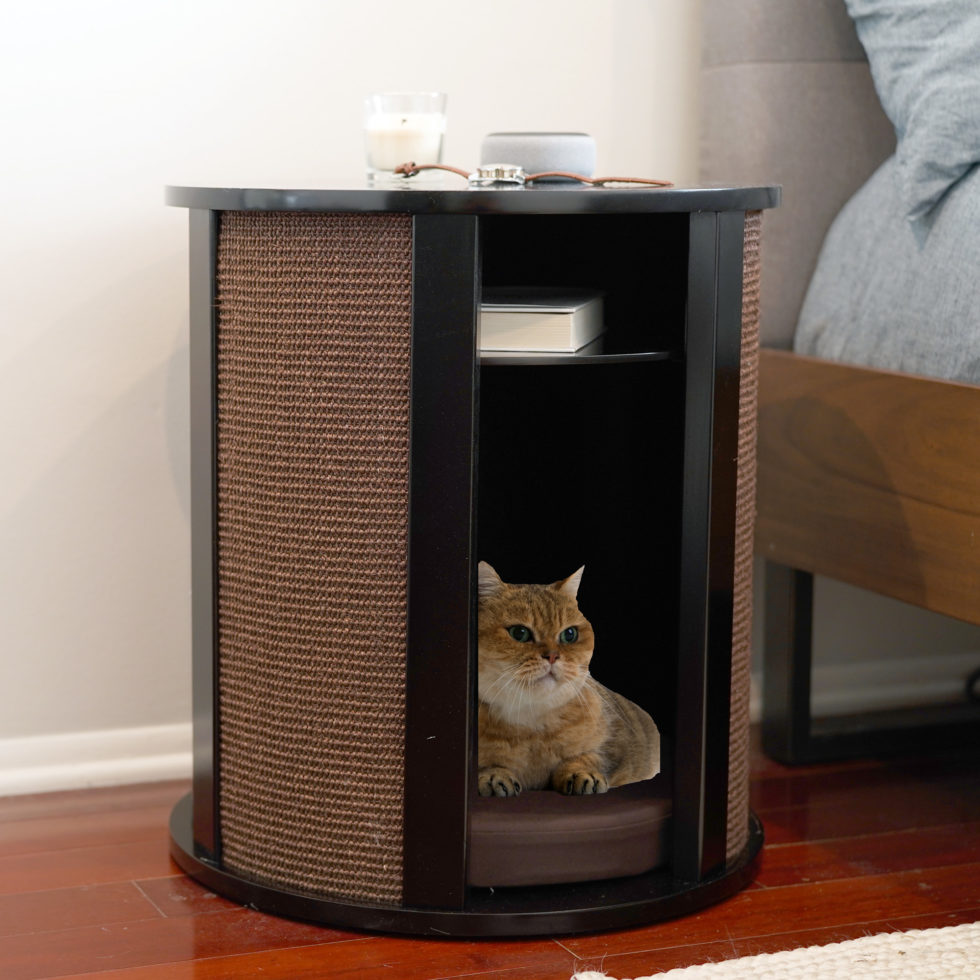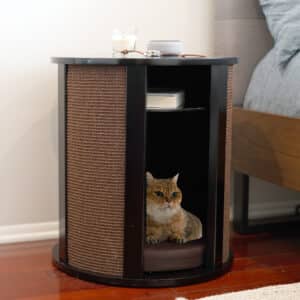 Purrrrfect End Table
$129.99
or 6 interest free payments as low as $22.00

View easy
to follow instructions
Why You Will Love it
Modern cat bed and end table

Crafted from solid wood, sisal, and fabric

Internal shelf for storage

Scratchpad and cushion can be replaced
Why Your Cat Will Love it
Private yet close by space to hang out in

Plush cushioned cat bed for cozy cat naps

Cats can fully stretch on the large scratching surface

Large enough for house cats of all sizes
Details
The Purrrrfect End Table is an elegant cat bed for your cat to crawl into and also doubles as an end table or nightstand. Two curved sisal panels provide your cats ample area to claw when they are not nesting inside. The machine-washable cushion gives felines a soft spot to curl up onto for a comfy catnap. If the sisal panels wear or the cushion gets dirty it's no problem as replacement parts are always available.
The 20″ diameter and 22″ height makes this a sturdy table and it includes an inner storage shelf whether it be for cute cat toys or the TV remote.
Specifications
Overall size: 20″ L x 20″ W x 22″ H
Opening: 7.5″ L
Sisal panels: 8″ L x 20″ H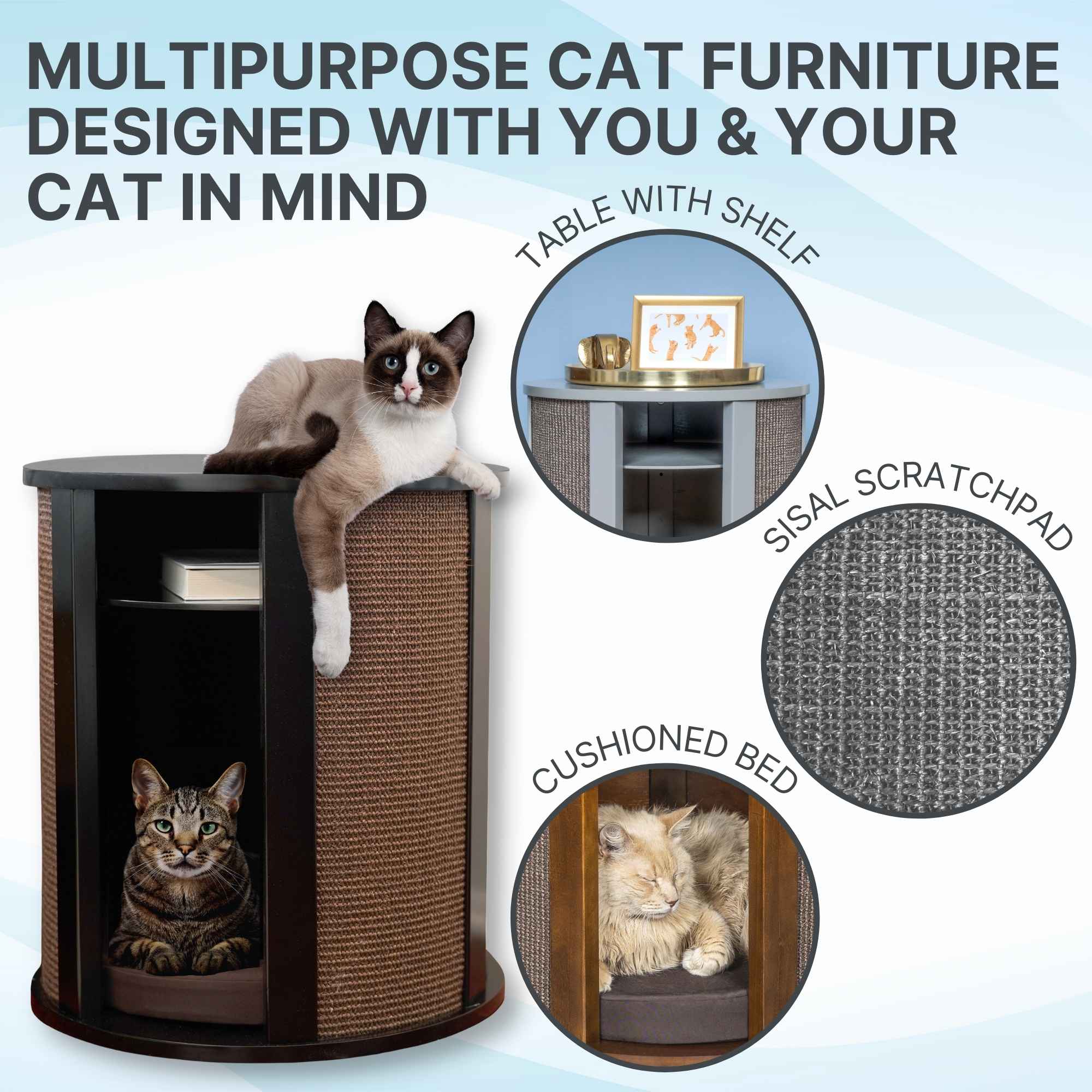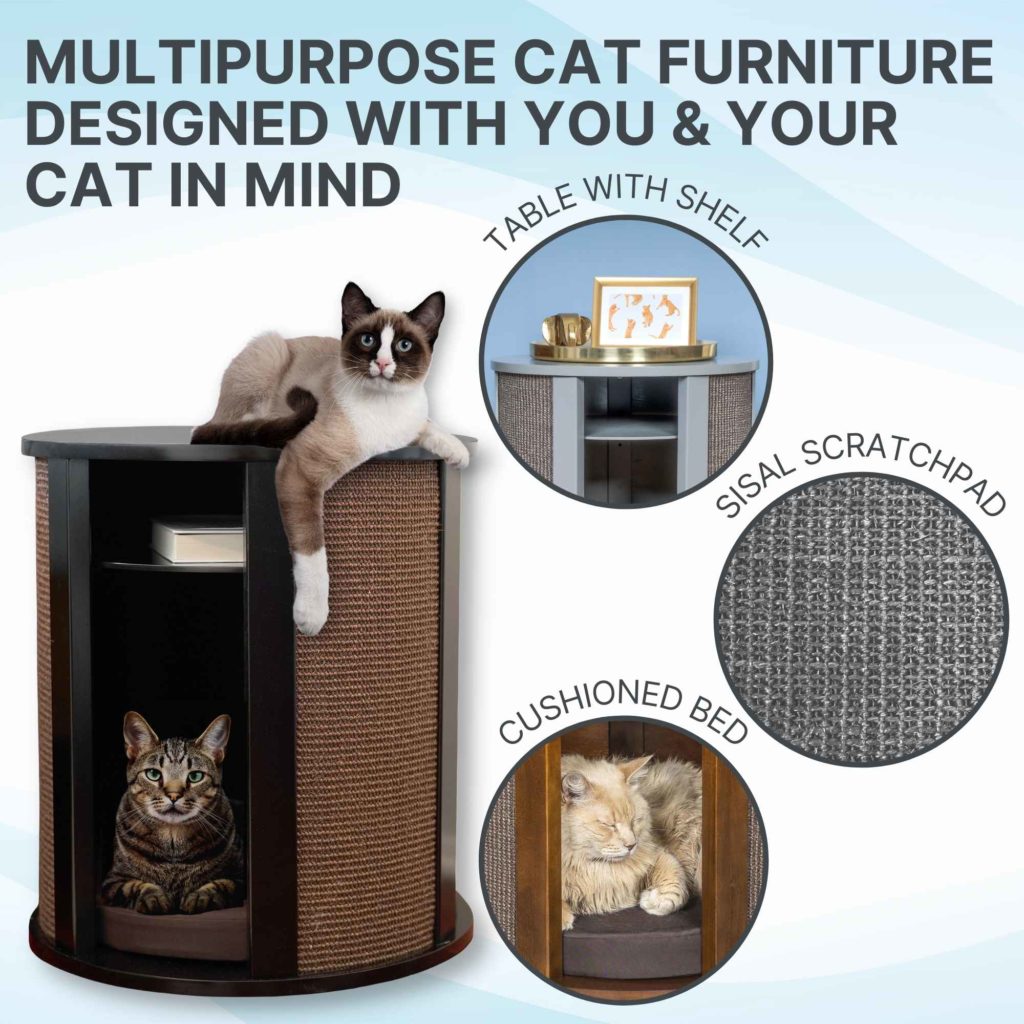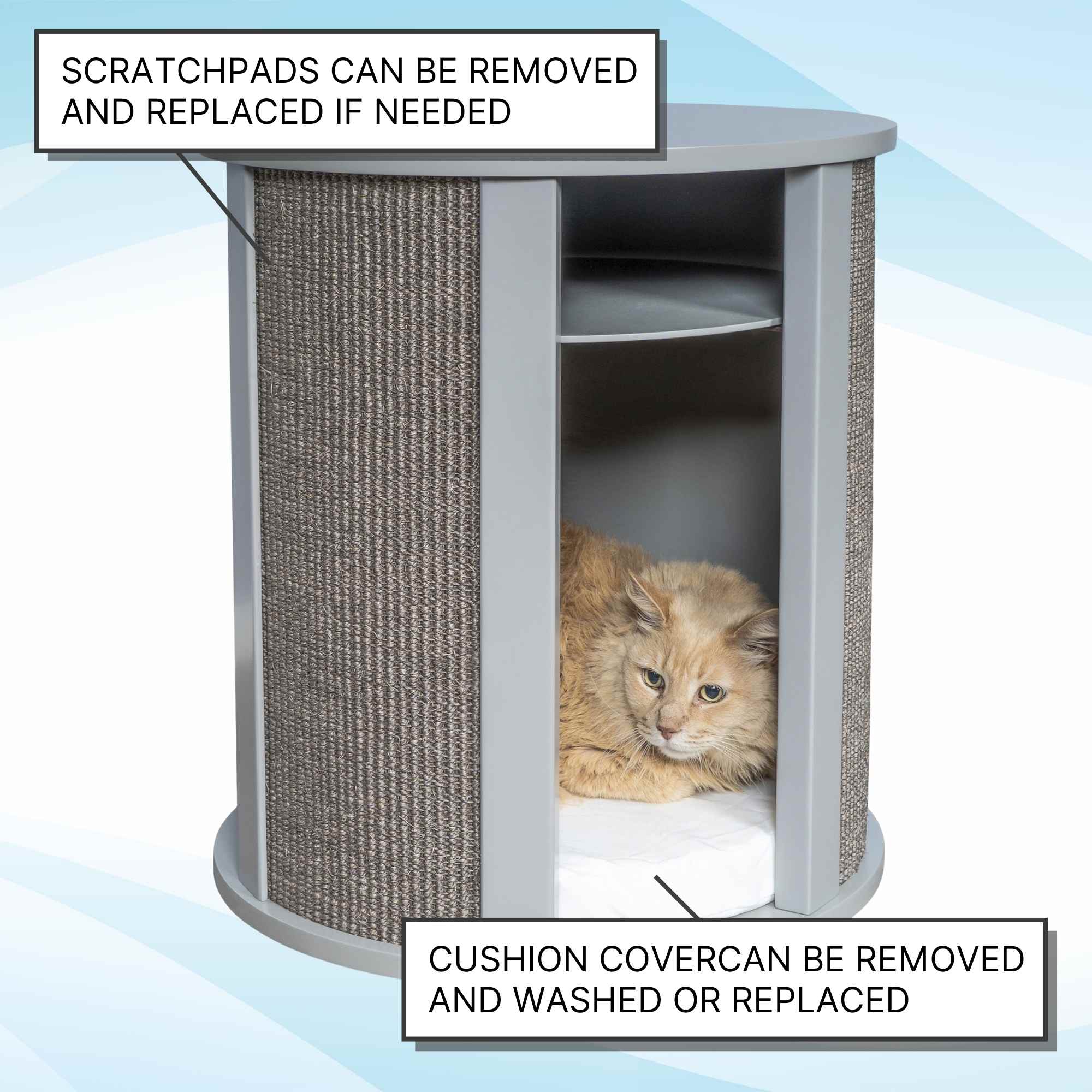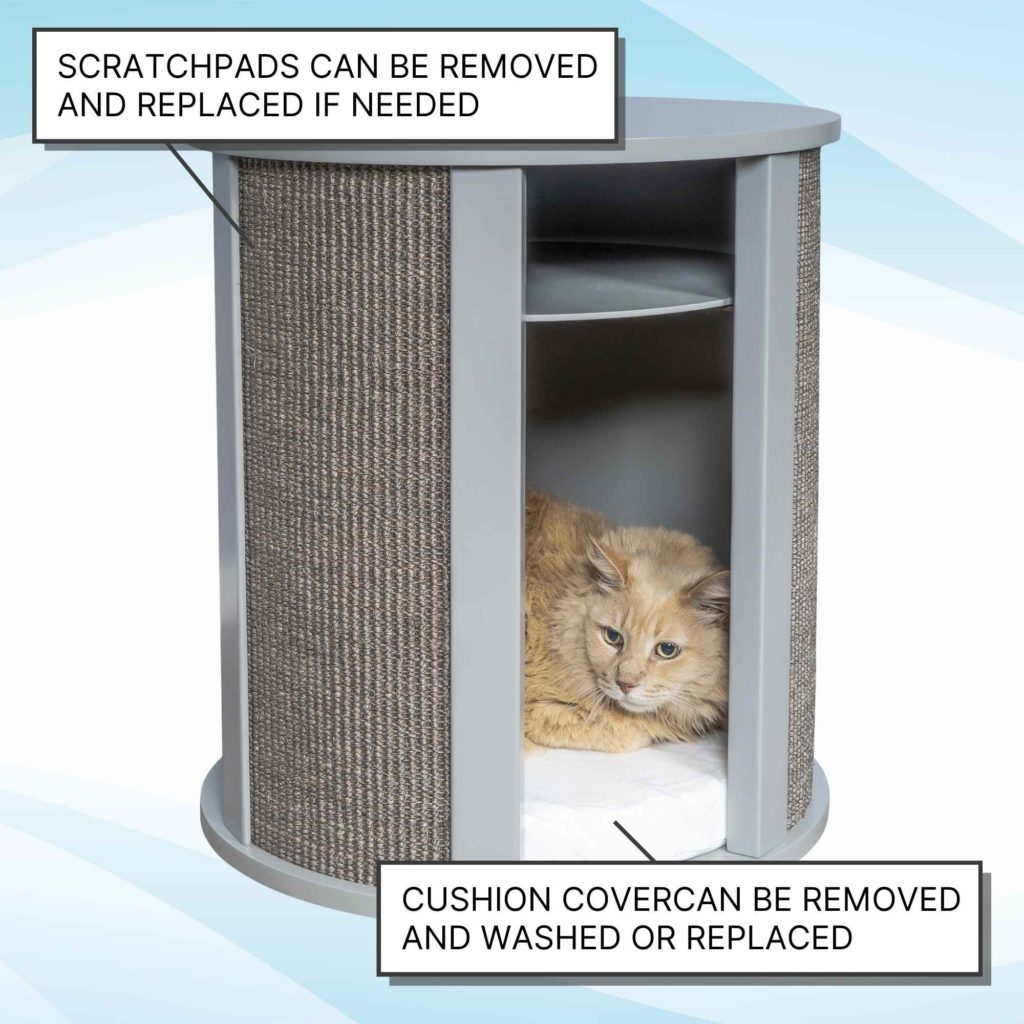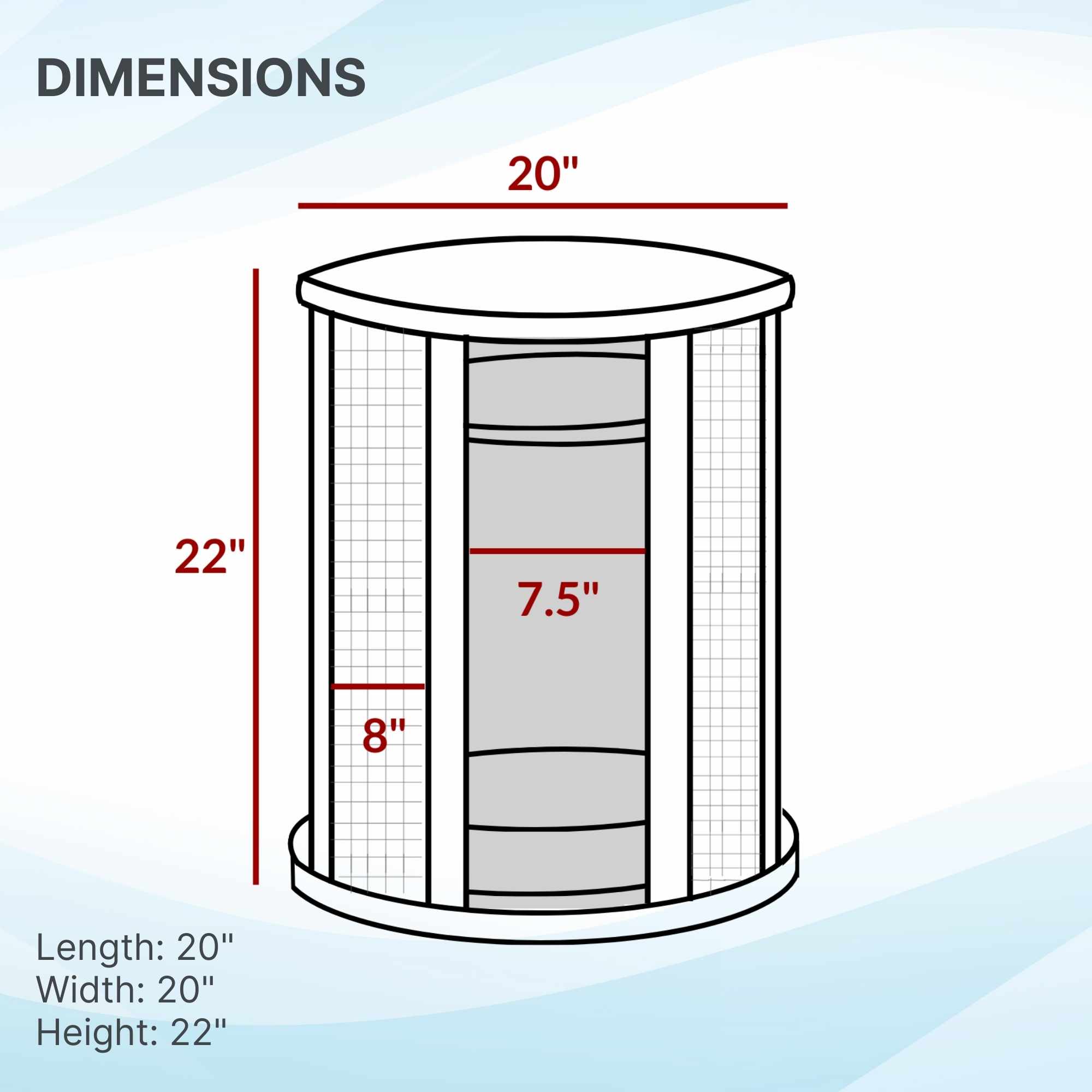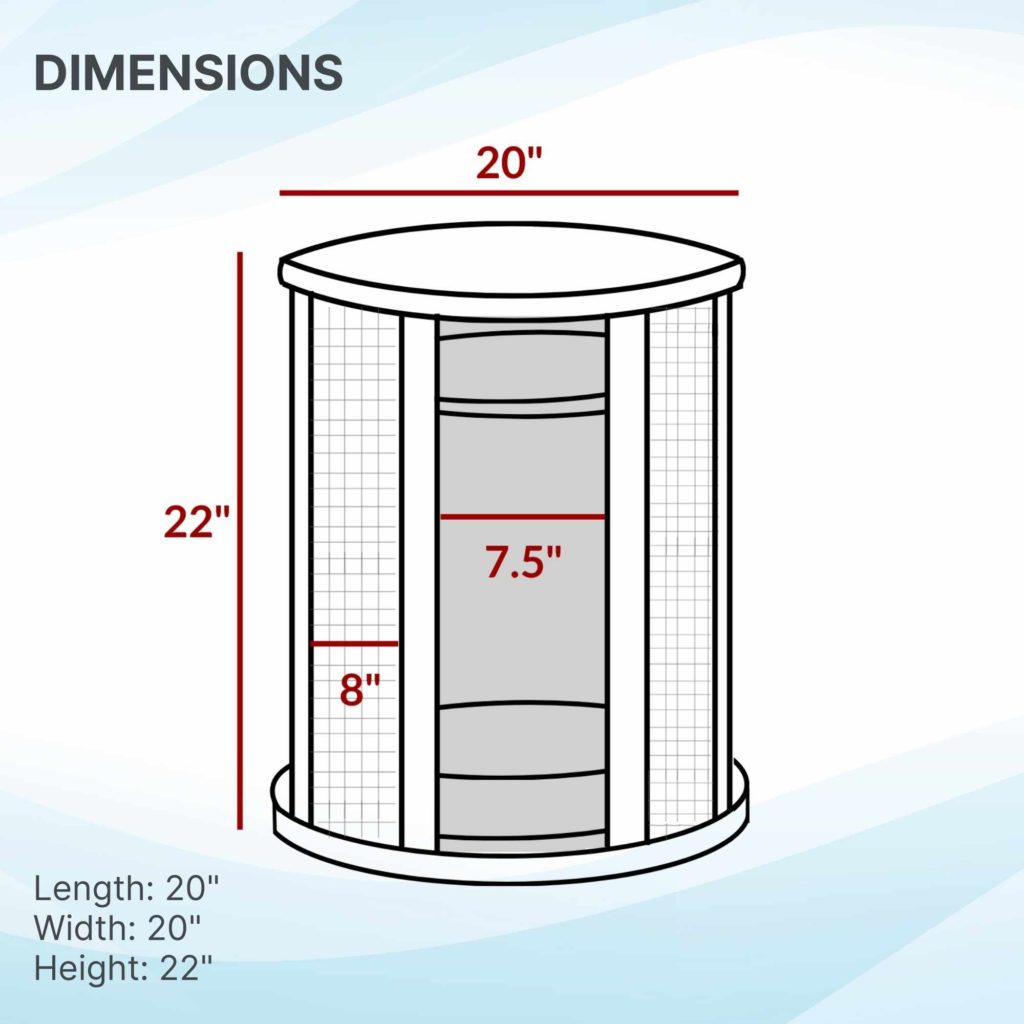 Features
Dual-purpose end table and cat scratcher
Plush hide-a-way cushioned cat bed
Large removable sisal scratching surface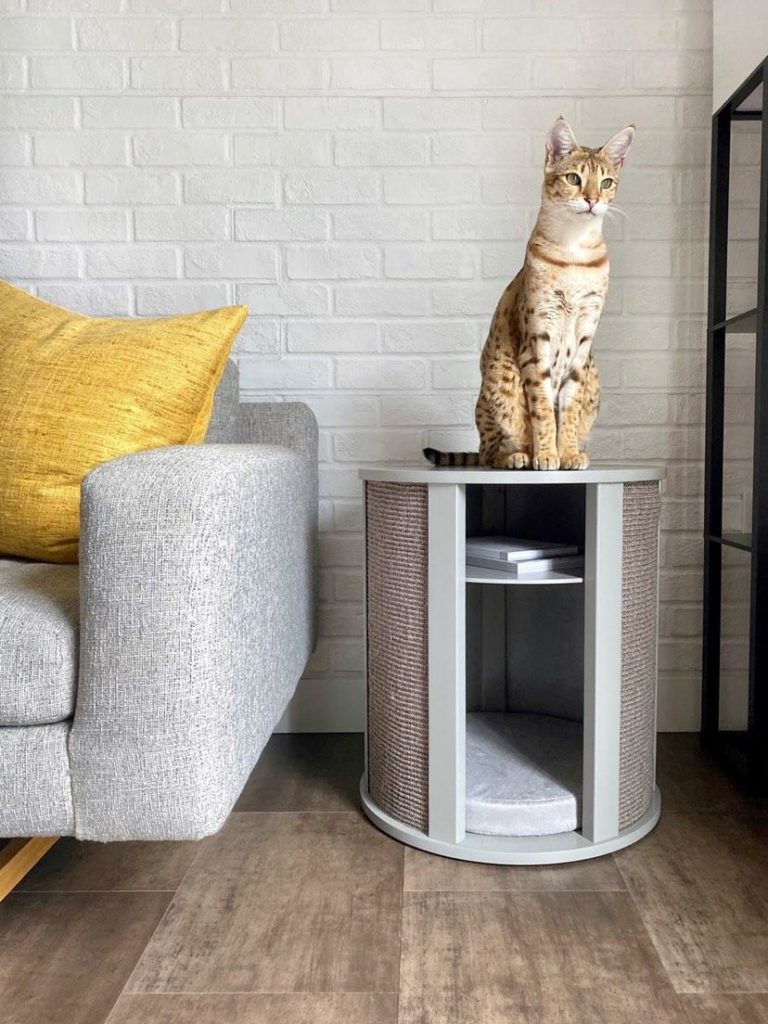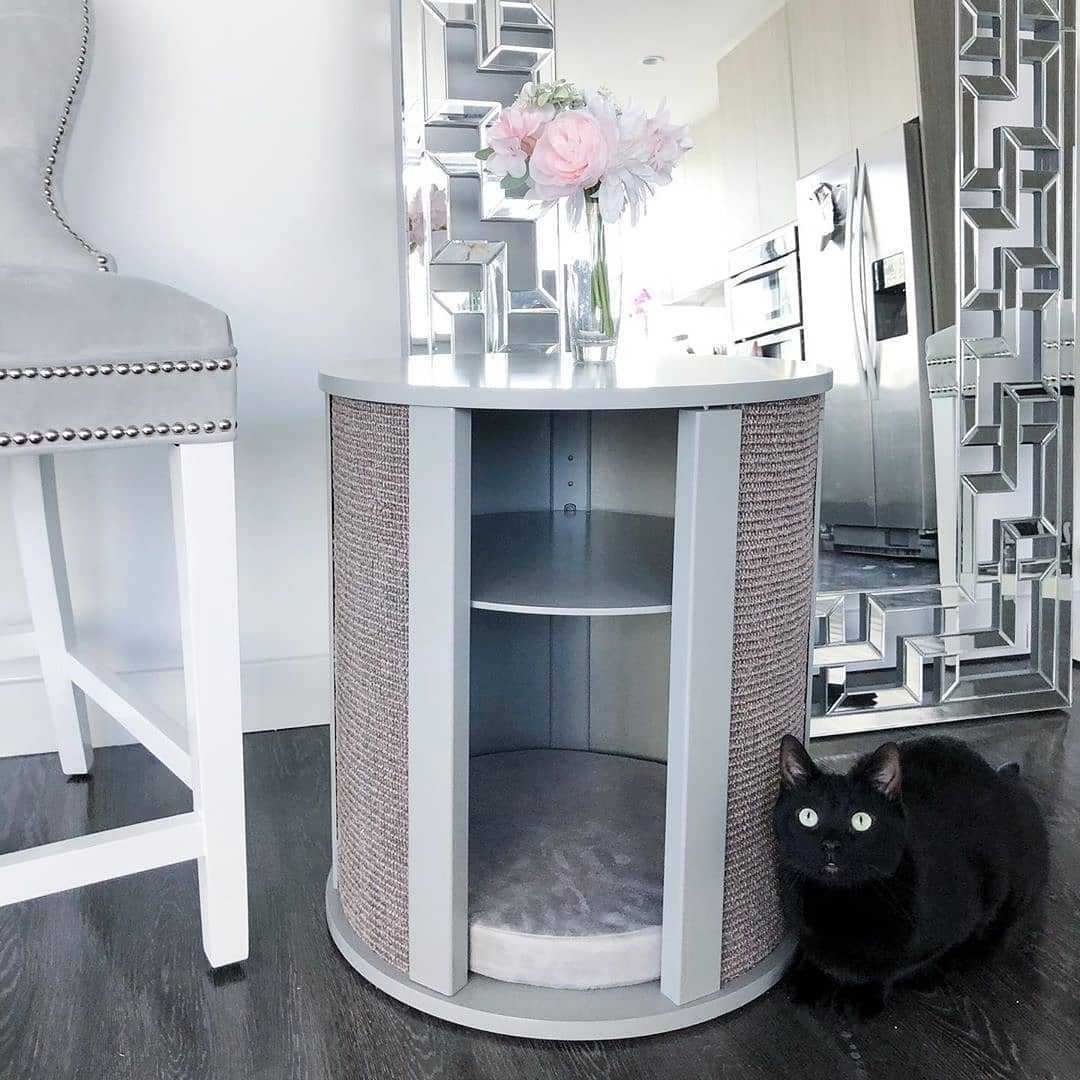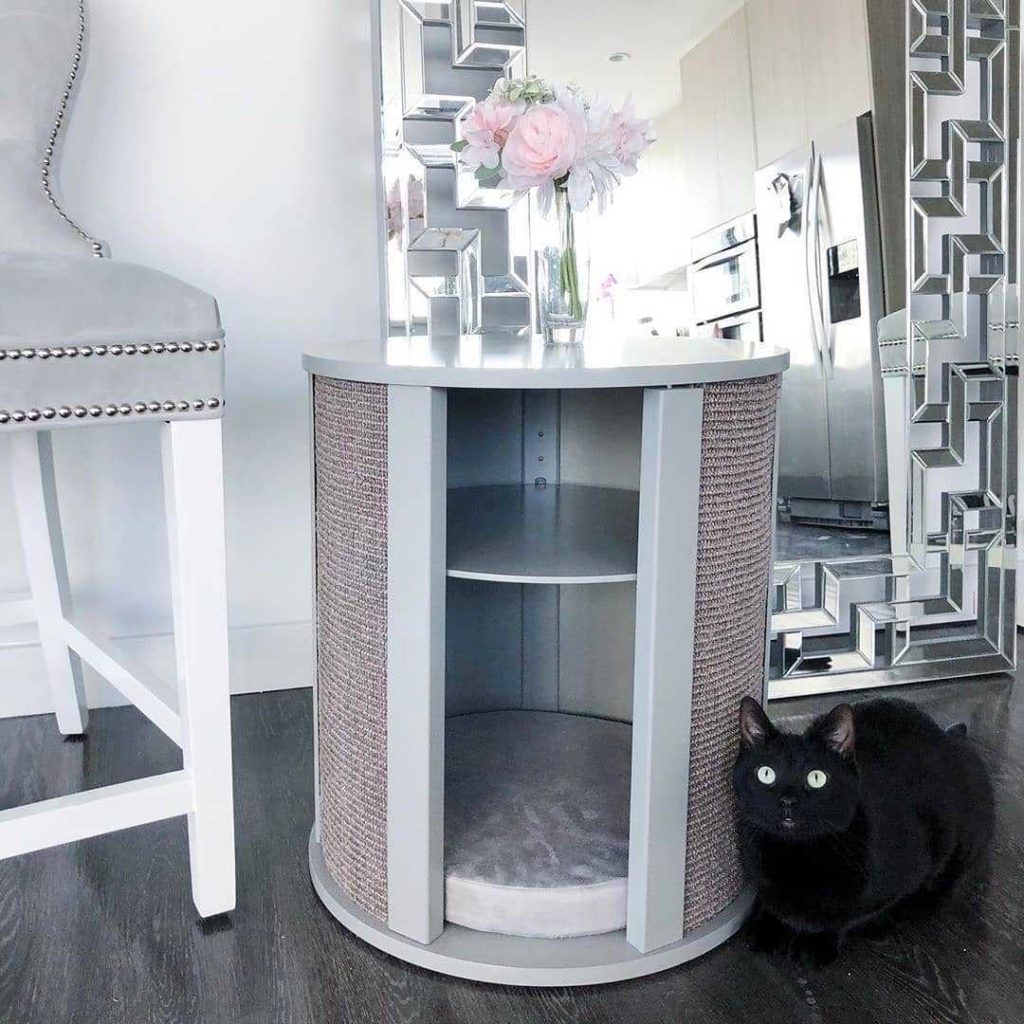 Cat Scratch Fever
This table replaced an unsightly cat scratching pole and looks 100 times better but still provides a scratching surface for the cat so he doesn't scratch the sofa. Love it!
Nice piece of furniture
Very nice piece of furniture and it looks nice with plenty of surface area.
Cat loves it
I assembled this by myself and yes getting the scratch panels took a little effort to line everything up. At first my cat didn't know what to do as she has only had posts. Cat did catch on that it was okay to claw this piece of furniture on the sisal panels. Cat loves that she has multiple sides to choose from
Two thumbs up
I love the Refined Feline products and I own several. The litter box cabinets hide many of my litter boxes and the end tables give my cats more places to sleep. 👍👍
Frequently Asked Questions
What is this cat bed end table made of?
This beautiful wooden cat bed is made of plywood with a rich oak veneer. It also features sisal scratch panels to satisfy your cat's instinct to scratch.
Is the cushion in this cat bed washable?
Yes, the cover for the cushion in this cat bed can be removed and machine washed.
Can the cushion be replaced?
Yes, we offer a replacement cushion. All of the wearable parts on all of our cat furniture can be replaced.
Can the sisal be replaced?
Yes, we offer replacement sisal. All of the wearable parts on all of our cat furniture can be replaced.
How much does this large cat bed weigh?
This wooden end table cat bed weighs 24 lbs.
Where should I put this cat bed?
Since this cat bed also doubles as an end table, you will want to place it next to a chair or couch for optimal use. However, you can also just place it wherever your cat likes to take a catnap.
What do I do if my cat doesn't use this cat bed?
We recommend giving your cat a few weeks to get accustomed to any new cat furniture. Anything new is going to smell strange to them at first. It can help to rub the cat furniture with a piece of fabric with your or your cat's scent on it. Luring your cat into the cat bed for the first time with treats or catnip is always a good option. If nothing works, we do offer a 60 day "Happy Cat" return policy. Please contact customer service for more information.
Why is the Purrrrfect End Table the best cat bed?
This cat bed is the best because you will love it just as much as your cat does. Not only will it match the decor of your home but it will be a functional piece of furniture as well. Your cat will love to use the cat bed and scratch on the sisal while you use it as a table.
Parts & Accessories
If parts wear, replacements are available
Super Fast Shipping
Free shipping on all orders over $60. In stock orders normally ship within 1 business day. The average delivery time is 2-5 days.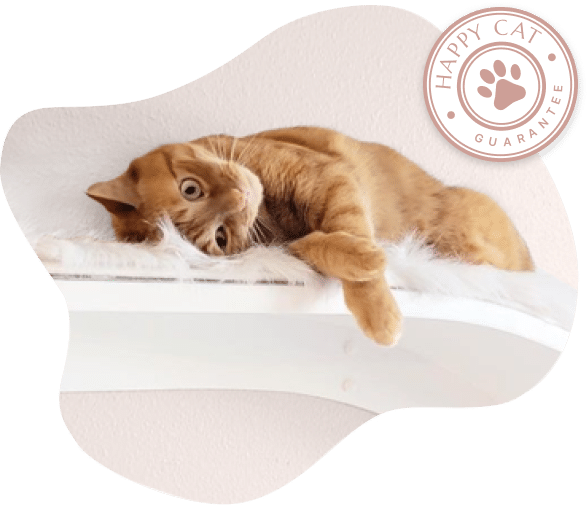 Happy Cat Guarantee
For cat lovers unsure if their cat will take to our products, we offer a 60-day trial. The trial starts from the day the package is delivered. Some cats need a few weeks to get comfortable with new furniture. Try catnip or treats to help encourage them.
Read More
Why The Refined Feline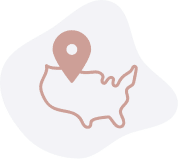 USA Support Team
Call, chat or email to reach our support team based in the United States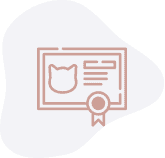 Quality Materials
Our products are made from high quality, cat friendly materials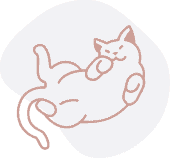 Happy Cat Guarantee
Worried about your cat's finicky taste? We offer a 60 day return policy