Lotus Branch Cat Shelf
$149.99 – $162.99
The Lotus Branch Cat Shelf provides an elegant place to perch for the feline that likes to peer over a room from above. Your cat will enjoy the spacious platform to climb and lay upon while you'll appreciate the beautiful aesthetic of our cat wall shelves. Cats will fancy walking across and relaxing on sturdy cat wall furniture made of solid wood and bent ply.
Comfortable berber carpet or white faux fur adorns the top of these cat wall shelves and can be replaced if worn. Choose from either left-facing or right-facing wall shelves. Add multiple floating cat shelves or mix and match with complementary products like the Lotus Leaf Cat Shelf and the Lotus Cat Tower to create the perfect room for you and your cat to share.
Features of these wooden cat wall shelves:
Made of a combination of solid wood and bent ply
Cat shelves include comfortable berber carpet or faux fur if the white color is selected
Carpet or faux fur can be easily removed and cleaned or replaced
Four wall anchors are provided for additional support but wall stud installation is strongly recommended
60.25″ long and 10.5″ deep with holes 16″ apart for wall stud installation.
The side a flat part of the shelf indicates right or left facing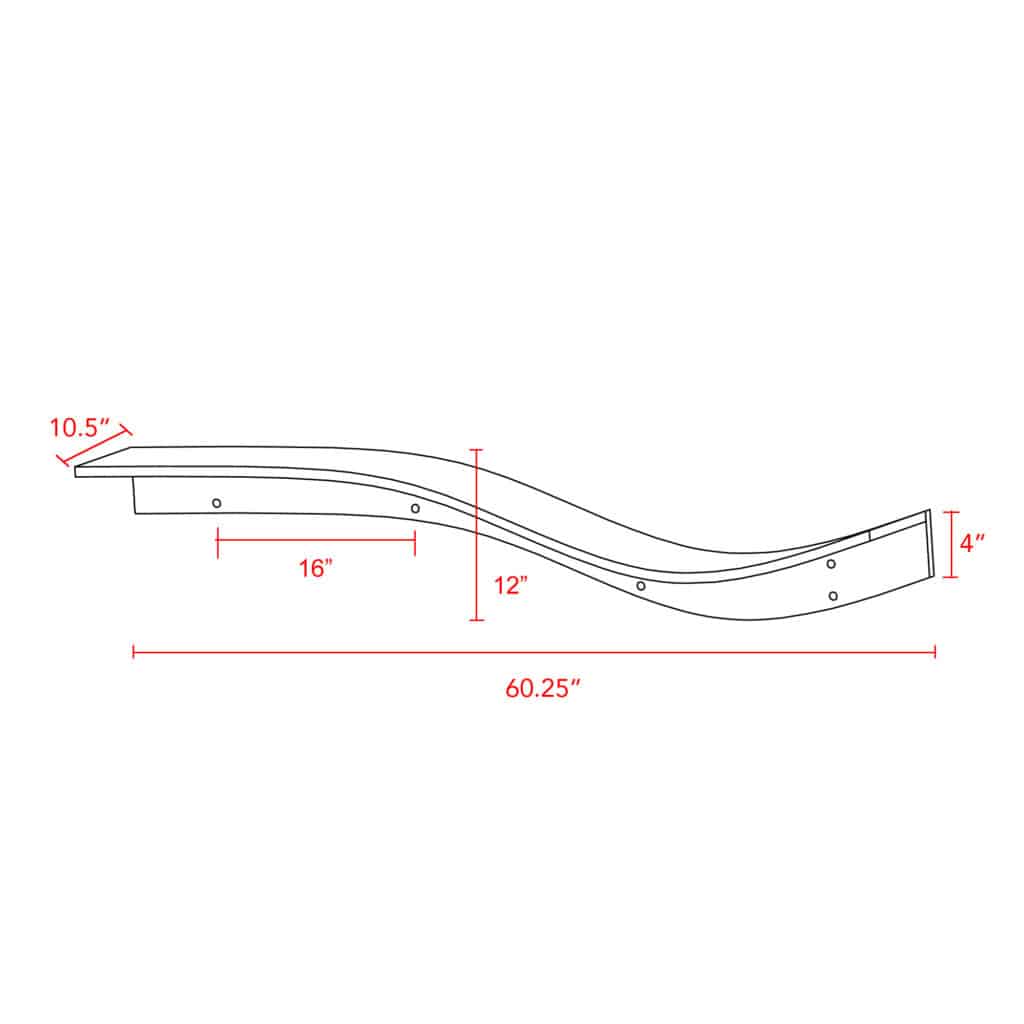 Are your cat wall shelves sturdy?
Yes, our floating cat shelves are specifically designed to hold the weight of even the largest cats. While not required, it is strongly recommended to screw the shelves into wall studs for extra security.
Are your cat wall shelves easy to install?
Our modern cat wall shelves come with everything you'll need to hang them. From the screws to the screwdriver, it's all there. Although, you will need a drill if screwing into wall studs which is not included. Hanging our cat shelves can be done by one person and shouldn't take long. The hardest part is deciding where to hang them!
Can these cat wall shelves be cleaned?
Yes, these wooden cat wall shelves can be easily wiped down with a little soap and water or a pet-friendly cleaning spray. The carpeting or faux fur can be washed or replaced. We sell replacements for all of the wearable parts on our cat furniture.
How can I get my cat to use cat wall furniture?
At first, your cats may not realize these floating cat shelves are for them! If they don't notice them at first, you can put some catnip on them and then place your cats on them. You can also place treats on the shelves and lure them over. You'll want to place these cat shelves near a cat tree or create a catwalk with multiple shelves so that your cat can easily jump up. Once your cats use these wall mounted cat shelves once, they won't forget they're there!
What color are the espresso cat wall shelves?
The espresso cat shelves are actually a rich dark brown, not black. While they will still look great with any black decor, they are just light enough to show the beautiful woodgrain in the real oak veneer.
Are the white cat shelves white or off white?
Our "white" cat shelves are a true white and come with matching faux fur padding. All of our wooden cat furniture that comes in "white" will be the same bright white color.
What do I do if my cat doesn't use the cat shelves?
We recommend giving your cat a few weeks to get accustomed to any new cat furniture. Anything new is going to smell strange to them at first. It can help to rub the cat furniture with a piece of fabric with you or your cat's scent on it. Luring your cat onto the cat furniture with treats or catnip is always a good option. We also recommend using toys to encourage playtime on the furniture. If none of this works, we do offer a 60 day "finicky cat" return policy. Please contact customer service for more information.
How much do these wooden cat wall shelves weigh?
The Lotus Branch Cat Shelf is a sturdy wooden cat shelf that weighs 14 lbs.
Where should I hang these cat shelves?
You can hang cat wall shelves anywhere with a wall! However, we do recommend screwing them into wall studs. The shelves are great for over your bed, over a couch, near a window, or above a desk! Your cat will love to have a space of its own while still being within arms reach on these floating cat shelves.
Beautifully crafted and attention to detail
this product is beautifully crafted and the attention to detail is perfect. There are special tabs designed to cover the hanging hardware so it really looks like it is just floating on the wall. looking into purchasing the 'leaf' for a smaller location in the house.
Lotus Leaf
This is a significant piece of furniture. However, although it's imposing, it's beautiful enough to pull it off. And, Zoey loves it. It's truly a great space for her to hang out on. Zoey's is dark espresso.
The hardware and instructions were spot on for installing to studs spaced @ 16 ".
Puurrrfect
Everything I hoped for, and more! Sturdy and stable, easy to install. Great quality, the fur is beautiful. Cats took to it instantly as they knew it was made for them!
Perfection
I love it!! Seriously so well made and beautiful. I am SO happy with my purchase
Beautiful furniture addition!
Quality made and GORGEOUS!!