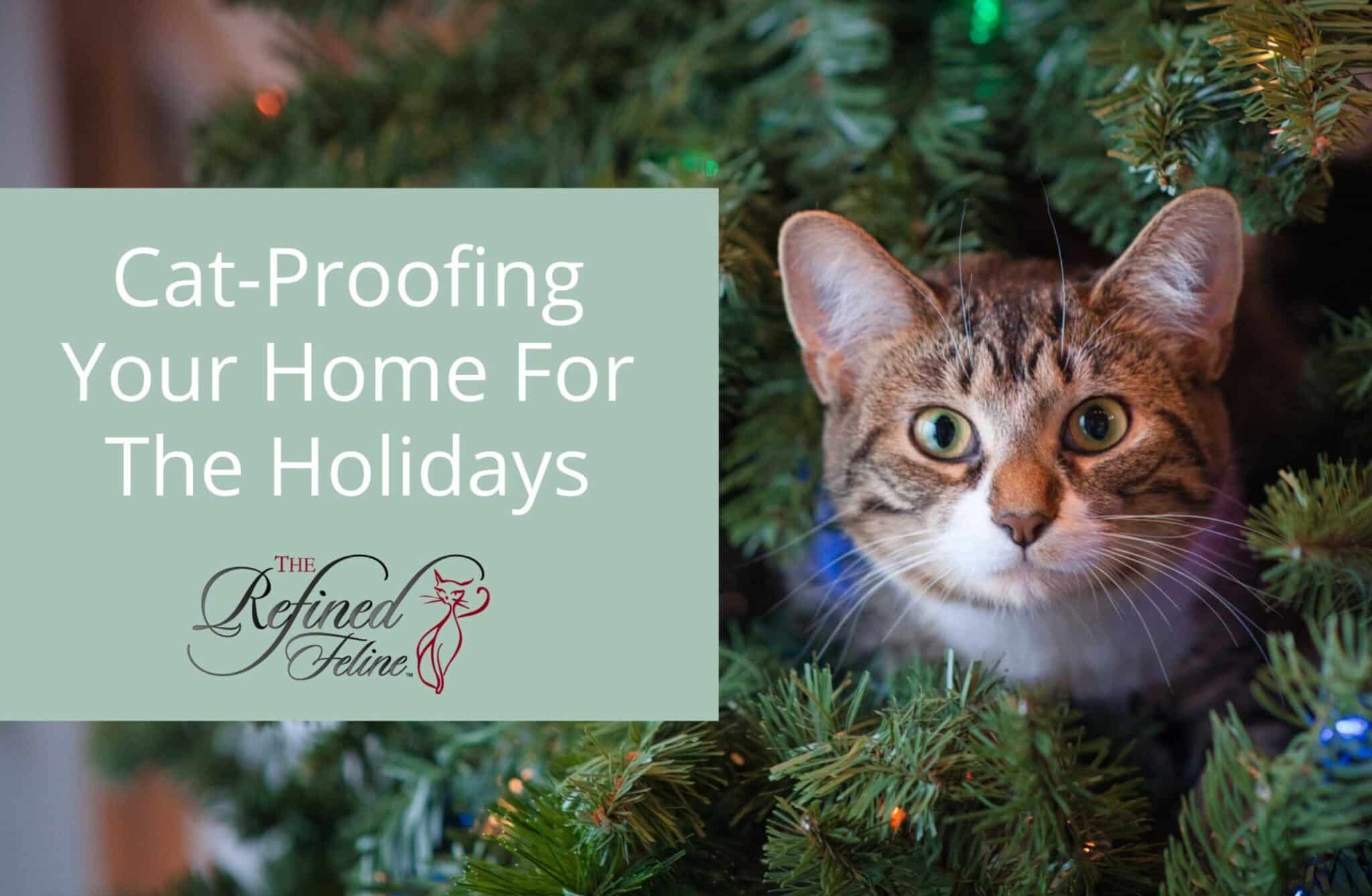 Cat-Proofing Your Home for the Holidays
[et_pb_section fb_built="1″ _builder_version="3.22″][et_pb_row _builder_version="3.25″ background_size="initial" background_position="top_left" background_repeat="repeat"][et_pb_column type="4_4″ _builder_version="3.25″ custom_padding="|||" custom_padding__hover="|||"][et_pb_text _builder_version="4.7.7″ background_size="initial" background_position="top_left" background_repeat="repeat"]
On a typical day, house cats can be found jumping, climbing, and knocking things over in our homes. But add the irresistible temptations of the holiday season — shiny garland, sparkly tinsel, intriguing decorations, the Christmas tree — and your cat will think she has hit the jackpot. While it is entertaining to watching a cat or kitten bat a bow or ribbon around the floor, the holidays can be a dangerous time for your feline. You want Christmastime to be fun and safe for your family and your cat, so here are some handy tips for cat-proofing your home for the holidays.
Choose your Christmas tree wisely.
Real trees look and smell lovely, but their pine needles can puncture your cat's paws. If your cat likes to gnaw on plants, then those needles may look like tasty treats, and pine needles are toxic to cats. Your safest bet is to purchase an artificial tree to keep your cat safe. How can you make the tree sturdy enough to resist your feline? Here are some ideas:
Install the tree securely
Use a stable tree stand to anchor the tree down so that it won't topple over if your cat decides to go for a climb. Placing the tree in a corner and far enough away from other pieces of furniture that can serve as "launching pads" for your cat should limit feline access to the tree.
Hold off on decorating for a day or two
Let your cat get her curiosity out of the way before you dress up your tree with decorations. When you place the lights on the tree, make sure they are as hidden as possible; any excess wires should be covered with chew-proof plastic tubing. Tie any delicate ornaments to the higher branches with twine or string instead of sharp metal hooks.
Keep your cat out of the room while decorating
Trying to decorate and cat-proof a Christmas tree while your cat is in the room is a recipe for disaster. Get it done and out of the way before letting your cat explore.
Use cat-friendly ornaments.
Although you may cherish your glass baubles and shiny ornaments, your cat will love them even more — and will probably break them while trying to swat them down from the tree. A broken glass ornament can be dangerous for your cat, so try to use more feline-resistant decorations. Paper, wood, felt or silk ornaments are safe options to consider.
If you use bows on your tree, tie them firmly to the branches. Avoid tinsel as your cat may try to swallow it when playing with it. Ingested tinsel is a choking hazard and may cause intestinal blockages and emergency surgery.
Check for fire hazards.
The holidays mean extra lights and often candles and fires in fireplaces and wood-burning stoves. Unfortunately, cats can be attracted to bright, dancing lights and extra warmth. It doesn't take much for a cat to get her fur singed or suffer a burnt whisker or two; even worse, your cat may be severely burned. Your cat may also knock over a lit candle and cause a fire.
To be safe, replace your candles with battery-operated flameless models. Place tough plastic covers over cords to prevent chewing and use a firescreen in front of your fireplace or stove to stop your cat from getting too close to the flames.
Avoid the greenery.
Plants such as poinsettias, mistletoe, amaryllis, and holly are often used to add to the holiday spirit. Sadly, these plants are often toxic to your cat if she eats them; ingesting these plants can cause intestinal distress, vomiting, abdominal pain, and even death. Substitute the real plants for artificial ones as they will be far less tempting for your cat, and you can use them over and over every year.
Make the holiday season festive and safe for your family, including your cat. Cat-proofing your home for the holidays will give you peace of mind. Take precautions to make sure your home is cat-proofed for the holiday season and give yourself and your cat less time to stress and more time to cheer.
[/et_pb_text][/et_pb_column][/et_pb_row][/et_pb_section]