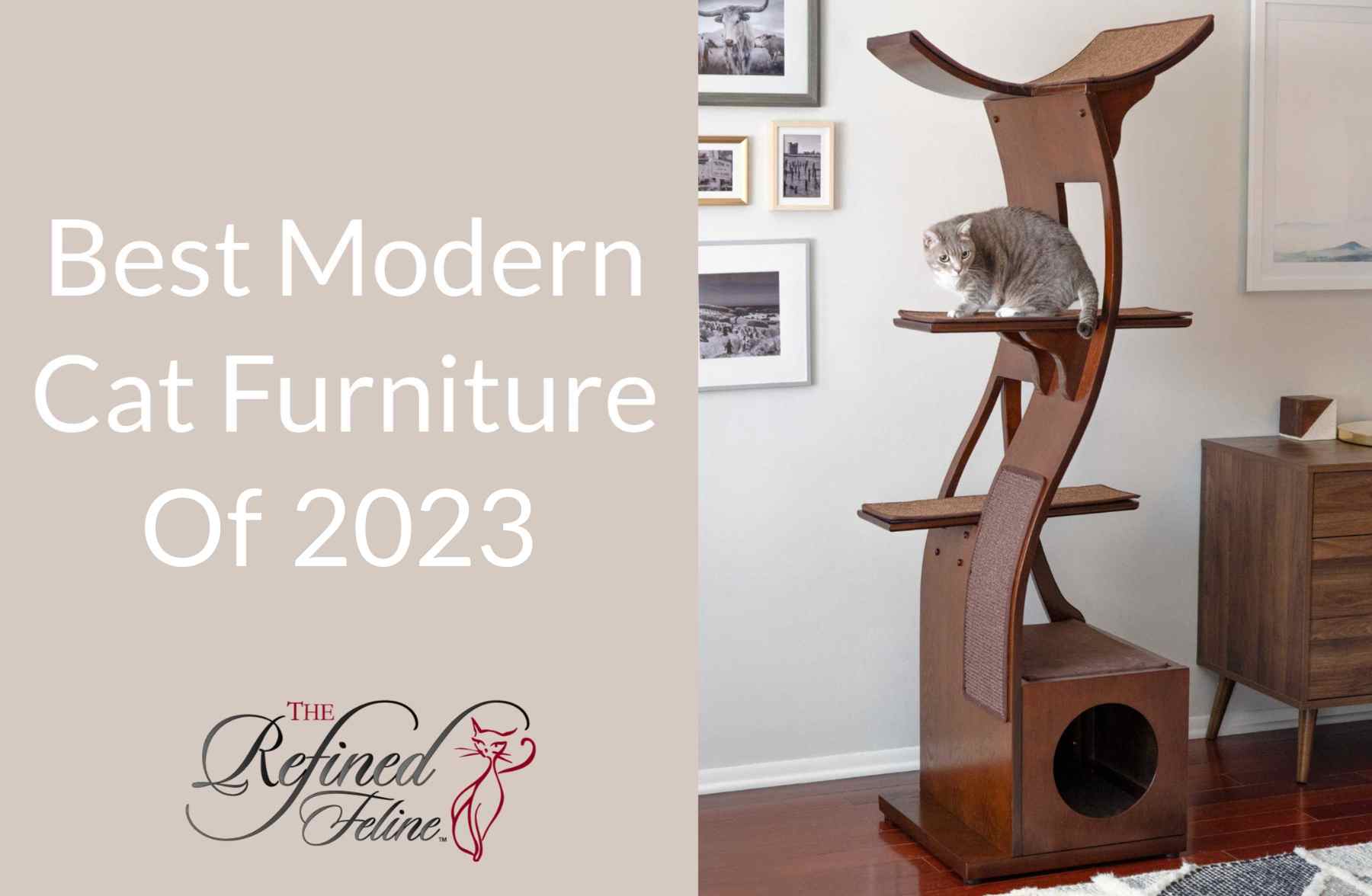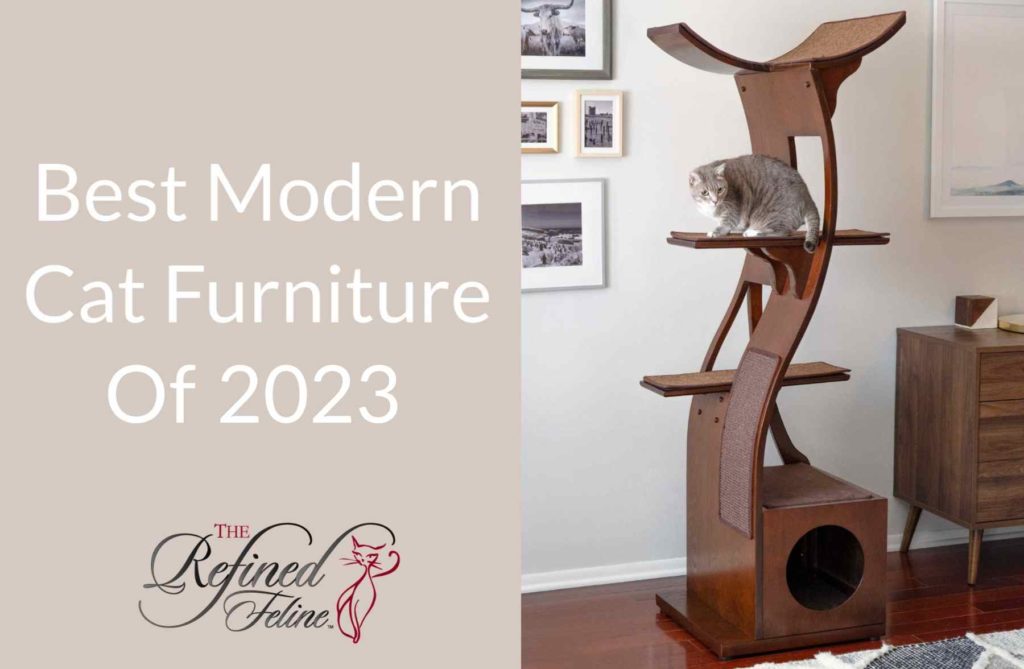 Best Modern Cat Furniture of 2023 From The Refined Feline
As feline fanatics, we know that our cats deserve the best. From high-quality cat foods to the best modern cat furniture and cat toys, we want to ensure that our cats are the healthiest and happiest they can be! However, for as long as we can remember, there has been an ongoing catfight between our beautiful homes and the not-so-beautiful carpeted cat furniture. The Refined Feline is here to finally end this battle with the best modern cat furniture that you'll want to show off in your home!
The Refined Feline designs modern cat furniture such as cat towers, cat wall shelves, and litter box cabinets that are durable and high quality. They are made to blend in with your home's decor, instead of being an eyesore. Cat furniture from The Refined Feline is made to last all nine lives because all of the carpets, cushions, and scratching pads can be removed and cleaned or replaced. The cat furniture pieces are available in multiple wood finishes to match your home decor. Many products are even customizable so that you can design the purrrfect piece for your home. Humans are spending more time at home in 2023 than ever before. Now is the time to invest in your cat's happiness and your home with the best modern cat furniture from The Refined Feline!
Best Modern Cat Furniture
Best Modern Cat Furniture: Best Cat Tree
If you've been tirelessly searching the internet for a stylish and contemporary cat tree, your quest is now complete. Say goodbye to those unattractive, flimsy carpeted cat trees that stand out like a sore thumb. The Lotus Cat Tower is the answer to your prayers, satisfying both human and feline needs. This wooden cat tower boasts a captivating appearance while providing your cat with the perfect combination of climbing opportunities, lounging areas, and a scratchpad. Your feline companion will stay engaged for hours on end, joyfully exploring every nook and cranny for play and mental stimulation. Moreover, you have the luxury of choosing from a range of modern colors, allowing you to seamlessly integrate this tower with your existing furniture. Thanks to its spacious design, your cat will have ample vertical space to enjoy window-watching or simply unwind and relax. Whether you have one cat or multiple furry friends, this tree accommodates them all, offering plenty of room for a few feline companions.
★★★★★"I just bought my 2nd Lotus Cat tower for another room to replace a ratty old carpet tower. My cats love it and we like looking at it. It's a lovely piece of furniture!" -Anne
[box]
Features:
Multiple perches
Sisal Scratchpad
Cushioned den
Cushion, carpet, & scratchpad are detachable for cleaning or replacement
Easy assembly with all tools included
Details:
Dimensions: 20″ w x 20″ d x 69″ h
Materials: Ply wood with oak veneer, berber carpet, sisal
Colors: Espresso, Mahogany, Smoke, White (limited edition!
Weight: 72 lbs
[/box]
---

Best Modern Cat Furniture: Best Cat Condo
If you have a taste for something exceptionally stylish, then the Metropolitan Cat Condo is the perfect choice for you and your cat. Prepare to astonish anyone who lays their eyes on it, as they won't believe that this stunning piece of furniture is specially crafted for your beloved felines. With its strong metal frame, this cat tree exudes the elegance of a refined bookcase rather than conventional cat furniture. Featuring multiple levels, it offers cats endless opportunities to explore and climb to their heart's content. Its open design provides an ideal vantage point for observing the great outdoors through a window or door. You even have the freedom to mix and match the frame colors and platform styles, allowing you to discover the most exquisite combination that purrrfectly complements your home decor.
★★★★★ "I am IN LOVE with this kitty condo! It is such a luxurious addition to our home and the gold matches our other metal pieces." -Xaviera
[box]
Features:
Easily blends into any home's decor
Mix and match frame color & platform color
Platform with built in food bowl available
Hanging cat toy can be added on
Includes wall anchor for added stability
Carpeting is detachable for cleaning or replacement
Easy assembly, all tools included
Details:
Dimensions: 31" w x 15" d x 62" h
Platform: 13" h x 18.5" d
Materials: Metal, fabric, sisal
Colors: White, Gold, Grey, Black
Weight: 62 lbs
[/box]
---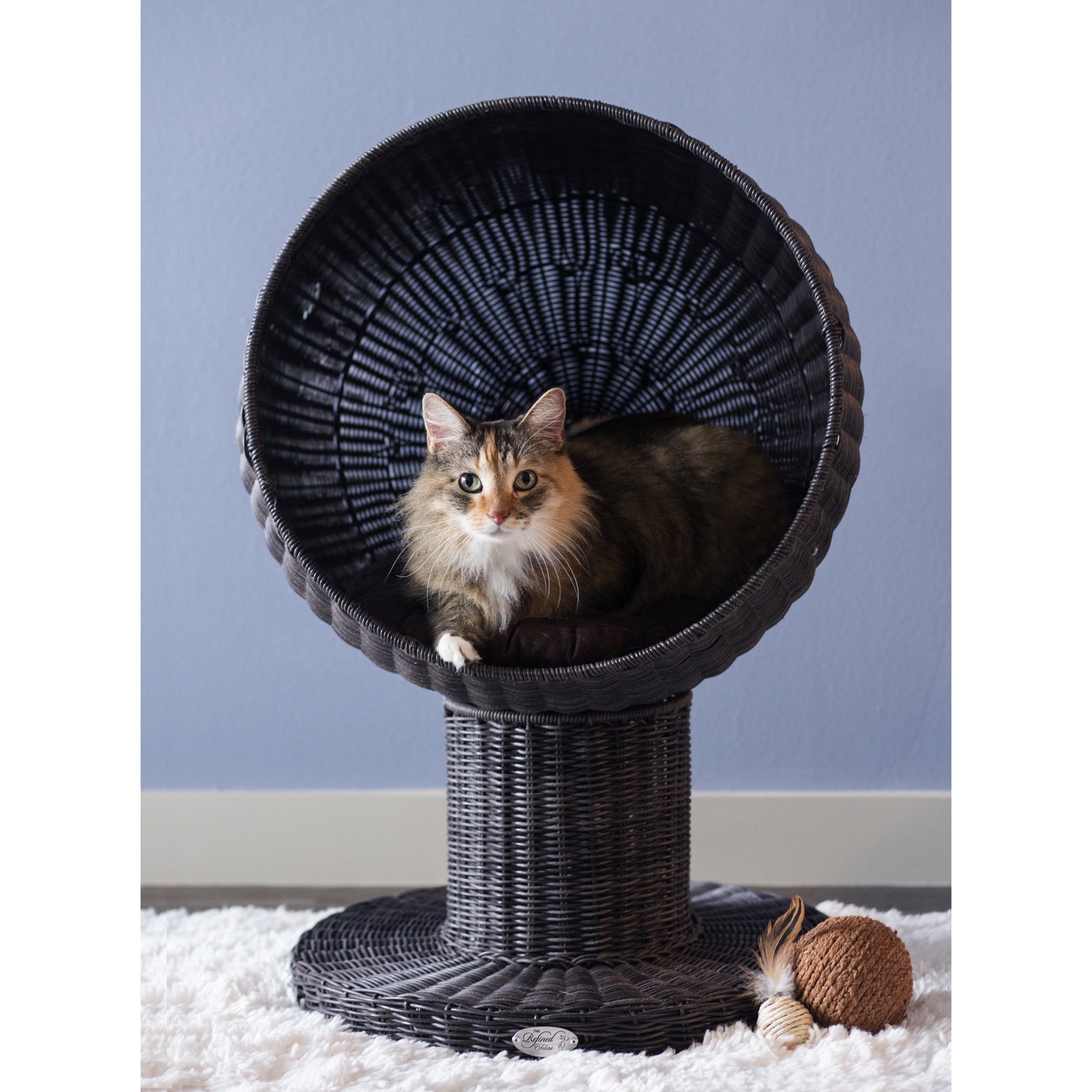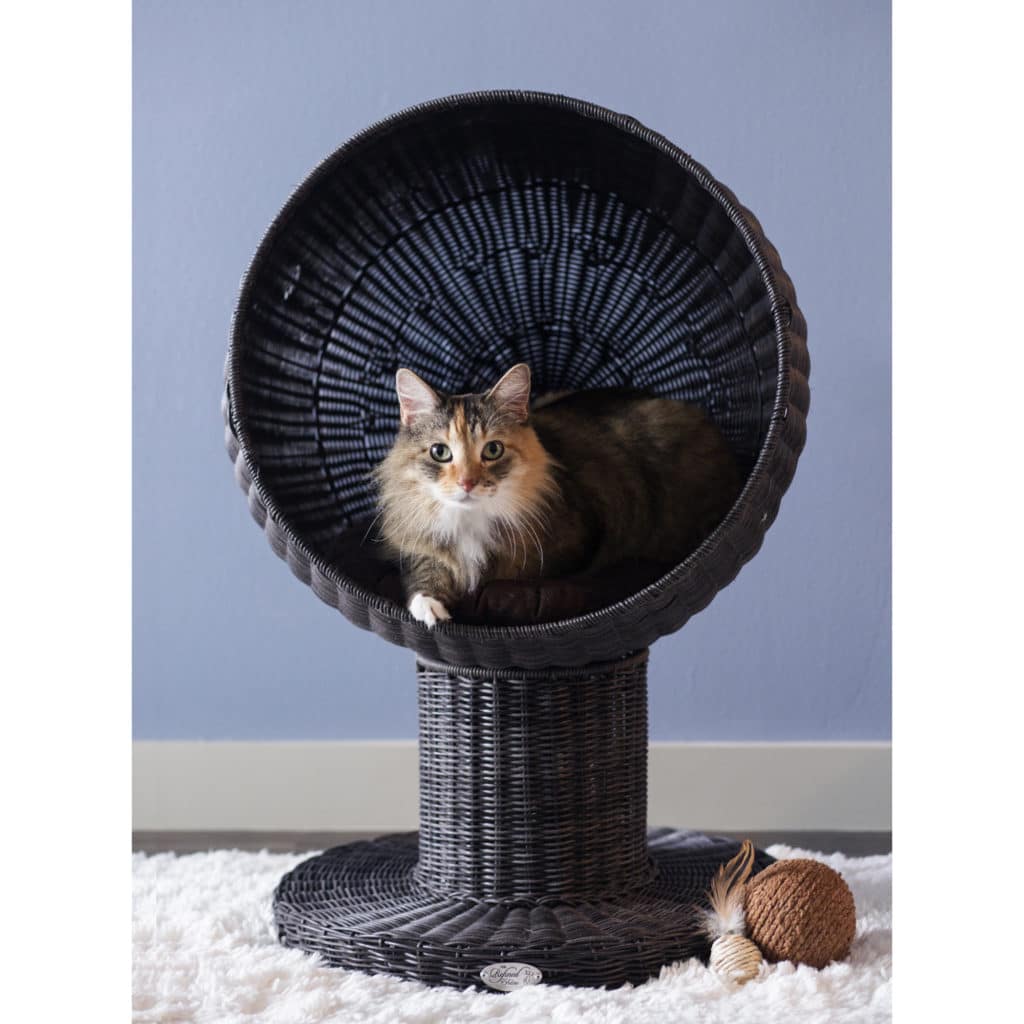 The Best Modern Cat Furniture: Best Elevated Cat Bed
If your feline friend is in need of additional napping spots, consider incorporating a variety of cat beds into your home. Cats have a penchant for snoozing in varied areas, so providing them with multiple options can pique their interest. The Kitty Ball Bed is an excellent choice as it fulfills a cat's desire for elevation while offering a comfortable place to rest. Elevated off the ground, the ball design provides curious cats with a sense of height. With a single opening, it allows cats to feel secure while keeping an eye on their surroundings. The faux rattan material is highly durable, capable of withstanding even the sharpest of claws. The weighted base ensures stability, preventing the bed from falling over, and it comes complete with a soft cushion inside. The best part is that the Kitty Ball Bed seamlessly blends into any home's style, making it virtually unnoticeable as cat furniture.
★★★★★"All my pets love this thing. I've had it over a year and it still looks new, no damage or signs of wear. My giant 20lb cat has plenty of room, which was my biggest concern. It's more than I like to spend on pet products because they will usually get destroyed, but the cat ball has been worth it!" -Casey
[box]
Features:
Elevated cat bed
Machine washable cushion
Material is claw proof
Blends in with your home
Details:
Dimensions: 17" w x 28" h
Dome is 11" off of the ground
Materials: Hand-woven faux rattan
Colors: Smoke, Espresso
Weight: 14 lbs
[/box]
---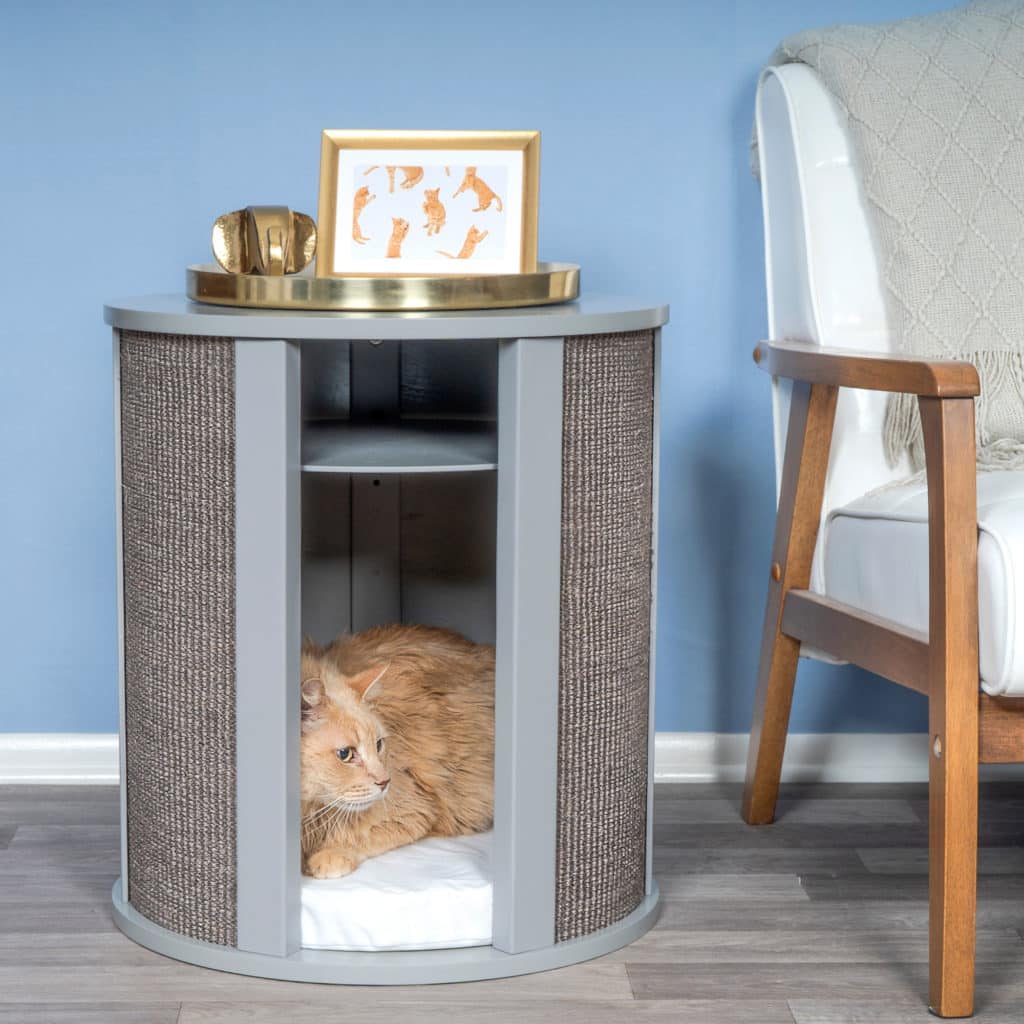 The Best Modern Cat Furniture: Best Hidden Cat Cave Bed
The combination of chic and cat bed may seem unlikely, but the Purrrrfect End Table defies all expectations. This multifunctional piece serves as a stylish end table, available in various finishes to suit your taste. However, what sets it apart is the concealed cat bed nestled within. Inside this hidden compartment, your feline companion will discover a cozy cushioned bed, offering both a sense of involvement and privacy. Additionally, the end table features an internal shelf on top and durable sisal scratchpads along the outer surface. But here's the real highlight: the cushion and scratchpads are easily removable for cleaning, or you can effortlessly obtain replacements if needed. With the Purrrrfect End Table, you get the best of both worlds—a stunning piece of furniture for humans and a comfortable haven for your cat.
★★★★★"Love this table, have it sitting between the chair and my cat tree. These products are amazing, a great investment, the table is so nice and functional.. Best money spent and I do not have to worry about carpet pieces to sweep up like other cat furniture or replacing it every year." -Donna
[box]
Features:
Multifunctional cat bed, cat scratcher, and end table
Includes machine washable cushion
Scratchpads can be removed and replaced when worn
Details:
Dimensions: 20" w x 22" h
Materials: Wood, sisal, fabric
Colors: Espresso, smoke, mahogany
Weight: 24 lbs
[/box]
---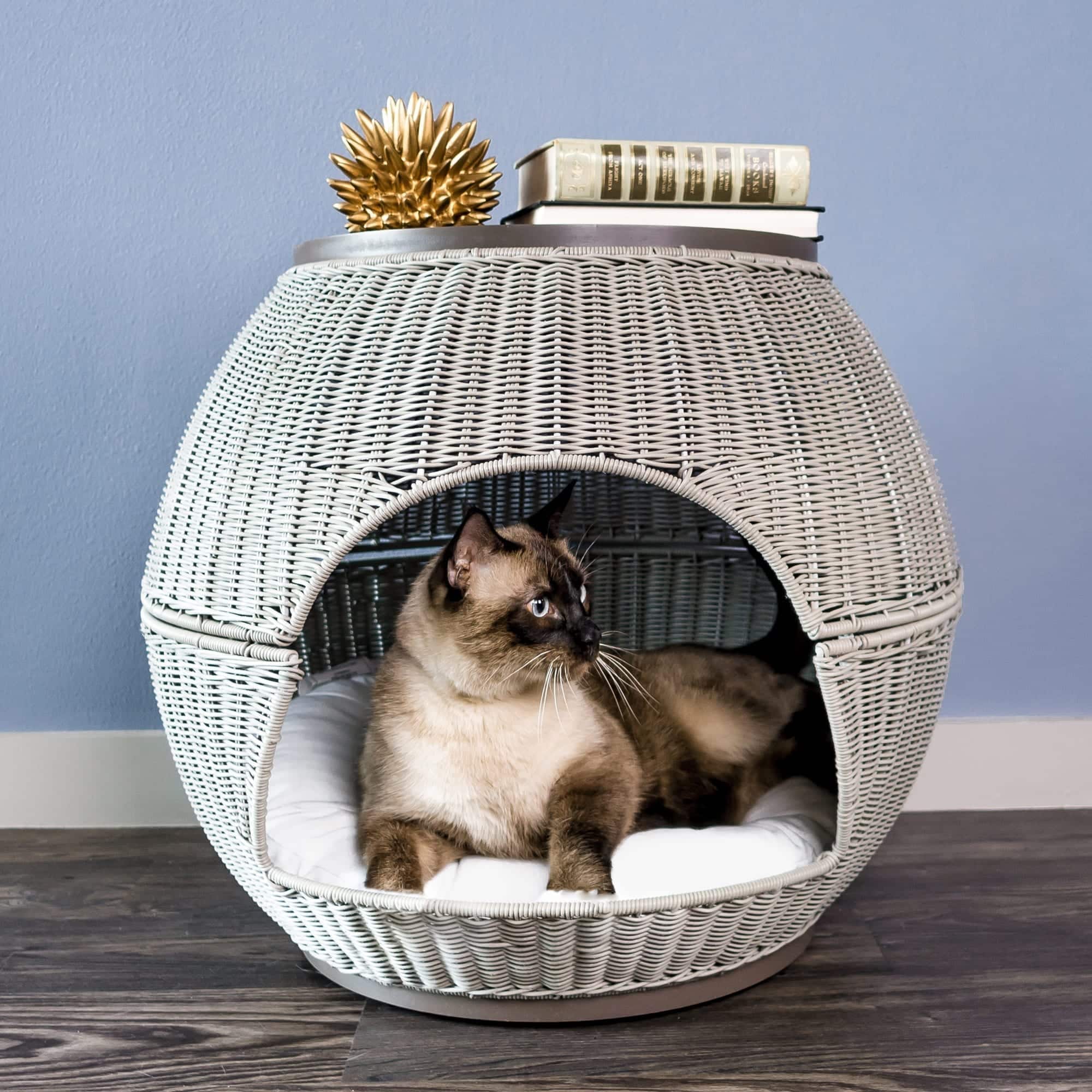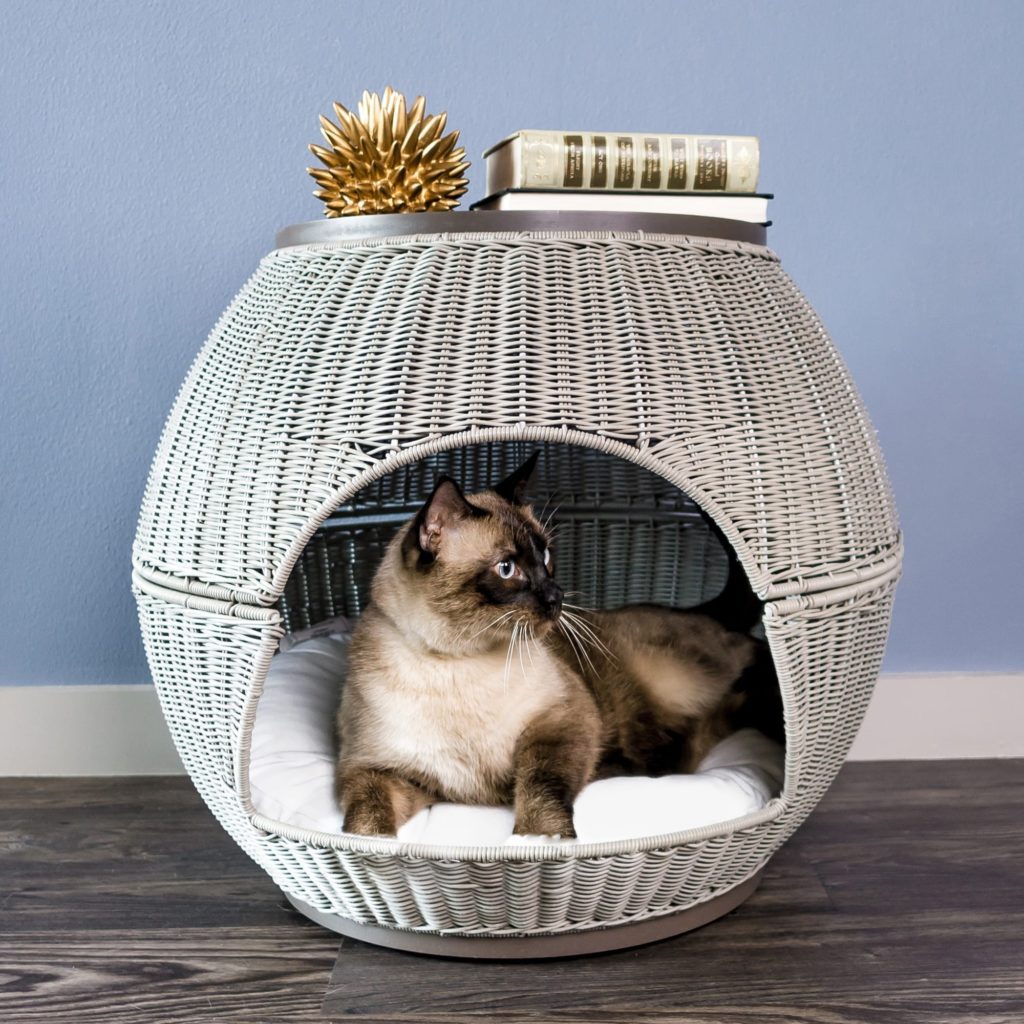 The Best Modern Cat Furniture: Best Wicker Cat Bed
If you desire a stunning and practical sleeping spot for your cat that sits closer to the ground, look no further than the Igloo Cat Bed Deluxe. This enclosed cat bed provides the privacy that cats yearn for, offering a sense of safety and security. Not only will your feline friend appreciate this cozy retreat, but you will also find it beneficial. The cat bed features a wooden tabletop, serving as a functional surface for your household items. Crafted from claw-proof faux rattan, it ensures durability, and it is available in two appealing colors. The versatility of this cat bed will captivate you, while your feline companion will relish in having their own snug area to retreat to.
★★★★★"Nice and big for my huge 22 pound old cat. He has a nice place to hide and sleep when strangers and children come over to my new home and overwhelm him." – Karen
[box]
Features:
Claw-proof material
Dual cat bed and end table
Includes machine washable cushion
Details:
Dimensions: 25" d x 20" h
Materials: Hand-woven faux rattan, wood substrate
Colors: Espresso and Smoke
Weight: 17.5 lbs
[/box]
Related: Best Cat Beds (A Review From Our Cats)
---
Best Modern Cat Furniture: Best Cat Litter Box Furniture
The Refined Cat Litter Box Deluxe
Having cats brings an immeasurable amount of joy, but managing their litter box can be a challenge. Keeping it clean and controlling the odor is a task dreaded by many cat lovers. However, there are solutions to make this chore more manageable. Enter the Refined Cat Litter Box Deluxe, a remarkable piece of litter box furniture that significantly reduces odors and cleanup time. This cabinet-style furniture discreetly conceals your cat's litter box while adding a touch of elegance to any room in your home. With the litter box hidden inside, the ventilated slots at the back accommodate carbon filters, effectively minimizing odors that may enter your living space. Additionally, this cabinet includes a plastic litter liner that helps prevent scattered litter by containing digging and kicking within its confines.
For added convenience, you can opt to include the Litter Catch, an adjoining accessory that captures the excess litter on your cat's paws as they exit. Moreover, the customizable nature of this cabinet ensures seamless integration with your home decor. Choose from a variety of cabinet door designs such as Modern, Shaker, Farmhouse, or Cottage. Select from different feet styles including Round, Tapered, Tulip, Square, Mid-Century, or no feet at all. This beautifully crafted cabinet discreetly houses the litter box, keeping it hidden from view, known only to you and your cat. Say goodbye to troublesome litter boxes with this exquisite and functional cabinet!
★★★★★"I am so glad to have found this litter cabinet. I have tried numerous others and they were cheap plastic and parts would break. This x-large cabinet is big enough for my Maine Coons to use and easy to clean the litter box with the slide out insert." -Pat
[box]
Features:
Customizable design
Multiple sizes to fit any litter box
Reversible entry
Internal storage drawer
Plastic litter liner included
Ventilation slots for carbon filters
Details:
Large dimensions: 27.5" w x 28" h x 20" d
XLarge dimensions: 33.5" w x 28.5" h x 23" d
Materials: Wood, waterproof, plastic
Colors: Mahogany, Espresso, Smoke, White
Weight: Large is 35.25 lbs, XLarge is 46.25 lbs
[/box]
---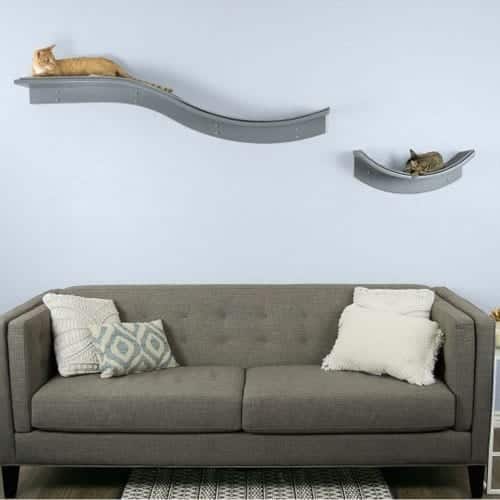 Best Modern Cat Furniture: Best Wooden Cat Wall Shelves
Don't limit your home's walls to just art and pictures. Elevate both the elegance and functionality of every room with The Refined Feline's cat wall shelves. The Lotus Leaf Cat Shelf provides your beloved feline with a cozy spot to curl up for a nap. Craving a bit more space? Consider adding the Lotus Branch Cat Shelf! These sturdy wooden shelves elevate your cat, allowing them to perch higher. Whether they're gazing out a window or simply joining you in the living room, this shelf grants them the perfect vantage point. It offers cats the ultimate opportunity to explore and unwind.
Strategically place these shelves near a cat tree for easy access to elevated areas and greater heights. Additionally, you can mix and match multiple shelves to create a walkway, enabling them to traverse across the room. These versatile cat wall shelves seamlessly blend into any room, adding a touch of sophistication. The shelf comes with a berber carpet for comfort, or white faux fur if you choose the white color. You can also purchase the carpet separately if you prefer a different color or style or if it becomes worn in the future.
★★★★★"This review is for both the Lotus Leaf and Lotus Branch. Literally, the minute that the Lotus Branch was installed one of my cats jumped on it and started lounging. He did not care that we were still installing the Lotus Leaf nearby and there was commotion and noise. Once the Leaf was installed it was occupied by my other cat. My cats love them both and spend a large amount of their time on them. In addition, they were extremely easy to install and look amazing in our family room. Well worth it and will probably get more." -Carolina
[box]
Features:
Carpets are removable, washable, or replaceable
Modern finishes match your home's decor
Can be screwed into wall studs for extra support
Details:
Leaf dimensions: 22" long, 10.5" deep
Leaf Weight: 6 lbs
Branch dimensions: 60.25″ long, 10,5″ deep
Branch weight: 14 lbs
Materials: Bent ply, berber carpet, faux fur
Colors: Smoke, Mahogany, Espresso, White
[/box]
---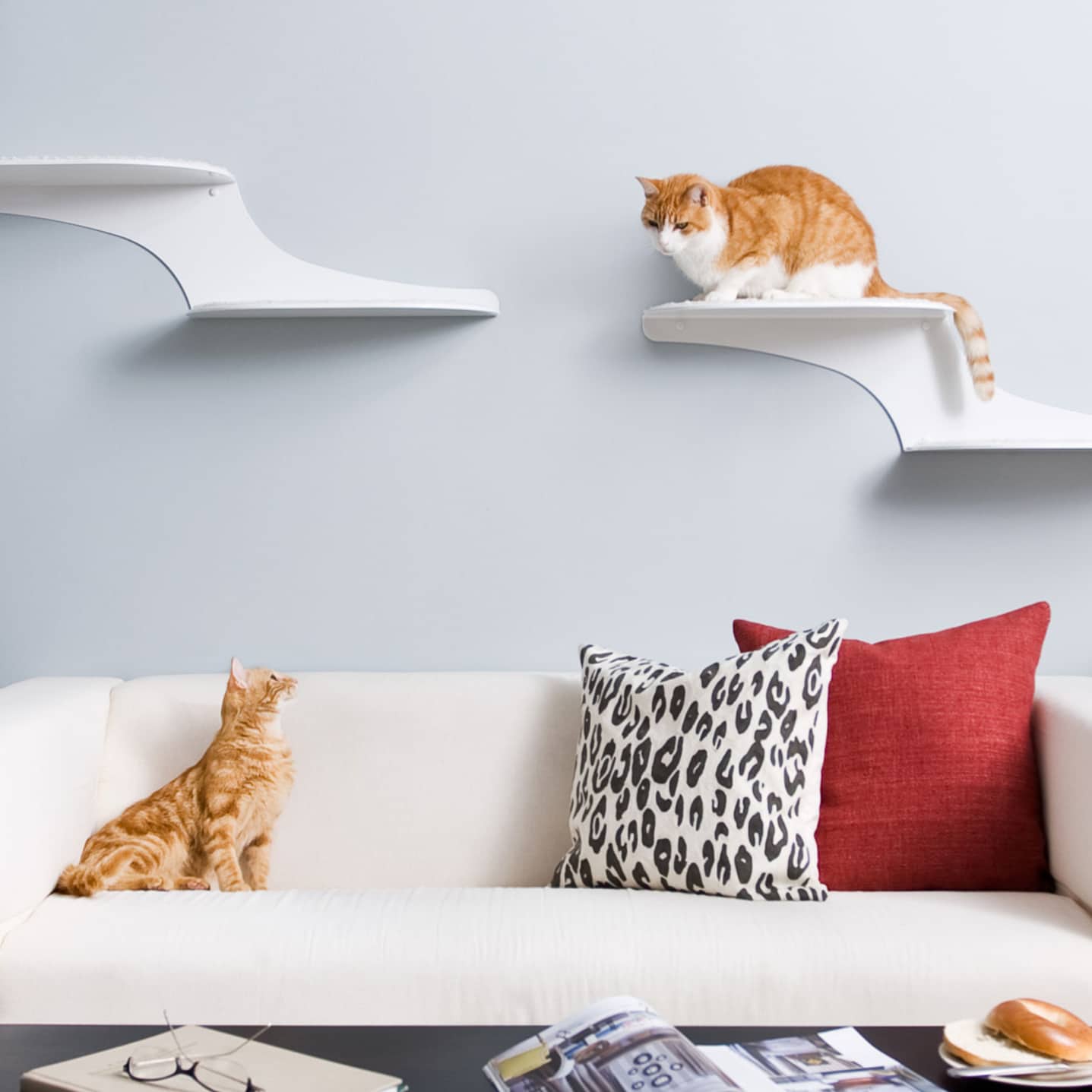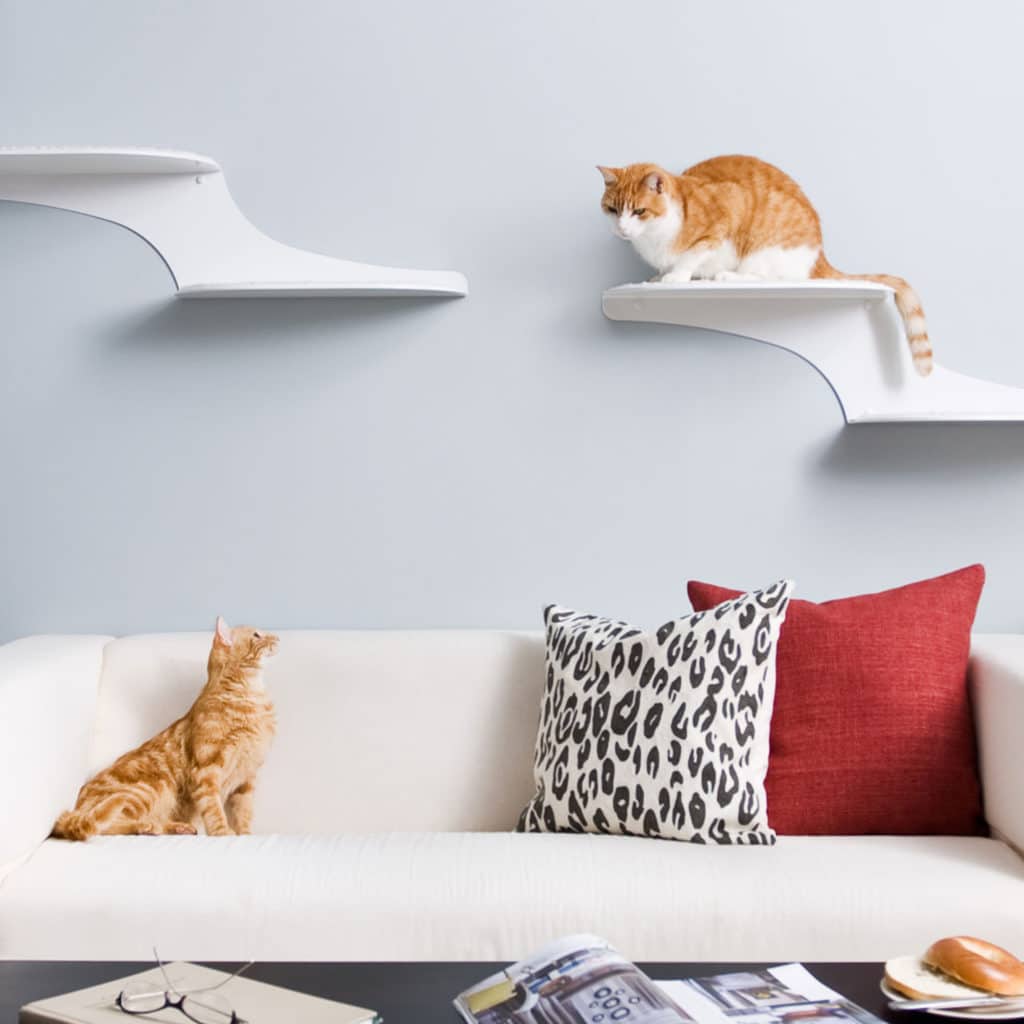 Best Modern Cat Furniture: Best Steel Cat Wall Shelves
Vertical spaces hold great appeal for cats for various reasons. In their natural habitat, cats must navigate as both predators and prey, often seeking higher ground to escape potential threats. Even in the safety of your home, they still enjoy the advantage of a bird's-eye view. Providing multiple locations for your cats to explore and gain a different perspective of their surroundings can be highly advantageous.
Introducing the Cat Clouds Cat Shelf, a delightful two-step shelf that allows your feline friend to find the perfect spot for sightseeing. Cat wall shelves offer ample room for cats to roam without encroaching on your precious floor space. If you have multiple cats or wish to create a catwalk, you can easily position multiple shelves near each other. Constructed from sturdy powder-coated steel, the Cat Cloud shelves guarantee durability and reliability. The inclusion of soft pads on both spacious platforms ensures your cat's comfort. Before you know it, these shelves may become your cat's favorite lounging area, providing them with a cozy and elevated retreat.
★★★★★"I have several of these already. They are very stable and my chunky cats can jump on them and they enjoy them. The magnetic pads wash so well too. I highly recommend this product." -Carol"
[box]
Features:
Carpets are removable, washable, or replaceable
Modern finishes match your home's decor
Can be screwed into wall studs for extra support
Details:
Dimensions: 38" w x 10" d x 10" h
Platforms: 20" w x 10" d
Materials: Powder-coated steel, magnetic faux sheepskin pads
Colors: Off-White, Titanium, White
Weight: 15 lbs
[/box]
You May Also Like: Fashion For Cat Lovers
---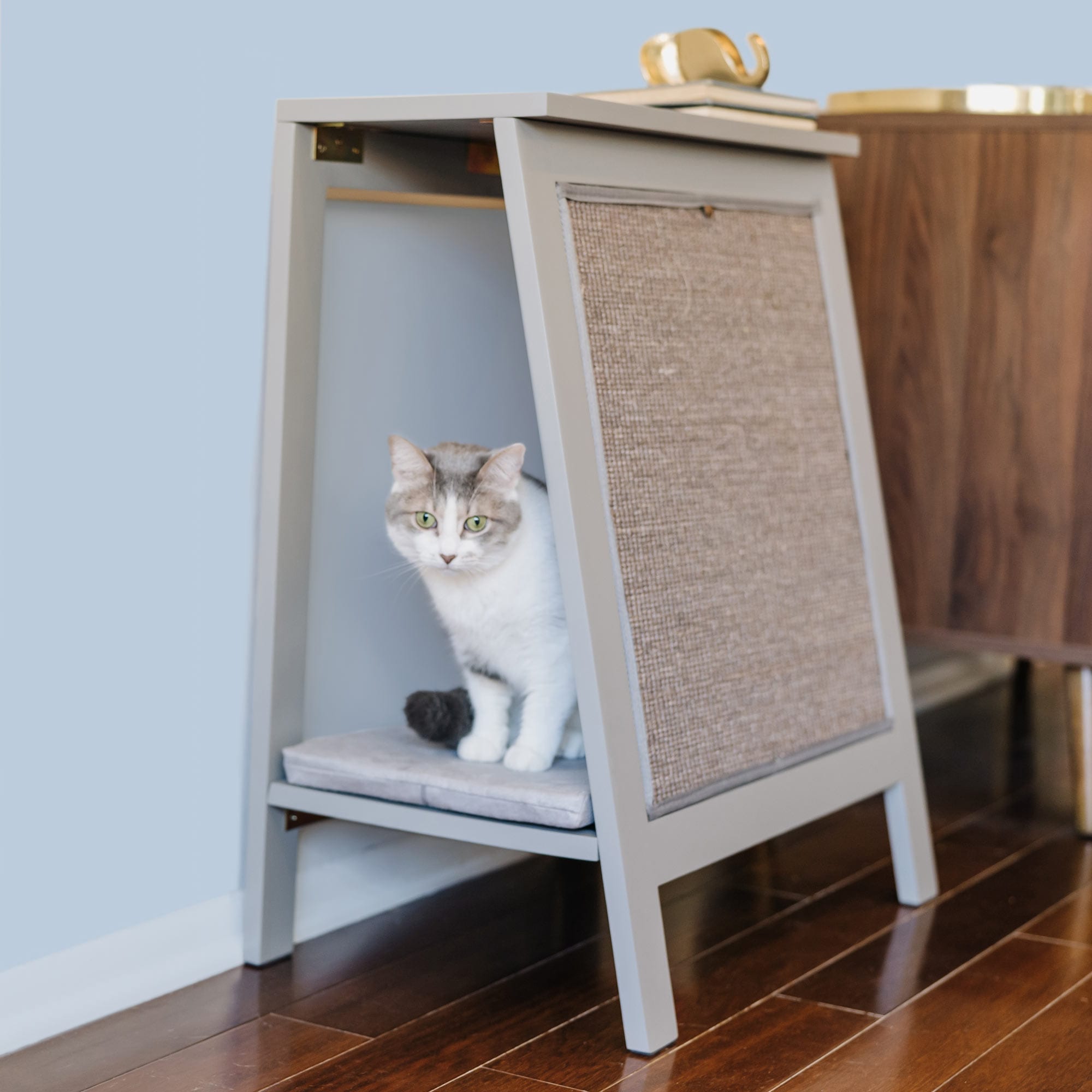 Best Modern Cat Furniture: Best End Table Cat Scratching Post
A crucial element for your cat's overall well-being is a scratching post. Cats' claws are encased in sheaths that need to wear down and shed, a process facilitated by scratching rough surfaces. By providing cats with their own designated scratching object, you can help preserve the pristine condition of your couch as well. The market offers a plethora of scratching posts and related products, each offering a scratching surface for your cat. However, there is one product that stands out by offering three distinct functions, including a scratchpad.
Enter the A-Frame Cat Bed, which goes beyond being a cozy resting spot for your feline companion. It incorporates an enclosed space where your cat can sleep comfortably, and one side features a generously sized sisal scratchpad that promotes healthy nail maintenance and stretching. The scratchpad itself is crafted from highly durable sisal, allowing your cat to fully extend while engaging with it. Notably, the top of the A-Frame serves as a functional table, providing a convenient surface for your personal items. This versatile piece of cat furniture can effortlessly transform into a nightstand, an end table, or even a console table. Its combination of a cat bed and scratching post makes it particularly suitable for houses or apartments with limited space.
★★★★★"Cats love this! It adds a modern traditional look to the living room. This has completely deterred the cats from scratching furniture. They always go to this first!" -Samantha"
[box]
Features:
Dual-purpose cat bed, scratching post, end table
Machine washable cushion
A ventilated base for heating or cooling of the bed
Details:
Dimensions: 23.6" w x 14.8" d x 28" h
Scratchpad: 20" by 20"
Materials: Solid wood, sisal, fabric
Colors: Smoke, Espresso, Mahogany
Weight: 17.5 lbs
[/box]
---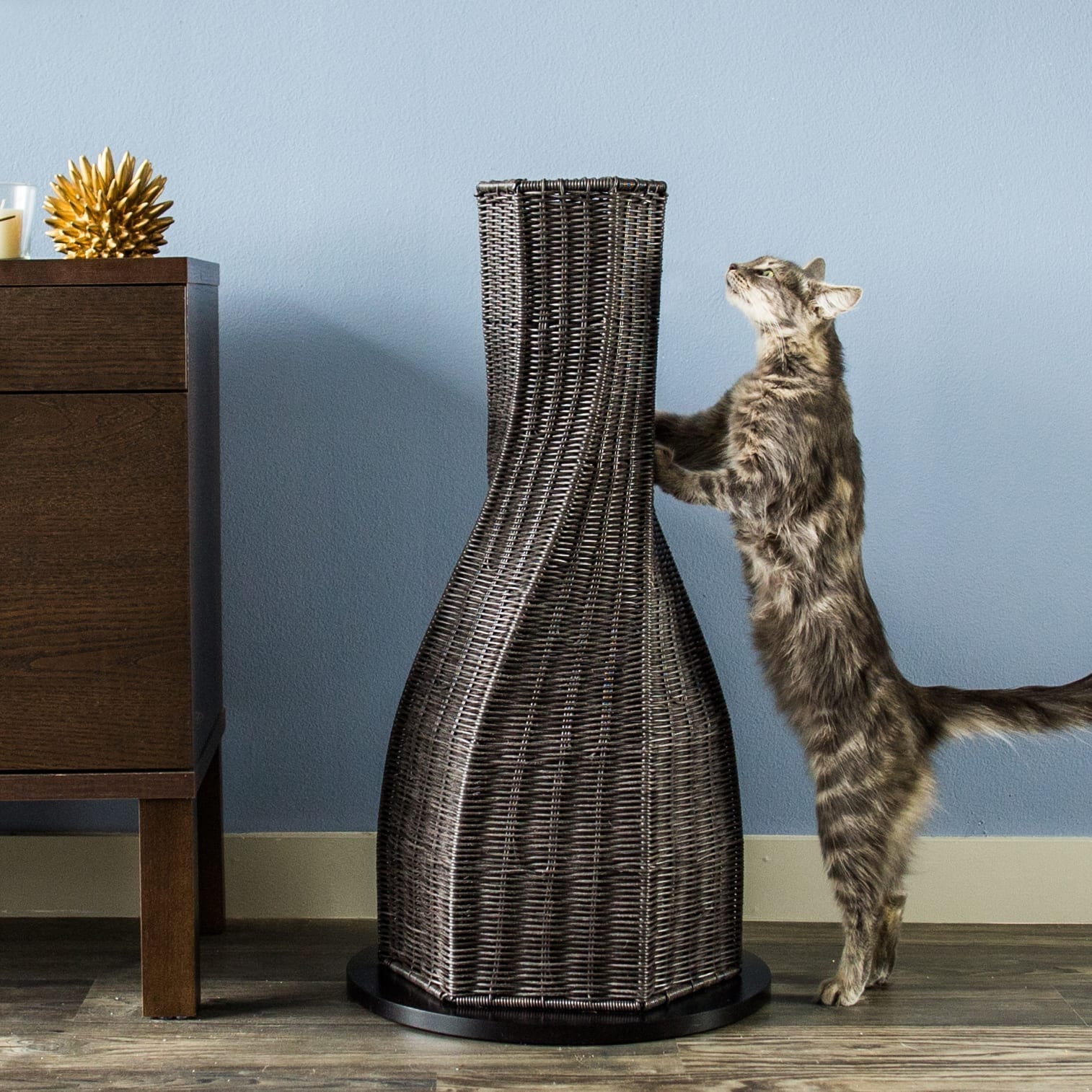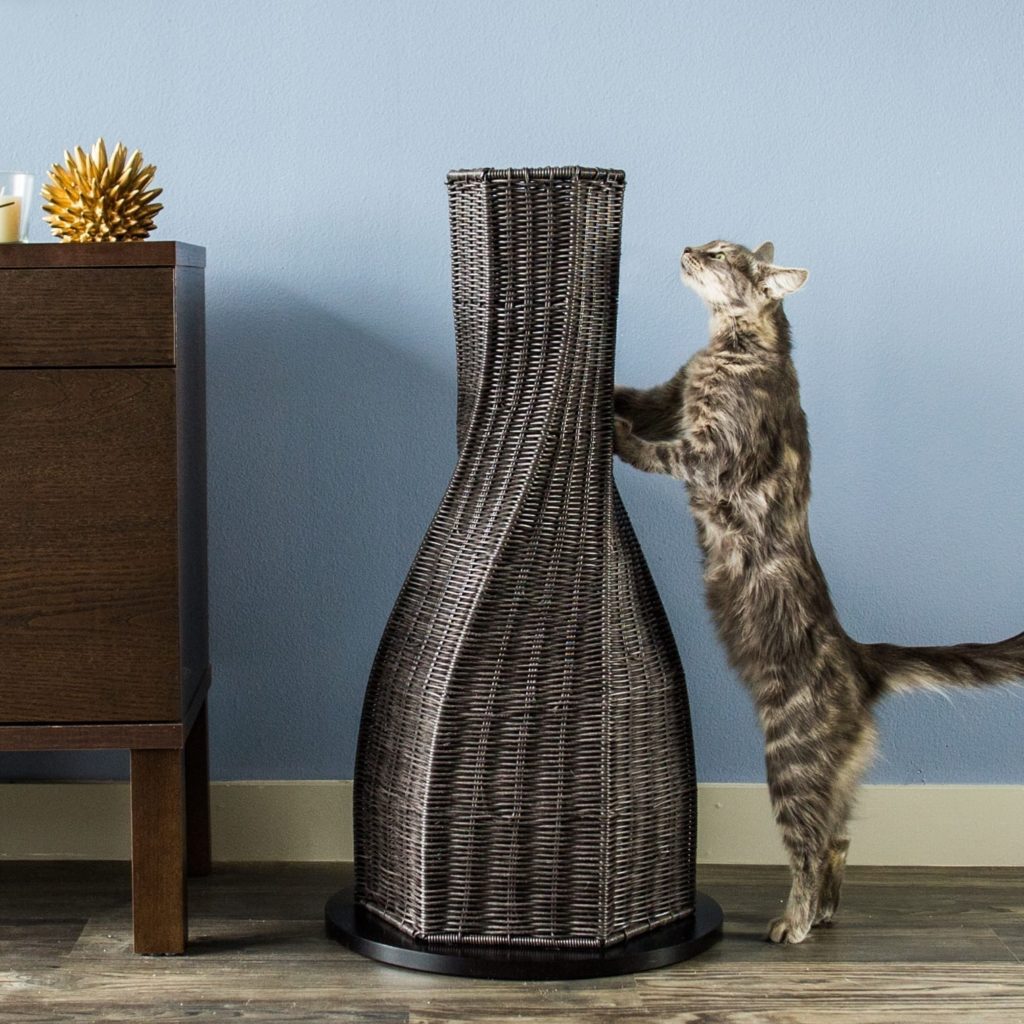 Best Modern Cat Furniture: Best Cat Scratching Post
The Calypso Everlasting Cat Scratcher may be categorized as a traditional-style scratching post, but it defies all expectations. Its elegance is unparalleled, and it is built to withstand even the most vigorous clawing. Crafted from hand-woven faux rattan, this scratching post boasts exceptional strength and durability, promising a lifetime of use. Unlike typical cardboard scratchers that leave remnants of shredded cardboard scattered around the house and eventually fall apart, the Calypso Everlasting Cat Scratcher is designed to endure.
Its frame is constructed with wire and encased in poly rattan, while a weighted base ensures stability and prevents tipping. The modern and chic design seamlessly integrates with any home decor. Additionally, there is an optional wider weighted wooden top available for purchase, guaranteeing that even the largest of cats cannot topple it. With its generous dimensions, longer cats can comfortably stretch out while indulging in a satisfying scratching session, making it their preferred scratching surface time and time again.
★★★★★"I'm pretty damn impressed with this cat scratcher. It looks great, was easy to put together, and was delivered very quickly. Took my cats a few days to realize they could scratch it, but once I rubbed some catnip/silvervine on it, they were all over it and now even my super picky one uses it regularly and isn't going for the furniture. Totally worth the money and my husband loves that it doesn't look like cat furniture." -Kamryn
[box]
Features:
Claw-proof material won't fray or break
Modern design made to blend in with your home
Weighted base prevents tipping
Wider base available for larger cats
Details:
Dimensions: 31" h x 16" d
Materials: Wire, wood, faux rattan
Colors: Espresso, Smoke
Weight: 9 lbs
[/box]
---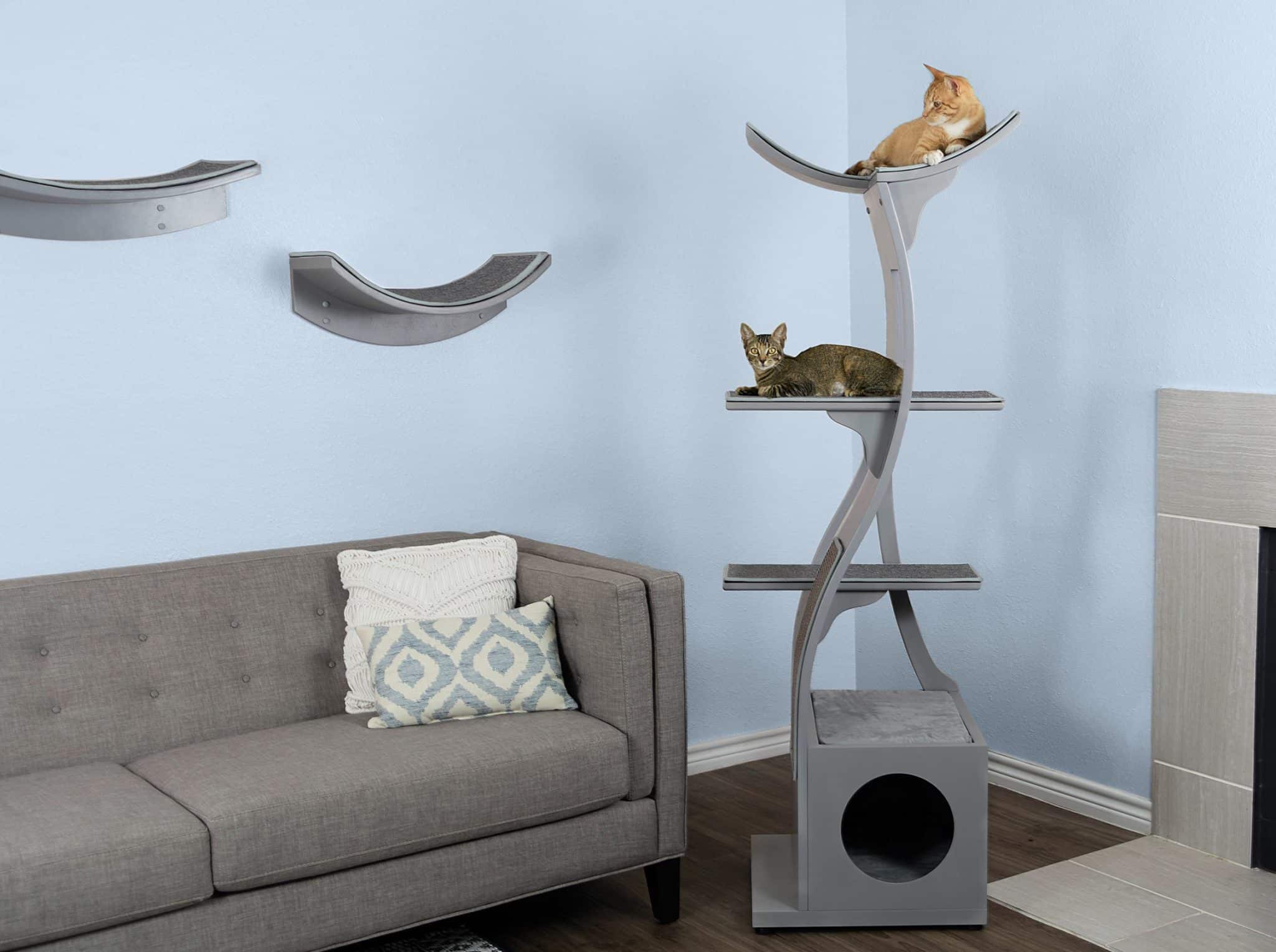 The Best Modern Cat Furniture from The Refined Feline
We trust that this compilation of contemporary cat furniture options has provided you with an abundance of inspiration for enhancing your living space. Each of these pieces is meticulously crafted from top-tier materials, ensuring their durability and longevity in your home. Your beloved feline companion will relish the diverse array of exploration, scratching, and resting spots that these cat furniture items offer. Meanwhile, you'll take delight in how seamlessly they complement and enhance the aesthetic of your home. Embrace the perfect blend of functionality and style with these exquisite additions to your living environment.