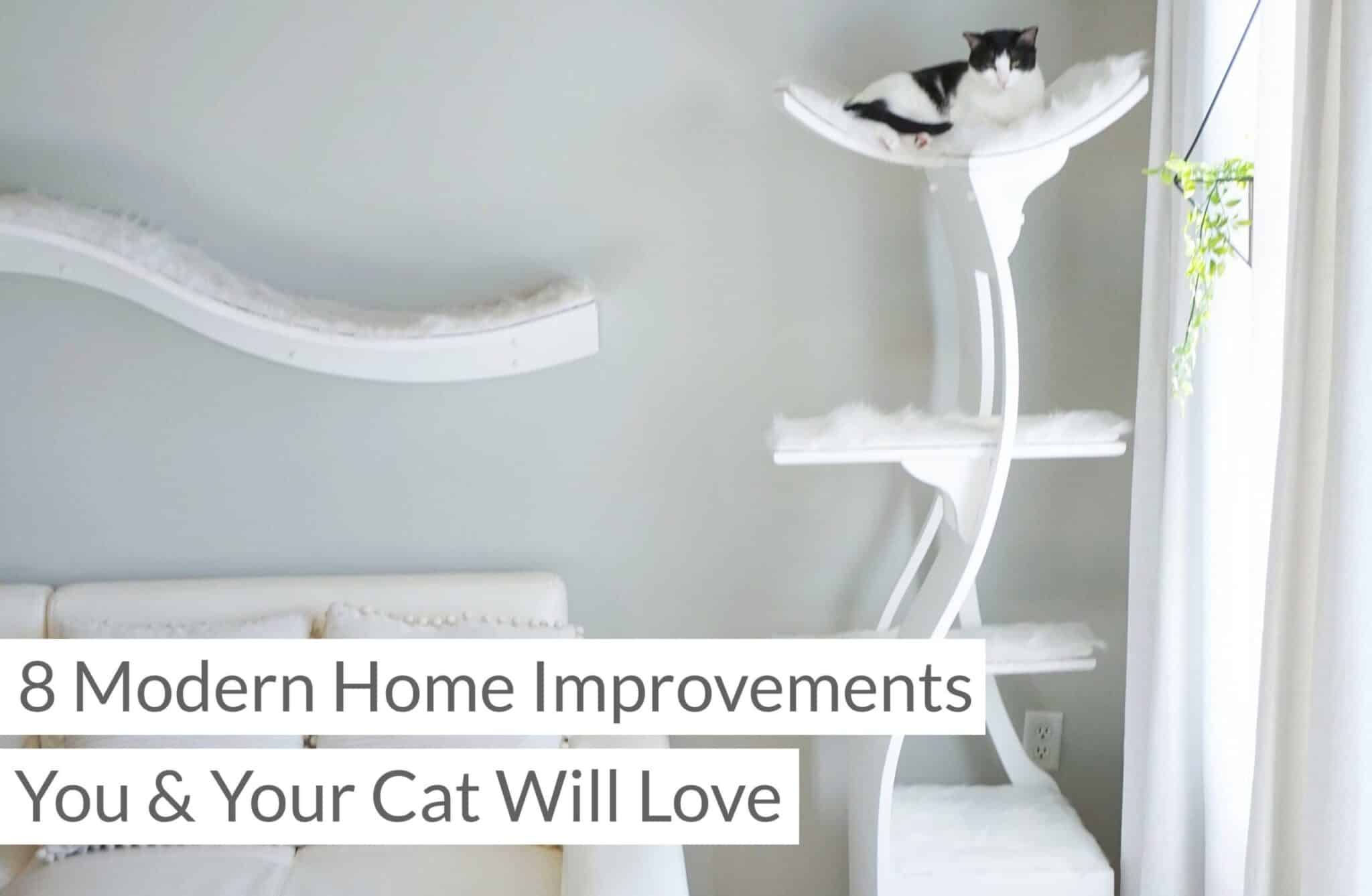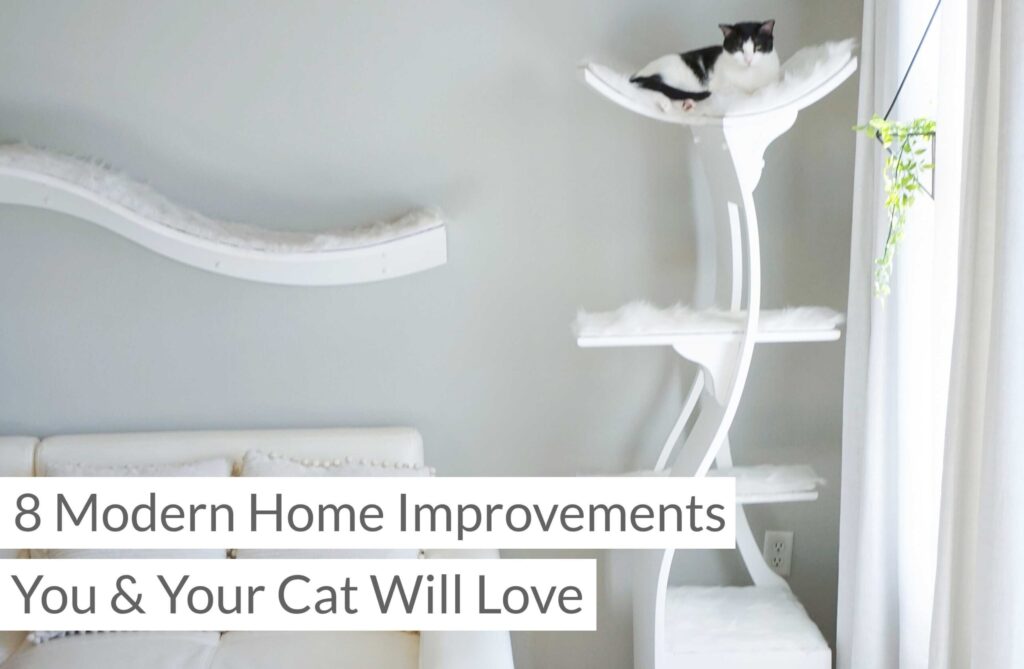 8 Modern Home Improvements You and Your Cat Will Love
Pets play an important role in their owner's day-to-day life. Living in the same environment presents many new routines along with challenges to overcome to make sure that everyone is happy. In general, many people believe that cats are simple, low-maintenance animals to care for. However, it's important to provide our felines with essential tools and opportunities for daily interaction to maintain good health. Nowadays, dedicated cat lovers are looking for the best ways to enrich their pets' lives and better suit their natural instincts. The idea of pet-friendly home renovations comes to mind since cats live safer and healthier lives indoors. A home with a cat can still have a stylish multifunctional cat room with the right resources and designs. Take a look at our 8 home improvements your cat will love just as much as you will and how you can start today.
Disguise the Cat Litter Box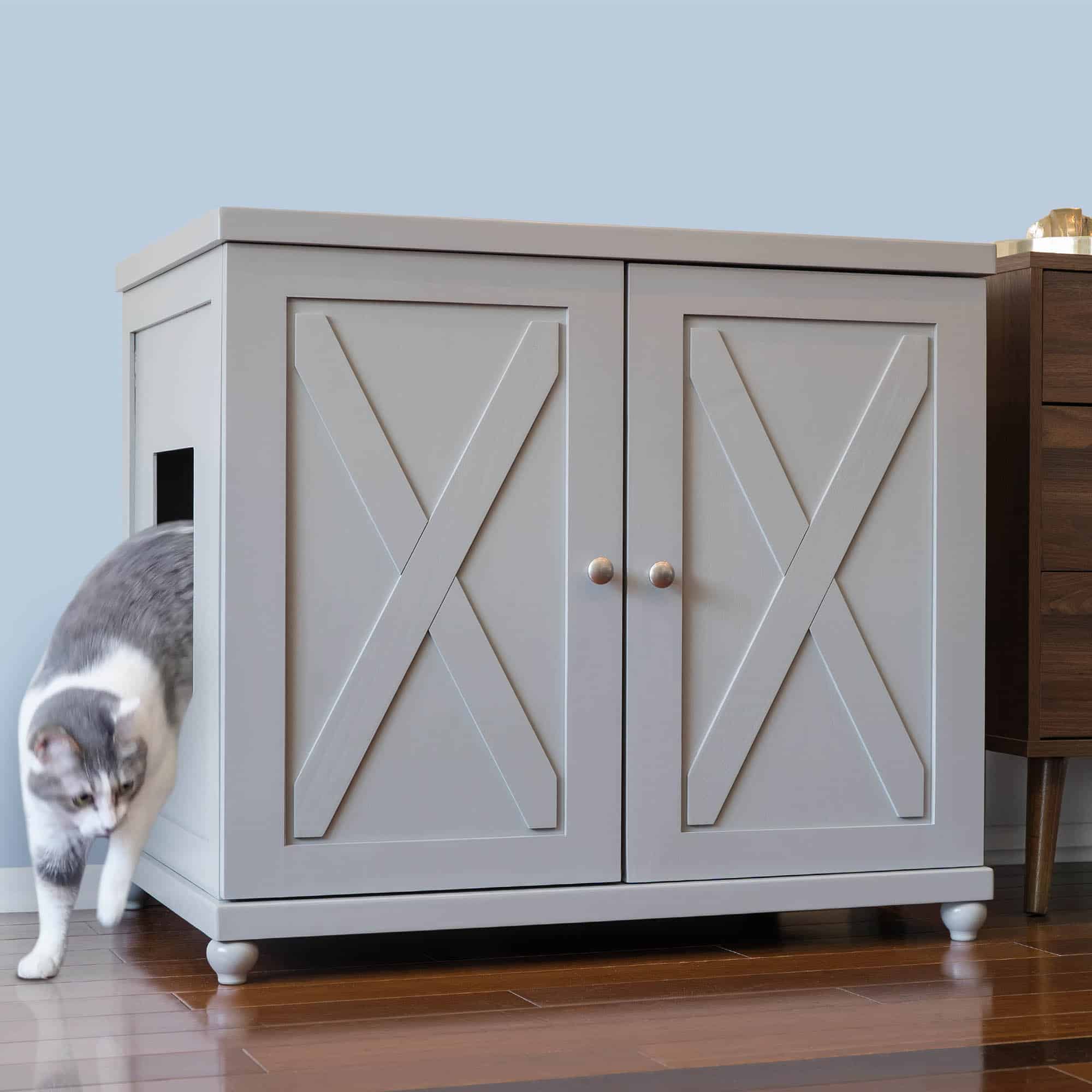 One of the most popular home improvements for cat owners is to simply disguise the cat litter box. We're always looking for a way to keep this hidden and the litter well contained. No one wants to see an open litter box in the corner stinking up a room. Thankfully, there is cat litter box furniture available to achieve these goals. A cat litter box cabinet is the perfect way to discreetly hide your cat's bathroom anywhere in your home. It gives them privacy and prevents cat litter from being tracked around your home thanks to the conjoining litter tray. With a room that smells clean and refreshing, you may have to remind yourself to clean the litter box, even with multiple cats. 
Update Their Feeding Station
A basic but everyday essential that you can get creative with is your cat's feeding station. Is their food always out with kibble scattered across the floor? There are a couple of things you can do to keep it better maintained during mealtime. Get creative with the setup and look into wall-mounting their food. Feeder shelves can be placed on the wall or you can add a built-in food bowl platform into a modern cat condo. A kitchen can be the ideal space to feed as they usually have durable flooring. Now you've got an easy-to-clean area that will pull together the overall aesthetic of your home. As a bonus, you can even add a drinking fountain for a luxurious touch that your cats will love.
Design with Stylish Cat Furniture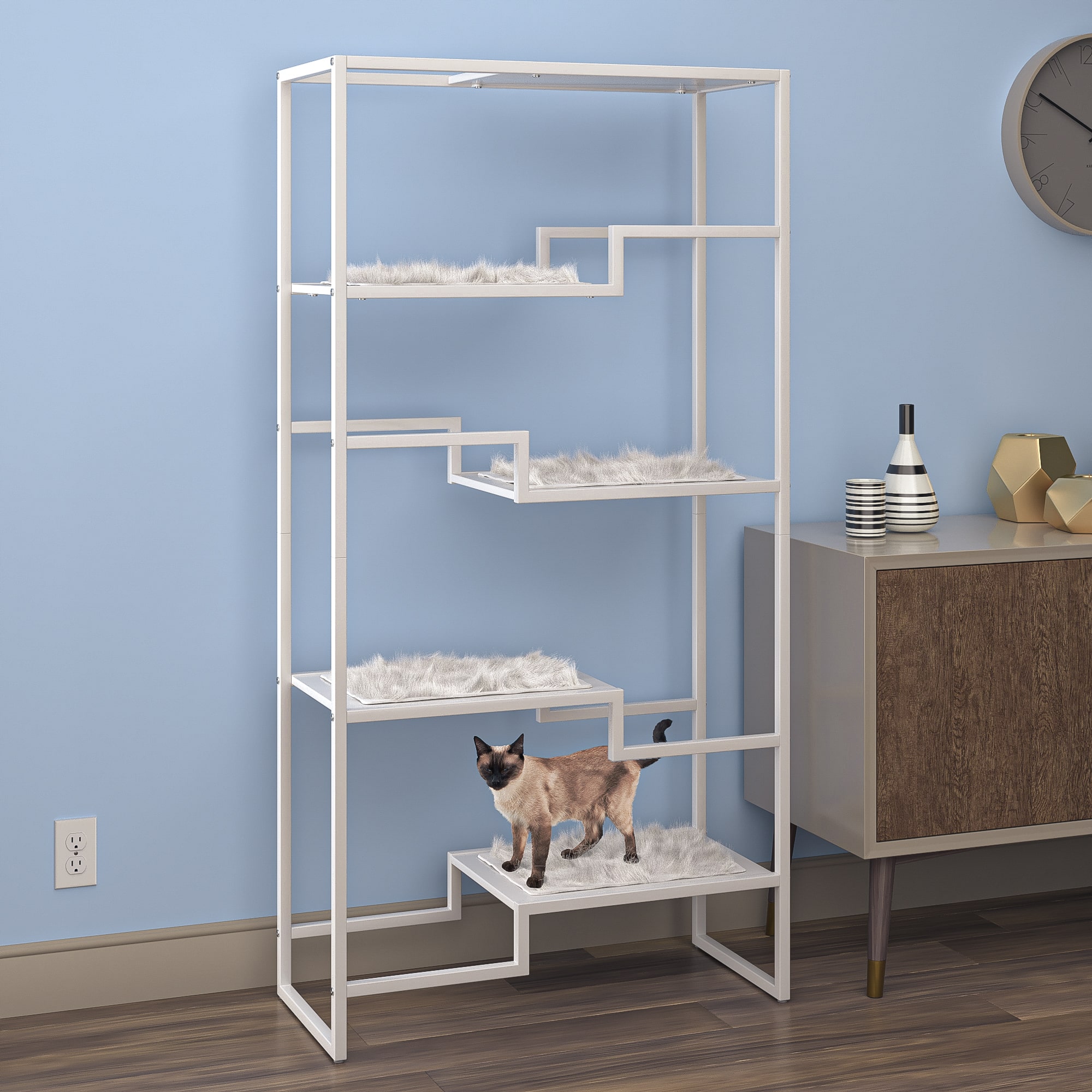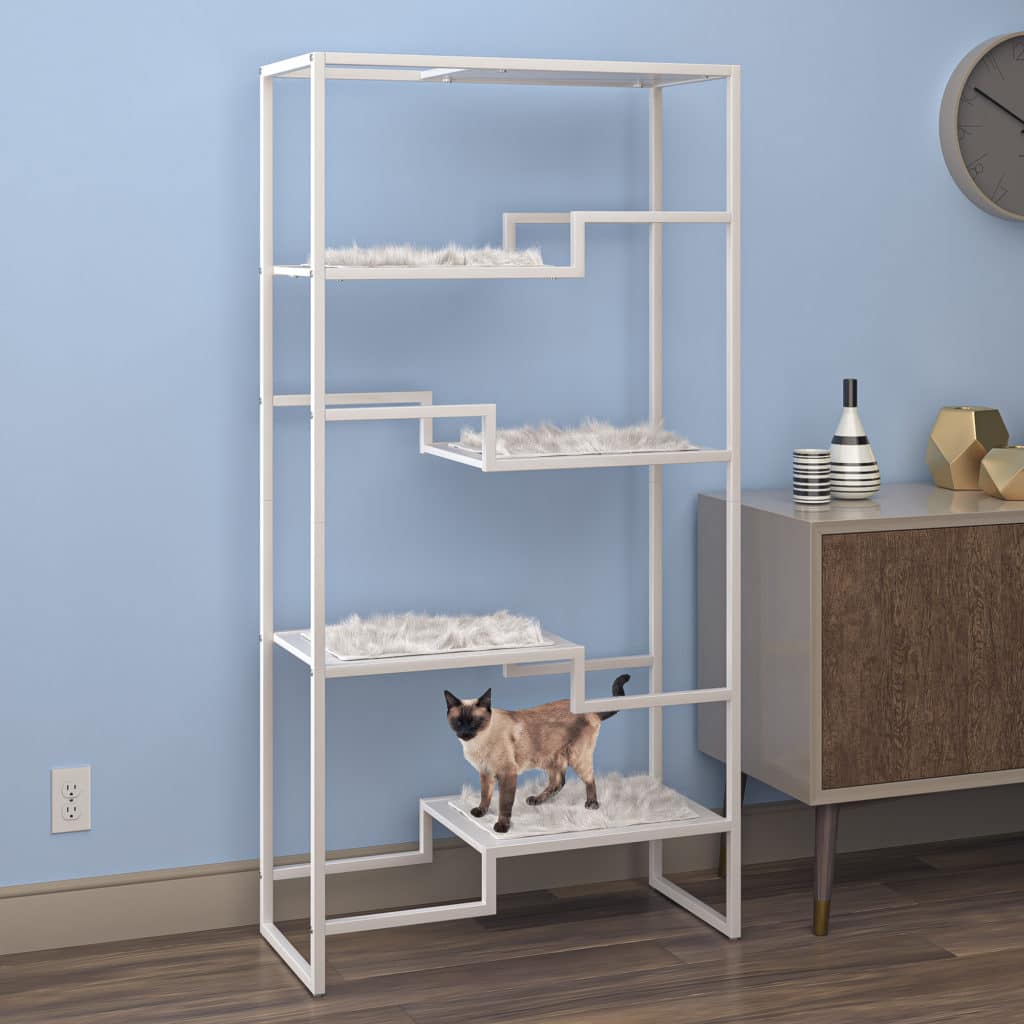 It can be difficult to find a fair balance of long-lasting but stylish cat furniture with a feline in the picture. Most of the time, cat furniture looks out of place in the home whether it's a litter box or cat tower. This can take away from feeling fully comfortable in your space. Since the start of COVID-19, many cat enthusiasts have taken on new improvement projects in their homes. The Refined Feline offers stylish cat furniture that will help you achieve all of your interior design goals. Traditional cat furniture has been redesigned to look like bookcases, end tables, cabinets, decorative shelving, and more. This is perfect for upgrading your home spaces while keeping your cat safely away from your own nice furnishings.
Add a Scenic Window Perch
Cats are curious creatures! With a window perch, they can feel like part of the outdoors while watching wildlife and more in the sunshine. They can enjoy bird watching without harming the wildlife and staying in the comfort and safety of the home. Many cats can become bored being inside all day. However, this feature ensures they stay mentally active and provides hours of entertainment to deter destructive behavior around the house. Install a hammock or perch onto the windowsill and include scrolls on either side to help it look effortlessly decorative. It's not difficult to make simple home improvements that your cat will love.
Build a Catio
Better yet, consider building a catio for your cats to get them even closer to the outdoors. This is a cat enclosure, or "cat patio", that comes in a variety of sizes and designs for outdoor areas. From basic to luxurious catios, the cost of the project can range from as little as $200 to over $5,000. To make it exactly how you and your cat would like it, you can have it built custom by a specialist, such as a local carpenter, or even DIY with the right tools. Financing options are available, and you can even look to the help of a home equity loan which can give you more freedom to update your yard as well. 
The best part about a catio is that you can build one big enough for your family to enjoy with your cats as well! Cats can enter a catio any time if you place a cat door through a window, wall, or door. Cats staying indoors at all times can quickly become stir crazy, so this will give them a true experience of being in nature in the safest way. Take it up a level and add some cat-safe plants to the area too! While they enjoy the sights, sounds, and chance to sunbathe, keep some toys out there so they can also fulfill their hunting instincts. Who knows, you might even catch them comfortable enough to take a catnap out there.
Create a Cat Climb
Climbing is a natural behavior for cats. They like to survey their surroundings from a high place. For indoor cats, this is even more important for them to release energy in doing their daily activities since climbing would otherwise be done outdoors. A bored cat can become depressed, and possibly cause overgrooming or obesity due to lack of exercise. Why not encourage the natural behavior of climbing with a fun obstacle course made just for them in your home? Plus, if it deters them from knocking down your own decor, that's even better. Installing floating wall-mounted cat shelves that your cat can use will encourage them to stay active, and you won't lose floor space. It's a win-win! In addition, you'll love the abstract design it adds to your room and will make it even more unique,
Incorporate a Private Den
For cats who appreciate some time to themselves, a private den can be a dream come true. Having easy access to their own private den can quickly become your cat's favorite go-to spot, especially if and when their routine gets disrupted. This could be a small room or cut-out cave in the wall with a bed. Some pet owners have even created a nap nook underneath their stairs! This way, they'll be safely out of the way but still able to watch over everything happening around them. Cats love to relax and feel secure, all while being near us. Having a custom den like this nearby will save space and fit seamlessly into your interior. 
Install Heated Floors
A heated floor can benefit both you and your cat for many reasons. Besides the added warmth and comfort around the house, and the chance to spend less on heating, pets will definitely take a liking to it too! Heated flooring is excellent for cats that are recovering from illnesses and especially senior cats whose overall health isn't what it used to be. Heat is known to reduce pain if you or your cat have any aches or soreness. It can be even more advantageous if your cat has shorter hair or if you live in a colder climate. Colder flooring and temperatures can put tension on joints and muscles for both cats and humans alike.
Related: What to Get For Your New Cat
Home Improvements Your Cat Will Love
Sometimes, it can be hard to know what will make your cat the happiest! Keep a close eye on their behavior to see if they take a liking toward something more such as the sunlight or being alone and hidden. But if you're getting a new cat, prepare with essentials and then begin making simple changes around the house for new adventures as they grow. 
Indoor and outdoor cats live very different lifestyles. But one thing's for sure, these home improvement ideas are bound to make any cat meow with excitement. Plus, if you ever decide to sell your home with some of these permanent upgrades included, it's guaranteed your listing will catch the eyes of many pet owners. We all want the absolute best for our feline friends! These home improvements your cat will love can be a simple upgrade or fun project to spark some inspiration in your own home. Before you know it, you'll be truly fulfilling your cat's needs, and your home goals, all while spending more bonding time with your cat.