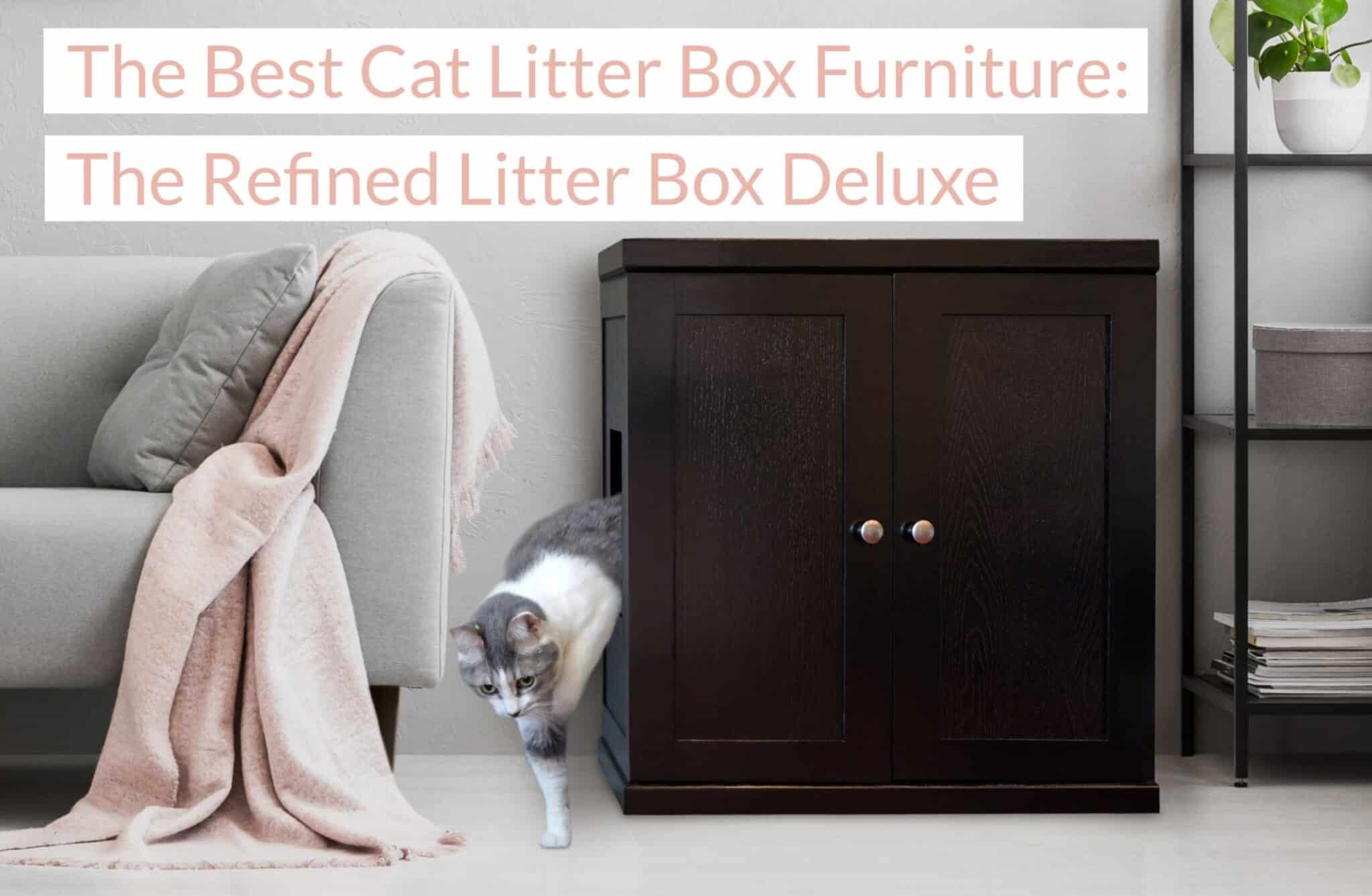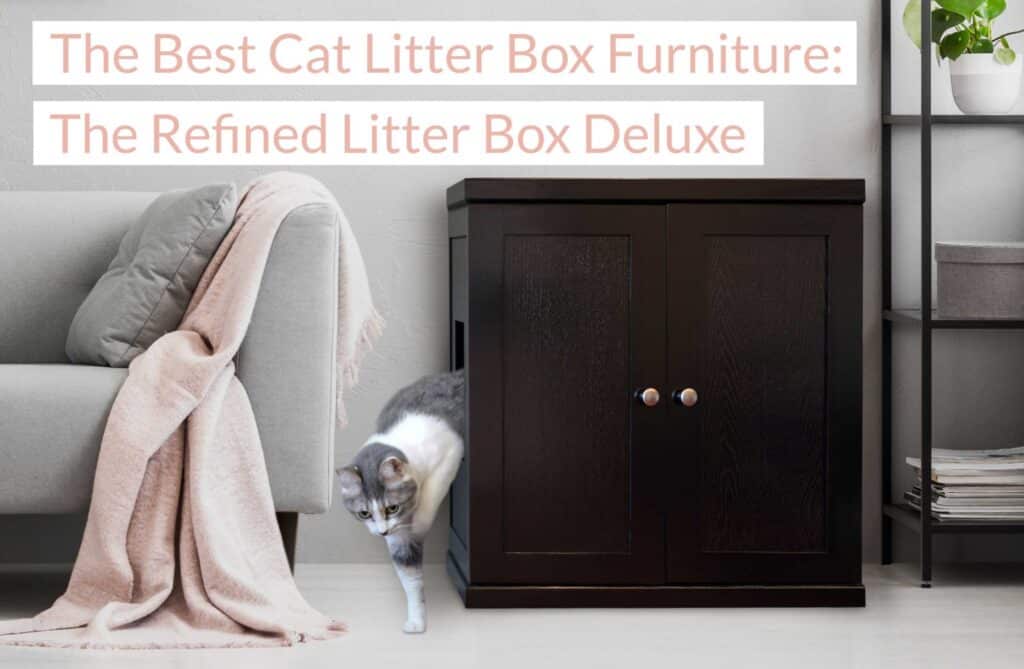 The Best in Cat Litter Box Furniture: The Refined Litter Box Deluxe
As cat lovers, we would do anything for our feline companions. We always want them to be living their best lives while safely inside of our home. However, we also want our home to look and smell clean and beautiful. Any cat lover would agree that the least fun part about living with a cat is managing the litter box situation. Not all of us have a living space that can easily accommodate a large dirty, and often smelly, cat litter box. So, we often struggle to come up with space for it that still keeps our space clean and inviting. (No one wants to see a cat litter box in the corner of a room). However, we think we've finally cracked the code. With our cat litter box furniture, you can keep your home looking and smelling beautiful, no matter how many cats you have!
Modern Cat Litter Box Furniture Like No Other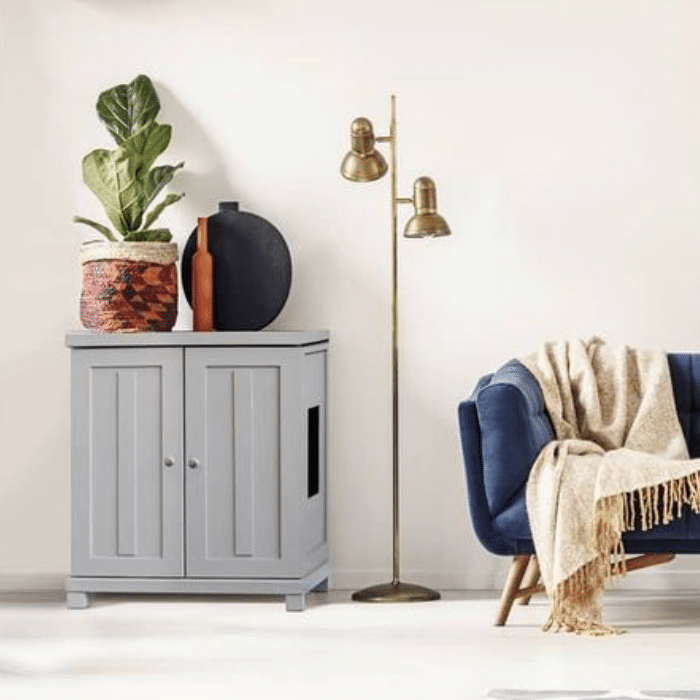 At The Refined Feline, we've come up with a gorgeous piece of litter box furniture that checks all of the boxes for you and your feline fur baby. Our Refined Cat Litter Box Deluxe is such an attractive piece of cat furniture that it's almost hard to believe that there's a litter box inside. It is discreetly hidden inside so that the only ones who will know about it are you and your cat. 
Litter Box Cabinet Features:
Customizable Litter Box Furniture
We've really put the 'luxe' in deluxe, as we've created multiple colors and styles of this cat litter box enclosure to give you dozens of combinations to choose from. You can mix and match the front panels and feet styles for the ultimate combination that will perfectly match your decor. Plus, you can assemble the litter box cabinet to have the entry hole on whichever side you desire. There really are no limits to what you can do with this litter box furniture. It also comes in two sizes. Large: 27.5″ w x 28″ h x 20″ d. X-Large: 33.5″ w x 28.5″ h x 23″ d. The large size is big enough for most cats and litter boxes and the x-large size fits most jumbo-sized boxes and automatic litter boxes.
Solid Wooden Litter Box Cabinet
Our modern cat litter box furniture is made of solid pine and plywood with a beautiful oak veneer. Why shouldn't your cat furniture look just as nice as the rest of the furniture in your home? Many other litter box enclosures are made from inexpensive materials that actually absorb water and odor. Oh, the horror! Our cat litter box enclosure actually repels water. The best kinds of products are ones that excel in both form and function, and this litter box cabinet does just that.
Rear Slots Add Ventilation to The Hidden Cat Litter Box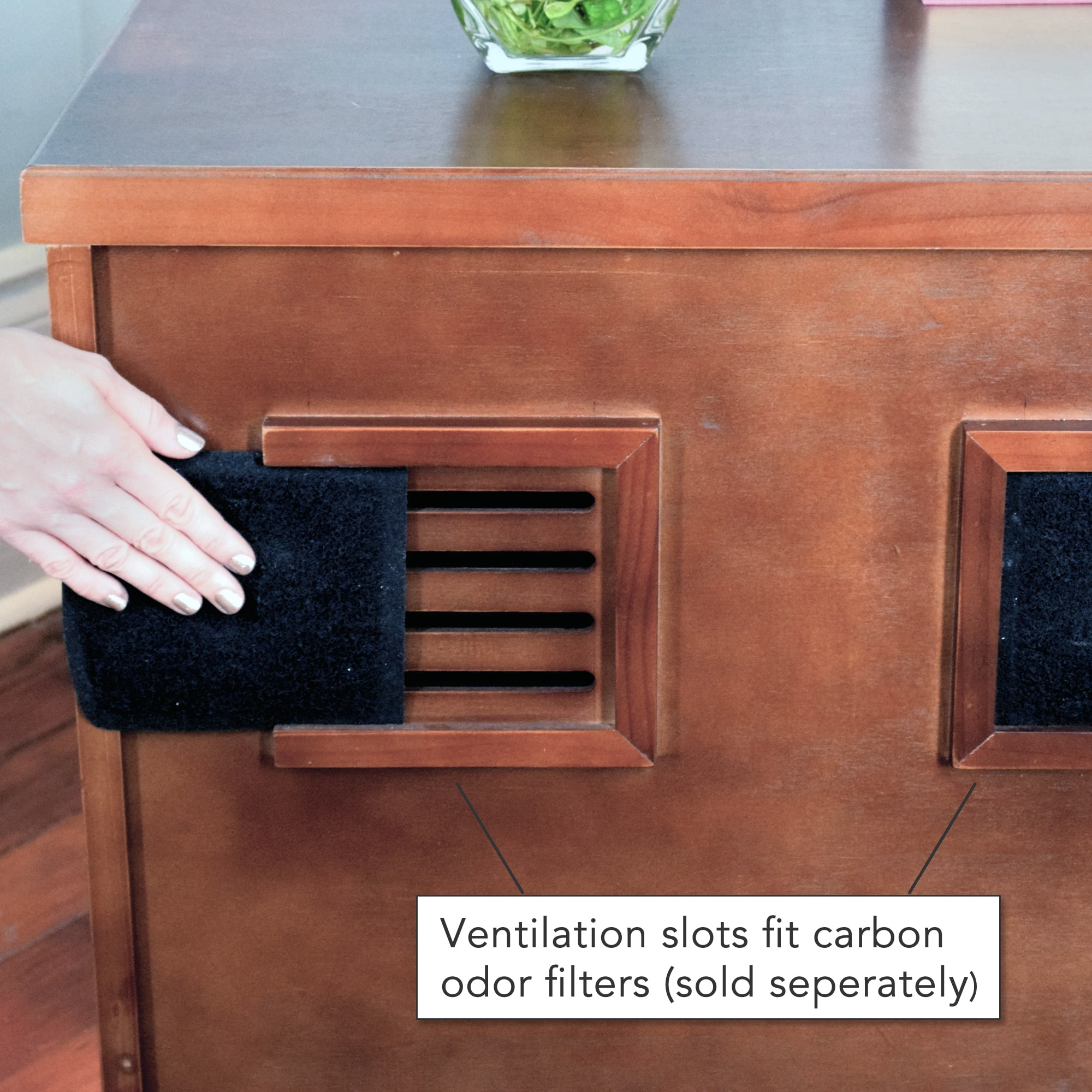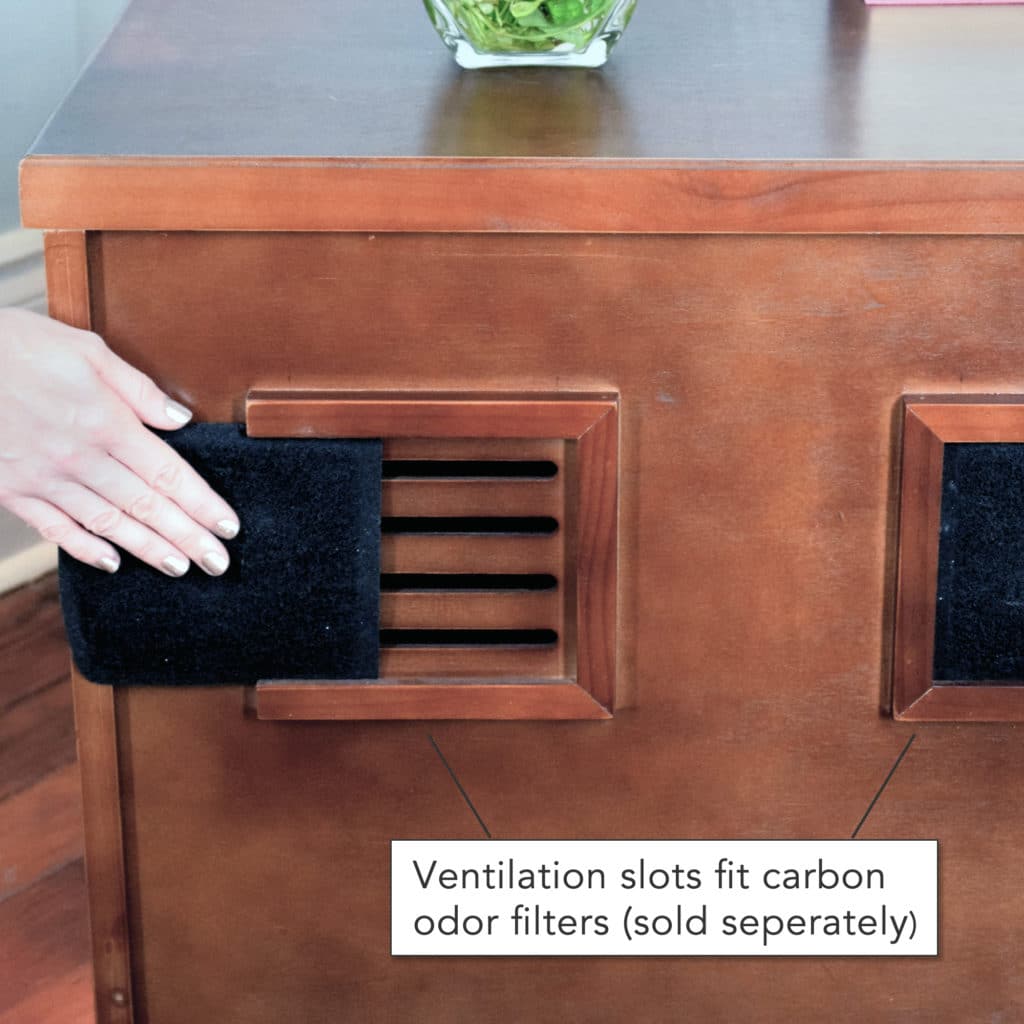 When looking at this litter box cabinet you may wonder about the ventilation, and so did we! (Your cat shouldn't have to smell the odors either.) To make sure odors don't get too concentrated inside, we/ve added vents in the back for airflow. These ventilation slots are made to fit odor-absorbing carbon charcoal filters that will catch any smells before they leave the litter box. The filters are sold separately and are always available for replacement from The Refined Feline if you choose to add them. Yes, after field-testing this product in our own homes, we really did think of everything!
Related: Adopting a Cat? Here's the Scoop on the Cat Litter Box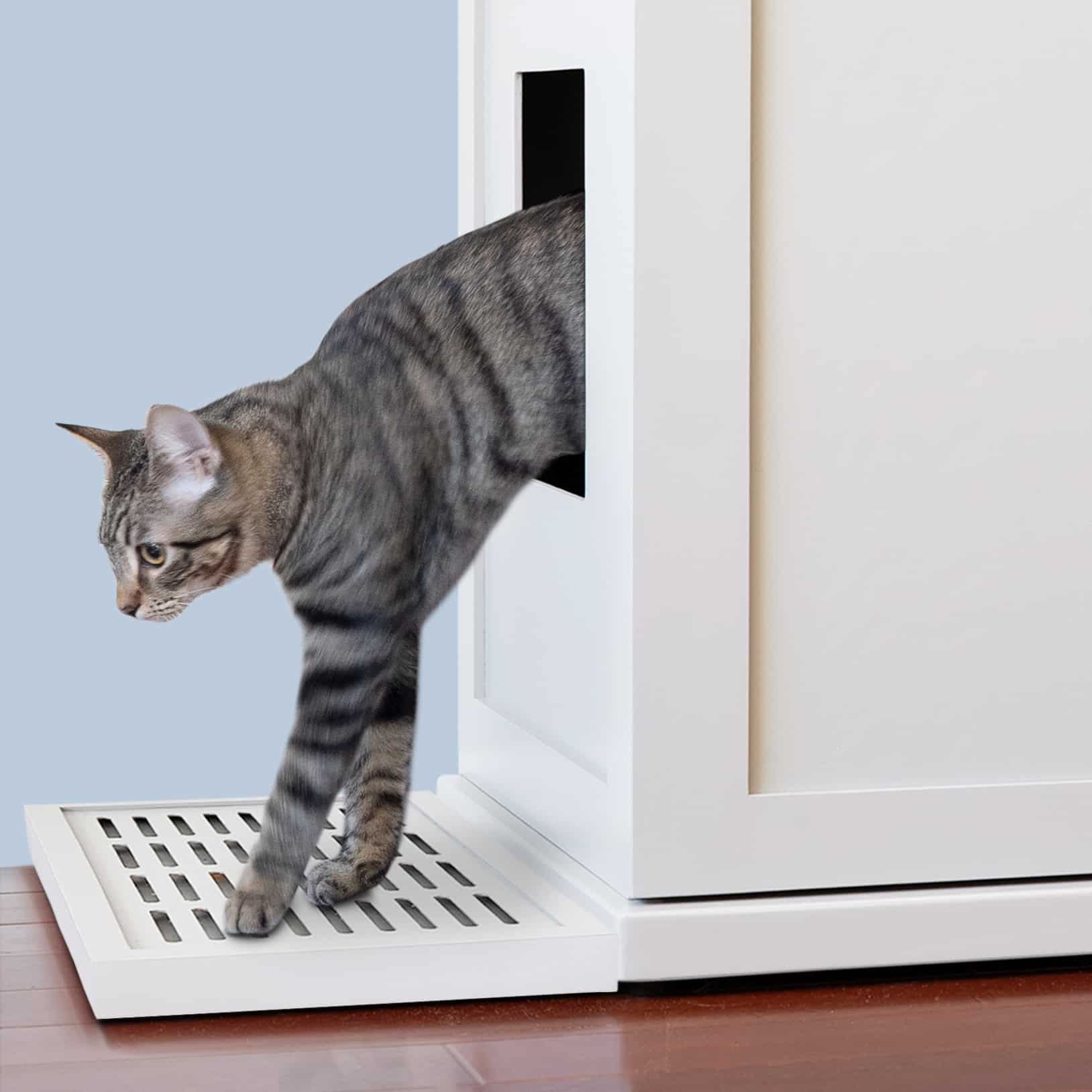 Litter Catch Collects Stray Litter
The handy accessories that go along with our litter box cabinet really set it apart from the rest. The Litter Catch matches the finish of the cabinet and sits just against it. So, when your cat is done and steps out of the cabinet, any lingering litter on their paws will not spill onto your floor. Instead, it will fall through the grates of the litter catch. Thus, saving you from having to constantly clean up your floor or risk your cat tracking litter all over the house every time they use the litter box.
Large Internal Storage Drawer & Plastic Litter Liner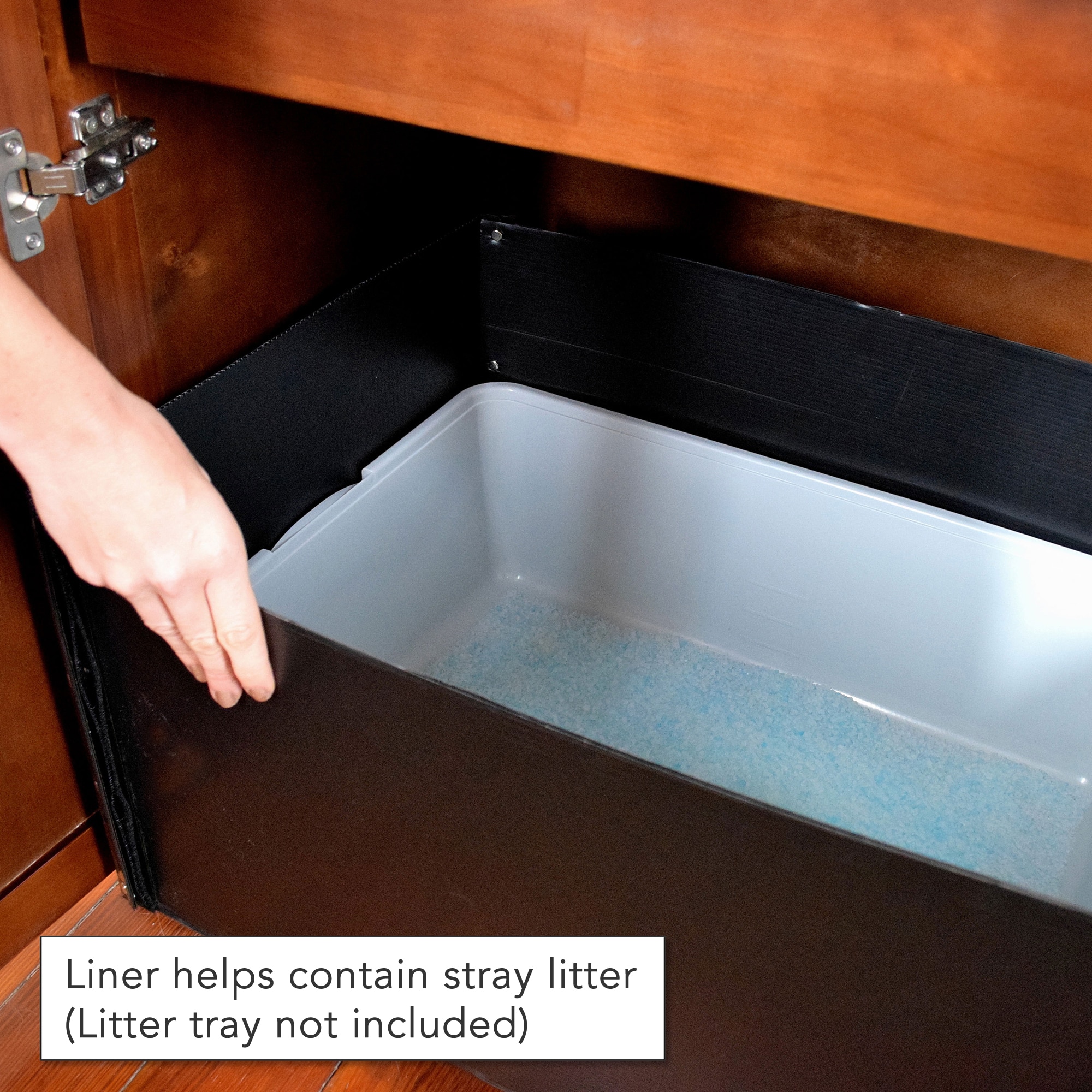 We know that you can never have enough storage space. From feather wands to catnip toys and treats, our cats are pretty spoiled if we do say so ourselves! So, we have included a large sliding storage drawer hidden inside of the litter box cabinet for all of your storage needs. This handy storage drawer is large enough to fit all of your cat litter box supplies and then some. Did we mention, this cabinet even includes an internal plastic liner? Cats tend to kick up litter when their deed is done. This waterproof liner helps to keep that stray litter from ending up at the bottom of the cabinet.
When it comes time to clean, just open the doors and pull out the plastic litter liner. Clean the litter box as you normally would. Then, just dump any stray litter from the plastic liner back into the litter box or into the trash. With this added layer of protection, there shouldn't be any stray litter at the bottom of the cabinet. When the litter is contained, clean-up time is quick and easy!
Easily Assemble this Cat Litter Box Enclosure
You'll be able to put this litter box cabinet together in no time, even if you've never assembled a piece of furniture before! Every single thing you need to put it together is included. It comes with all of the needed screws as well as a screwdriver. Instructions are included too but if those happen to get lost you can always contact us for the pdf version. Assembly of this cabinet shouldn't take more than 30 minutes.

It's time we end the stigma around cats and smelly litter boxes once and for all with this beautiful litter box cabinet. Yes, you can have a beautiful and clean home no matter how many cats or litter boxes you have inside!