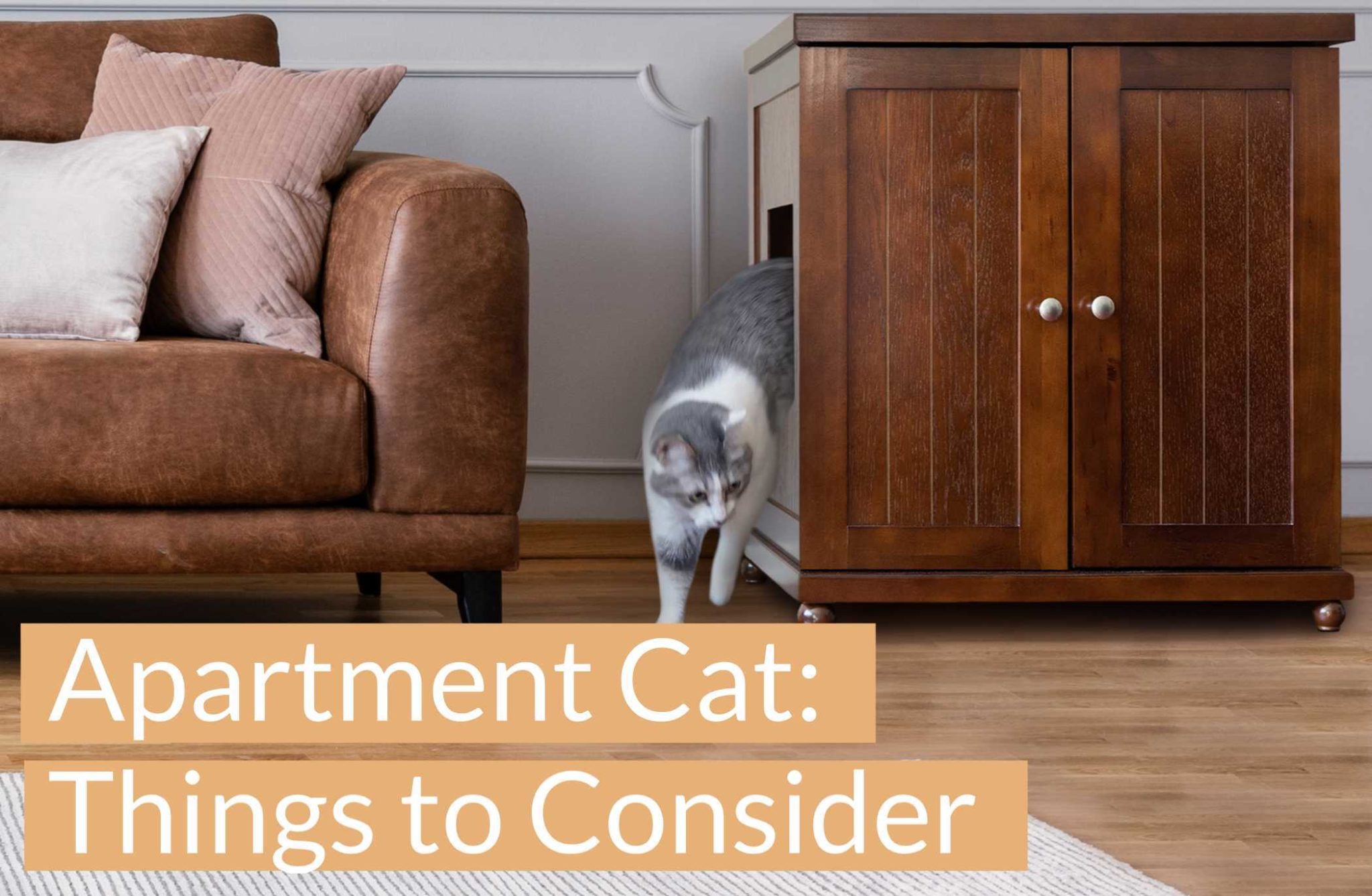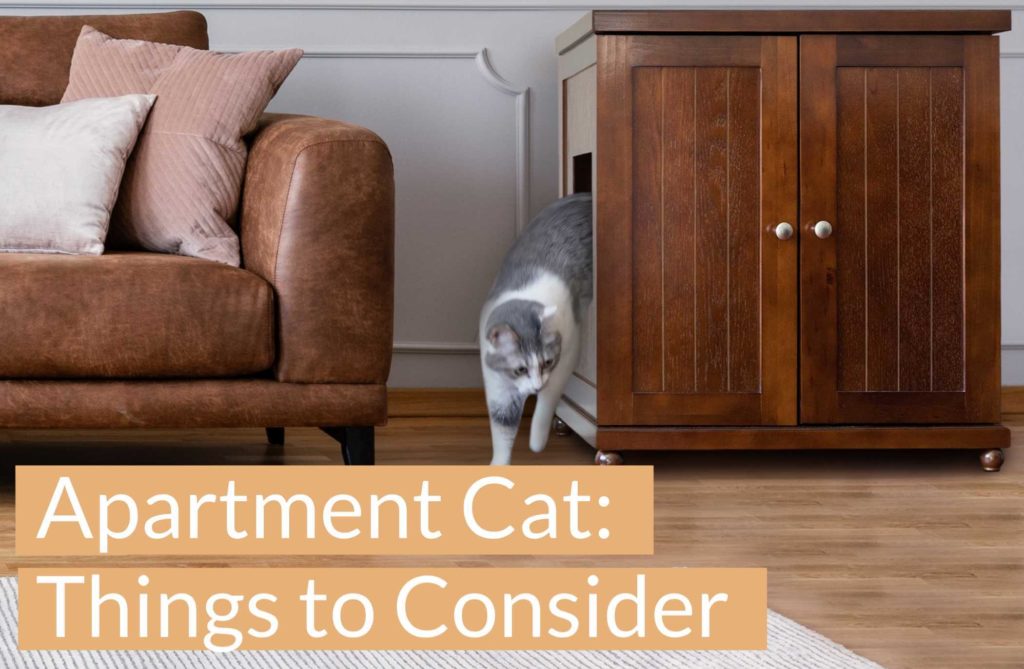 Things to Consider Before Getting An Apartment Cat
There are endless reasons to get a cat… we could go on forever! They are insanely cute, great company, and not much compares to having a cat crawl into your lap on a rainy day. For people living in a roomy home, setting space aside for a cat is pretty easy. It can be a challenge when living in a small apartment. Luckily, cats are relatively low maintenance pets. So, having a cat in an apartment just requires a little extra planning. Here are a few things you should think about before getting an apartment cat: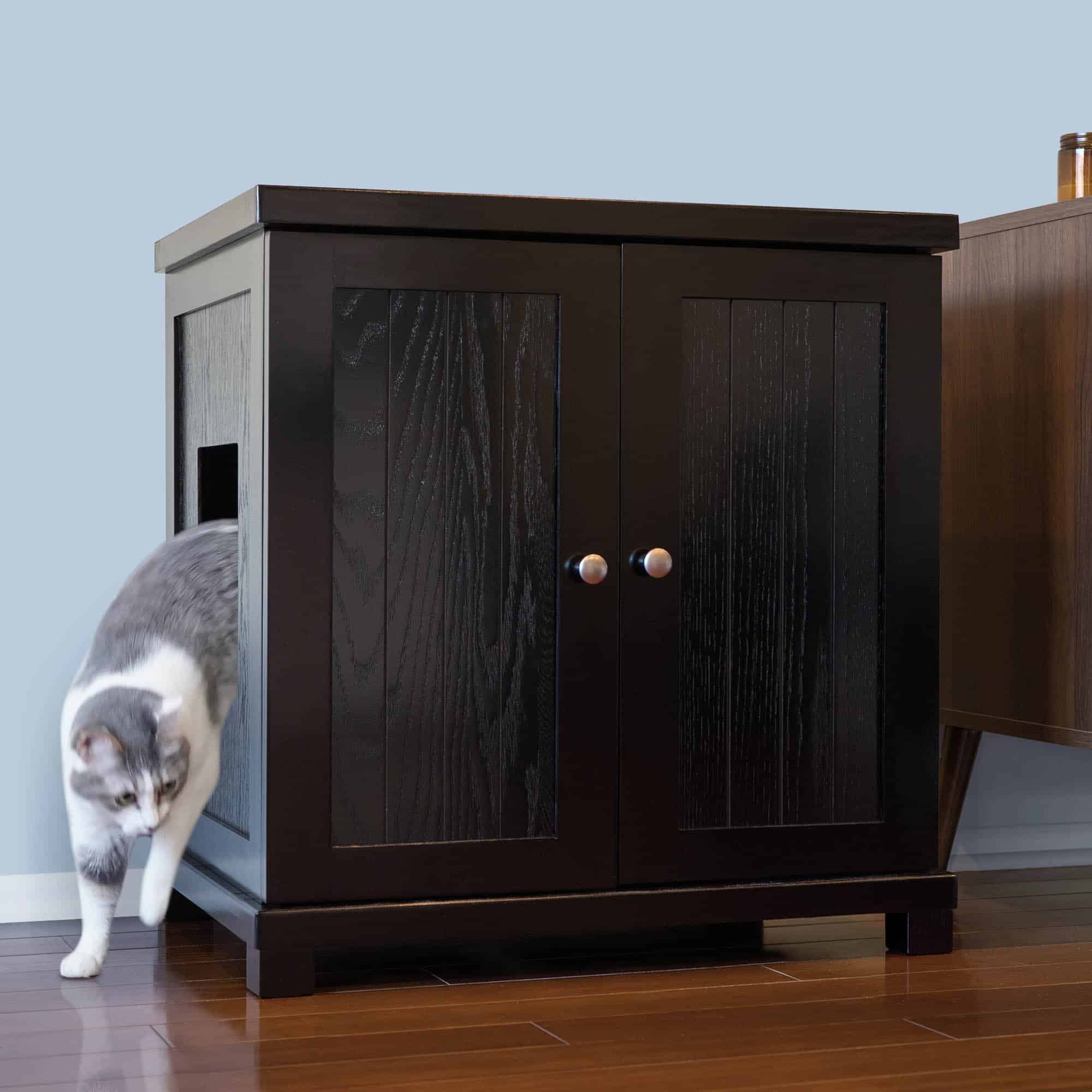 Where to Put The Litter Box
When living in an apartment, you need to be creative when finding a spot for the cat litter box. One common spot is the bathroom, it's private and away from the general traffic of the home. However, sharing your bathroom with a cat usually means that there will be litter all over the floor, all the time. You will need to sweep or vacuum the bathroom almost every day if you just have an ordinary litter box. A covered litter box can help solve that problem. You can also get a litter box enclosure to help contain the litter.
The Refined Litter Box Deluxe from The Refined Feline is a great option because you won't have to search for somewhere to hide it. You can hide the litter box in plain sight within this modern litter box enclosure. It can be easily assembled with entry placed on either side. You can even choose the color, size, door panels, and feet so that it purrrfectly matches your home. You won't have to worry about any smell either. There are slots in the back for carbon filters to keep the air fresh no matter where it's placed.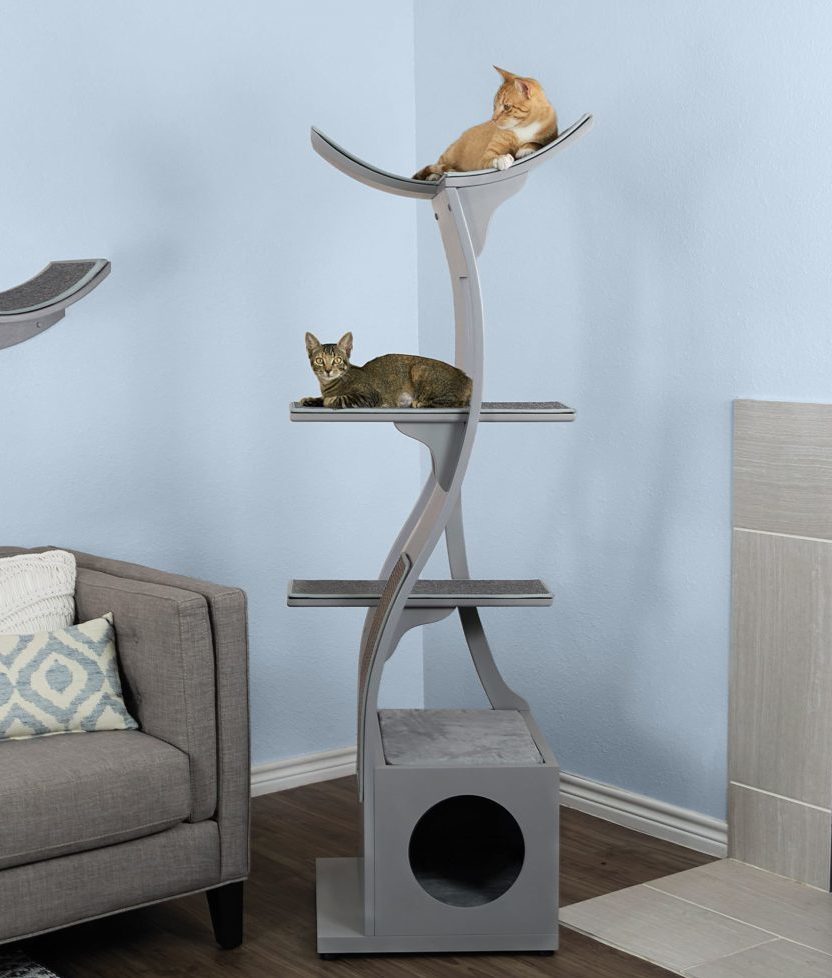 How to Keep Your Cat Happy Indoors
A cat that will be kept indoors and is familiar with being indoors is best for apartment dwellers. Some outdoor cats may have a hard time adjusting to life indoors. If a cat is not completely feral though, it can usually be socialized with a little time, love, and patience. Most cats will eventually learn to love their time indoors with the proper tools in place. To make sure that your cat is happy indoors, you'll want to make sure there are ample places to run up and play on. Getting your cat's energy out will be essential for their happiness and for your sleep! A tall cat tree, a cat bed, and some interactive cat toys will usually do the trick.
The Lotus Cat Tower from The Refined Feline is a great modern cat tree for a small space. It features multiple perches, a scratchpad, and a hidden den all while taking up minimal floor space. If your cat still wants a taste of the outdoors, you can get a harness and go for short walks. Make sure to test the harness out in advance, since many cats are great escape artists. Also, make sure that the area is safe for your cat and that you don't stray too far.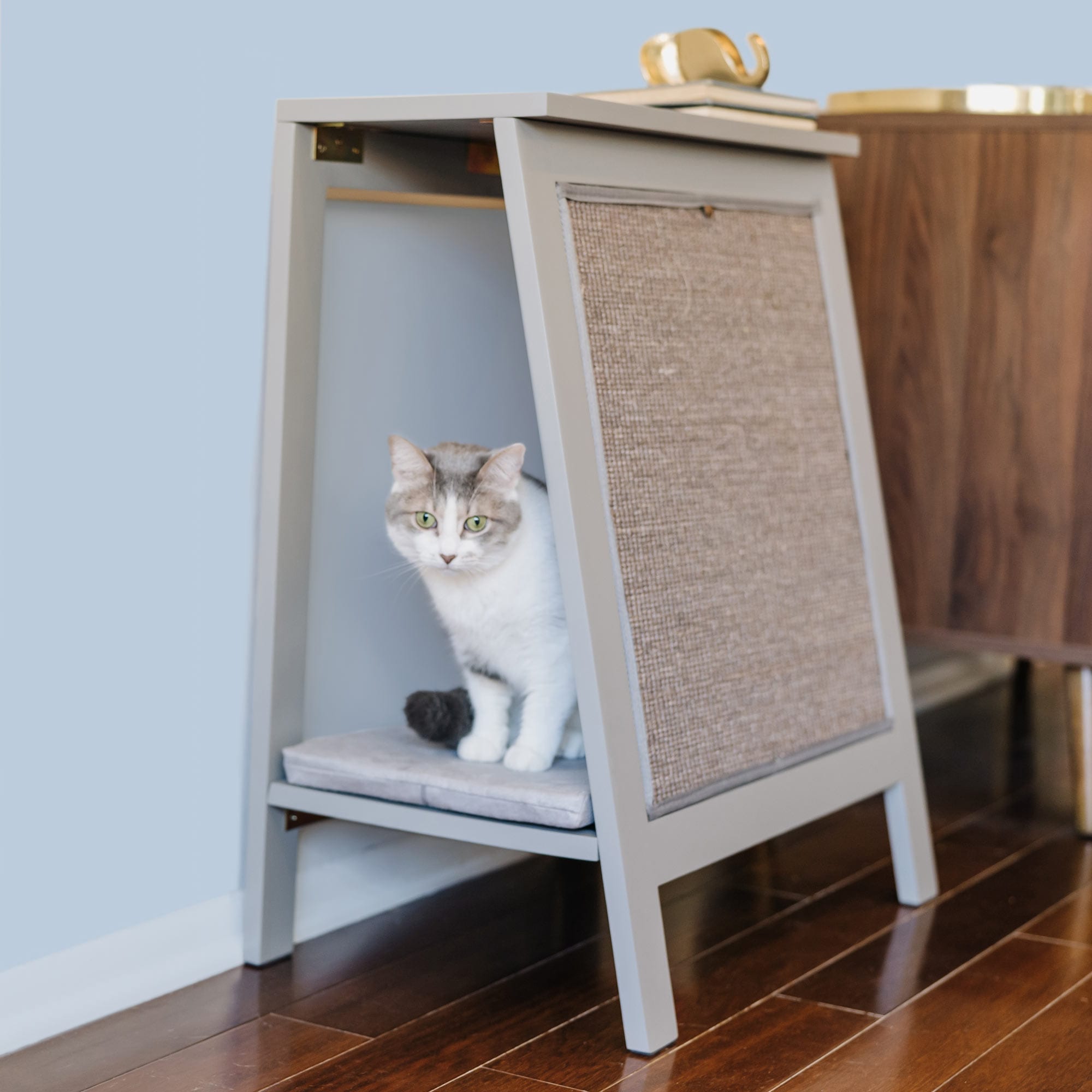 Apartment Cats Need Something to Scratch
Giving your cat something to scratch is essential. Ideally, you should have a scratching post or cat furniture that has a scratchpad built-in. They are well worth the investment, especially if you have nice furniture. People often wonder how to keep cats from scratching furniture but it's not rocket science! There are many kinds of cat scratching posts available, just find one that your cat likes!
The A-Frame Cat Bed from The Refined Feline is a great space-saving option. It not only doubles as a cat bed and an end table, but it also features a huge scratchpad that can be replaced if worn. Plus, its wood finish will blend right in with your home.
Make sure to sprinkle some catnip on any new cat furniture to get your cat interested in it. Also, place it in a location that your cat frequents so that they can't miss it. If you see your cat clawing anything else in the house, just pick your cat up and put them in their designated scratching area. Most cats will quickly learn where they should go to scratch.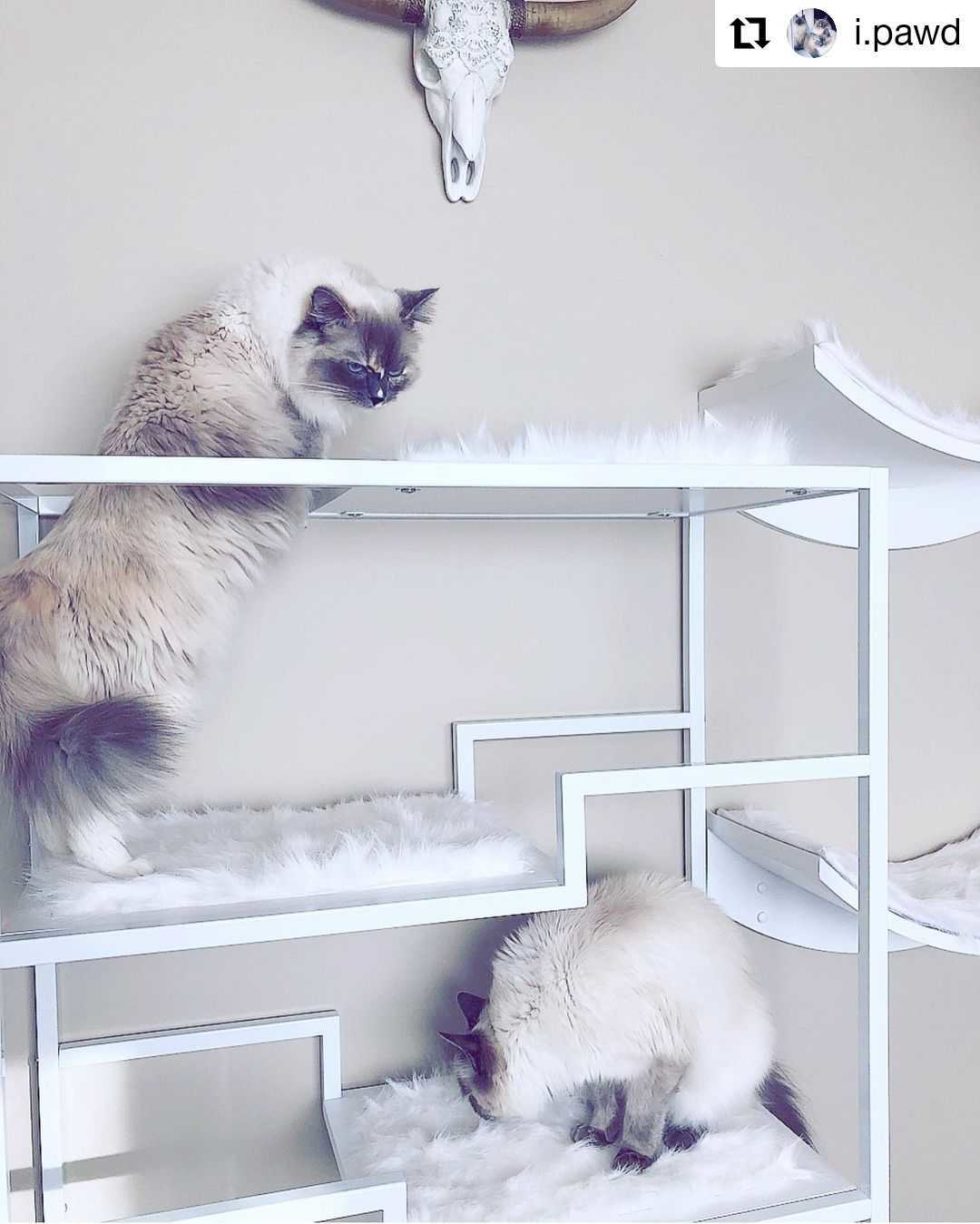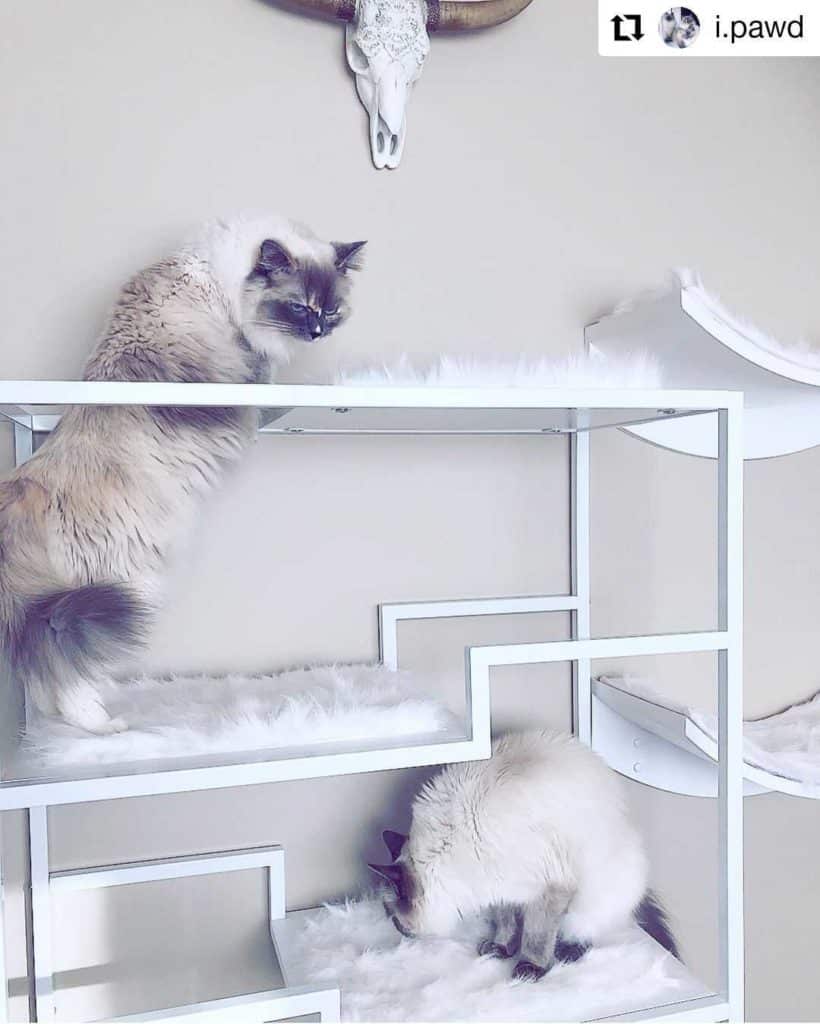 Have Time and Space to Play With Your Cat
At the minimum, cats need at least fifteen to thirty minutes of playtime every day, preferably in a designated area. If you let this responsibility slip, you should expect your cat to be getting mischievous. The best way to go about this is to pick a time in the day when you are usually free and make this "playtime".
Reinforce the use of their scratching post and cat furniture during playtime. It is important for your cat to have space, however small, where they know they are allowed to do pretty much whatever they want.
Worried about being out of the house a lot during the day? Adopting two cats is better than one. That is one way to ensure they get enough playtime but that does not mean that you shouldn't give your cat attention. You'll just have some peace of mind when you're gone knowing that they won't be as bored or sad when you are not there.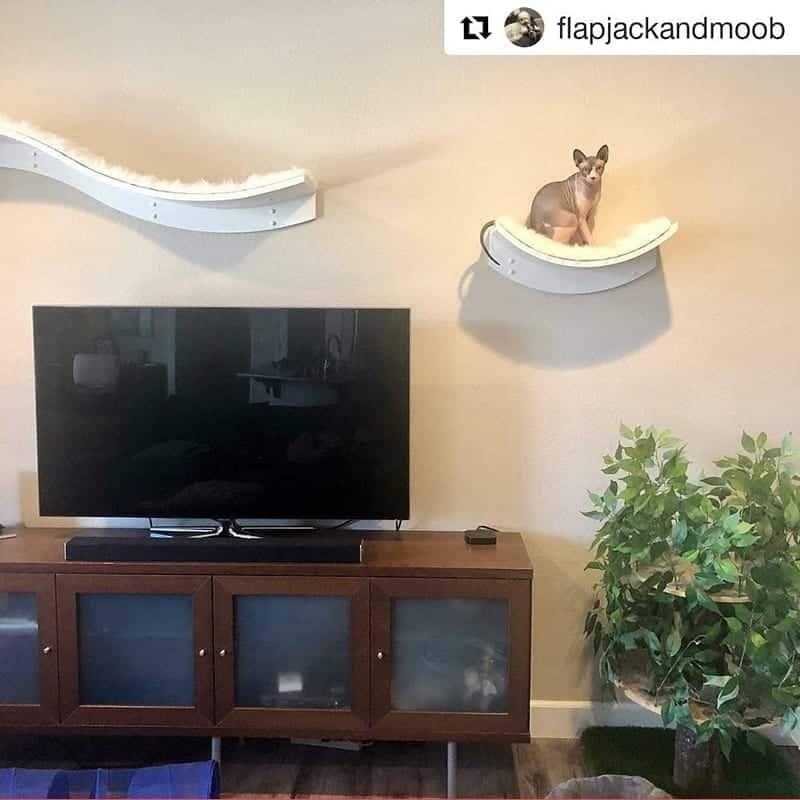 Make Your Apartment Cat-Friendly
Before you bring your cat home, make sure you have as few breakable things out in the open as possible. Cats are curious creatures and it will take some time to train them not to go climbing up on all of your shelves. Small fragile items that may appeal to a playful cat, should be moved to safer places. You can put the objects back once you are used to how your cat behaves. It is best to start off as carefully as possible though.
If you find that your cat likes your shelves a little too much, you may want to get wall shelves for cats! Place modern cat shelves from The Refined Feline along your wall to give your cats a pathway to play, without sacrificing floor space. These cat wall shelves come in multiple modern finishes and sizes. Given the choice, cats will gladly choose these sturdy cushioned cat shelves as opposed to your decorative shelves.
Related: Humane Alternatives to Declawing a Cat
It isn't too tough to bring a cat into your small space with a little planning. It's more about how space is used rather than how much space there is. Almost any small space can be catified! To find out more on this topic, check out: How to Catify Your Home When Space is Limited