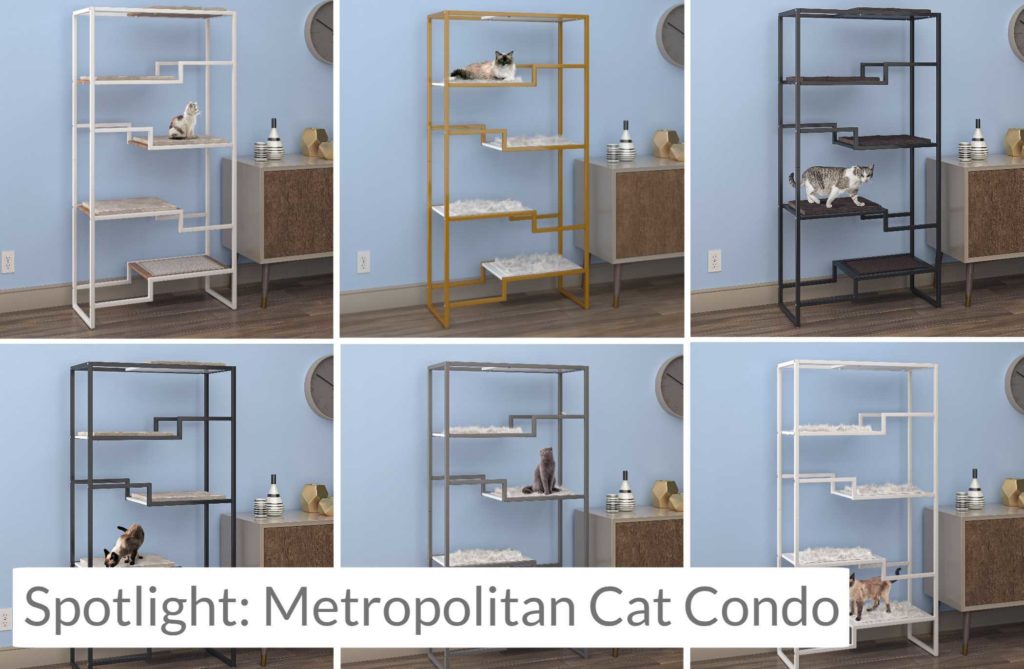 A Modern Cat Tree: The Metropolitan Cat Condo
At The Refined Feline, we're obsessed with cats… It's probably no surprise that our small team here eats, sleeps, and breathes all things feline. We're also obsessed with design and believe that cat furniture doesn't have to look like, well, cat furniture. (Besides, cats will probably use cat furniture even more if they think it's not for them!) Just like most cat parents, we understand the importance of enhancing the lives of our indoor cats with thoughtfully designed cat furniture. So, we designed a modern cat tree that is customizable. It is made to blend in with your home but was ultimately designed with your cat in mind.
A Modern Cat Tower For Beautiful Homes
Our team of humans and felines set out on the task to design a modern cat tower that would actually beautify your home instead of creating an eyesore. After many days, treat breaks, and catnaps, the Metropolitan Cat Condo was born.
The design that we came up with will not only beautify your home… It will also give you and your cats everything you could ever want from a cat tower. No matter how many cats you have!
When you first lay your eyes on our Metropolitan Cat Condo, you may think it is an elegant metal-framed bookcase. However, books do not belong here. (Well, you could put some on it if you really wanted to but they'd probably get knocked right off!) This beautifully designed cat tower is made for cats of all sizes to lounge, nap, and play. Its multiple levels make it a great cat tower for large cats or homes with multiple cats.
A Customizable Cat Condo
The Metropolitan Cat Condo is fully customizable from the metal frame down to the cushions. There are even additional items like toys and food bowls that can be added. Design this cat tower to your liking and own a one-of-a-kind piece of cat furniture in your home.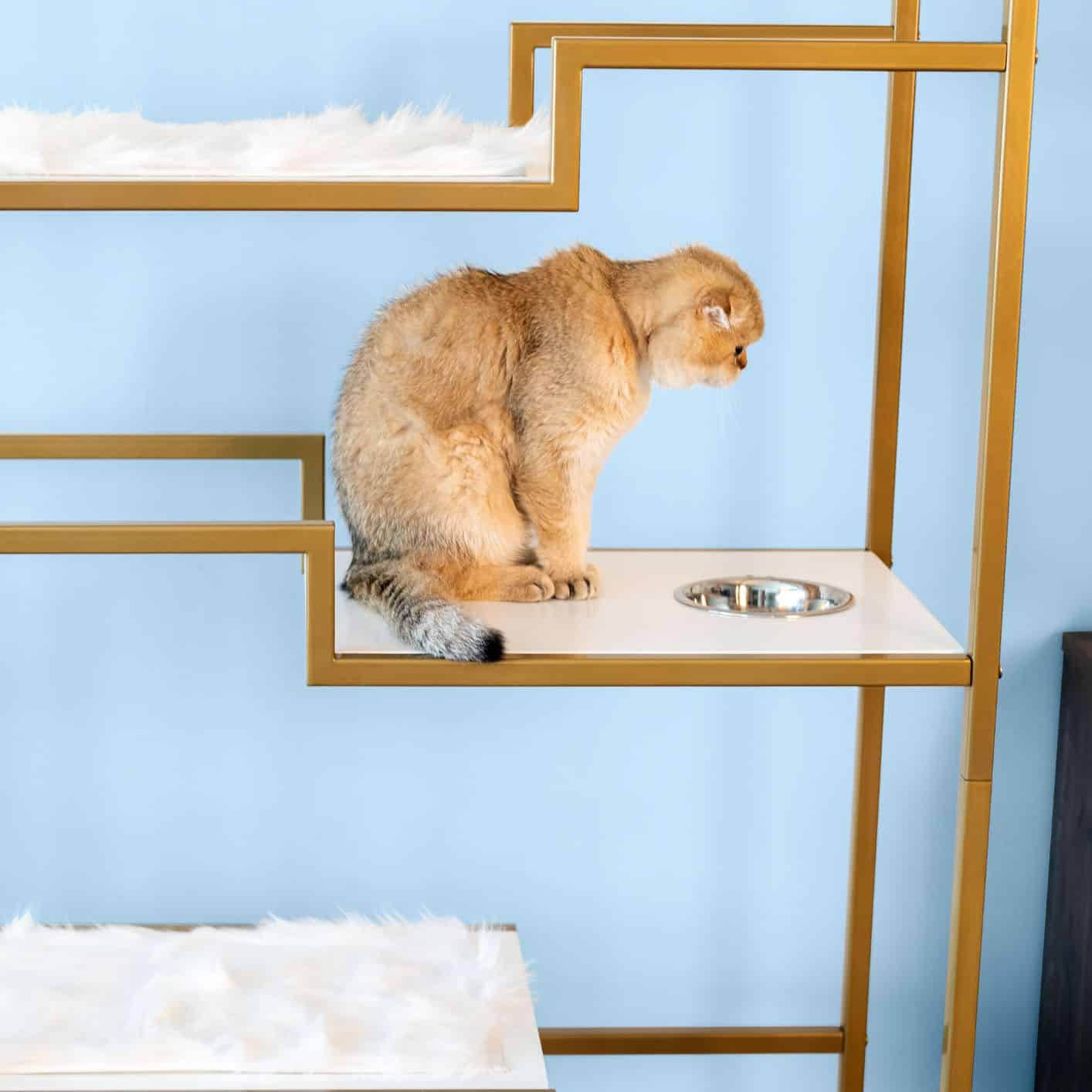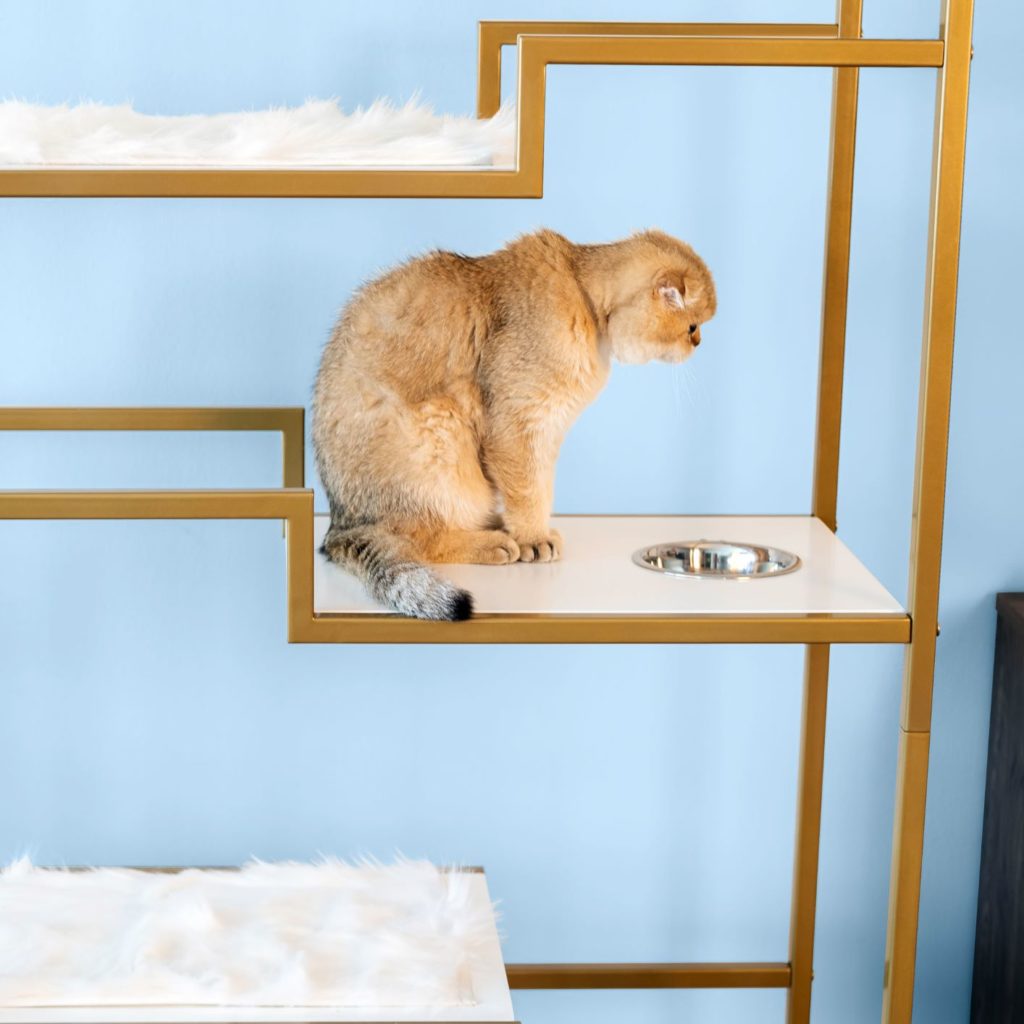 Choose Frame & Platform Color for Your Cat's Condo
With the Metropolitan Cat Condo, you have the opportunity to build the cat condo of your (and your cat's) dreams! The metal frame is available in 4 different colors: Gold, White, Black, and Gray. Once you've chosen a frame color, the next step is choosing the platform options! Each platform is a large 13" x 18.5", wide enough for the largest of house cats.
They can be lined with either cozy plush cushions & a scratchpad or white faux fur pads. You can even replace one platform with a platform that has a built-in food bowl. Maybe you have other pets in your household and would like to feed your cat separately. This platform with a built-in food bowl is the purrrfect way to give your cat a feeding area of its own.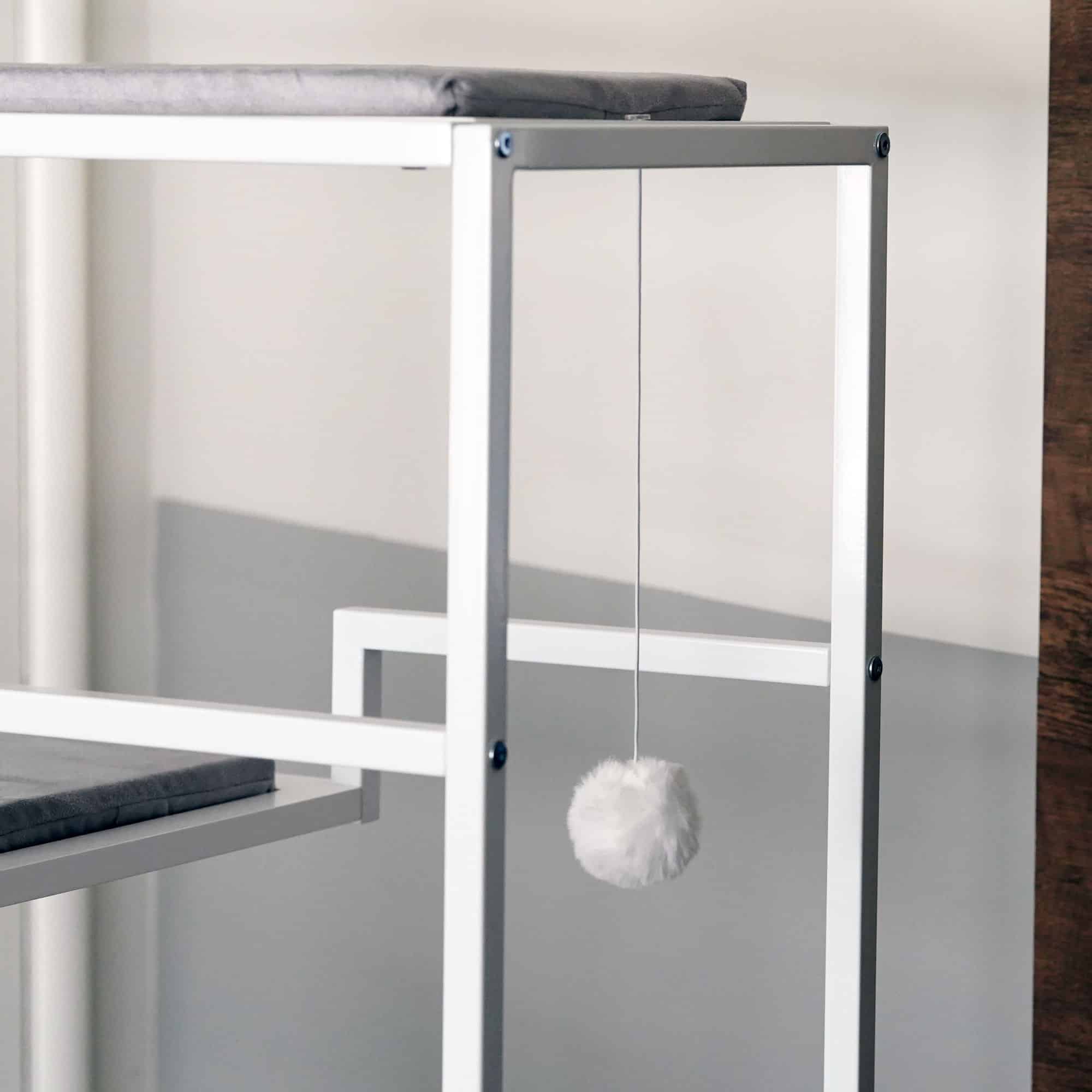 Add a Cat Toy
We didn't forget about a cat's favorite thing, toys! The Metropolitan Cat Toy is sold separately and attaches through any of the predrilled holes on the platforms of this modern cat condo. It's a little fluffy ball attached to a durable cord that your cat will bat and play with for hours.
The stepped design of this tall cat tree allows cats to climb as high as they please with ease, no matter their age. Mix and match the frame and platforms to create a modern cat tree that blends in with your home, while also keeping your feline companions happy.
Features That Make It The Best Cat Tree
Watch with delight as your cat quickly warms up to their new glorious hangout, jumping up to their favorite perch. The cat condo will be a natural addition to your space, enhancing the look and feel of the entire room. We've field-tested this great piece of cat furniture in our own homes, and the result checked all of the boxes: An elegant aesthetic, versatile and safe, and a favorite focal point of both owner and feline.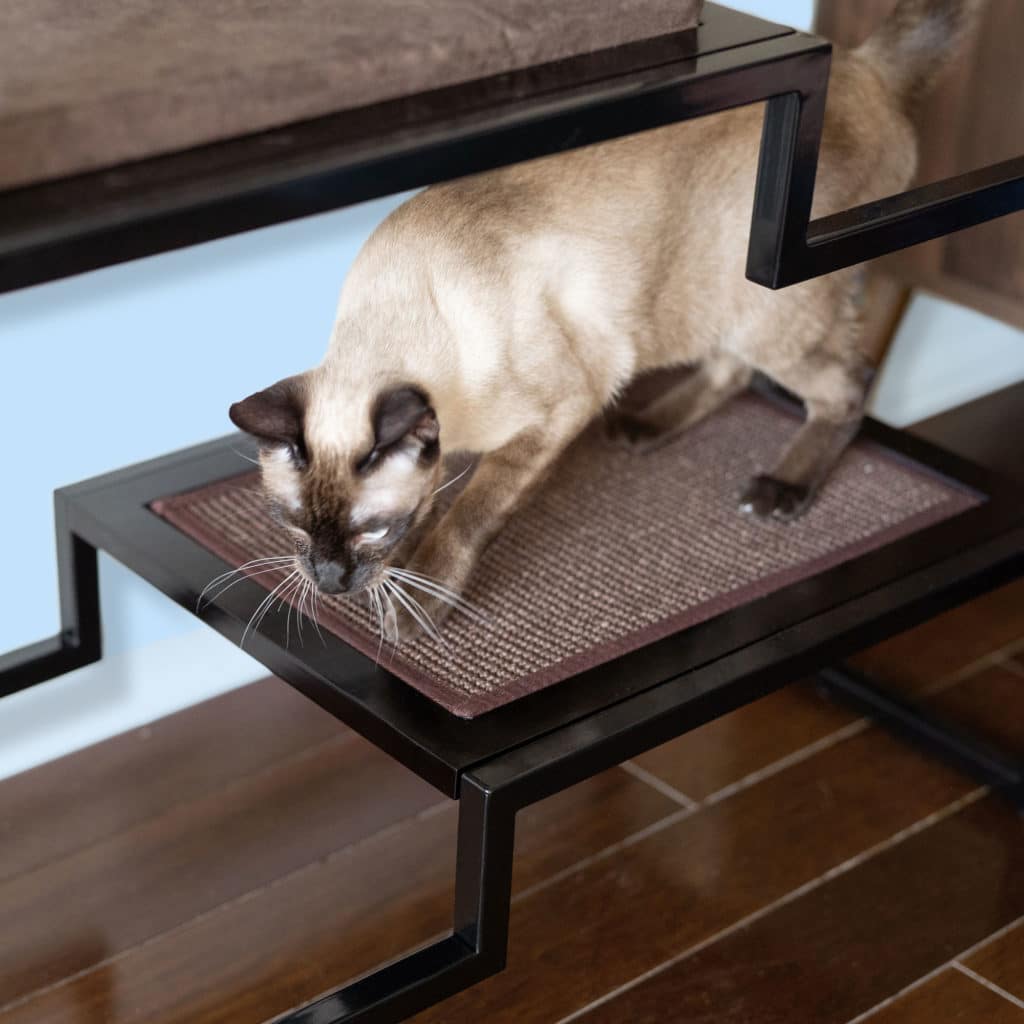 Washable and Replaceable Parts if Soiled or Worn
An added bonus to this cat tree house is that the platform coverings are easily removable and washable, or replaceable if needed.
If the scratchpad gets scratched to the point of no return, that is replaceable as well. All of the parts on our products that wear can always be replaced.
No longer does money have to be wasted on carpeted cat trees that get shredded and thrown out each year. This cat condo will be one of the best investments you'll make for your cat. It's built to last!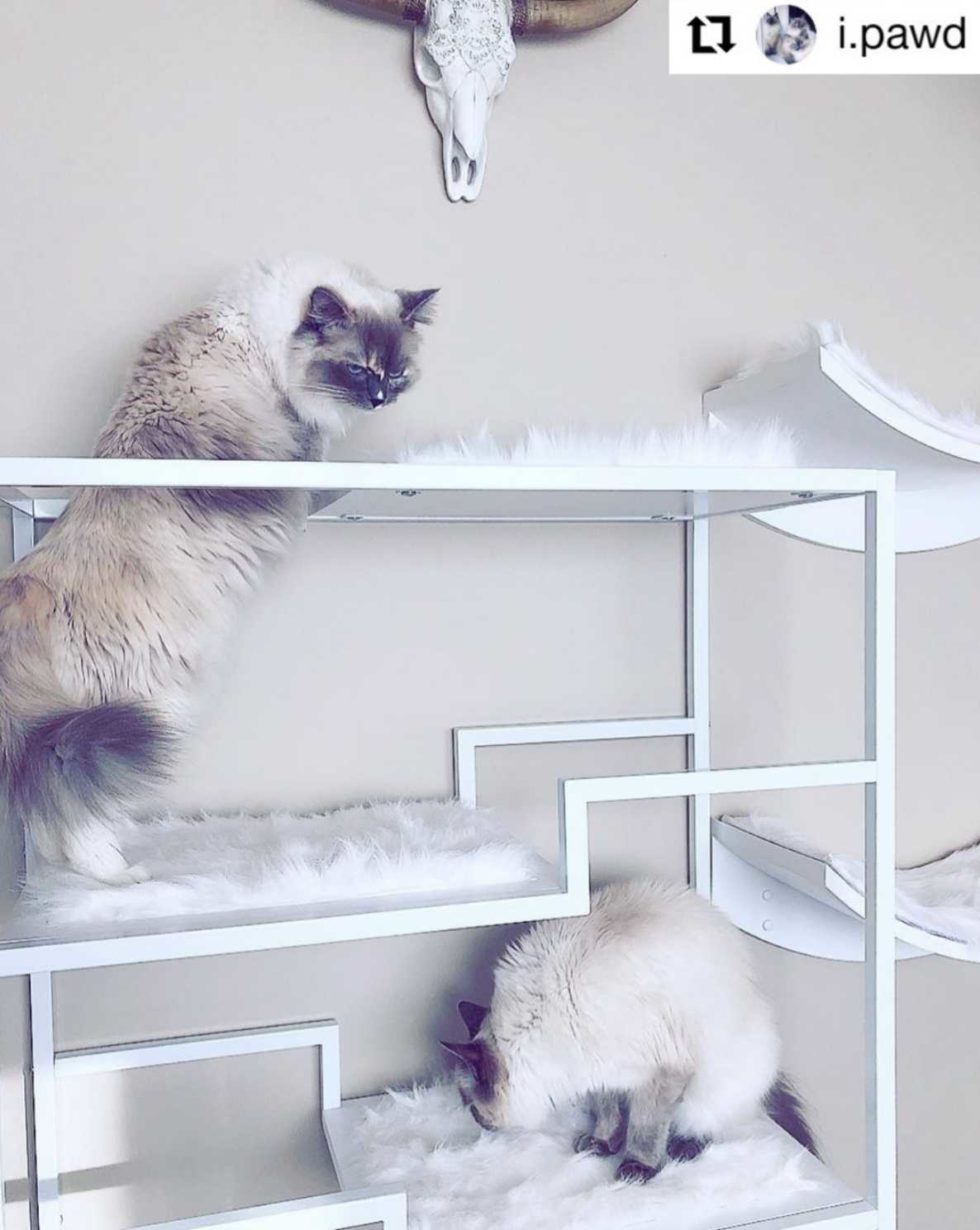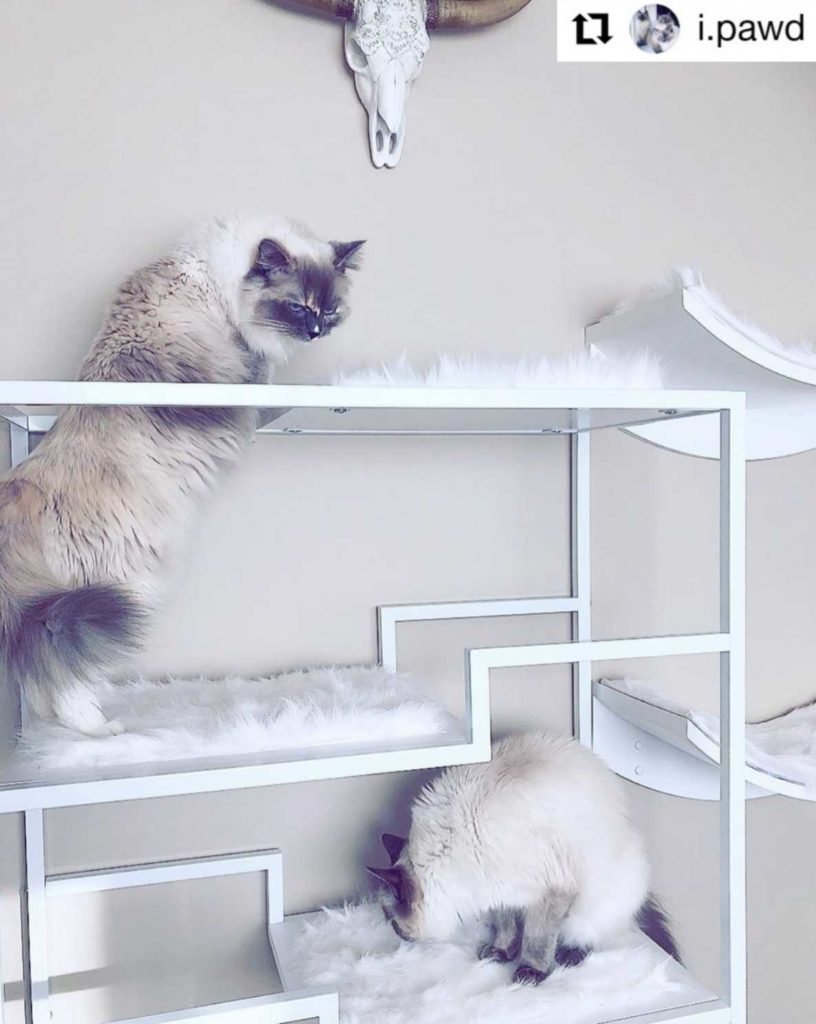 Sturdy Cat Tree for Large Cats
Always designed with our beloved cats' safety in mind, our cat condo has been feline tested and approved. It stands tall and proud, without teetering or swaying when jumped on. The platforms are large enough for any size cat to comfortably sprawl out on. Multiple cats can enjoy playing, napping, and running up this large cat tower together. In case your cats are extra playful, a wall anchor is included for extra safety and added security, should you ever need it.
We know you will love putting the Metropolitan Cat Condo into your home just as much as we've enjoyed creating it for you.
Related: How to Catify Your Home When Space is Limited