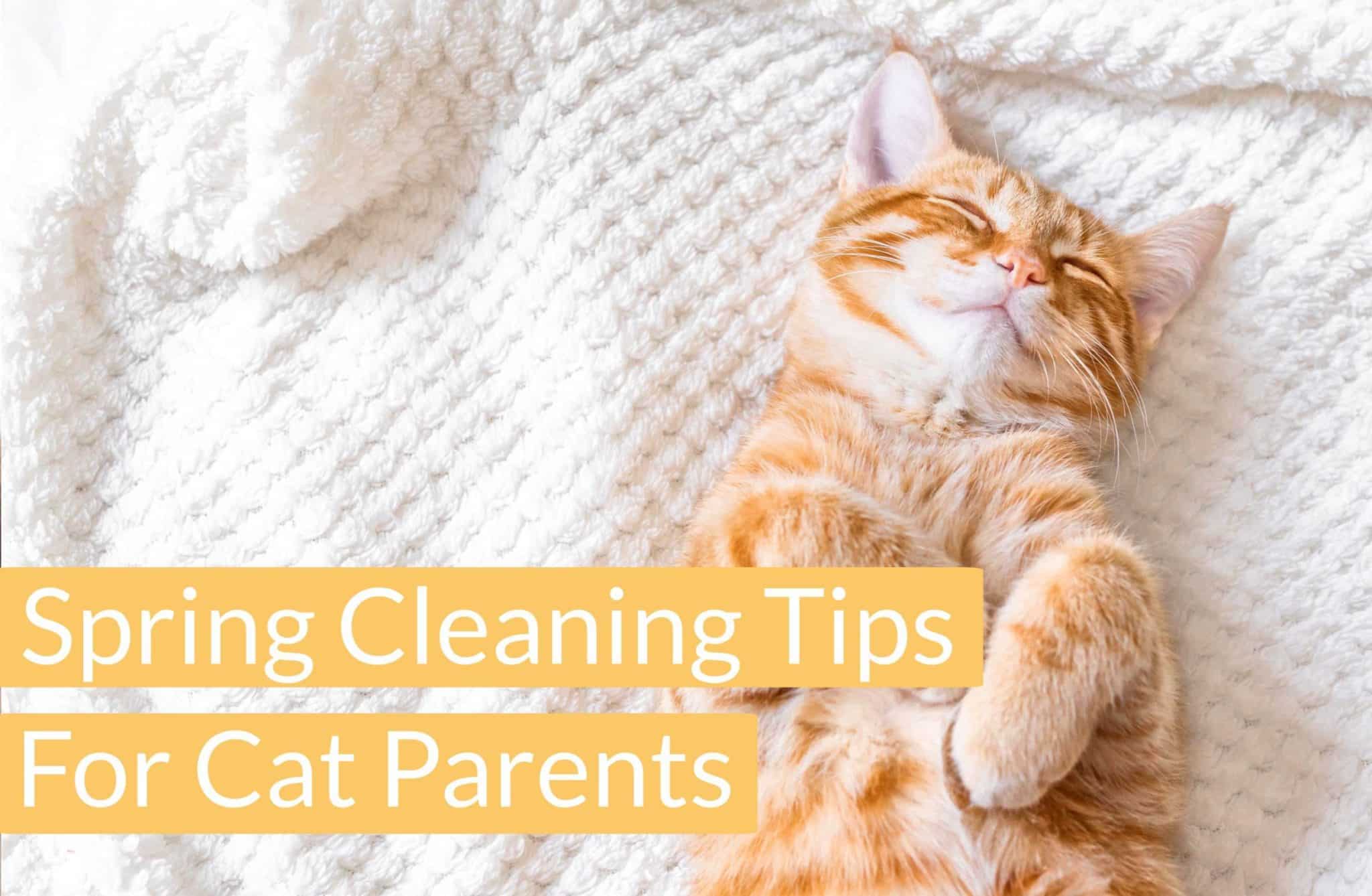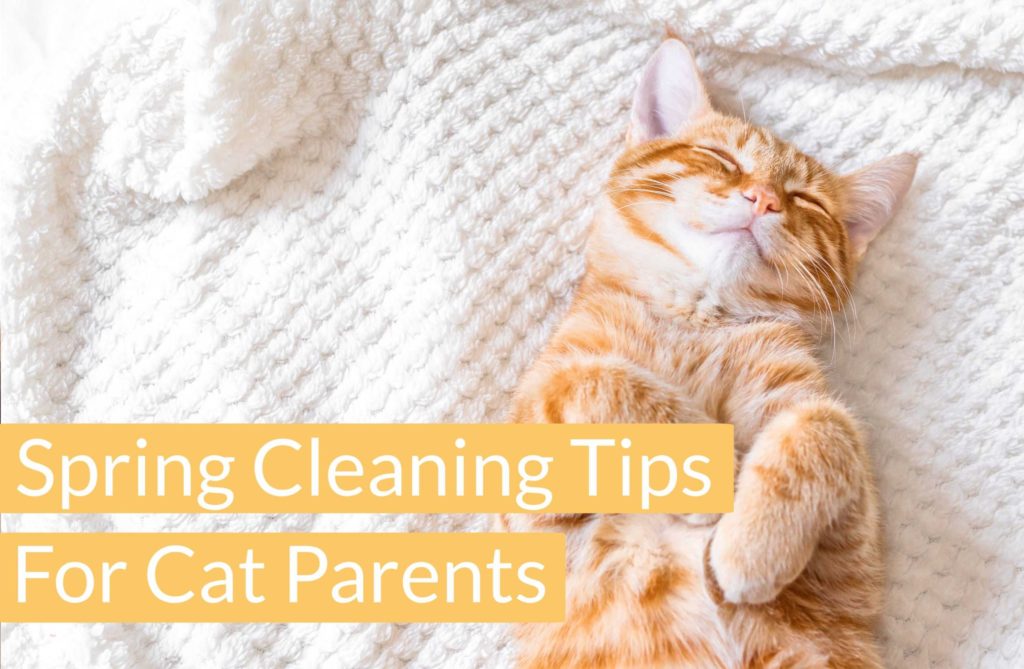 Spring Cleaning Tips for Cat Parents
It's officially Spring which means it's time to start packing away our winter clothes and give our homes a good Spring cleaning. As you start to tackle your to-do list, make sure you don't forget about your cat! It can be easy to forget to slide cat furniture and things out of the way and just do the bare minimum when cleaning. With flowers about to bloom, it's important to clear out all the old dust and dander & do a real thorough deep cleaning! Here's a list of some spring cleaning tips for cat parents.
Cat Parent Spring Cleaning Tips
Wash Cat Beds and Blankets
Replace Worn Scratch Pads and Scratching Posts
Toss Away or Wash Old Cat Toys
Eliminate Cat Odors
Spring Cleaning Includes the Cat Litter Box
Check Your Cat Carrier
Clean Your Cat Furniture
Review Your Cat's First Aid Kit
Check Your Cats Collar and Microchip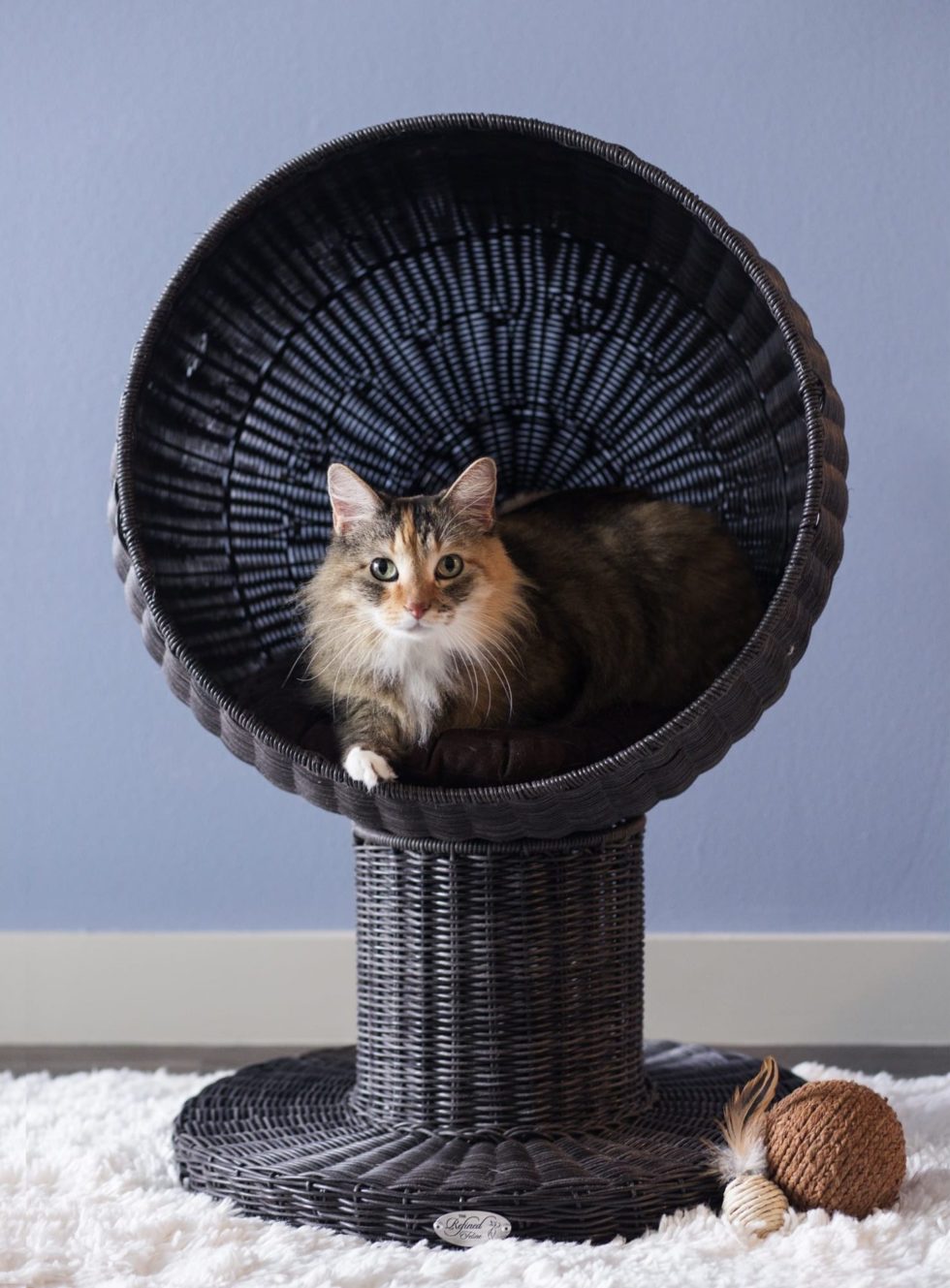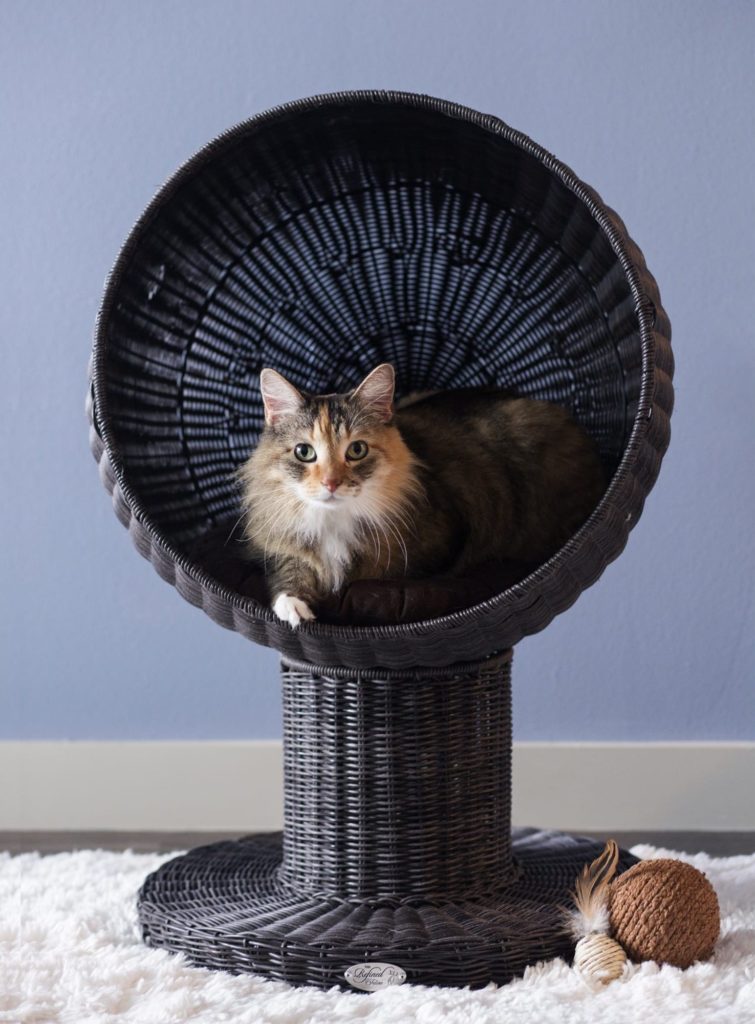 Wash Cat Beds and Blankets
It's important to wash pillows, blankets, and cat beds that your cat frequents to remove the build-up of cat hair and dander. This is especially important if you are managing any allergies. Many modern cat beds like the Kitty Ball Bed from The Refined Feline, have a cushion with a cover that can be removed. The cover can then be washed or replacements can be purchased. Do you have a cat bed that does not have a removable cover? You may want to cover it with a pillowcase or some other type of fabric cover to add a layer of protection that is washable.
Replace Worn Scratch Pads and Scratching Posts
Most basic cat scratching posts can only withstand a cat's razor-sharp claws for so long! Once your cats have ripped apart the cardboard-style scratchers it's important to replace them. Otherwise, they won't serve any purpose other than leaving pieces of cardboard all over your floor. However, there are cat scratching posts out there that won't need to be replaced often and that won't leave pieces everywhere. The Calypso Everlasting Cat Scratcher is a tall cat scratching post made of claw-proof faux rattan. It won't get shredded and will look good in your home for years to come!
Toss Away or Wash Old Cat Toys
Unfortunately, your cat's favorite toy probably has a ton of bacteria on it. You know, the one that they carry in their mouth all day and then drop in some not-so-clean places? Some bacteria may be harmless but others can cause anything from diarrhea to diseases. If your cat's toys that have seen better days can't be washed or thoroughly cleaned it may be time to toss them.
As your cat plays with its favorite toy day after day, it also may start to fall apart and can become dangerous. Be sure to go through your cat's stash of toys and either fix or throw away any that could be a hazard. All of us cat parents dread the day when we have to get rid of our cat's favorite toy. Next time your cat falls in love with a new toy make sure to stock up on it before you can no longer find it!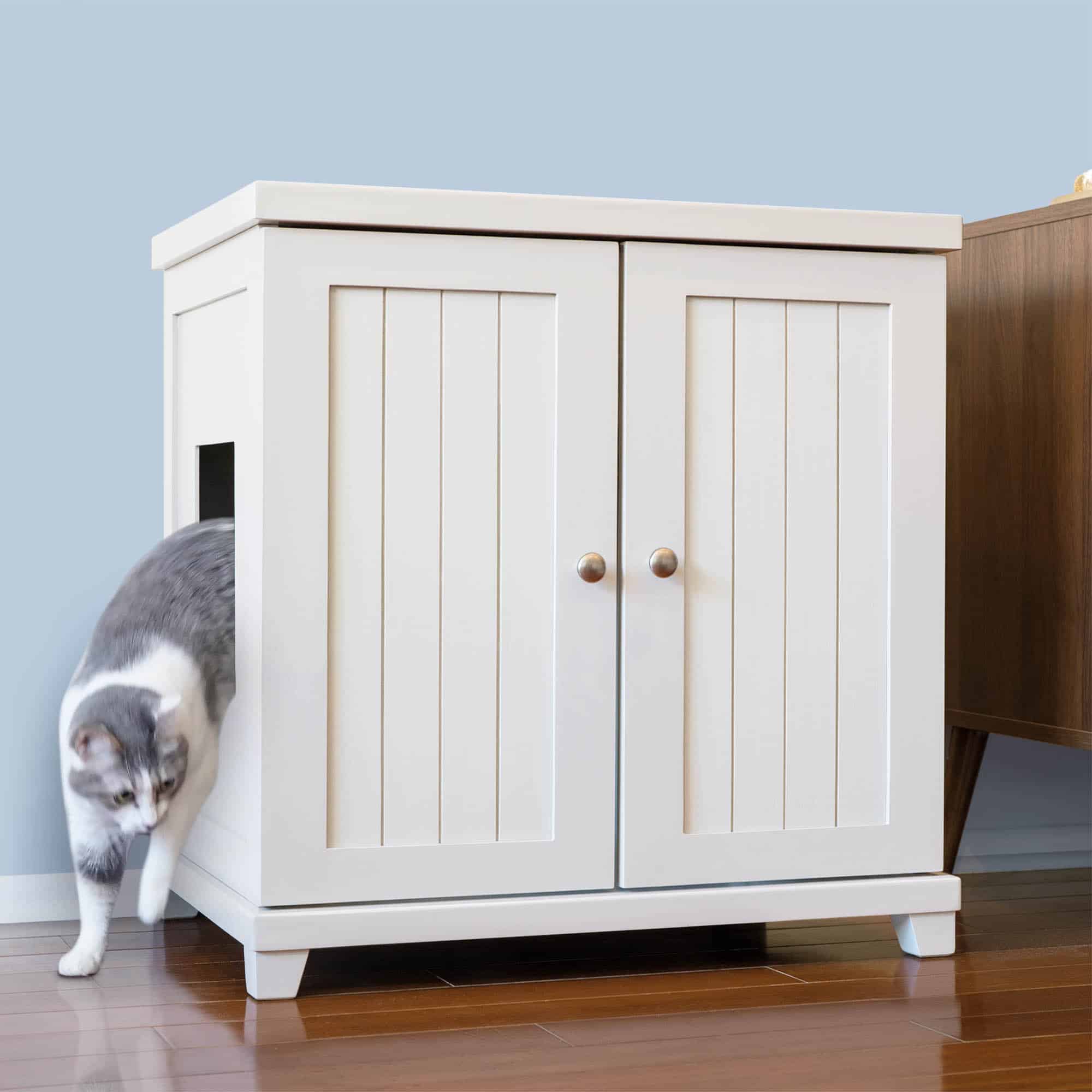 Eliminate Cat Odors
No matter how clean your home looks, it won't feel clean if it doesn't smell clean too! We've all used products before that just mask the odor, but it's important to also use a product that will eliminate odors at the molecular level. Zero Odor is a popular odor eliminator that does just that. If you are trying to eliminate litter box odor, you can try freshening up the litter with a powder odor eliminator like the one from Arm & Hammer. Another great option is to get cat litter box furniture. The Refined Litter Box Deluxe is a wooden litter box cabinet that features ventilation slots on the back. The slots can hold carbon filters that absorb the odor before it ever enters your home.
Spring Cleaning Includes the Cat Litter Box
Does your cat have a plastic litter box? Many cat owners use a plastic litter box which is totally fine but plastic scratches easily. Those scratches can harbor bacteria and odors. Make sure to deep clean the litter box and check for any scratches. If there are scratches as well as odor that you can't get rid of, it's probably best to get a new litter box.
Related: How to Keep Cat Litter From Tracking All Over the House
Check Your Cat Carrier
Most of our cat carriers don't come out of the closet too often. Therefore, it can be easy to forget if there was something wrong with it the last time you used it or if you didn't put it back together properly. You don't want to use a damaged carrier and risk something happening to your precious fur baby. So, be sure to give your cat carrier a full scan. Open the door, open and close all latches, and take apart anything that you can before putting it back together correctly. A cat escaping from its carrier is every cat lover's worst nightmare but it's easy to avoid with a simple inspection.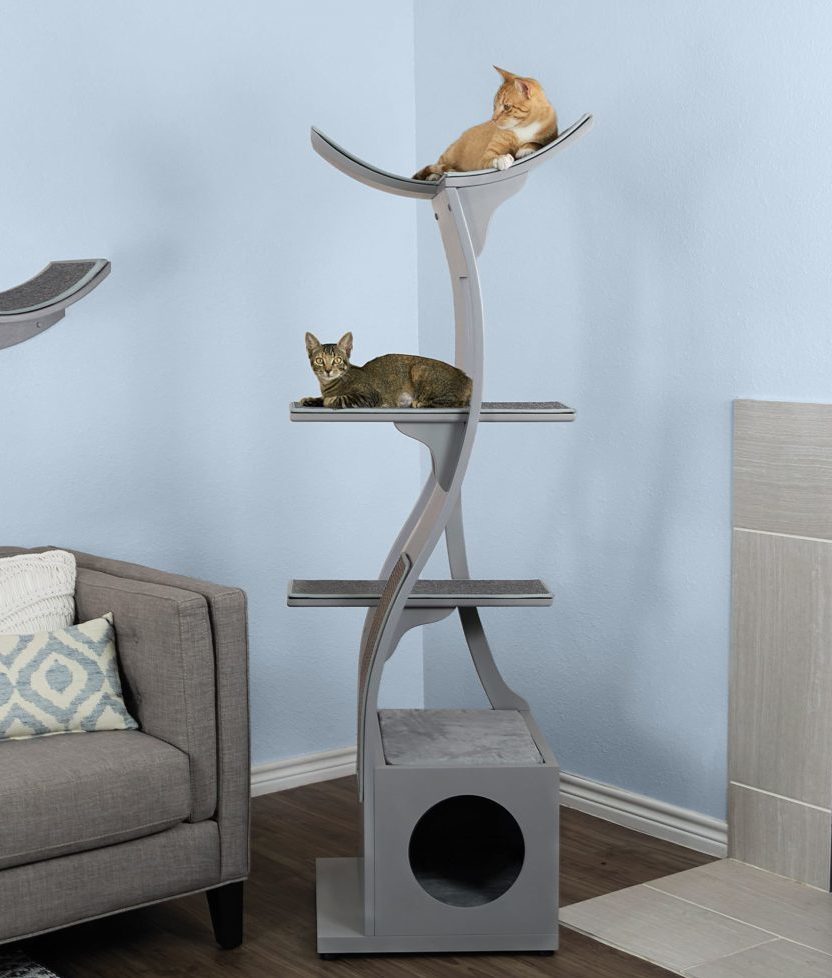 Clean Your Cat Furniture
Some cat furniture may be harder to clean than others. If you have carpeted cat furniture you may want to use some type of hard bristle brush to remove excess hair. Carpeted cat towers will hold odors though and there is no real way to give them a deep cleaning. If you foster cats or just like to make sure everything is super clean, you may want to invest in a wooden cat tower. The Lotus Cat Tower from The Refined Feline is a modern cat tree made from wood that is easily cleanable. The wood can be wiped down like any other wood and all carpeting and cushions can be removed for washing! You can even order replacements if ever needed.
Review Your Cat's First Aid Kit
It's important for pet parents to be prepared for almost any situation that could arise. This means you need to have a first aid kit for your cat. If you already have one, give it a check. Make sure to replace any supplies that were used and get rid of any supplies that are damaged or expired. This probably isn't something that's on the top of your to-do list but you don't want to be unprepared. It'll also give you peace of mind knowing that if you ever need the items they are there.
Check Your Cats Collar and Microchip
It's important to make sure that your cats can be easily recognized, even if they're not allowed outside. All it takes is one time for your cat to be in the wrong place at the wrong time and make a run for some sun. Make sure that any information on your cat's collar is readable. A collar certainly makes it easier for your cat to be recognized. However, it's also important to have your cat microchipped and to keep the registered information current. If your cat ever gets lost it may lose its collar so a microchip is a must-have.
With these spring cleaning tips for cat parents, your home should look and smell clean for a while!