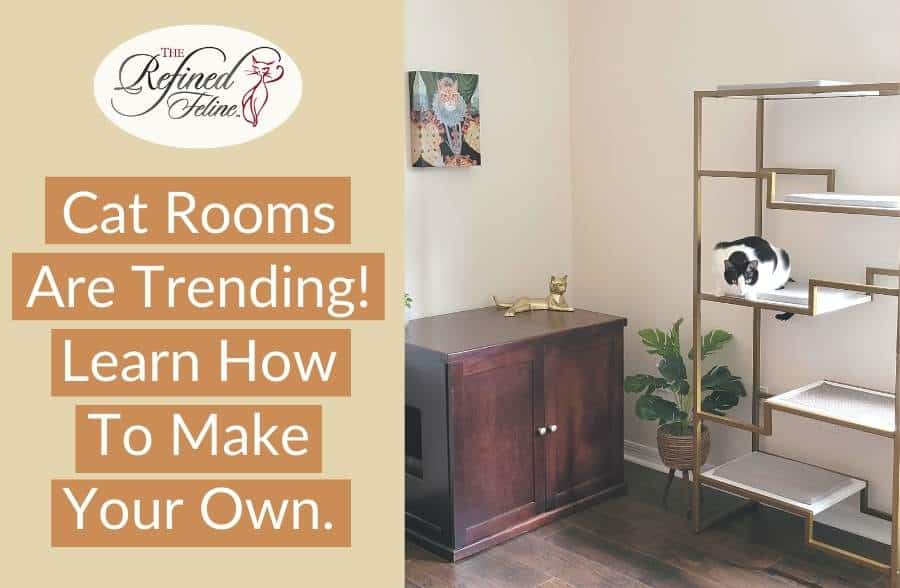 Cat Rooms Are Trending! Learn How To Make Your Own
Cats are slowly taking over the world and we don't see a problem with it! With 45.3 million households having at least one cat, it's plain to see that many humans are owned by cats. You may have even noticed full cat rooms lately that are devoted to the furry felines of the household. These cat rooms are quickly gaining traction in 2022. If you want to create your own cat room, here are some tips from The Refined Feline.
What Is A Cat Room?
If you haven't seen one yet, cat rooms are pretty much exactly what they sound like. They are a room outfitted with all things cats! Picture a room with no rules where your cats can enjoy doing cat things. The rooms tend to contain all of their essentials but it doesn't stop there. These rooms provide a safe space for cats to be cats. Cat rooms are gaining popularity as people are pampering their pets more than ever before. Keep in mind though that cats aren't going to want to stay in one room all the time (and they shouldn't have to)! So, make sure that when you design your cat's space you still have some of their items in other places throughout your home.
Picking The Right Room
First, decide which room to turn into the cat room. Picking a room with some empty space (including wall space) is a good starting point. Choose a room that doesn't have a lot of knick-knacks or fragile items that could break and become dangerous. Since this will be your cat's place to relax, it's ideal to pick a room that is also not the busiest or loudest one in your home. A room with many windows is also a purrrk! However, you know your cat the best. Whether the room is currently a spare bedroom, office, or even a storage room, you can make it a cat room with a little creativity.
Tips For Designing Your Own Cat Room
Starting to design your cat room can be the toughest part but know that there are no mistakes! You can constantly update the room to both you and your cat's liking. Below are some tips to get started but if your cat is happy that's all that matters!
Figure Out What Your Cat Likes
Before you begin, it's important to know what your cat likes and dislikes. Your cat will have preferences when it comes to nearly everything, including toys, perches, cat trees, and more. They may prefer spaces super high up or they may enjoy being lower to the ground. Knowing what your cat will gravitate towards will ensure your cat room is a success!
Rearrange The Cat Room Until It's Purrrfect
Creating the purrrfect cat room won't happen overnight. Start by using what you have at home and find the optimal placement for each item. You may realize that your cat uses their cat tower way more when it's by a window! Maybe the cat bed that gets overlooked will get more use when placed in a spot that gets a lot of sun during their usual nap time.
What To Include In A Cat Room
There are some essentials that should definitely be in a cat room but everything else is up to you and your cat's preferences. If you're sharing the room with your cats, some pieces of cat furniture even serve multiple purposes for both you and your cat. For example, the Purrrrfect End Table from The Refined Feline serves as an end table but also hides a comfortable cat bed inside. Below are some essentials that should definitely be included in any cat room.
-Things to climb and play on
-Scratching posts
-Toys, Toys, and More Toys
-Cat Beds and places to relax
-A litter box area
Cats Need Things To Climb!
For cats to be fully happy indoors, they need to be able to get their energy out. Providing both vertical and horizontal cat furniture for them to climb on is ideal. Most cats love to be high up so using your walls to provide space for cats to play is a win-win! You don't have to give up precious floor space and your cats get to enjoy the bird's eye view.
Cat wall furniture also provides a safe space for cats to escape to since it's a space of their own that energetic dogs or children typically can't access. Cat trees can also provide many different experiences for cats. They typically provide a lot of height and many also have scratching surfaces, a hidden area to lounge, and even dangling toys. Having at least a couple of different items for your cats to climb is ideal.
A Cat Room Needs Scratching Posts
No cat room is complete without a scratching post! Scratching is necessary for cats, both as a means of maintaining their nails and marking their scent. If they don't have enough acceptable scratching surfaces, they'll inevitably turn to furniture and carpet. So, you'll want both vertical and horizontal surfaces for your cat to choose from. You'll also want to ensure that there's at least one durable scratching post that is tall enough for your cat to fully stretch on.
Scratching posts come in many different styles and designs. They could be a simple square of cardboard that gets replaced every so often, or more elaborate like taco trucks or spaceships! You can also find more durable cat scratchers that even blend in with your own furniture, such as the Calypso Everlasting Cat Scratcher.
No Cat Room Is Complete Without Toys
Having a varied supply of toys is a no-brainer, but there are so many to choose from! There are moving cat toys that mimic real animals like flopping fish and mice that walk around. Most of these cat toys are touch activated and will turn themselves off not touched for a few minutes. There are many varied toys that can entertain and enrich your cat's day while you may be busy.
Food and cat treat puzzles also mentally stimulate your cat and help keep their boredom at bay. There are many different kinds with some being pretty tricky. If you have cats or cats that have a lot of energy, you can even explore a cat exercise wheel. These are basically bigger versions of a hamster wheel that your cat can run on and expel all that kitty energy. You may have to train your cat to run on it, though, as it can be intimidating if a cat hasn't seen one before.
Cat Beds & Relaxation Spots Are A Must
Cats love sunbathing, so make sure you're utilizing the sunshine in your cat room! Placing multiple cat beds where the sunshine comes in each day is a great way to promote their use. Providing a window hammock is another great way to add sun to your cat's day.
Having a few different kinds of cat beds is great for any cat room or space. We all know cats like to sleep a lot, so make sure there's a comfy space wherever they may want to lie. Cats will usually curl up when napping but also like to stretch. So, switch up the style of the bed too, as cats like to have multiple options.
If you're short on space, you can even incorporate multipurpose cat furniture into your cat room. For example, the A-Frame cat bed is not just a cat bed. It is also a wooden end table with a hidden cat bed as well as a large scratching surface that can be replaced if worn.
A Litter Box Should Be In The Cat Room
Any cat room will need at least one litter box. The general rule is to have one litter box in your home per cat as well as one extra (since they can be picky). Cats need to feel safe enough to use the facilities. Having multiple places to stop and go will help avoid accidents. The litter box type is dependent on what your cat prefers, being as simple or as fancy as you want as long as your cat will use it. You may prefer a self-cleaning automatic litter box but your cat may simply prefer an open litter pan. There are also ways to hide the litter pan like by placing it inside of a litter box enclosure (Just keep in mind to place the litter box as far as possible from the cat's food and water).
You're Now Ready To Design Your Own Cat Room!
Ready to make your cat room dreams come true? Hopefully, you've gathered enough tips from this list to make your new cat room the hot spot for your furry feline!