Does Not Wanting Cat Furniture Everywhere Make Me A Bad Cat Parent?
As cat parents, we love our cats unconditionally which means we're tempted to buy every cute cat scratcher and cat toy that we see. However, our homes can quickly be taken over before we know it. This can be avoided by better understanding your cat's needs and the function that each piece serves. Here are the 3 main things your cat needs so that you don't feel like your home has been taken over by cat furniture everywhere. (Let's be honest though… It's your cat's house and you're just living in it).
Cats Need More Than Just Cat Furniture Everywhere, They Need Stimulation
Even though cats are less high maintenance than dogs, they do need mental stimulation every day. You may see your cat sleeping for hours and wonder how they go from sleeping like babies to zooming around the house in seconds. Cats get bursts of energy throughout the day, usually when they're in hunting mode. For indoor cats, there isn't much to hunt which is why they need their own toys and furniture! Getting some small mice or plush toys will entice your cat to play on its own.
If your cats get bored easily, try getting battery-operated toys to hold their interest longer. Playing with your cat for at least an hour every day will help keep them stimulated and happy. Usually, a few 15-minute rounds of playtime spread throughout the day is enough to tire them out. Wand toys are a great way of incorporating hunting into your cat's life. Have your cats chase and pounce on the toy as if it's their prey so that they can follow their natural instincts. Rotating out the toys every so often will help to keep your cats interested. Plus, it will help declutter your home from a lot of random cat toys and cat furniture everywhere!
Another way to keep your cat mentally engaged is with their food. Whether you give your cat wet food or dry food it takes away your cat's need to hunt. Putting their meals into a cat food puzzle will make them have to work to reach their food, requiring more mental energy. It will also slow them down when eating, which can help decrease vomiting if your cat normally eats too fast. There are puzzles for both dry and wet food with a variety of difficulty levels.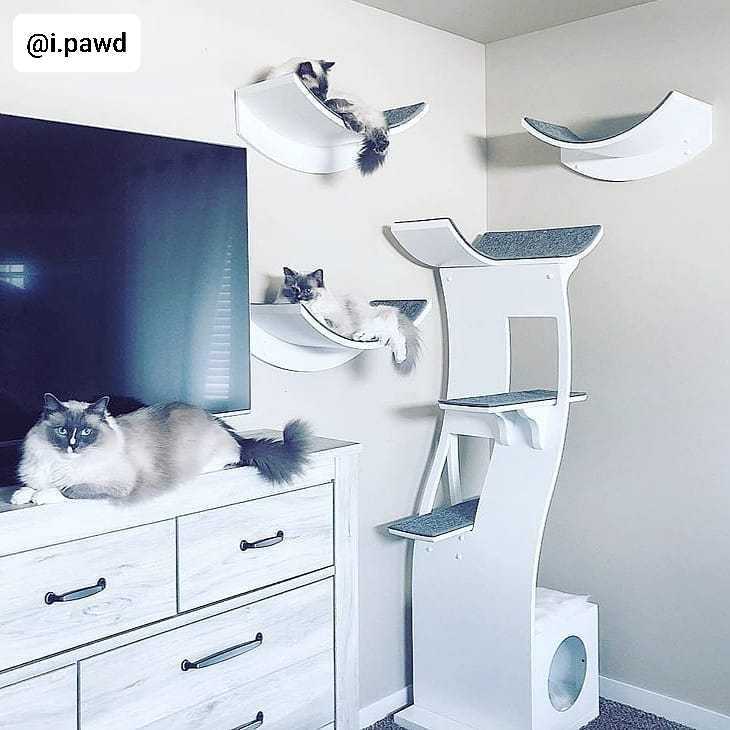 Cats Need A High Place To Climb To
Most cats love to be high up as surveying their kingdom from above provides a sense of comfort. Cats also love to climb and will get into whatever high spaces they can. Providing them a tall cat tower will give them the height and security that they desire. It's also an easy place for your cat to relax and sleep. Cats need a break occasionally from the household commotion like energetic children, pets, and vacuums. Having a space they can jump up to will help them escape to a space of their own.
You may sigh when thinking about placing a carpeted cat tree in the center of your living space but don't fret. The Refined Feline has raised the standards and designed modern cat furniture that will blend right in with your home. Not only will your cat love it, but you will too! All of our cat furniture is attractive, easy to clean, and functional.
If you have limited space or don't want multiple cat trees around your home, there are other options. For example, you can get creative with vertical spaces to create a cat wall! There are all different types of cat wall furniture that you can hang on the wall to give your cats extra space. The Refined Feline designs sturdy wooden cat shelves in multiple modern finishes. Shelves give your cat a secure and secluded place to stretch and climb on while watching all the action. You can easily mix and match all kinds of cat wall furniture to create a catwalk along your wall! It's the perfect accent for any room in your home.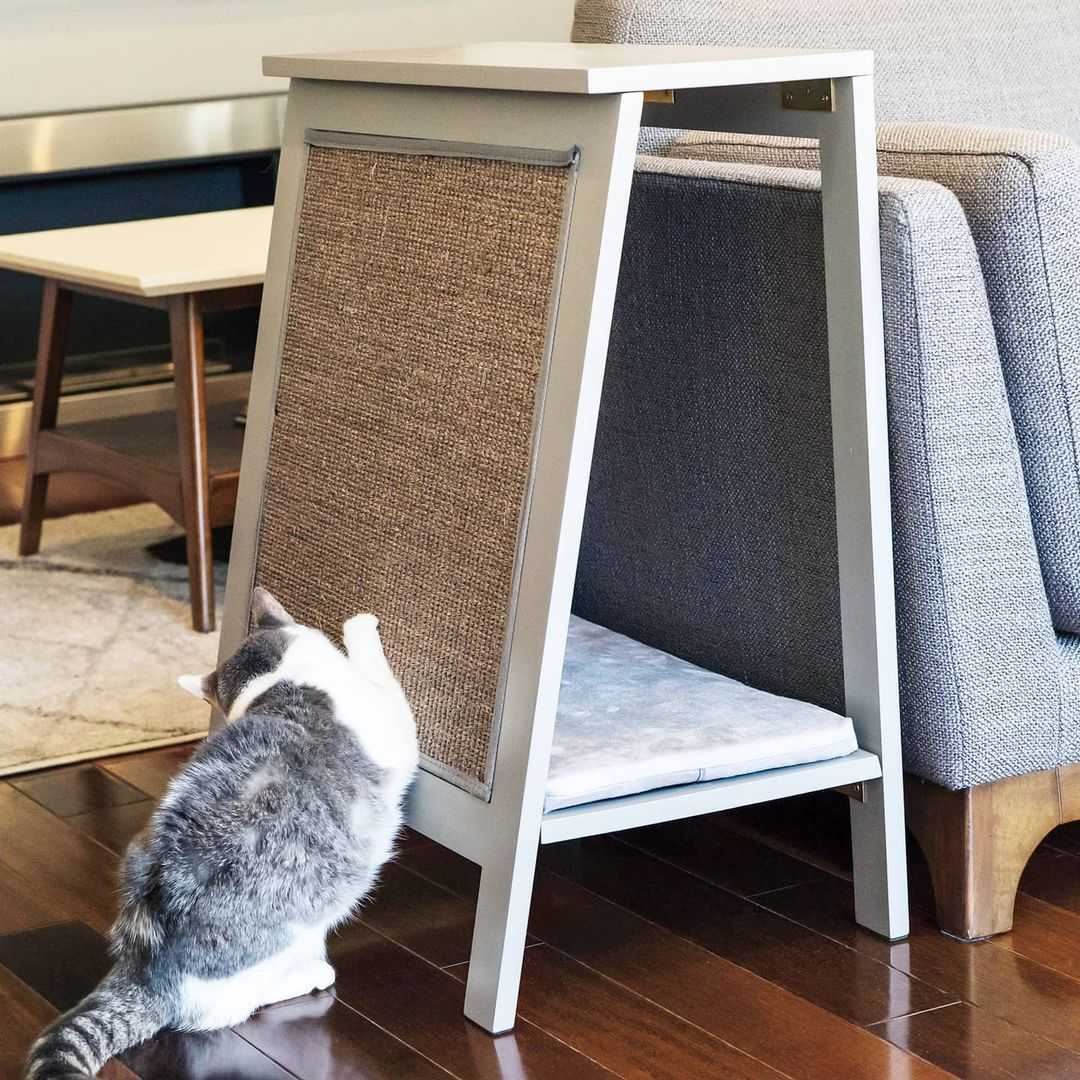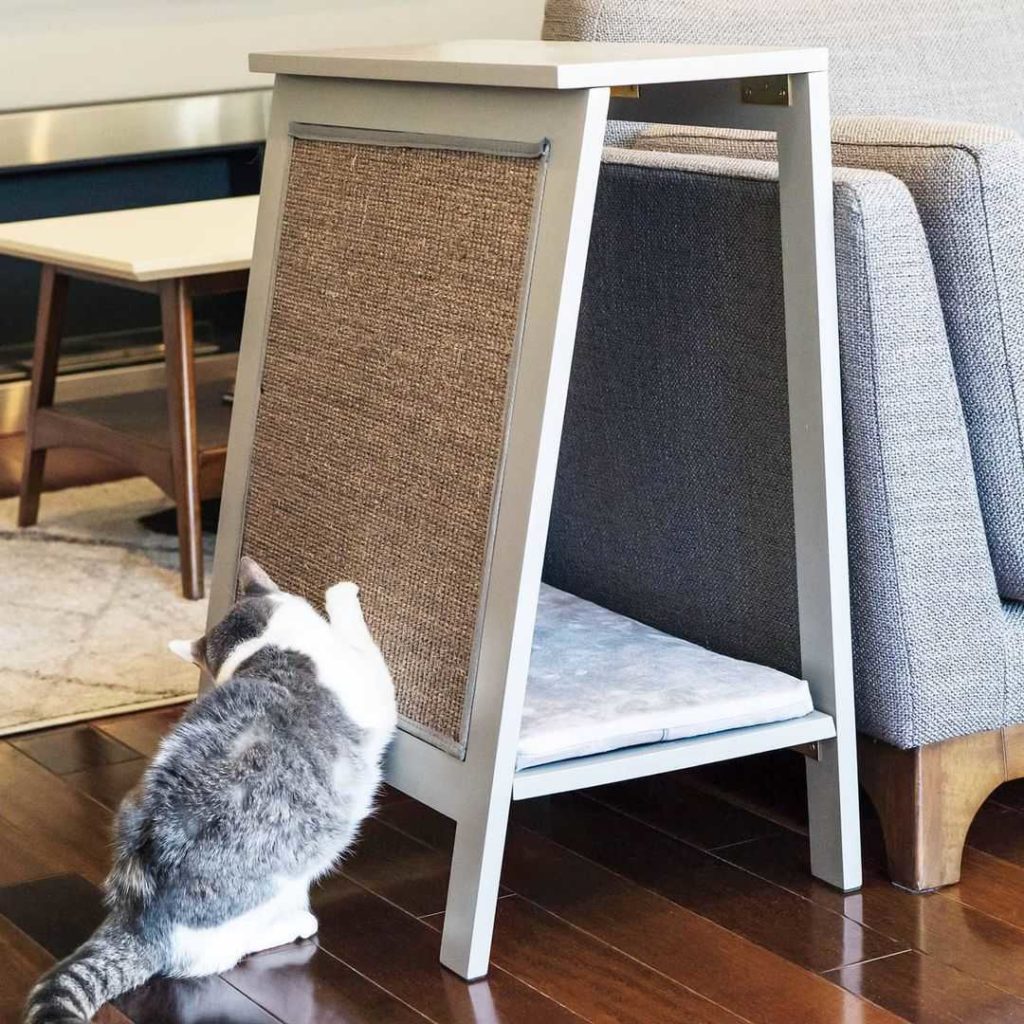 Cats Need To Scratch
Another natural instinct for cats is their need to scratch. It feels good for them to stretch out & scratch and it also benefits their nails. The outer sheath of a cat's nail will loosen and fall off when they regularly scratch. This helps keep their nails healthy and prevents the sheaths from building up over time. Scratching for cats also marks their territory since they have scent glands between their paw pads. These leave behind a scent when they scratch and allow other cats to smell where they've been. Without providing cats an outlet for scratching, they will most likely turn to your furniture.
You'll want to purchase a tall cat scratching post that allows them to fully stretch while scratching. Some cats will enjoy a horizontal scratcher but most prefer to stretch vertically. Having shredded cardboard scratching posts everywhere that leave pieces on your floor may not seem appealing. However, scratching post designs are getting more and more creative.
There are quirky scratchers shaped like ice cream trucks, spaceships, food trucks, and more. There are also cat scratchers that even the most cat-savvy people won't realize are meant for felines. Some of the more modern styles feature sturdy materials like bamboo and rattan that can withstand all the clawing. These materials are super durable and last for years without falling apart. You'll be able to find the right scratcher for your cat without it being apparent to all your visitors.
Cat Furniture Everywhere Doesn't Have To Be Noticeable
There are many ways of giving your cat the stimulation they need without having cat toys and cat furniture everywhere. However, if you do want to spoil your cats with tons of cat furniture, modern cat furniture from The Refined Feline is designed to blend right in. From scratchers to cat trees to toys, it's never been easier to find the right cat products to fit your home.