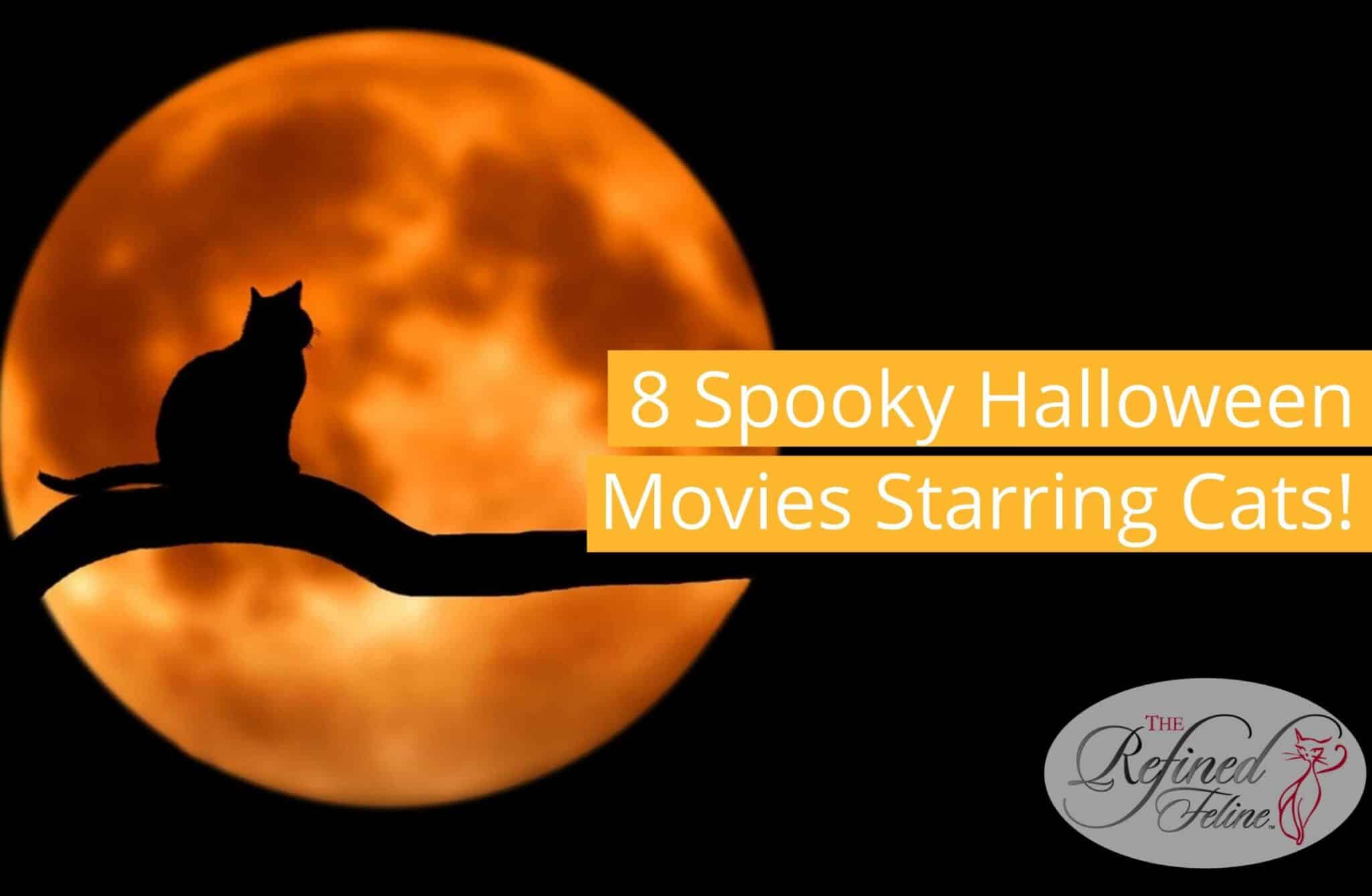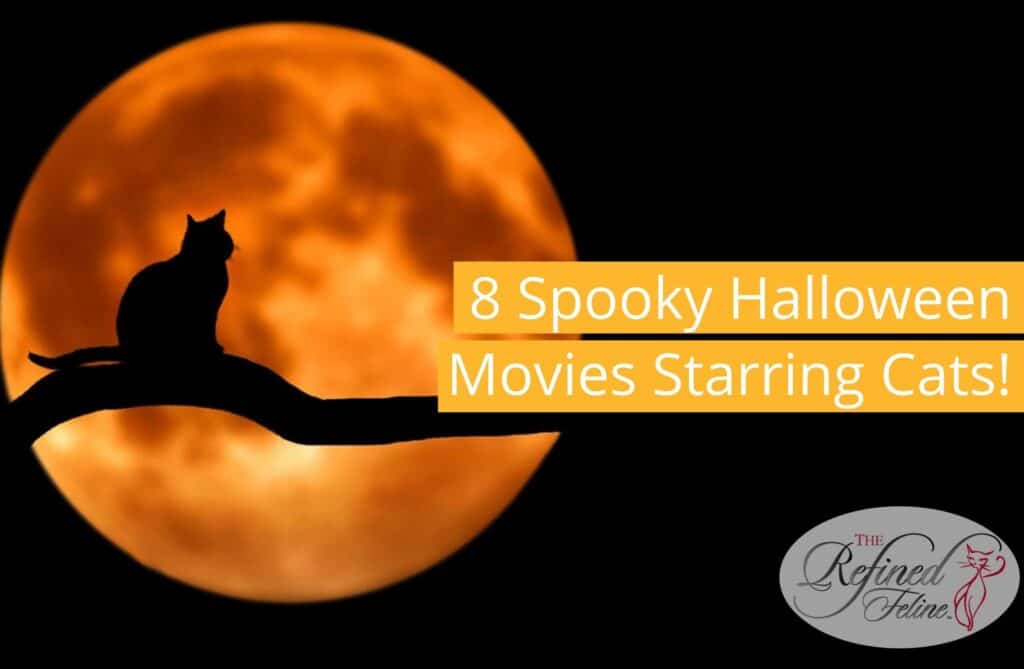 8 Spooky Halloween Movies Starring Cats!
The days are getting cooler and there's pumpkin spice everything which means it must be Fall! Before you know it, trick-or-treaters will be at your door. What better way to get into the spooky mood than by watching Halloween movies? Add some felines and treats into the mix and you've got the purrrfect night in. So, here's a list of some old and some new Halloween movies starring cats (or at least featuring them)!
Halloween Movies Starring Cats (Both Old & New)
Pet Sematary (1989)
Alien (1979)
Cat's Eye (1985)
When A Stranger Calls (2006)
Fallen (1998)
Coraline (2009)
Sleepwalkers (1992)
A Girl Walks Home Alone At Night (2014)
Pet Sematary (1989)
Based on Stephen King's novel of the same name, this movie is 100% horror-filled. A young family moves to the countryside to escape the hustle and bustle of city life but not for long. Their neighbor reveals one fateful evening that their home sits near an ancient Indian burial ground. The cat, Church, is a blue British Shorthair who does, unfortunately, meet an untimely fate in the movie. That is just the beginning of this heart-stopping and horrifying movie!
Alien (1979)
Whether you're into horror movies or not, you've definitely heard of the movie Alien in some context. What you may not know is that Jonesy, an orange tabby cat, plays a fairly large role in the movie. Ripley (Sigourney Weaver) is on a mission of survival against aliens invading and destroying her ship. Ripley and Jonesy fight for their lives against these powerful aliens, leaving you on the edge of your seat.
Cat's Eye (1985)
Also from Stephen King, Cat's Eye is actually three different short stories morphed into one movie. The stories "Quitters, Inc." and "The Ledge" are adapted from King's short story collection called Night Shift. And the third story, "General", is another story imagined by Stephen King. These stories all revolve around one cat, named General, who weaves throughout the film, tying everything together at the end. It also includes a cast of Drew Barrymore, Alan King, James Woods, and Robert Hays, among others. Although it's an older film, it spotlights General, making him the true star of the movie.
When A Stranger Calls (2006)
A regular babysitting gig goes awry when the teenage girl continuously receives calls from a creepy stranger. The homeowner's black cat, Chester, appears throughout the movie. Chester mostly acts as a red herring and in suspenseful scenes, popping out of nowhere for jumps. Despite the threat of danger, Chester has a happy ending in this horror remake.
Fallen (1998)
We promise there's a cat in this horror movie! Although, it may not seem like it at first. A detective (Denzel Washington) is investigating a series of murders & grows concerned because the style of the murders fit that of a convict that was recently executed. The cat may not necessarily have a starring role in this film but the ending is certainly epic when the cat finally appears.
Coraline (2009)
When Coraline and her parents move to a new home and have to start over, she's less than pleased. However, she soon befriends a neighbor along with a talking cat. A secret door of her current home opens up into an alternate reality including a new set of parents. What once seemed perfect turns sinister and super creepy as Coraline tries to escape this new life. The cat periodically pops up throughout the film, trying to enlighten Coraline about the other world. Using animation for this film may not fit the horror genre purrrfectly, but it's certainly creepy and unnerving.
Sleepwalkers (1992)
Yes, another Stephen King film makes the list; if you haven't noticed yet, King is a big cat fan! A young man and his mother move to a rural Indiana town. He befriends a girl at their high school and asks her on a date. However, she does not know his true intentions! The young man and his mother are actually shape-shifters and they turn into cats! They feed on virginal human energy, and that means bad news for the young girl on their date. Not only are there shape-shifting cats but also regular domestic felines who help fight these sleepwalkers. The movie is high on the cheesy scale, but it's great to watch all the various cat escapades.
A Girl Walks Home Alone At Night (2014)
This Indie film tells the tale of a vampire stalking unwitting residents of an Iranian ghost town called Bad City. One of the main characters has a cat that pops up throughout the film. The cat, Masuka, should totally count as a main character aiding the townsfolk of Bad City.
Related: New Show "Cat People" Unites Cat Lovers From Around The World
The Purrrfect Halloween Movies Starring Cats
Grab the popcorn and put on your cat ears, these spooky Halloween movies starring cats are sure to please any feline fanatic! Beware, some of these movies will make you laugh while others might make you feel like a bit of a scaredy-cat. Don't worry though, your furry feline will keep you safe from any monsters!