Best Cat Products for Your Wall in 2022
Looking for some new ways to keep your cats entertained? If you're like us and are always looking for new cat furniture that is functional and attractive, look no further than your walls! Cats love to be high up, so using your walls is the purrrfect way to provide a bird's eye view. Cat wall furniture can be found in all sorts of different styles like hammocks, shelves, and even bridges. You can even combine multiple cat wall shelves along with other cat wall furniture to build a playground for your cats. The sky (or ceiling) is the limit for feline fun! Read on to discover the best cat products for your wall.
The 12 Best Cat Products For Your Wall
Lotus Branch Cat Shelf
Lotus Leaf Cat Shelf
Cat Clouds Cat Shelf
Wall Mounted Wooden Cat Capsule
Macrame Wall Cat Hammock
Macrame Cat Ceiling Hammock
Black Cat Pendulum Wall Clock
Retro Cat Clock
Vertical Cat Scratching Post
Catnip Balls for Your Wall
Wall Door for Cats
Wall Grooming Brush for Cats
Cat Wall Shelves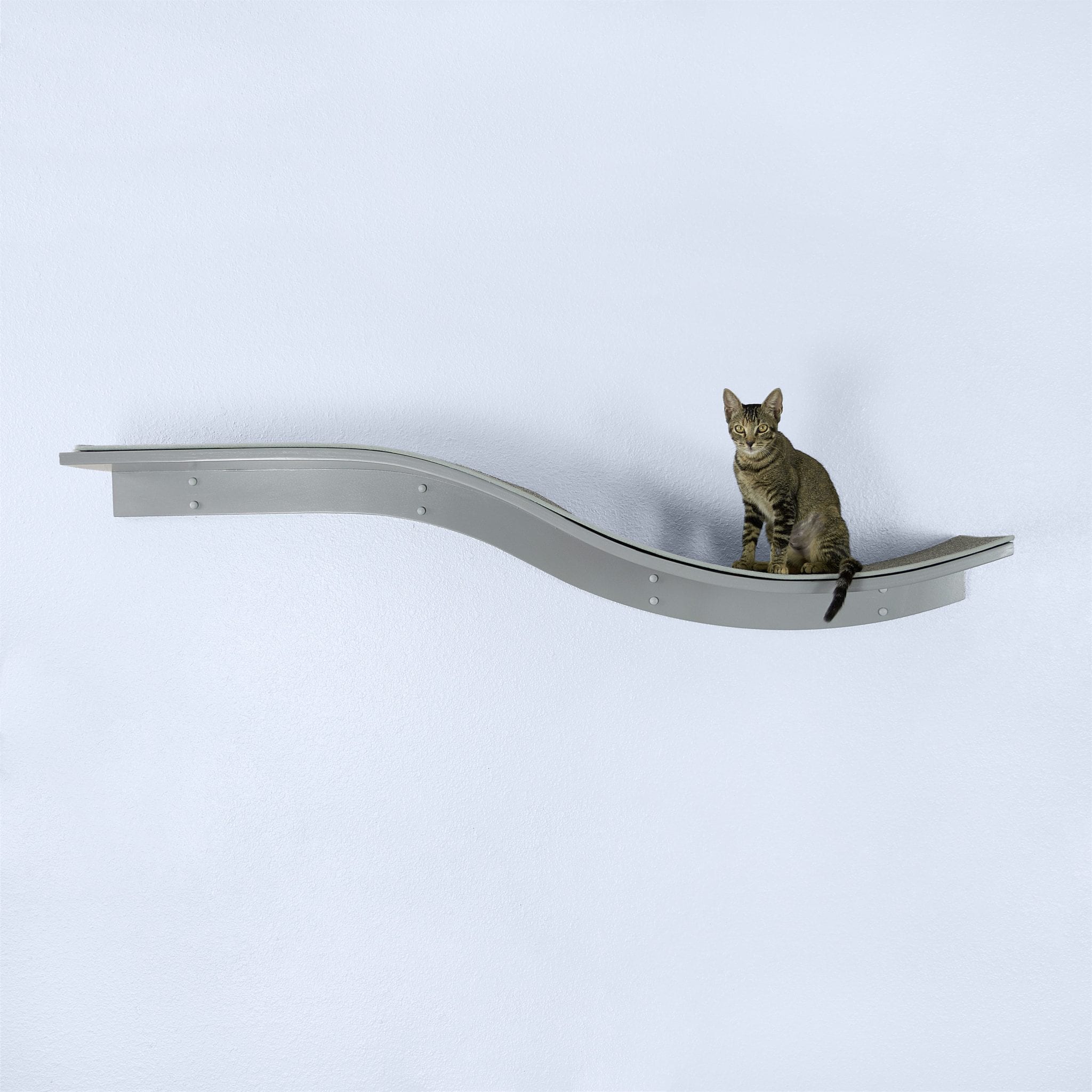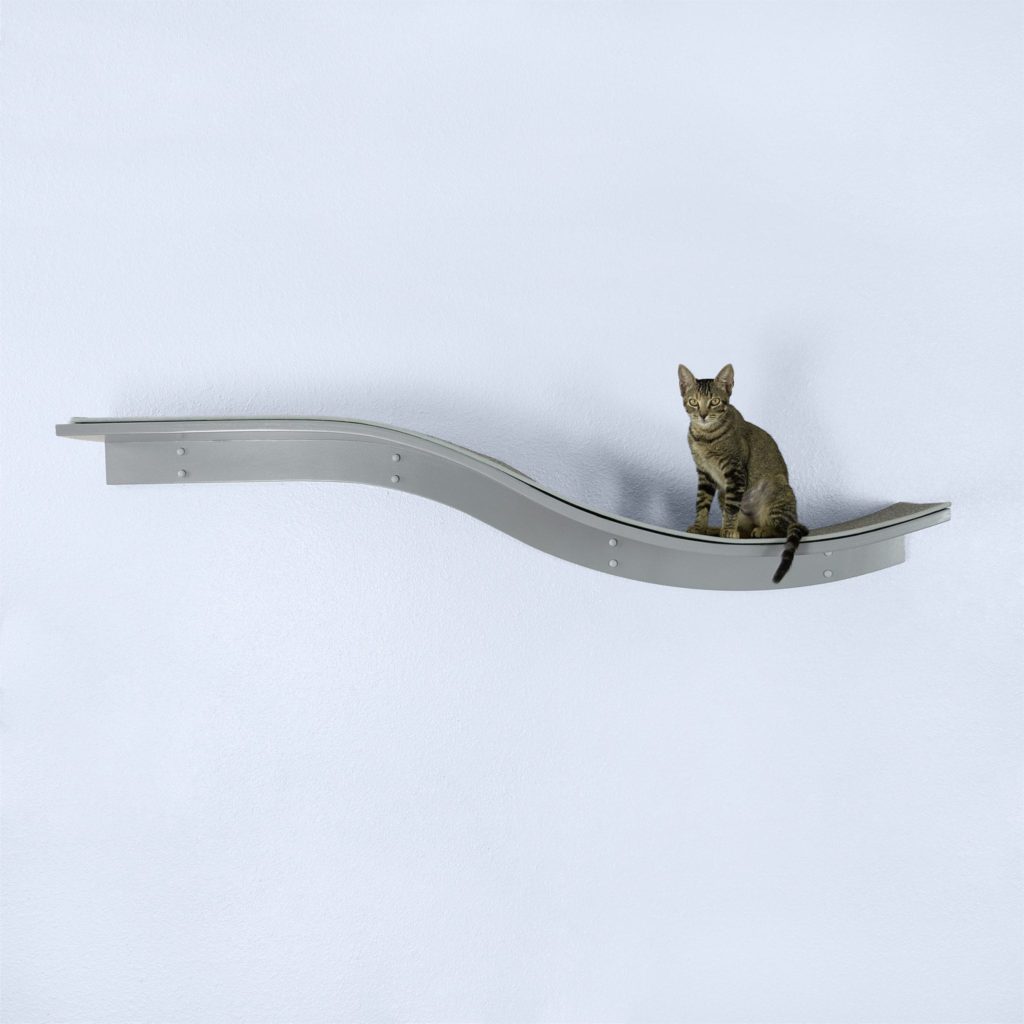 This Lotus Branch Cat Shelf, made from oak veneer over bent bly, is 60.25″ long and comes in multiple wood finishes. It includes a removable berber carpet for your cat to rest on (or white faux fur if the white color is selected). It is an elegant and functional piece of cat wall furniture that will blend in with the decor of any home! Plus, the carpeting can be removed for spot cleaning or replaced if ever needed keeping it looking new for years to come.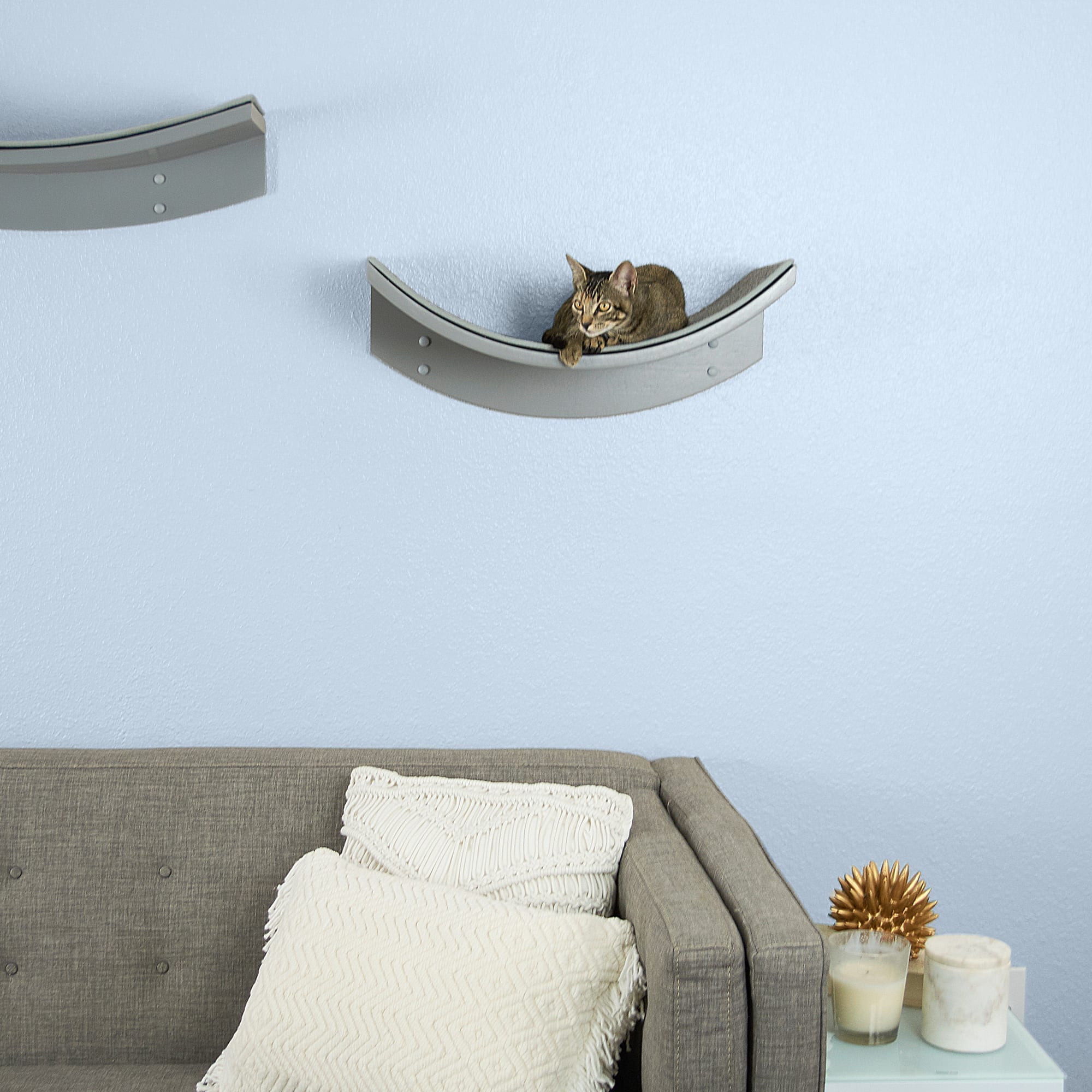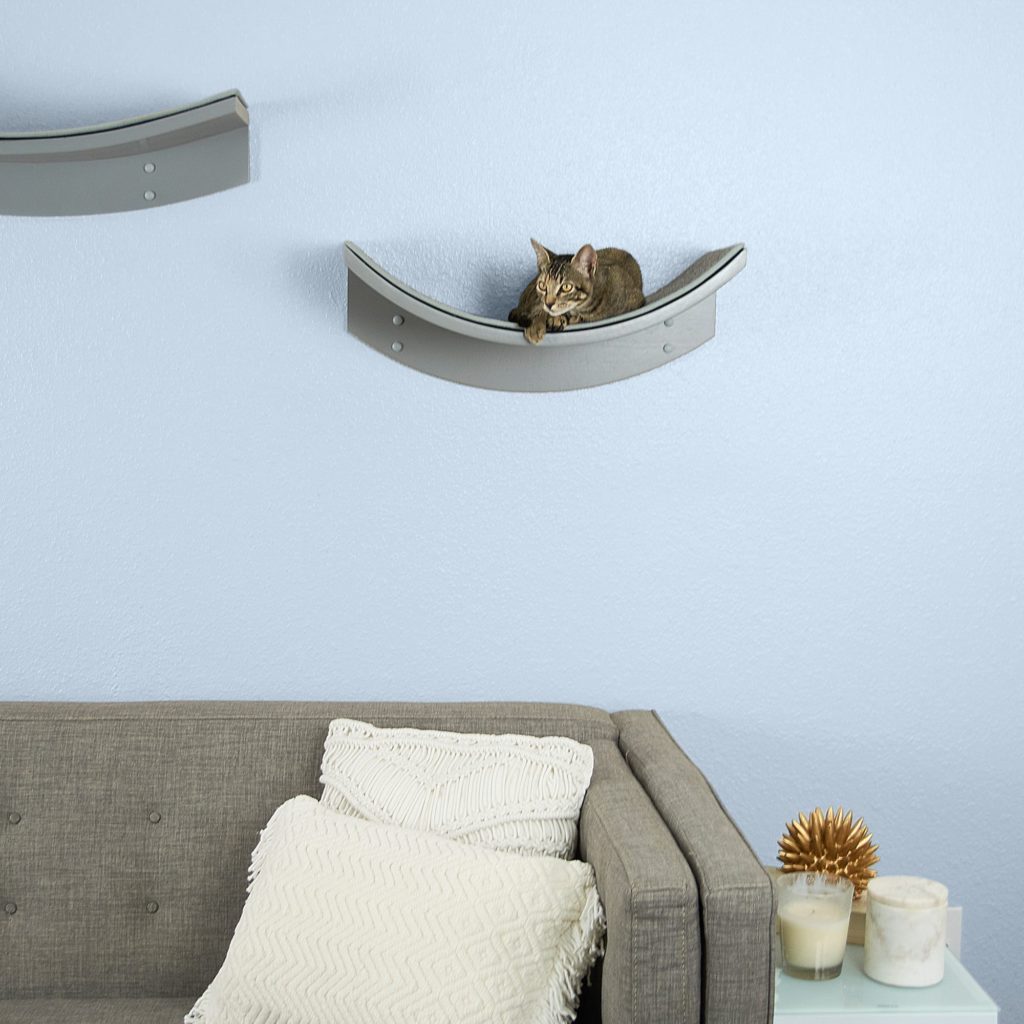 This curved Lotus Leaf Cat Shelf is the purrrfect shape for cats to curl into and screws securely to your wall. Cats love to run up and climb from shelf to shelf and the shelves can easily support housecats of all sizes. The Lotus Leaf and Lotus Branch Cat shelves from The Refined Feline come in matching finishes so that they can be mixed and matched to create a custom catwalk along your wall.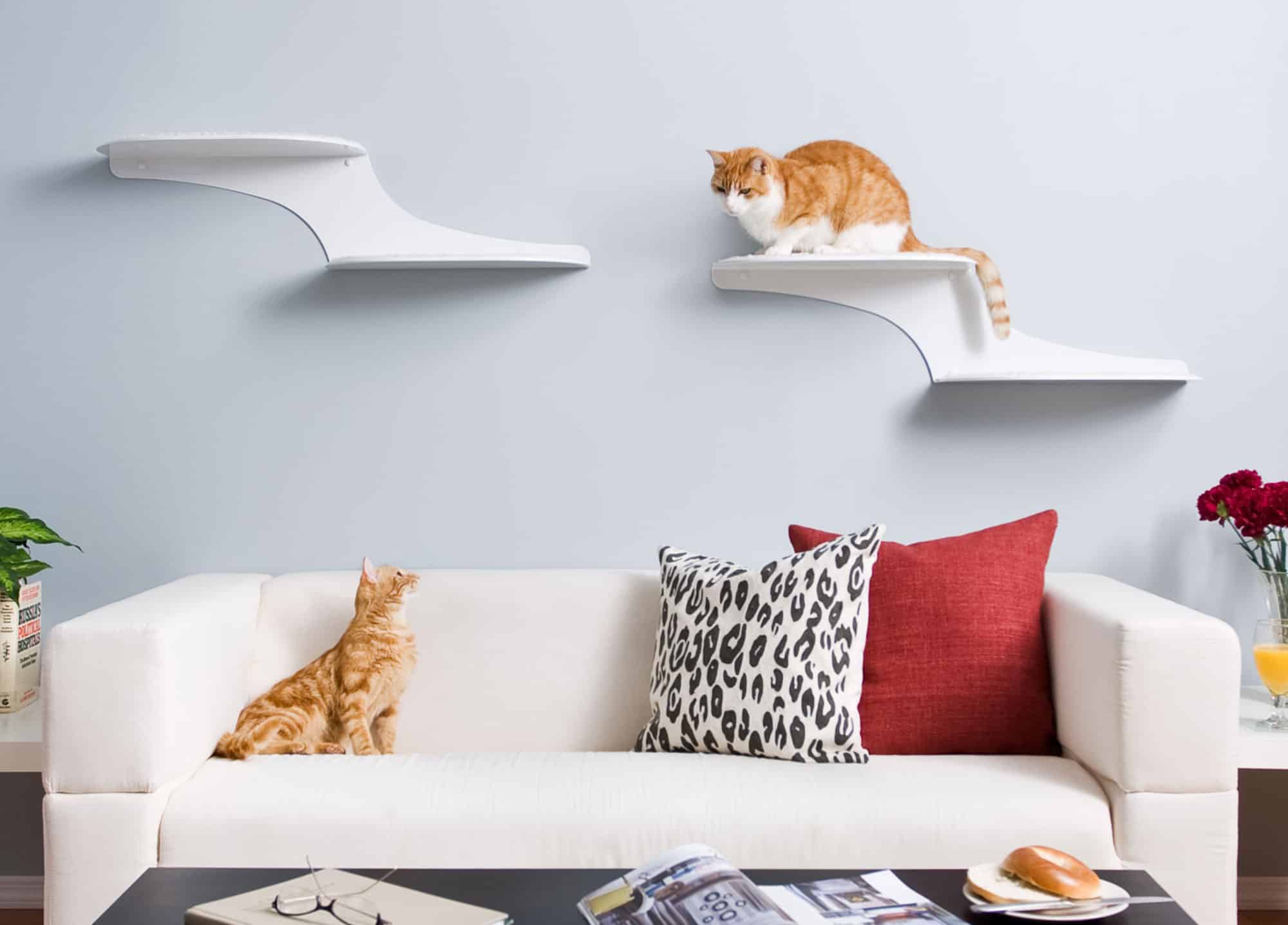 The modern Cat Clouds Cat Shelf will look elegant on your wall and is the perfect way to create a stepped pathway along your wall for cats to enjoy. The steel metal material makes these cat shelves extra sturdy and the soft padding is metallic so it can be easily removed for cleaning.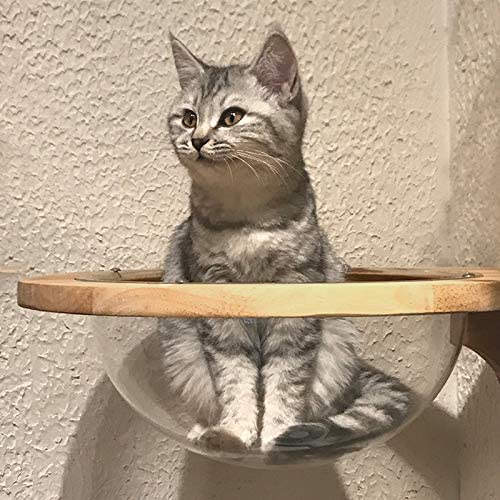 A cool piece of cat wall furniture for any room, a wall mounted cat capsule will give any space a futuristic feel. Cats love being able to still view their surroundings through the clear bottom while lounging around. The sturdy design mounts securely to the wall and provides a large area for cats to lounge.
Related: Best Modern Cat Furniture of 2022 From The Refined Feline
Cat Hammocks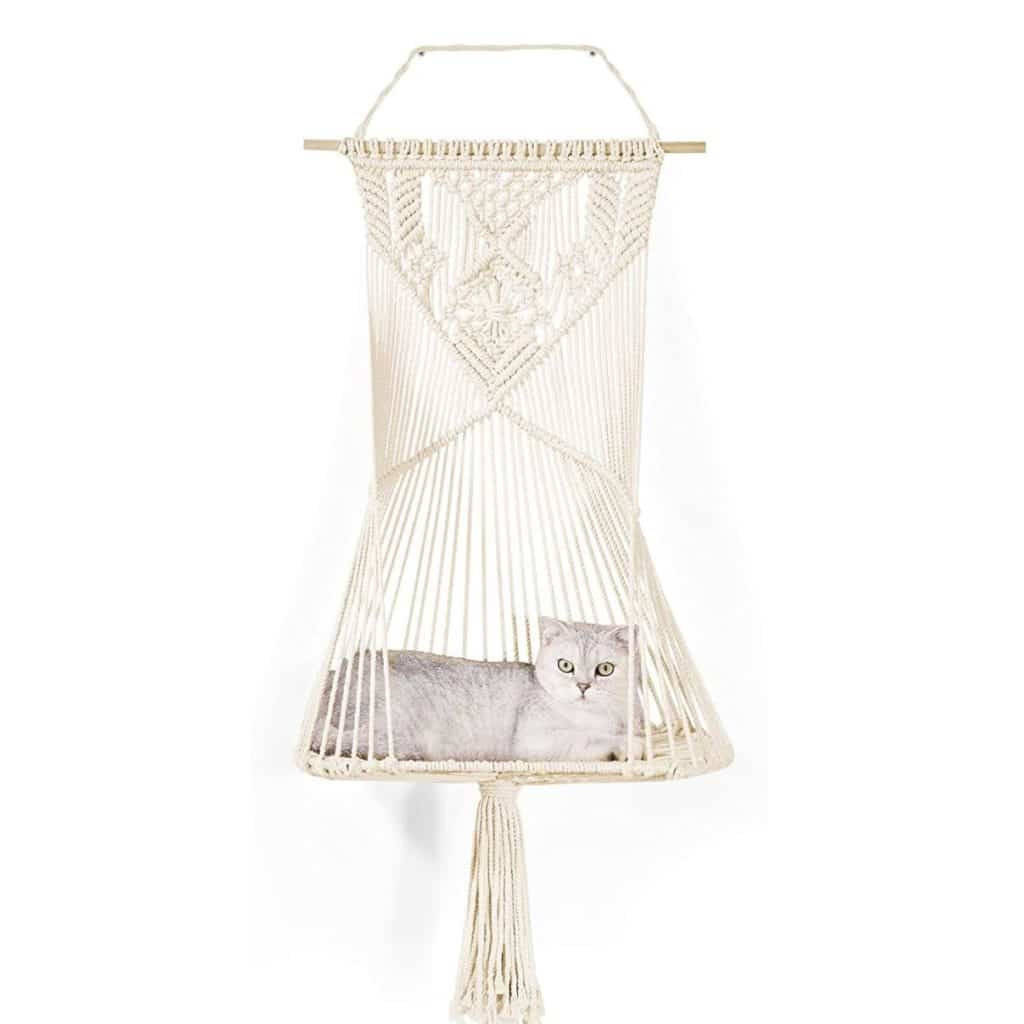 Do you love the bohemian look? A macrame cat hammock will blend in purrrfectly with your home. Made from 100% natural high-quality cotton rope, this cat hammock is for cool cats only. It can really be hung anywhere that your cat prefers, whether indoors or outdoors. It includes an elegant platform for your cat so that they can hang out in style.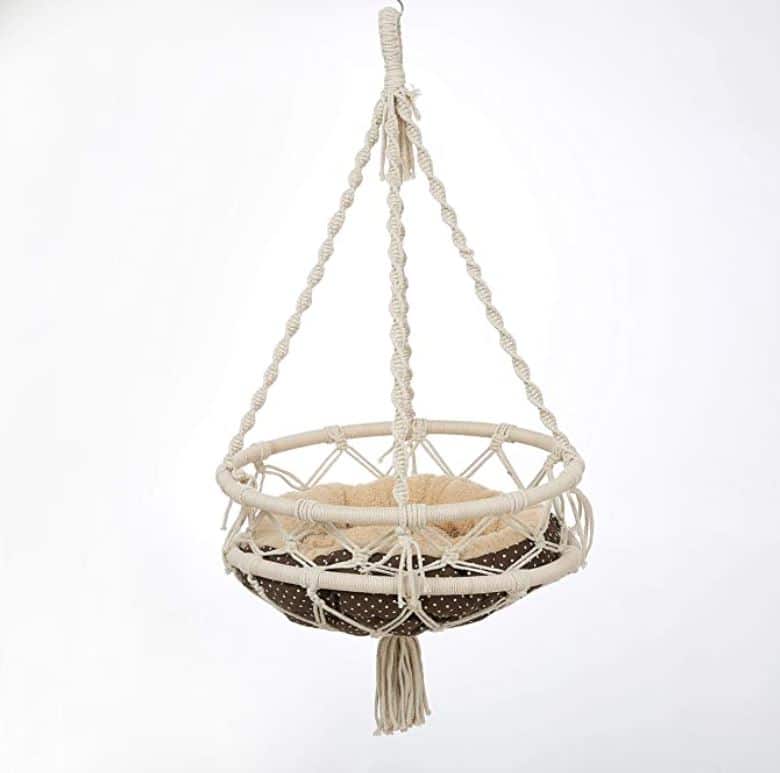 Macrame Cat Ceiling Hammock
Have any ceiling hooks that are unused? Put them to good use by giving your cat an extra bed to catnap in. Made from high-quality cotton rope, the bottom of this cat ceiling hammock is circular shaped, purrrfect for adding a comfy cat cushion. Your cats will also love the gentle swaying back and forth of their own hammock. You may want to give your cat a way to get to the bed though! You could add cat shelves as a step to help your cats reach their private hammock.
Cat Wall Clocks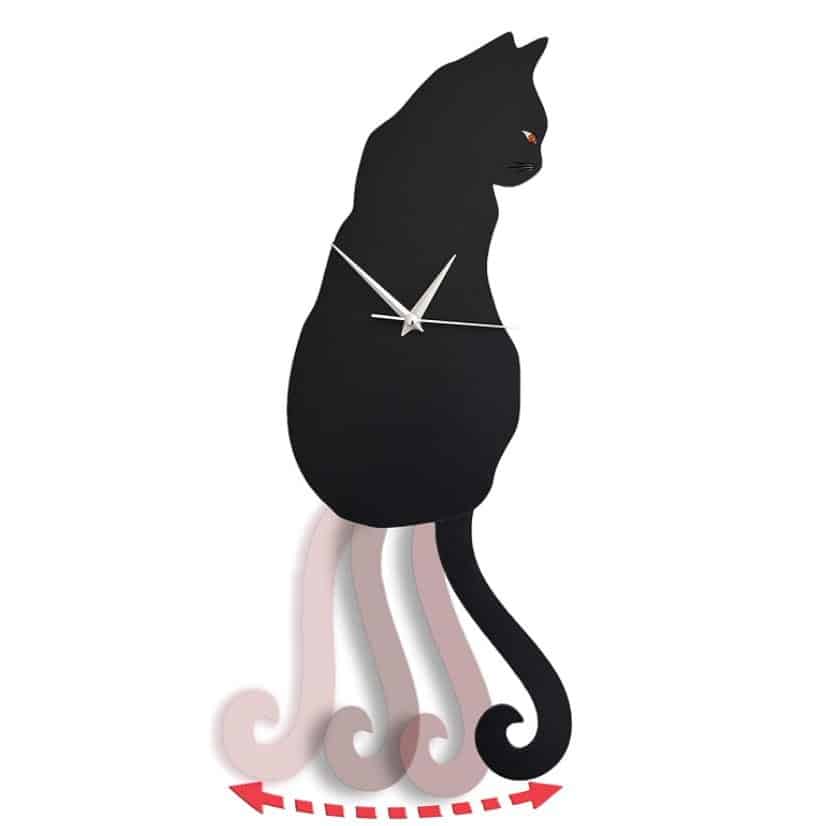 This adorable and chic black cat wall clock will catch the eye of any cat lover. Its swinging tail will catch the eyes of your cats as well! It's a great decoration for the wall of any room and makes the purrrfect gift for the cat lover in your life.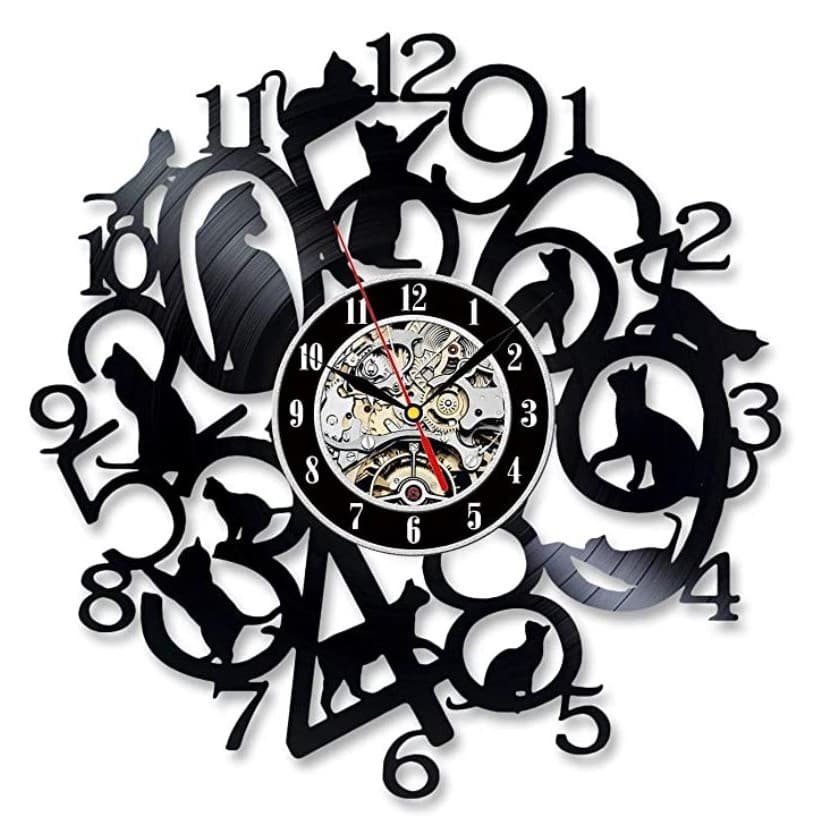 This retro cat wall clock is especially unique and is made from vinyl record plates cut into cat-shaped pieces and numbers. This cat wall décor will fit into any room in your home. It'll showcase your appreciation for felines as well as music.
Functional Wall Items for Your Cat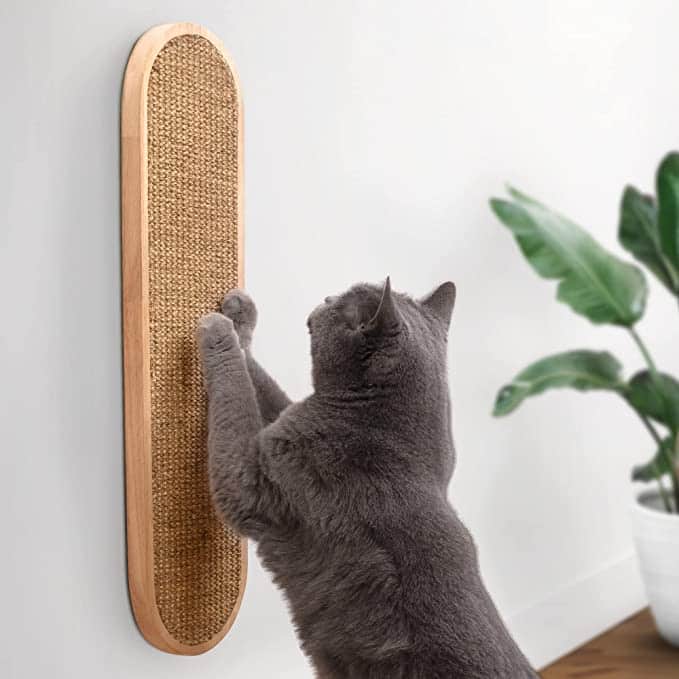 A vertical cat scratching post is a great way to keep your cats from scratching other items. This scratch pad made of natural wood can be blended right in with the rest of your wall decor. The durable scratching surface is made from natural woven sisal for long-term scratchability.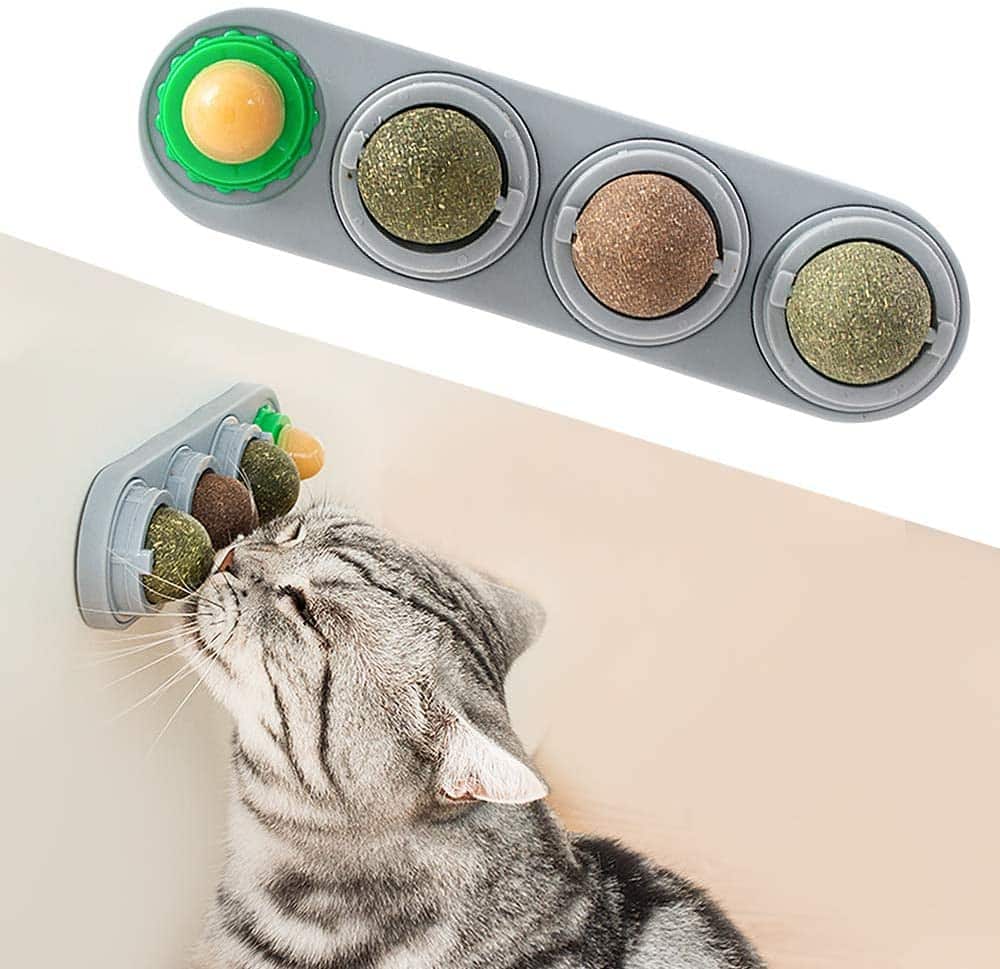 Most adult cats absolutely love catnip and these pawesome catnip wall balls will give your cats the chance to get some whenever they please. In addition, they are made of pure natural plant extracts with no added chemicals. Give them a try and watch with delight as your cat goes crazy for them!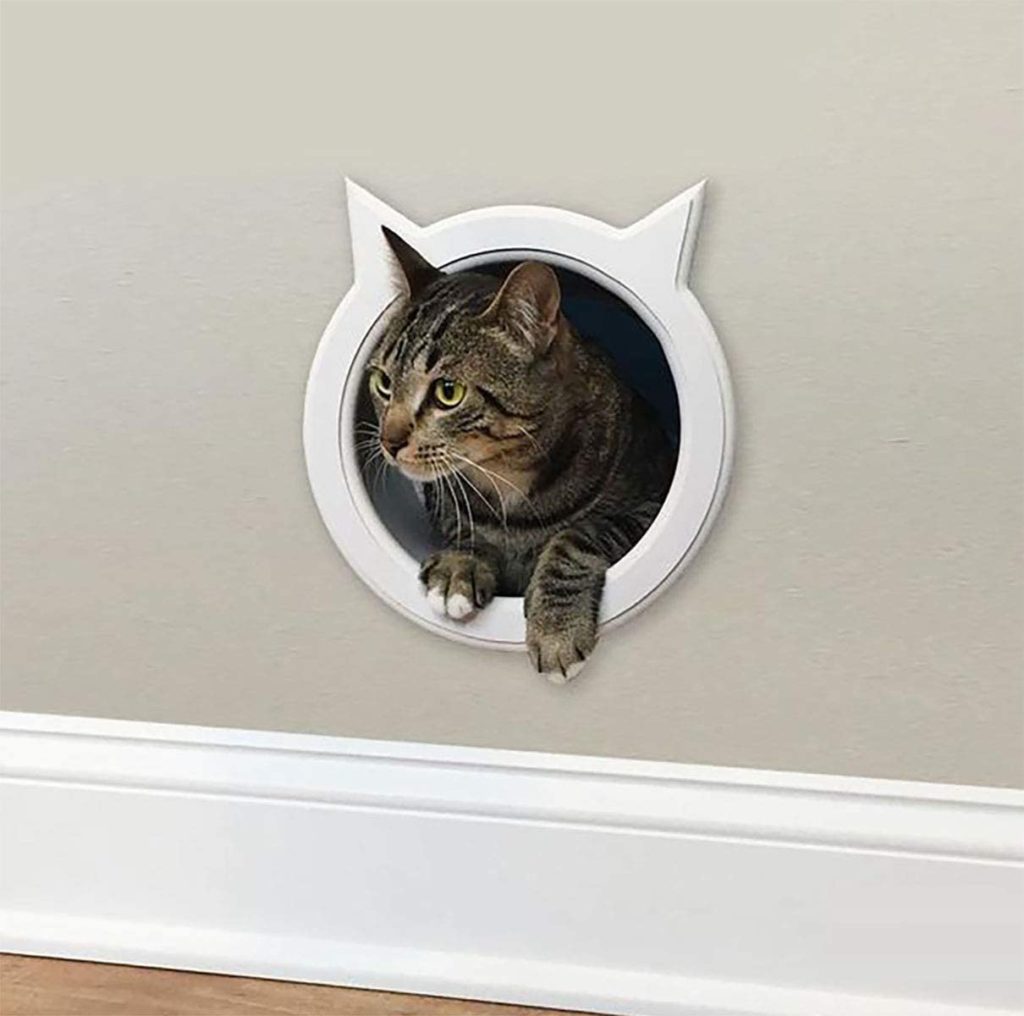 Like to keep your doors closed when you sleep? Adding a cat wall door to your wall to give your kitty a way to go where they please on their own schedule. The large opening allows cats of most sizes to safely fit through. Maybe your cat just wants to get away from the dog for a bit and sit in a quiet room. Above all, this cat wall door gives your felines the independence they desire.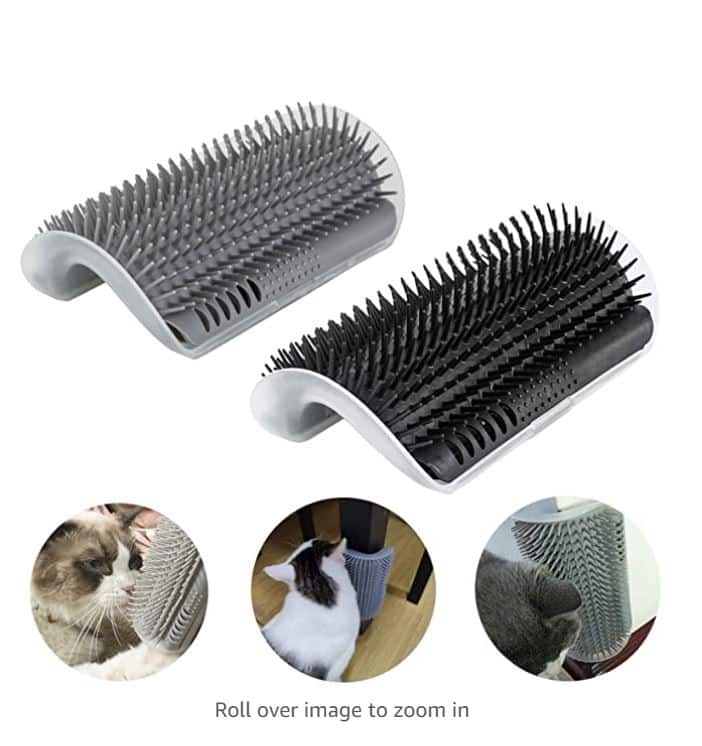 Cat Grooming Brush for Walls
This cat grooming massage brush for your wall (or for the corner of anything really) is designed from long plastic bristles that are soft and will have your cats purring! According to some studies, massage can help increase circulation and improve the health of pets. The brush can also be removed from the wall attachment to easily remove the hair.
Best Cat Products for Your Wall
Add some feline fun to your home with any of our best cat products for your wall. These cat products will not only make your space look great, but will also keep your feline friends happy! You know how the saying goes, happy cats happy life!