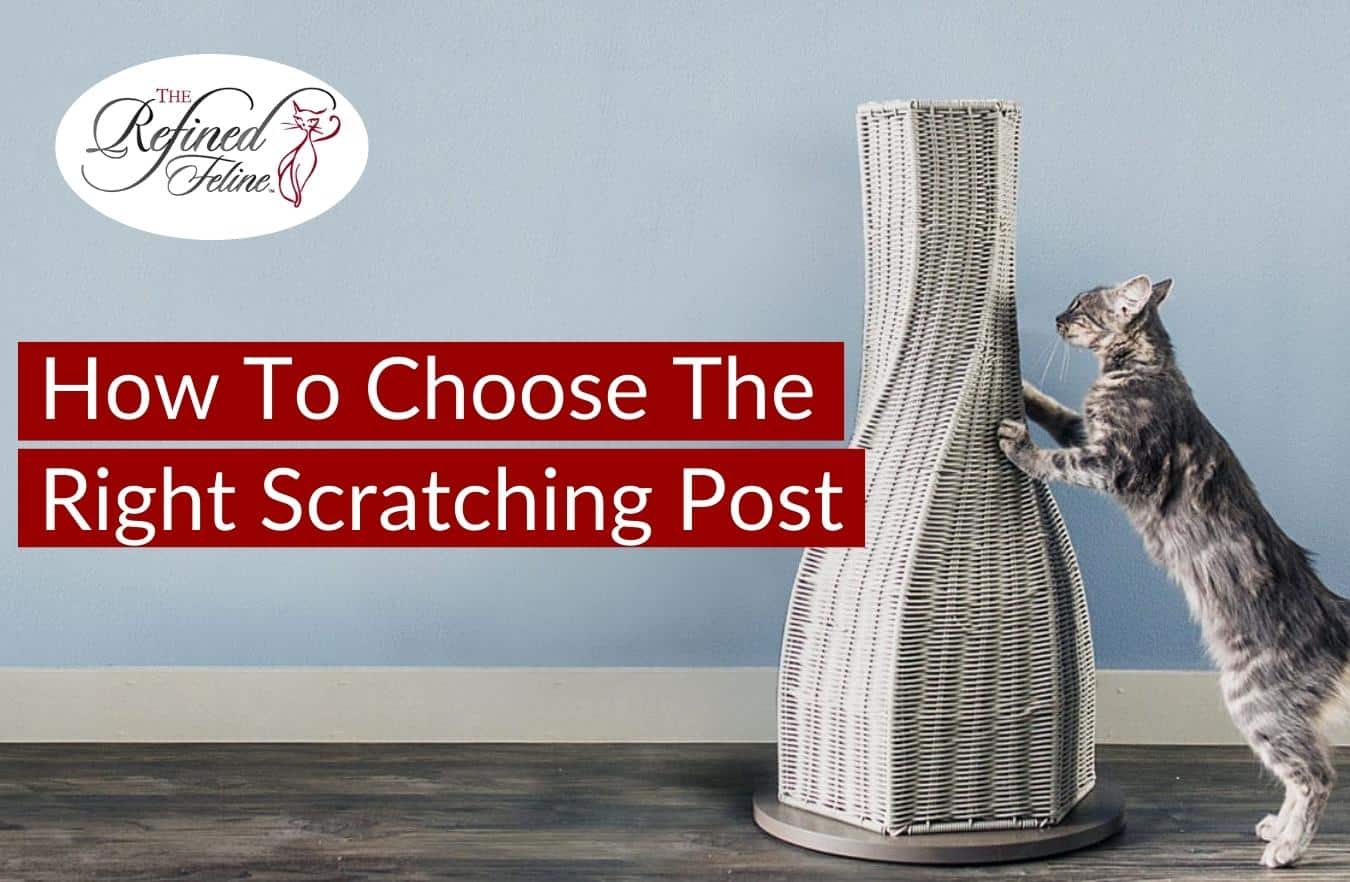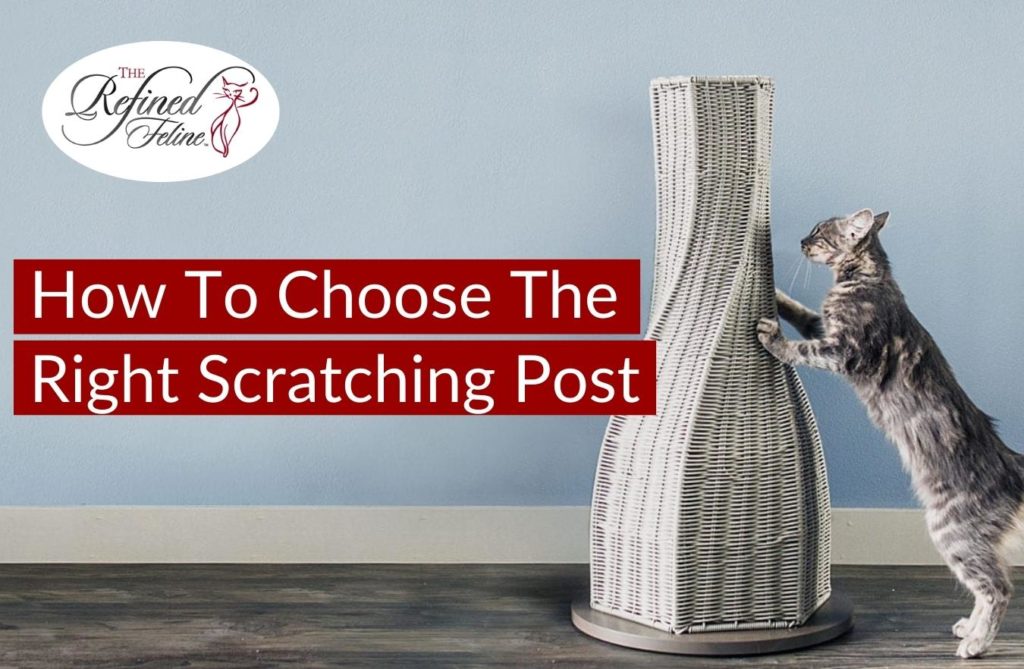 How To Choose The Right Cat Scratching Post
Wondering how to choose the right scratching post for your cat? You can easily pick a style online through reviews or based on price, but your cat may have other ideas. Selecting a proper scratching post for your cat should involve some research as you want to ensure its use. The Refined Feline has put together tips and tricks on how to choose the right cat scratching post. 
One important point is positioning- how the scratching post is positioned can be a big tipping point for cats. Some cats love a more horizontally shaped post versus a vertical one or vice versa. Horizontal scratchers are usually flat, cardboard-based structures that come in different shapes. If you notice your cat scratching on table legs or carpets and rugs, they may need a horizontal scratcher.  
Vertical scratchers typically have a wooden or heavy base, with a tall scratcher attached. The material can vary on a vertical post, as well as the length. There are some vertical scratchers that are under a foot tall, while others can be a few feet tall. Some scratchers can even hang off of doorknobs! All cats love to stretch, and having a tall vertical scratching post that they can fully stretch onto is ideal. For most households, it's best to purchase at least one of each style, so your cat can have options. Sometimes they may prefer one over the other, and this gives them the best of both worlds and leaves your furniture untouched.
The Material Of The Scratcher Matters
For most scratching posts, the coverings are going to be carpet, cardboard, or sometimes sisal. Carpet is a popular option but is not very durable or visually appealing. You may want to avoid carpeted posts as they can be confusing for your cat. Your pet may be allowed to scratch all day long on a carpeted post but may not be allowed to scratch any other carpet in your home. Offering your cat a different material to scratch can help your cat differentiate and avoid confusion. 
Sisal is a go-to for durable scratching posts and will withstand clawing for years. It's a strong and rough surface that cats will usually gravitate towards on their own, without much coaxing. There are two types of sisal for cat trees and posts-  sisal rope and sisal fabric. Sisal rope is a long length of sisal wrapped around a cat post from the bottom to the top. This rope can start to loosen over time though, and a cat's claws may get caught in between the individual ropes. This may make your cat less inclined to use it as they consistently get caught in it. Sisal fabric is a little less rough and often covers more surface area as seen on the scratchpads of these modern cat towers.
Cardboard is another popular scratching surface for cats that is inexpensive although it's less sturdy than other types. It will crumble relatively easily, leaving you with pieces on your floor and your cat without a suitable scratcher. Depending on what shape or brand you buy, it may have more layers and thus be a little more sturdy but they are not meant to last long. So, it may be best to test out a couple of different materials and see what you and your cat prefer.
Cat Scratchers Must Be Sturdy
A big factor in whether your cat will use a scratching post relies heavily on the sturdiness of the post. Make sure the base is extra wide and weighted to decrease the potential for it to tip over. Cats tend to play rough and will jump onto or off of scratching posts with a lot of force. If a scratching post falls over in the process, your cat may start to avoid it. The A-Frame Cat Bed is a piece of multipurpose wooden cat furniture that, as the name suggests, features an a-frame style design. This design makes it almost impossible to tip and offers cats an extra large sisal surface to scratch on that can be replaced if needed.
Keep The Scratching Post Clean
With a long-lasting scratching post comes the need for ease of keeping it clean. If you get a carpeted scratching post, it will be much more difficult to keep it clean and stain-free. A wooden base and thinner material like sisal are much easier to wipe clean than carpet or cardboard. Pieces of your cat's nails and hair, dust, dirt, or vomit may end up on the scratching post. So, keep this in mind when selecting a material for your scratching post.
The Appearance Of The Cat Scratcher Is Up To You!
Just because the scratching post is for your cat doesn't mean it can't also look nice! There are thousands of different designs and types of scratching posts on the market today. Some varieties are cute and whimsical in their shape or appearance while other posts are so lovely you wouldn't even recognize it as a cat scratcher. The Calypso Everlasting Cat Scratcher is a scratching post that is both functional and beautiful with its claw-proof faux rattan material that will blend right in with your home
Related: Does Not Wanting Cat Furniture Everywhere Make Me A Bad Cat Parent?
Choosing The Right Scratching Post Is Easy With These Tips!
What may have seemed like a simple decision really requires some research. Finding a durable scratching post that fits both your cat's playfulness and your home's decor will be a better decision on the long run. Cats can use a durable scratching post for years with proper maintenance. So, picking the right kind can help keep you and your feline friend happy.