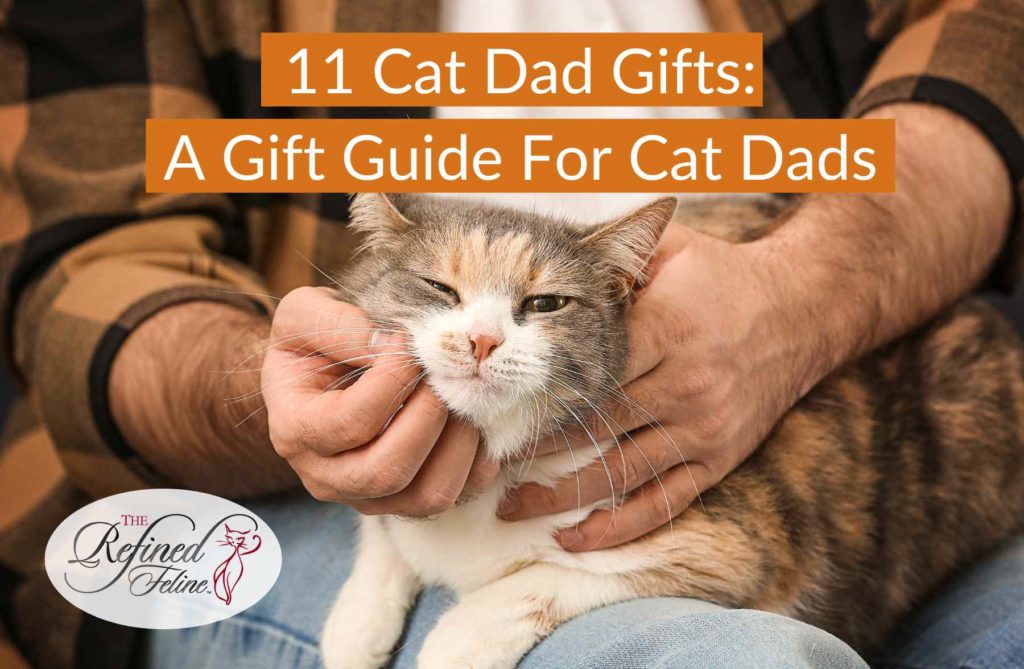 11 Cat Dad Gifts: A Gift Guide For Cat Dads
Every cat dad deserves the purrrfect gift whether it's for Father's Day or just to tell them how special they are. Whether he's your dad or your partner, if he loves his cats dearly and is proud to show it off then these gifts are for him. The Refined Feline has put together this list of cat dad-worthy gifts that encapsulate the love between a man and his feline companion.
11 Cat Dad Gifts
"The Catfather" Cat Dad Shirt
All dads, whether they are cat dads or not, love a good dad joke. This funny cat dad shirt should give them and anyone they encounter a good chuckle. Any cat-loving man who is proud to show off his love for cats will love this funny and quirky shirt.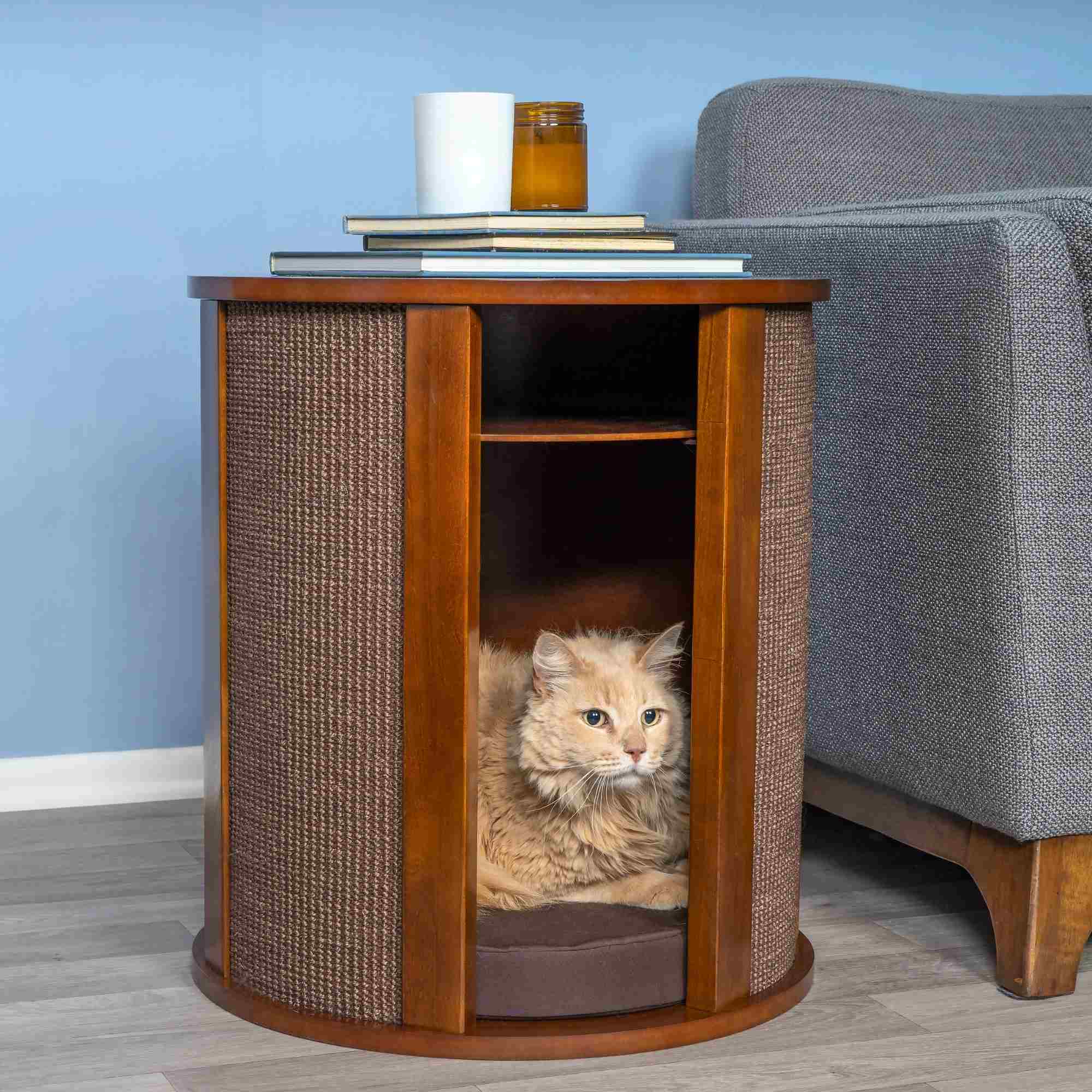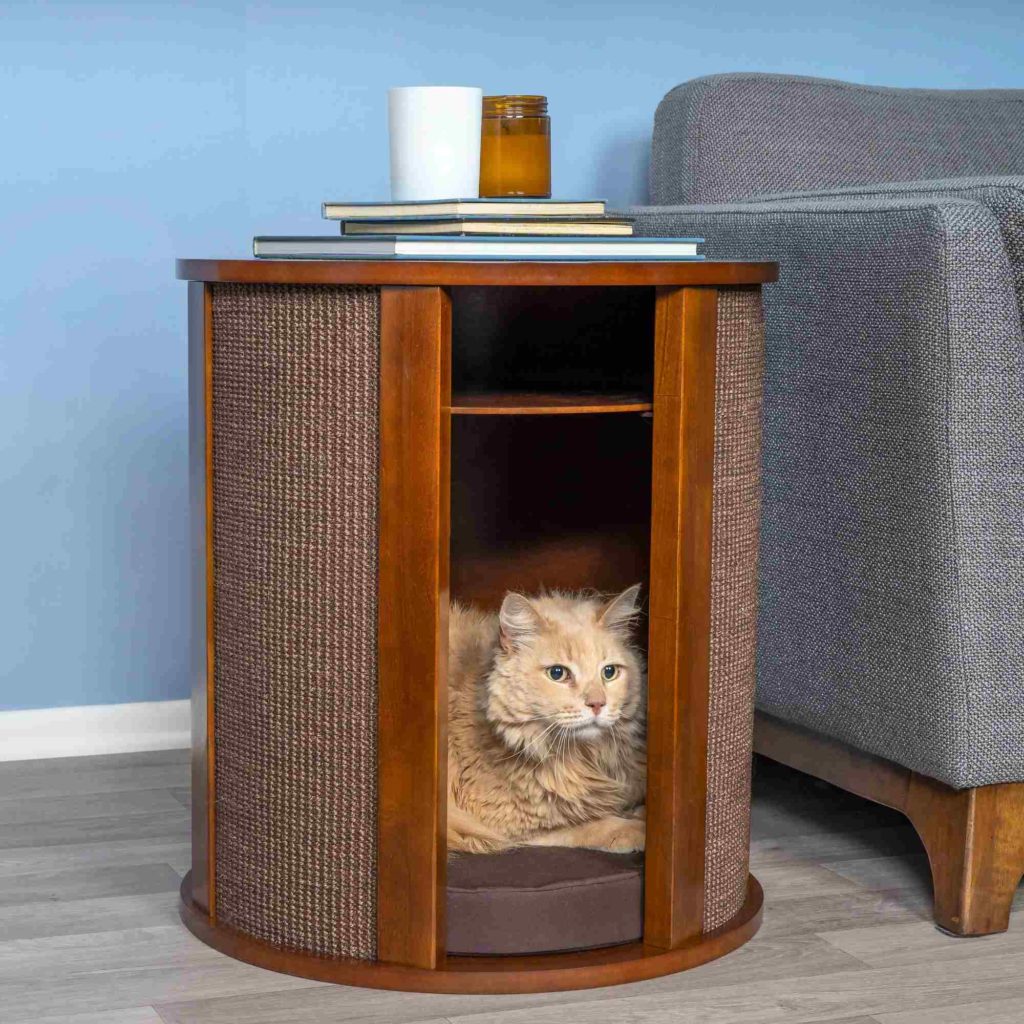 Wood Cat Furniture
The gift that's ideal for both man and cat alike is the Purrrrfect End Table from The Refined Feline. This sturdy wooden end table creates a unique space for both cats and humans to enjoy. It features a circular tabletop and an inner storage shelf for books or remotes. It also offers vertical scratching space and a hide-away bed for the cats. This gift is purrrfect for the cat dad who feels guilty for treating only himself. This modern cat furniture will benefit his feline companions while catifying your home.



Cat Water Fountain
Every cat enjoys fresh running water and this cat water fountain will deliver! With high-grade stainless steel, this fountain provides a large amount of recirculating water for one or multiple cats. The design is shiny and unique, blending into any home decor. Plus, the fountain is quiet and scratch-resistant. This may seem like it's just for the cats at first, but it'll also save time cleaning and replacing the water multiple times a day!
Cat Themed Card Game
Okay, the name of this card game is a bit offputting, but trust us on this one. This cat themed card game is hilarious, weird, and super fun all wrapped into one. Exploding Kittens is a supurrr strategic cat-powered version of Russian roulette. It was the most funded game ever on Kickstarter and has paved the way for peace and tranquility in the modern world. (This NSFW edition features cards that are too horrible to include in a kid-friendly version). It's easy to learn and is made for 2-5 players. Your cat dad will be laughing and enjoying himself throughout the entire game.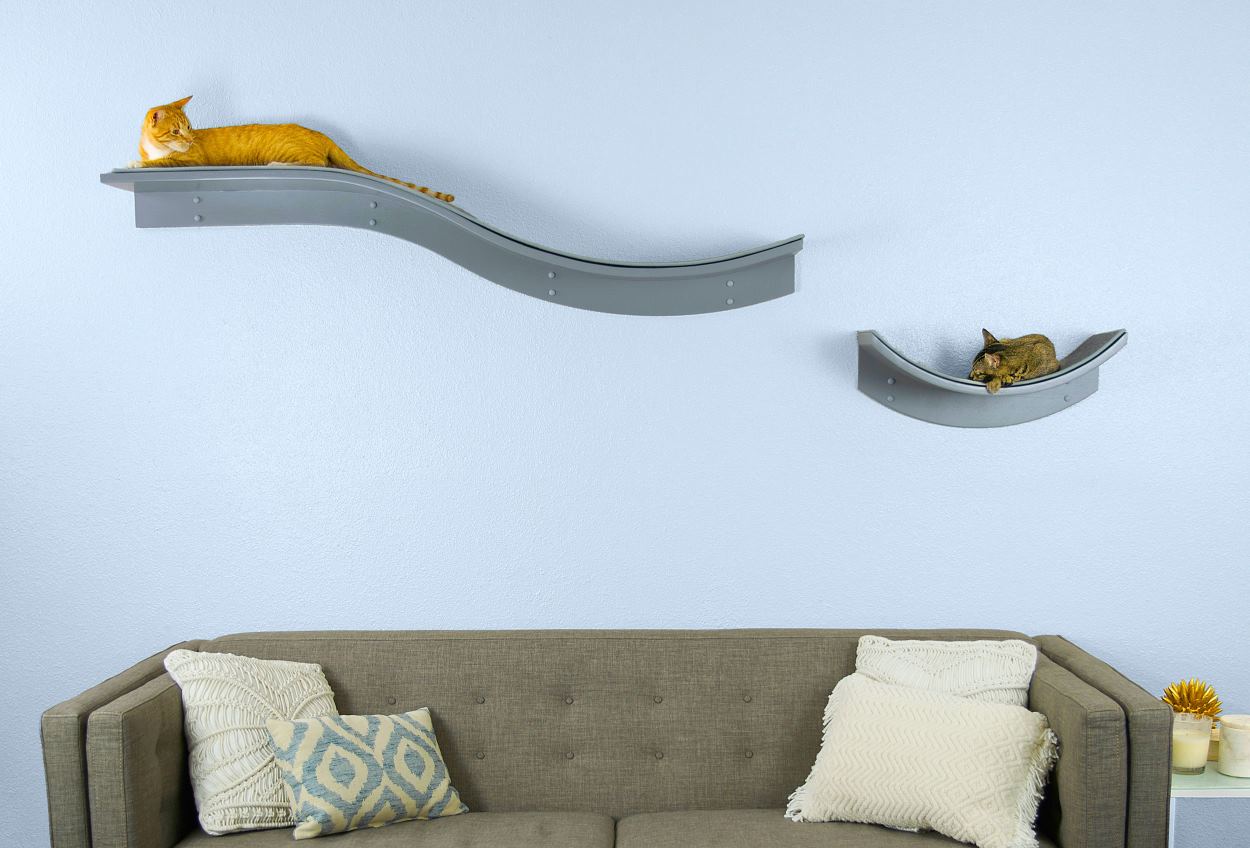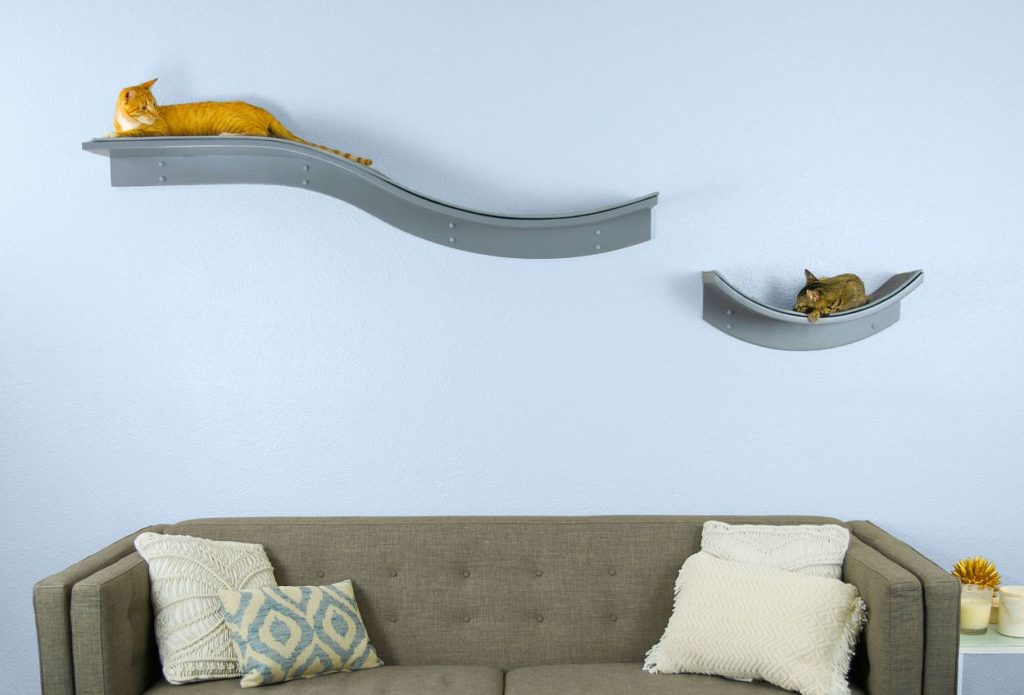 Modern Cat Wall Shelves
Even if you're celebrating the human, involving the cat is a win-win! In which case, cat wall shelves are the best gift ever. The Lotus Leaf and Lotus Branch Cat Shelves from The Refined Feline are the gift to give for any holiday. These cat wall shelves feature a real oak veneer in multiple neutral colors that are designed to blend in with your home's decor. Combine multiple cat shelves to create a catwalk along your wall. The carpet is also removable for easy cleaning and replaceable if ever needed. They are truly designed to last all nine lives!
Custom Cat Socks
Nothing is cuter than your cat. Give your cat dad the gift of these adorable custom cat socks featuring your favorite feline's face. His coworkers will surely get a kick out of them, even if his coworkers are the cats! Almost too cute to wear, they come in a multitude of sizes and colors for all cat lovers to enjoy.
Cat Harness
Been wanting to get some fresh air with your cat? There is no better way to spend time outside without leaving the cat behind than with a pet harness. (Unless you have a catio)! Some cats are built for exploration, while others may be more of the couch potato variety. Either way, this cat harness gives your cat dad a chance to further bond with his feline. Just make sure to thoroughly test the harness indoors first. Some cats are quite the magician and can sneak out of many kinds of harnesses. Also, make sure that the outside area is safe and that you don't stray too far. There are a wide variety of harness styles to choose from. This gift will get your cat dad and feline feeling frisky during their stroll across the yard.
Cat Mug
For the avid coffee drinker, here's a nice way of showing the office that he's a proud cat dad (even if that office is now your home). This cat mug lets everyone know that he's a man who loves his cats and he ain't afraid to show it. Microwaveable and dishwasher safe, this mug is ideal for those lazy Sundays spent with his favorite felines.
Related: 11 Gifts for Cat Moms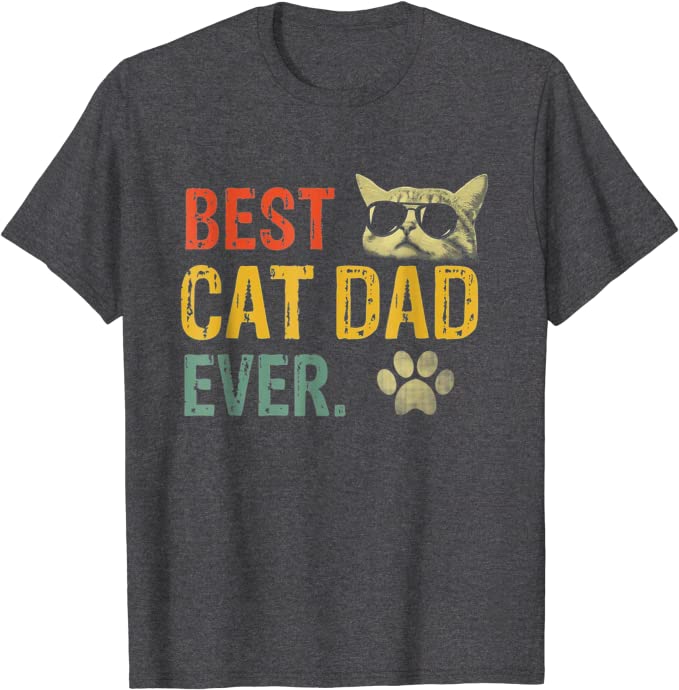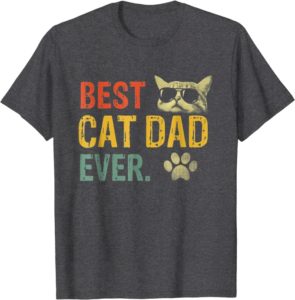 "Best Cat Dad Ever" Cat Dad Shirt
This pawesome "Best Cat Dad Ever" cat dad shirt is here to let the cat dad in your life know that he's the best, ever. In case the biscuits and purrs didn't already let him know. It's 100% cotton and is available in a bunch of different colors and sizes, even for kids. No matter the color or size you choose, it'll surely be bedazzled with cat hair soon enough.
Funny Cat Coozie
There may be cat dads who aren't coffee drinkers but are a purrrveyor of other liquids. For those guys, this funny cat themed can coozie provides a fun way of showcasing his love for cats. This coozie will be a conversation starter any time he is out. Plus, he'll end up getting to see other people's cats! It's a win-win!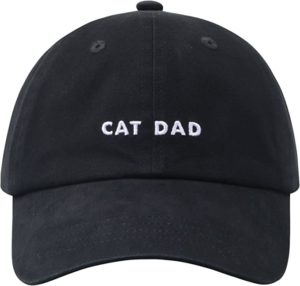 Cat Dad Hat
This cat dad hat is super trendy and punny since it's not only a dad hat, but it also says "Cat Dad"! It may not say "Best Cat Dad Ever" but the point still gets across and shows his love for cats. With multiple color choices, you can find the purrrfect match to your cat dad's fashion sense. He can wear this hat loud and proud anywhere he goes to proclaim his love for his feline companions.
The Best Cat Dad Gifts
No matter what gift you choose, your cat dad will be as overjoyed as a cat with catnip with any of these cat dad gifts. This list should be a great inspiration to finding the purrrfect gift for any cat lover!