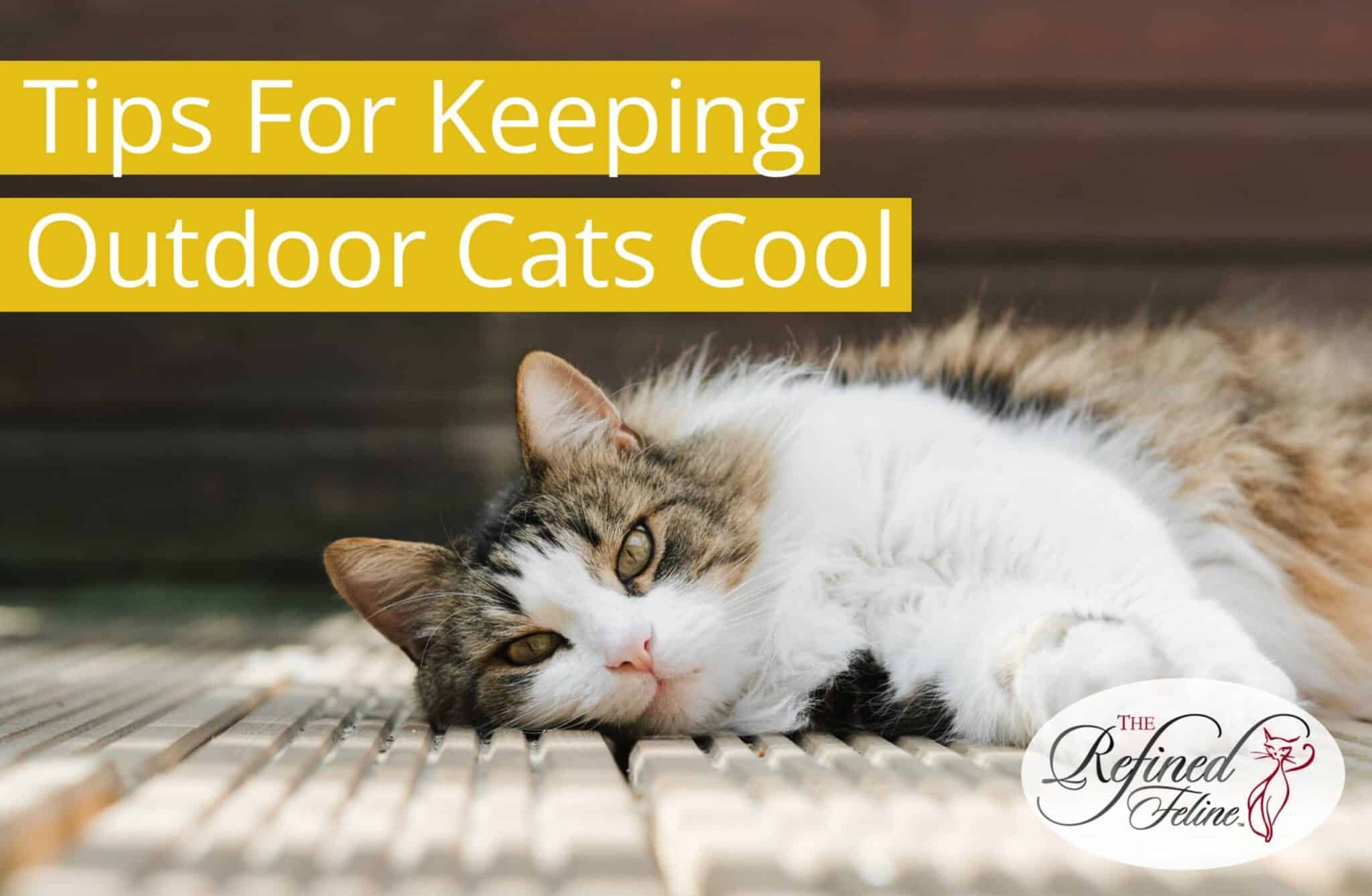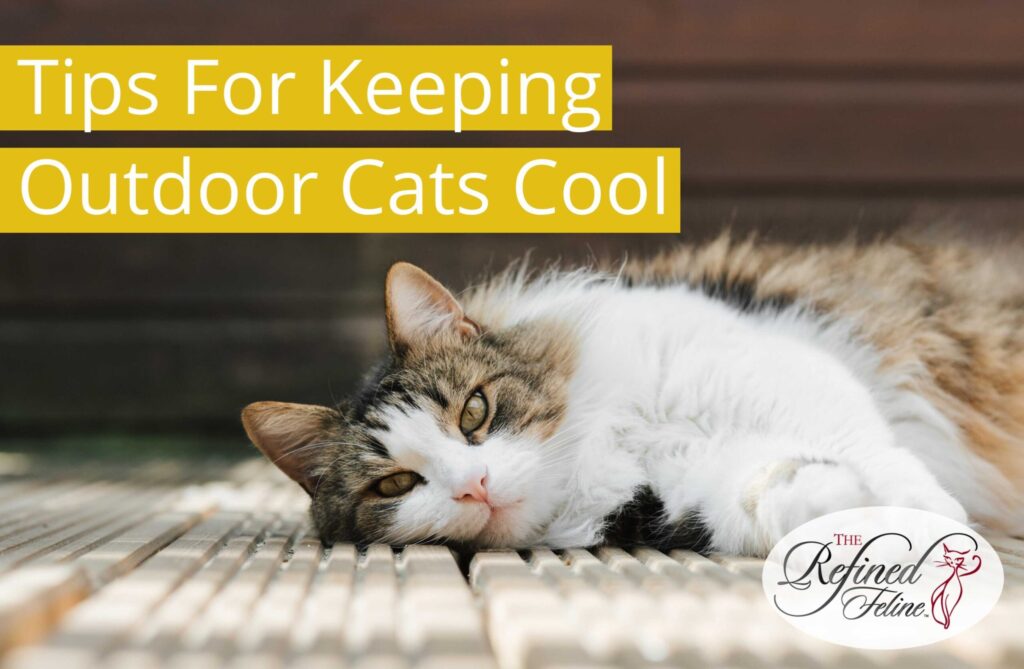 Tips for Keeping Outdoor Cats Cool This Summer
While many of us soak up the air conditioning inside, we may not realize how hot it truly is outside. When our house is nice and cool and we only have to step outside for a few minutes here and there it's pretty easy to forget. If you take care of outdoor cats though, you know they would probably appreciate a little relief from the heat. The Refined Feline has put together a list of tips to keep your feline friends relaxed and refreshed this summer.
Provide Cooling Mats For Outdoor Cats
There are many kinds of pet cooling mats available to keep your cat cool this summer. Most of them feature some kind of self cooling fabric that will feel cool to the touch. This alone can lower your pets body temperature by a few degrees and provide enough relief! Some mats can even be placed inside your freezer for a period of time to get extra cool. Cats can lay on these mats for as long as they want until they feel cool enough to leave. Cooling mats provide a longer lasting relief from the heat, with better coverage for the hottest parts of the day.
Cool Off Your Outdoor Cats With Wet Towels
If your outdoor cats allow you to pet them, wet towels will be a good and cheap use of your resources. Just wet a towel with cold water and wipe your cats with it, getting them as wet as you can. Cats aren't typically fans of getting thoroughly wet, but this can help them cool off as the water dries and evaporates. Even placing the wet towels into their cubbies and hideouts can help during the day. Don't leave the towels out overnight as the temperature can drop enough to make the cats too cold. Even getting your hands wet with cold water and petting or rubbing your cat will help them cool off.
Related: How To Help An Outdoor Cat Adjust to Life Indoors
Freeze Items For Your Outdoor Cats
The power of ice cubes varies on how you want to keep your outdoor kitties cool. Simply place them in the water bowls to help keep their water colder throughout the day. You can also leave them on the pavement or ground for them to bat around, making it a game. This can help cool their paws and and the ground as well temporarily.
You can also provide your outdoor cats with more of a treat than just ice cubes. Try freezing treats and other goodies to give them something fun and delicious to help them beat the heat. You can freeze hard treats into ice cubes or even add catnip into them. Cats will also love frozen chicken stock or the juices from wet food for an extra tasty treat. There are recipes online for making cat ice treats with all types of proteins.
If you already have ice packs at home for yourself, these can work well for your outdoor kitties too. Cat's fur can stick to the ice pack as it's melting though so ice packs should be completely covered with something. Even bags of frozen vegetables or bottles of water can work if you need to cool off your cats quickly. Just make sure that whatever you use is wrapped with something like a thin towel. Cat's skin is sensitive, and touching the ice packs or cooling mats directly may be too extreme.
Provide Extra Shade Where You Can
The hottest part of the day is usually in the early afternoon, depending on your region. These times of the day are usually the sunniest too, meaning cats need as much shade from the sun as possible. This can help them maintain a proper body temperature and lower their chances of getting heat stroke. There may already be a few shady spots in your yard that the cats can run to. However, adding a few more areas for them can't hurt!
Avoid areas with asphalt or other heat-absorbing materials and pick grassy areas if possible. The items that you use should also be light colored and not absorb too much heat. Even a shady spot can become too hot with the wrong material. If you have an enclosed cat bed that allows airflow you can try putting that outside for them too. Cats are resourceful though and will eventually seek shelter elsewhere if they get too hot. Be sure to provide many bowls of water throughout the area too. This gives your outdoor cats multiple opportunities to get refreshment without traveling too far.
Help Your Cats Groom Themselves
Cats will naturally over-groom in the summer months since they know that getting their fur wet will keep them cool. If they have long fur wuth mats or can't keep up with grooming, this will make the heat worse. Mats and other clumps of fur will increase the heat in your cat, making their skin underneath very uncomfortable. If you are able to touch your outdoor cats, grooming and regular brushing can help your cats stay cool. If any of them are long-haired, you may want to consider getting their fur shaved down. This will help relieve the skin from those pesky mats and keep them cooler during the summer months.
Keep Your Outdoor Cats Cool And Safe With These Tips!
Cats naturally have a slightly higher body temperature than humans. A body temperature of 100-102 is typically normal for cats. If your cat is on the higher end and is acting lethargic, you should try to cool them down immediately. If you notice any of your cats are lethargic, breathing heavily, drooling, or vomiting, begin to cool them down and contact your vet immediately.
Keep an eye on your cats' ears, nose, and other areas that don't have as much fur. These spots can easily burn and lead to cancer development later on in life. White cats are especially susceptible to the sun. Most human sunscreens are not designed for cats, though, so talk with your vet about topical treatments to help avoid sunburn. Hopefully these tips can help you keep your outdoor cats cool this summer. Knowing what to look for and how to avoid overheating are the best tools you can have. Your outdoor cats will love you for it!