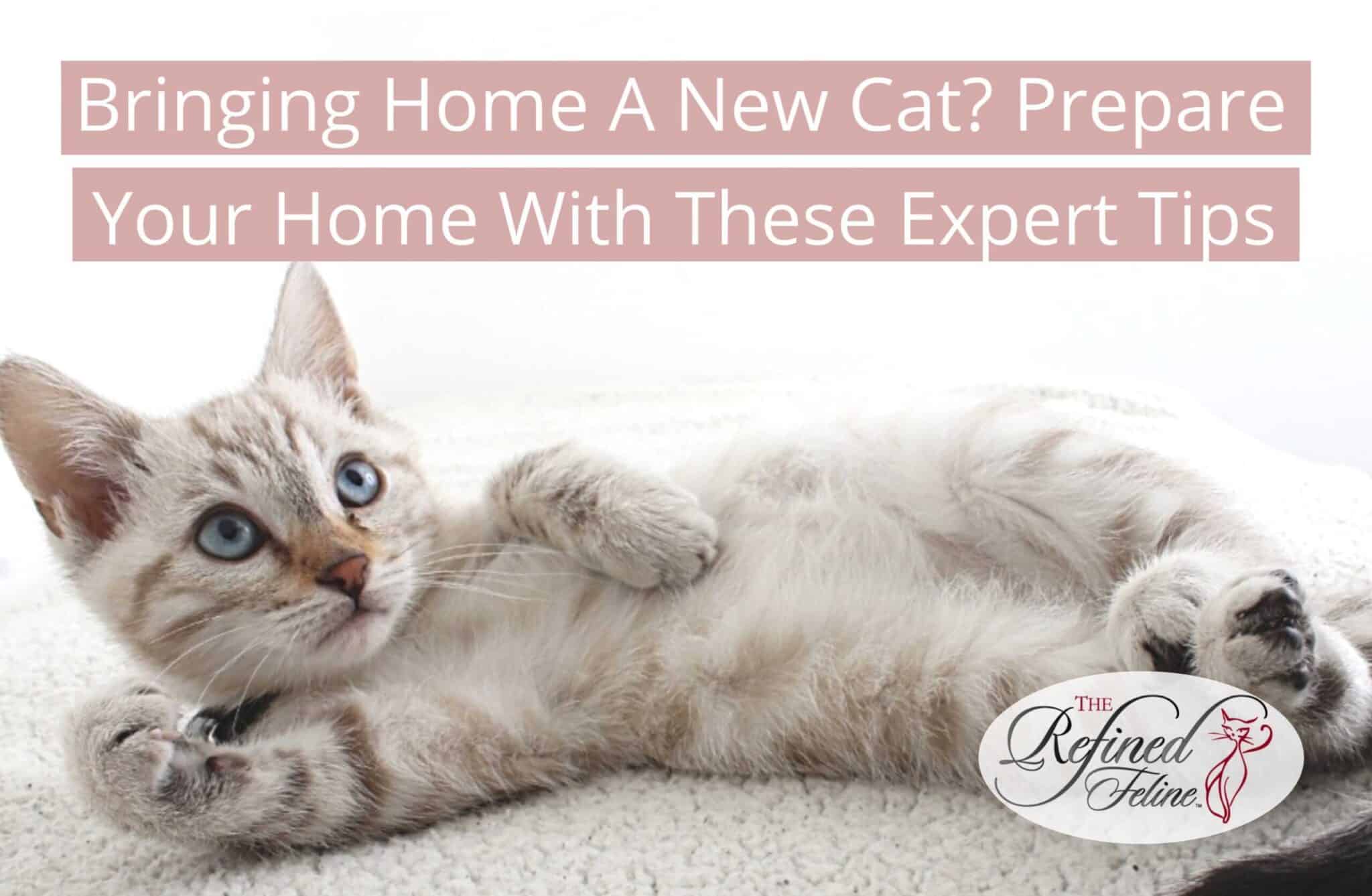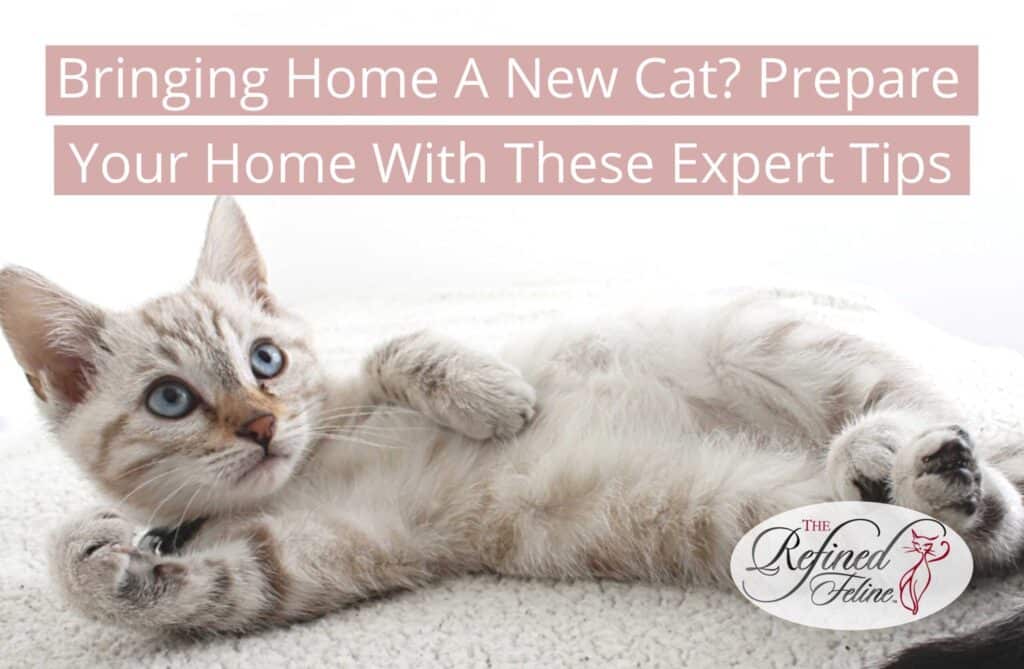 Bringing Home a New Cat? Prepare Your Home With These Expert Tips
Bringing home a new cat brings both excitement and many new beginnings. From finding the right cat furniture to letting your cat adjust to its new home, there are many things you may have not thought about when preparing your home for a new cat. However, being prepared will create a happy and healthy environment for your furry friend for many years to come. If you're not sure where to start, we're here to help. We talked to 14 cat experts across North America, from Austin, TX to Toronto, ON. Here are their best tips on how to prepare when bringing home a new cat.
1) Have multiple scratching posts ready for your cat
Cats have to fulfill their natural instinct to scratch. So, be sure to have multiple scratching posts ready when bringing home a new cat. Studies show that cats tend to prefer vertical scratching posts. Having a variety of scratchers is always a good idea though. A vertical scratching post should be a minimum of 32" tall. This will allow your new cat to stretch completely while clawing. – Lisa Illman, Founder of Kritter Kommunity
2) Get creative with hiding the litter box
The cat litter box can be hidden inside of a bookcase, in a coffee table, or may even look like a plant. It will be much easier to train your cat to use it while they're still young instead of finding a new place for it later. – Cat Pet Club
Related: 5 Ways to Hide The Litter Box and Other Cat Furniture
3) Make sure you have an extra litter box per cat
Place multiple large, open-top litter boxes (one for each cat, plus an extra one) throughout your home wherever your cat likes to hang out, like in the living room or bedroom. The litter box is a significant source of scent and will help cats feel that their territory is secure and well-marked. – I'm Feline Fab
4) Try using natural cat litter
Depending on your cat, changing your cat's litter can be anywhere from a slight adjustment to an impossible feat. When setting up the cat litter box in your home, use litter made from all-natural materials like wood or green tea. Most cats will prefer this because it reminds them of being outside in a forest where they can go wherever their heart desires. – Next Gen Pet
5) Make use of your wall space
Cat wall furniture will save your valuable floor space, plus your cat will love to be high off the ground. Try to combine cat wall shelves, tunnels, bridges, and more to create a pathway along your wall. – The Refined Feline
6) Secure cords from TVs & electronics
With many of us working from home now, all of the cords can be dangerous to cats since they love to play and can get their paws stuck in them. We never want our cats to end up in this situation. So, be sure to keep all cords in your home secure and out of reach before bringing home a new cat. – Cat Buddy
7) Prevent your cat from developing bad habits
A cat scratching post may not seem essential at first, but scratching is unavoidable, so it's best to add one to your home before bringing home a new cat. This way, your cat will get attached to it and knows it is theirs. A scratching post will also prevent unwanted behavior from developing as they grow older and will end up saving your furniture. – 7 Ruby Road
8) Make a Cat TV when bringing home a new cat
Most cats love looking out the window to peek at birds and nature. To build a Cat TV in your home, leave an empty space along the windowsill, install a window perch, or place a climber by the window. You can even make a window box so your cat can spend some time outside while still being safe inside. – Apollo Fluffy Cat
9) Get custom cat furniture
Happy cats are well-behaved cats. Make sure to keep your cats stimulated and entertained with cat furniture designed specifically for them. Having their own furniture provides them with their own space inside of your home to climb, lounge, scratch, and enjoy. – On2Pets
10) Consider adding multifunctional shelves or bookcases to your home
Being high up off the ground is very important to cats. This can help prevent or resolve a variety of behavior issues, such as conflicts between pets, fear, and boredom-related behaviors. If you're redecorating, go beyond a cat tree and consider decorative shelves or bookcases that can do double duty. Leave some space for your things while creating some space for your cat. If you're renovating, consider architectural details that add both visual interest and raised perches.  Wide window sills, fireplace mantels, pass-throughs, and ledges are all great. – Jessica Char, Feline Engineering
11) Build a catio for your cat
One of the best ways to provide your cat with entertainment is to give them safe access to the outdoors. If your home has a backyard, consider adding a catio. Include some hiding places and perches for your cat and some comfy outdoor furniture. You'll enjoy watching the birds together and listening to the sounds of nature. – High Five Animal Training
12) Give your cat some privacy
When bringing home a new cat, the first thing they'll do is explore. They'll find new hunting grounds as well as discover safe spaces to relax and hide. They'll find every nook and cat-sized cranny they can. So, take the time to set up your house with cat furniture that'll provide a view as well as some privacy. – Cat Matter
13) Give your cat vertical spaces
Prepare your home for bringing home a new cat by adding some vertical space. Try using window perches and cat shelves to create a pathway around the most used rooms in your home. This will offer your cat a safe and yet secluded way to be part of the action. It won't be long before your cat starts to join more of the family action, knowing it can always retreat to the high spaces. – Robyn Paterson, Quality Bengal Kittens
14) Keep cat food in a food-safe bin
It's best not to store natural cat food in a plastic bin. Natural pet food only has natural preservatives. Therefore, the plastic bin will start to absorb some of the oils. If you've ever put tomatoes into a plastic container and can never get the red stain out, that's exactly what happens to the oils. So, be sure to store food in a food-safe bin when bringing home a new cat. This will keep the oils in the plastic from seeping out and making the cat food rancid. This is also exacerbated by humidity and hot weather so keep your cat's food in a cool and dry space in your home. – Pet Supplies 'N' More
Make Sure Your Home is Ready Before Bringing Home A New Cat
Bringing home a new cat is very exciting. So, it can be easy to forget some things that you should do to prepare your home. Following these tips from 14 cat experts will help you to prepare yourself and your home for the new addition to your family. Set your cat up for a lifetime of health and happiness with these tips.
Originally published on Redfin.com