Sale!
Metropolitan Cat Condo
At first glance, this may look like an elegant yet standard metal-framed bookcase. However, your cats will quickly realize the Metropolitan Cat Condo was designed for them in mind. The stepped design of this modern cat condo allows multiple cats to climb atop, as each large, 13″ x 18.5″ platform provides ample room to perch.
Two types of platform sets are offered: one set with four plush cushions and one scratchpad, or a set with 5 white faux fur pads. You can mix and match the frame color and platform color to your style preference. All platform coverings are removable and washable while the sisal scratchpad is replaceable if worn. Replacement cushions and sisal are available.
Metropolitan Cat Condo is sturdy and includes a safety wall anchor for added security. Your cats will love to race up their personal perch and you'll love how this modern design looks in your home.
Features of this modern cat condo:
Mix and match the frame and platform colors of this cat condo to create the perfect piece of cat furniture to match your decor.
Available frame colors: Gold, White, Gray, Black
Available platform colors:
White platform w/ White Faux Fur
White platform w/ 4 Gray Cushions, 1 Gray Sisal Pad
Walnut platform w/ 4 Gray Cushions, 1 Gray Sisal Pad
Black platform w/ 4 Brown Cushions, 1 Brown Sisal Pad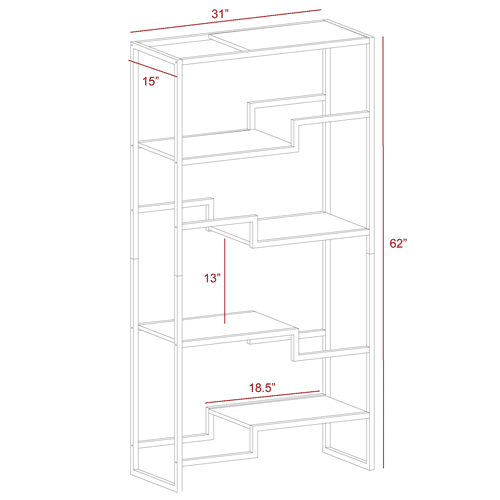 Does this cat condo require assembly?
Yes, each piece of this modern cat condo comes carefully wrapped and securely packaged along with instructions for assembly. Assembly should take around an hour to complete and all of the needed hardware and tools are included.
Is this cat tower sturdy?
Yes, this cat tower was designed to hold multiple cats. Its multiple platforms make it a great tower for large cats as well. It also includes a safety wall anchor for added security.
Does this cat tower have to be anchored to the wall?
This modern cat condo comes with wall anchors but they are optional. If you have multiple cats that like to race up and down the tower you may want to secure it to the wall.
How much does this cat condo weigh?
This large cat tower weighs 62 lbs and is metal framed.
How can I clean this modern cat tree?
The Metropolitan Cat Condo has a metal frame and can be wiped down with soap and water or a pet-friendly cleaning spray. The platform coverings can be easily removed and spot cleaned or replaced if needed.
What do I do if the cushions or sisal gets destroyed?
The covers of the cushions can be removed and spot cleaned. If the cushion is beyond repair we do offer replacement parts for all wearable parts including the sisal.
How can I get my cats to use their new cat condo?
If your cats don't notice their new cat tower at first, you can put some catnip on it and then place your cats onto the platforms. You can also place treats on it to lure them over. Cats will love to perch on the top of this cat condo especially if it's placed near a window. It can also be paired with cat wall shelves to give your cats more room to play without giving up floor space.
What do I do if my cat doesn't use this cat condo?
We recommend giving your cat a few weeks to get accustomed to any new cat furniture. Anything new is going to smell strange to them at first. It can help to rub the cat furniture with a piece of fabric with your or your cat's scent on it. Luring your cat onto the cat furniture with treats or catnip is always a good option. We also recommend using toys to encourage playtime on the furniture. If none of this works, we do offer a 60 day "finicky cat" return policy. Please contact customer service for more information.
Where should I put this modern cat condo?
It is best to put a cat tower wherever your cats like to hang out! Usually, that is near a window or wherever their humans like to spend time. We also recommend pairing this cat condo with some cat shelves for your cat to jump up to. This combination of cat furniture will create the ultimate cat room.
Great cat tree
Easy to assemble, aesthetically appealing, and the cats love it.
Great product
Needed something to feed the cats on and to keep the bowls away from the dogs that was easy to clean and not horrible looking as it stands in the kitchen / dining room. This was perfect. We have one messy eater and we can just wipe off the mess. This is sturdy - which is important as one of our cats is 15lbs, but also because our German Shepherd tries to jam her body in it to catch the food spray. It doesn't budge. Great product, worth every penny.
Elegant cat condo
A "friend" came over for lunch once and said of my old carpet style cat tree, "Oh? Did you get a new one? This one is so much better than the last one." I replied, "I just turned it around." And then she started backpedaling. But I knew then and there that I couldn't have a traditional cat tree on the main level of the house. So I searched online and found this cat condo. We bought it on International Cat Day. It was easy to assemble. Only problem was one hole at the bottom of the tower wasn't drilled correctly and we couldn't get the foot screw to go in properly. We ended up supergluing something similar to the bottom to make it level. We needed to build it quickly because our cat was upset we got rid of his old house. He didn't like it for the first few days. I got the gold one with the fluffy white patches on each shelf. I finally figured out that he thought it was a shelf and he was not allowed to climb on it. I ended up finding his old baby kitten blanket and I set him on one fluffy shelf and out his blanket on top and told him this is his new tower. He now sleeps on it. It only took him a few days to adjust. In retrospect, I should have kept the old tower and assembled this one, had it next to it for a few days and then removed the old tower. (Kind of like how we trained the cat for a new litter box) It's well made. Great item. It looks amazing in our living room. I even sent a photo of it to the "friend" who then said, "Oh, this is so much better."
I highly recommend it. Worth the money. If I had to change anything, I would have ordered the snack tray platform. But otherwise it's perfect.
Juju's furniture
I love the shelf/ cat tree!! It arrived quickly all parts no damage. Great!!! It was easy to put together and Juju loves it. It's temporary in my room because she isn't acclimated to the whole house as of yet. Yes, she is spoiled already. Thanks 😊
Cats playground
My two cats love this tower. It took a while for them to get adjusted to as with anything. Now they both loving hanging out, eating their treats and dinner on it.
This is a high quality and sturdy tower that looks wonderful in the home. The only thing I would like to see improved is the cushions. I feel for the cost they should be a better.