[SitemapPage]When a cat goes missing, it is devastating. Not knowing where your cat is or if they're okay can be unbearable. When cats wander off, they do tend to have a good sense of direction and often find their way home but you can definitely help in getting your furry friend home quicker! Here are some practical and effective things to keep in mind if your cat ever goes missing.
1) First, double check your entire house to make sure your cat isn't hiding in a closet or in an obscure place. Don't forget to search on top of your house as well and in places such as storage sheds! Try to lure your cat out by shaking their favorite dry food or treat bag.
2) Contact your local Humane Society (and other local shelters) as soon as you can. They will ask you to come in with a picture and information about your pet. You'll also be able to take a look at the cats they have found recently. In addition, if someone finds or spots a cat that looks like yours and then calls the Humane Society, they will contact you. Many shelters have websites, so you'll be able to look online to see if a cat that might be yours has arrived.
3) If someone brings a lost cat to a vet, one of the first things the vet will do is check for a microchip! If one is found, they will read the chip and then call the company with the chip's information. If you lose your cat, call the microchip company to verify that your information is in their records so that they can contact you if your pet is found.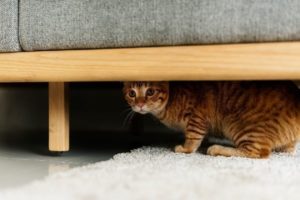 4) Put up posters in conspicuous places in your neighborhood. Make sure your phone number and address are on the poster, along with a description and a recent photo—preferably color—of your cat.
5) Knock on your neighbors' doors and ask them to keep an eye out for your cat. Give your neighbor a poster and your phone number. Chances are, the cat hasn't wandered off far, so there's a good chance your neighbors can help. Also, talk to other people who frequent the area like your local mail carrier or any local businesses!
6) Publish "lost cat" ads in appropriate publications. Take advantage of free listings in places like Craigslist, and puts ads in your local paper as well. If you do a search, there are also many local groups on Facebook for posting about lost or found animals. There are also apps/websites like PawBoost and Nextdoor that can be very helpful with getting the attention of your local community.
7) Put cat food out in a bowl on your doorstep, along with a familiar object, like a cat's favorite blanket. When cats get disoriented, this can help them find their way home. Keep an eye out the front window for the cat (and keep in mind, you might get some other feline visitors).
8) Open your garage door so your cat can enter, and put a bowl of food and some water inside. This can be especially effective if it rains or snows. Just be very careful to watch for the cat as you drive in and out!
Lastly, don't give up! Cats can find their way home after weeks or even months. Keep on calling local shelters, posting online, and talking to people in your community!