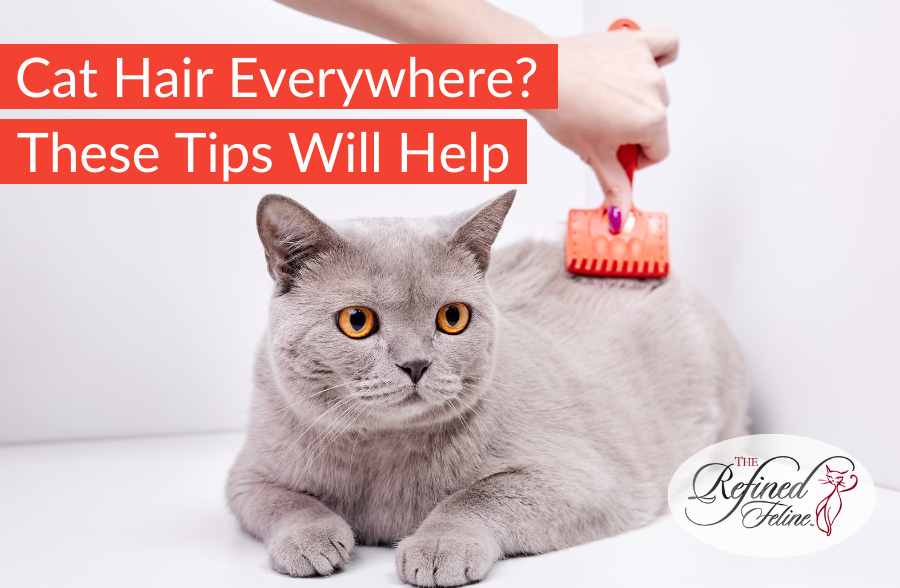 Cat Hair Everywhere? These Tips Will Help!
Whether your cat has short hair or long hair doesn't matter, cats are bound to shed all year long! With the largest shedding periods around spring and fall, you may be wondering how to reduce cat hair in the home. A cat is constantly cycling through hair, which means it ends up everywhere… And we really mean EVERYWHERE. Keeping up with the cleaning can seem like a full-time job. So, The Refined Feline has put together a few tips for keeping cat hair under control without spending 24/7 cleaning. 
7 Ways To Reduce Cat Hair Everywhere
#1 Invest In A Vacuum Made For Cat Hair
A vacuum for pet hair is a great tool for drastically reducing the amount of cat hair in your home. It's always a good idea to get a model that's specifically for pet hair and dander. This will provide more suction power and get rid of more hair than a typical vacuum. You'll be able to cover more space in less time utilizing a vacuum with a motorized mini tool. These can help you get to those hard-to-reach places more easily. They also have bristles that can dig out any pesky hair that's clumped deep down and lock onto hair more easily.
Traditional vacuums will rely on airflow to turn the bar, becoming less effective when dealing with cat hair. A powered brush bar, though, will trudge on no matter what's thrown its way, giving you a deeper clean. You can also try a robot type of vacuum specifically for pet hair!

#2 Get A Pet Hair Sponge
Pet hair sponges can make fast work of cat hair cleanup. These are similar to your traditional sponge but are softer and safer on your surfaces. Pet hair sponges work to trap in hair when they are brushed on the furniture. Be sure to sweep across your couch or cat tower in one direction only. If you brush in the opposite direction, it will release all the hair back onto the couch. When the sponge is full of hair, use your hands to remove the hair and avoid using water. 

#3 Use The Dryer To Get Cat Hair Out Of Clothes
It never fails: you set out a fresh blanket and it's completely covered in cat hair in just a few hours. Luckily, you can rely on the dryer to do the heavy work for you. Simply toss hairy blankets into the dryer and let the heat and static pull the hair off the blankets. It only takes a few minutes for the hair to remove itself and now you're free to do other tasks! Just remember to clean the lint filter often since all of that cat hair will quickly accumulate. 
Related: Spring Cleaning Tips for Cat Parents

#4: Brush Your Cat To Remove Excess Cat Hair
This method can prove to be tricky if your feline isn't a fan of being brushed. Brushing though can dramatically cut down on the amount of cat hair in your home. Regularly brushing your cat will leave less hair to float around and clump onto your furniture. It's a great way to add more bonding time with your cat as well if they happen to enjoy it. Combing out the excess hair, especially during shedding season, will help you stay ahead of excess cleaning. Most cats love to be petted and may not even realize you're using a brush instead of your hand.
With anything new though, start slowly and see how your cat reacts. If they think it's all petting, then brush away! If they seem scared or unsure of the comb or tool, let them smell it first. You can leave the brush out somewhere they can see it, so they can get comfortable with it. Many different styles of combs and brushes are available. There are glove mitts that you can wear to brush your cat so that it feels natural to them. There are even brushes that target a cat's undercoat specifically, pulling up the old hair and keeping their coat revitalized. 

#5: Use Rubber Gloves To Remove Cat Hair
Ah, the power of static electricity. If you're looking to use something you probably already have at home to remove cat hair, then rubber gloves are your choice. When a dry rubber glove is swept across a cloth item, it produces friction, which leads to a static electric charge. This in turn makes all the cat hair cling to your rubber gloves in no time. It works with a few drops of water added to the glove as well. Once the glove is covered in hair, simply rinse off. If the hair really won't disappear, you can try submerging the gloves in warm water. Using rubber gloves is an easy and cost-efficient way of keeping your furniture free of cat hair. 

#6: Remove Cat Hair With A Bristle Brush
Similar to rubber gloves, a bristle brush can make cleaning up cat hair way easier. Bristle brushes are typically used for scrubbing carpets and rugs after accidents or for a deep clean. However, these brushes can also be used to lift up cat hair. They create friction as well when brushed on soft surfaces and use static electricity to pick up stray hairs with ease. They can be used dry or wet, whichever is easiest for your cleaning routine. You can even sprinkle a little diluted fabric softener or refresher onto the bristles. This can help you remove cat hair and leave your furniture smelling fresh and clean. It's easiest to remove the built-up hair on the brush by hand, but you can also rinse the brush off.    

#7: Use A Dusting Mop On Hard Surfaces
Once you're done dealing with the soft surfaces, it's time to clean off the hard surfaces in your home. A damp duster will be able to handle the hairy messes that your cats leave lying around. With a slightly damp cloth, these dusters will trap hair more quickly and efficiently than a regular mop. A damp duster won't push the hair around, but seal it within the cleaning cloth, along with dirt and dust. These mops can even work on window ledges, skirting boards, floor trims, and more.      
Reduce Cat Hair In The Home With These Tips!
Getting rid of cat hair on your furniture shouldn't be an all-day affair. The above tips can help you save time, meaning more fun for you and your cat. These tips will also save you money, without requiring fancy tools or specialty products. Using a few everyday tools at home can give you the upper hand in keeping cat hair under control!