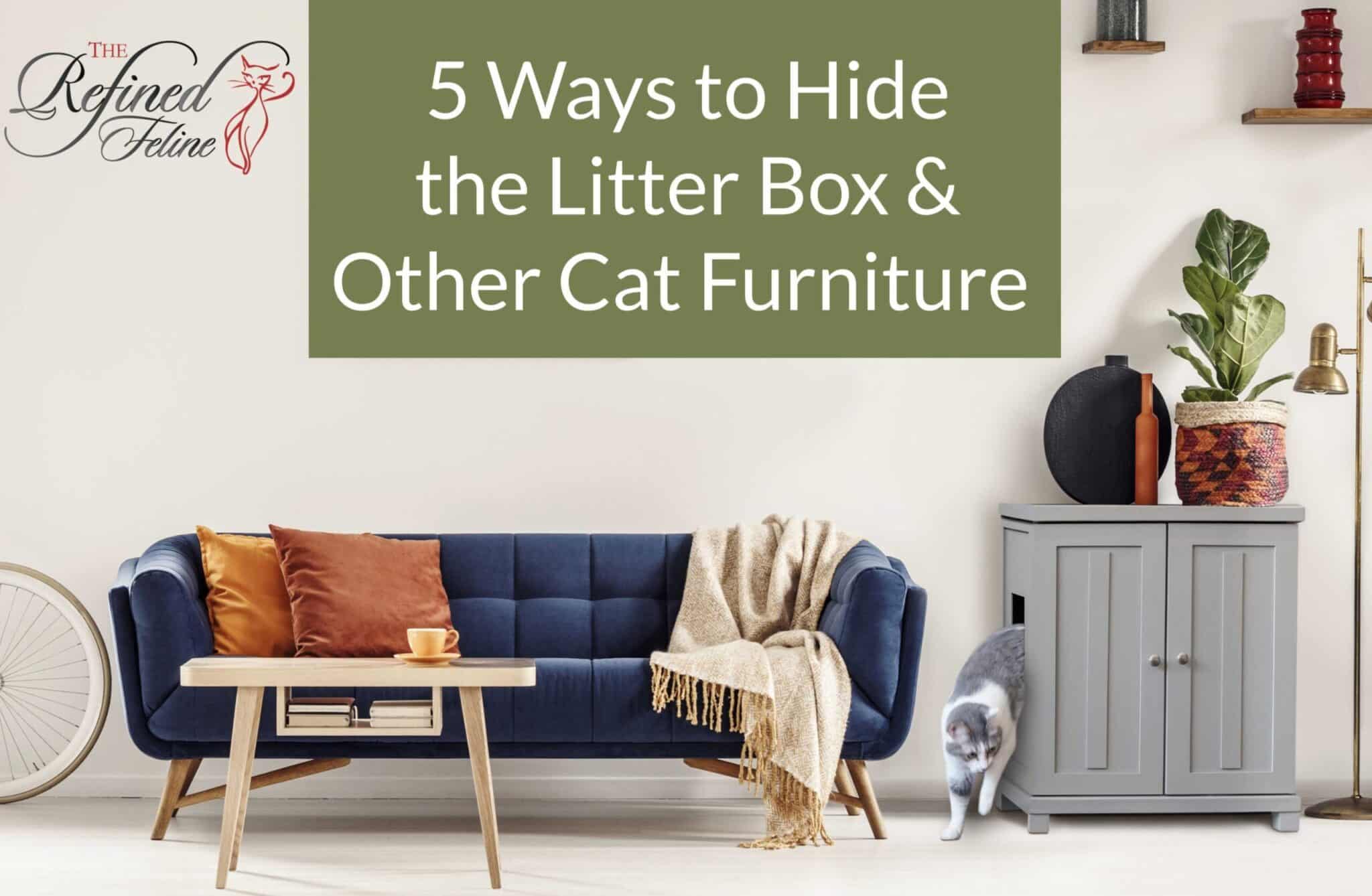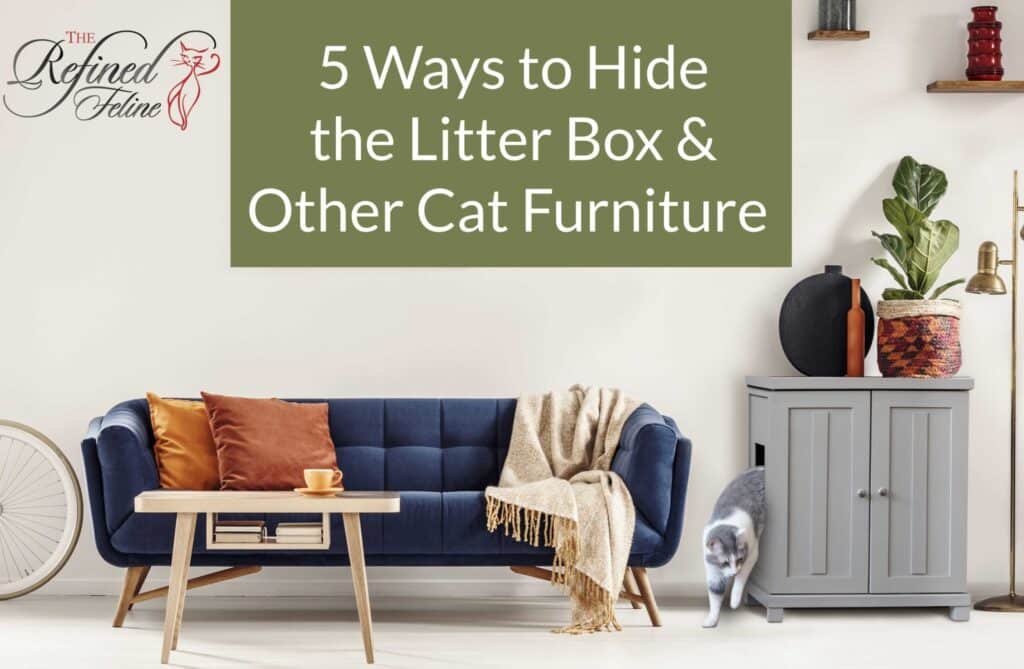 5 Ways to Hide The Litter Box and Other Cat Furniture
More and more cat lovers are trying to find savvy ways to disguise cat furniture in their homes. Here are a few ways to hide the litter box and other cat furniture in your home while fulfilling your cat's needs and best utilizing the space!

Ways to Disguise Cat Furniture:
Buy a Cat Bed with a Dual Purpose
Disguise the Litter Box
Buy a Cat Scratcher That Doesn't Make a Mess
Get Cat Shelves That Match Your Decor
Explore All Kinds of Cat Trees
Buy a Cat Bed with a Dual Purpose
Since cats spend most of their time sleeping, it's important to give them multiple comfy and cozy spots to settle in for a catnap. This can be tough if your space is limited or if you don't want cat furniture to take over the aesthetic of your home. Luckily, there is cat furniture available nowadays that nobody would know is also a cat bed.
The Purrrrfect End Table is a great way to hide the cat bed in your living room as it doubles as an end table. It even features a sisal scratchpad on the outside and a hidden storage shelf inside. Plus, the included cushion can be washed or replaced just like the scratchpad if it ever gets worn.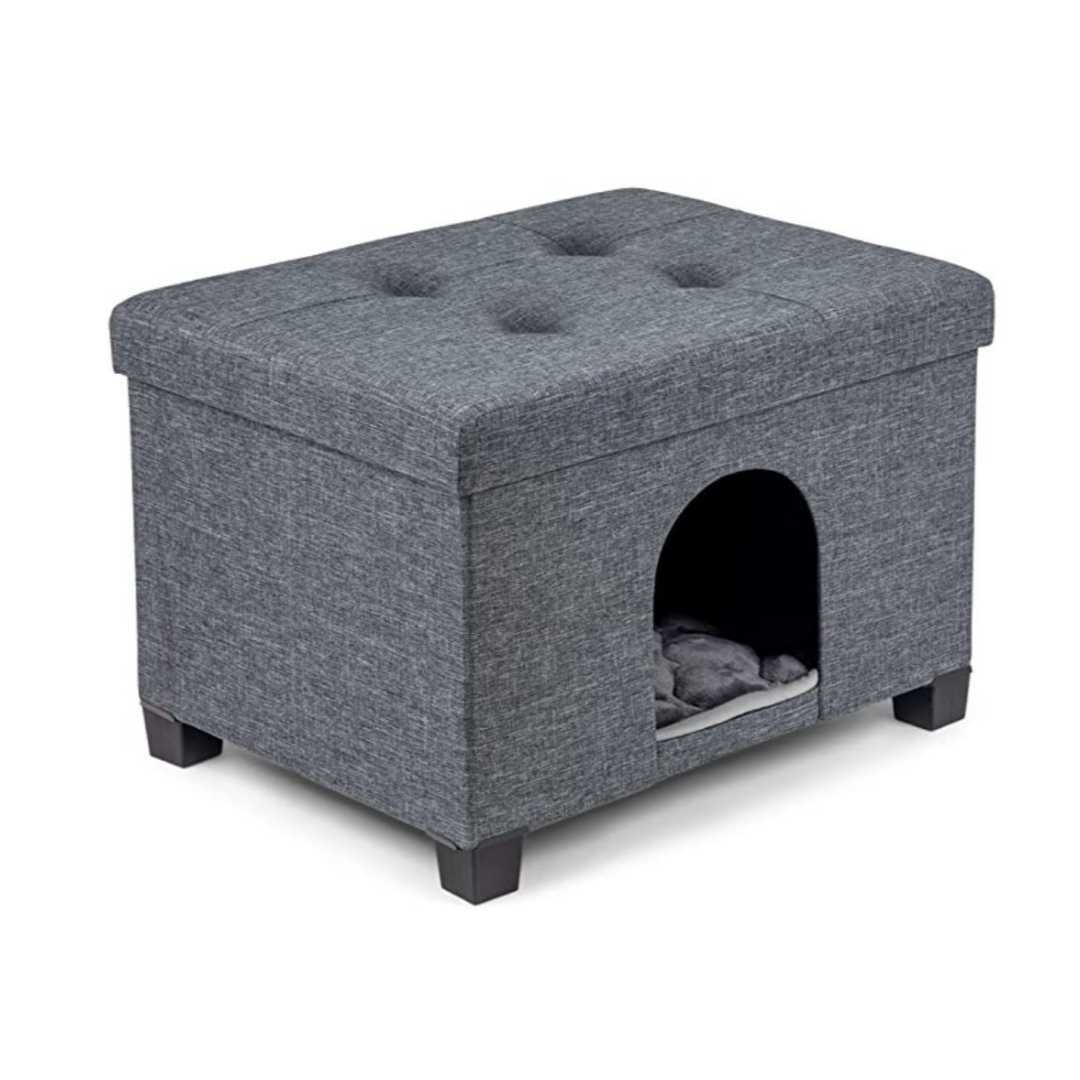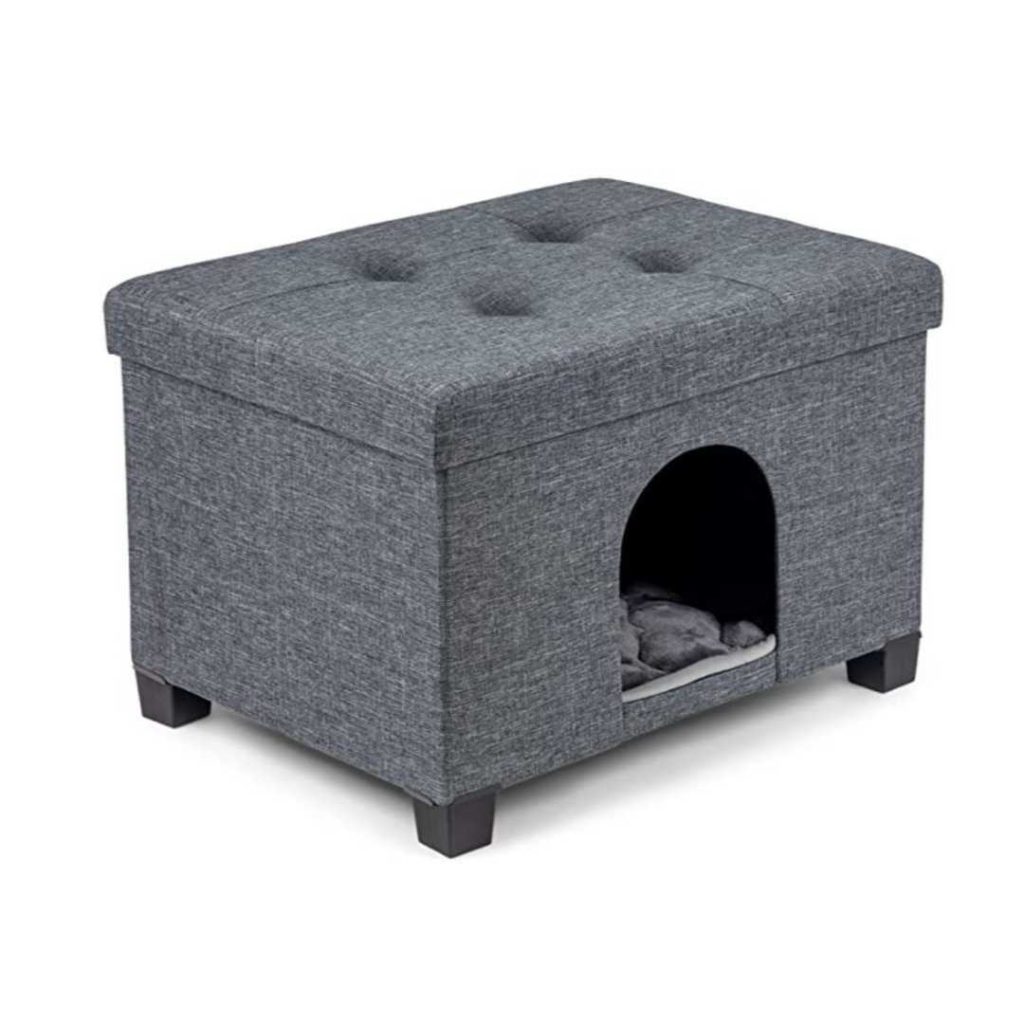 Another great place to hide a cat bed is inside of an ottoman! This enclosed ottoman cat bed provides a cozy hiding place without compromising the look of your room. Cat beds come in many styles nowadays that you can easily blend right in with your home's decor. A cat bed with a dual purpose is a win-win for both you and your feline friend.
Hide the Litter Box
When it comes down to doing their business, cats need their own safe space away from the busy rooms of your home. This works well for cat owners as we also want to keep the smell away from the main areas of the home. There are many litter box coverage options on the market nowadays like cabinets and storage benches.
Yes, you can even hide the litter box inside of a plant. Most styles are versatile enough to fit into a laundry room, bathroom, or spare room with ease.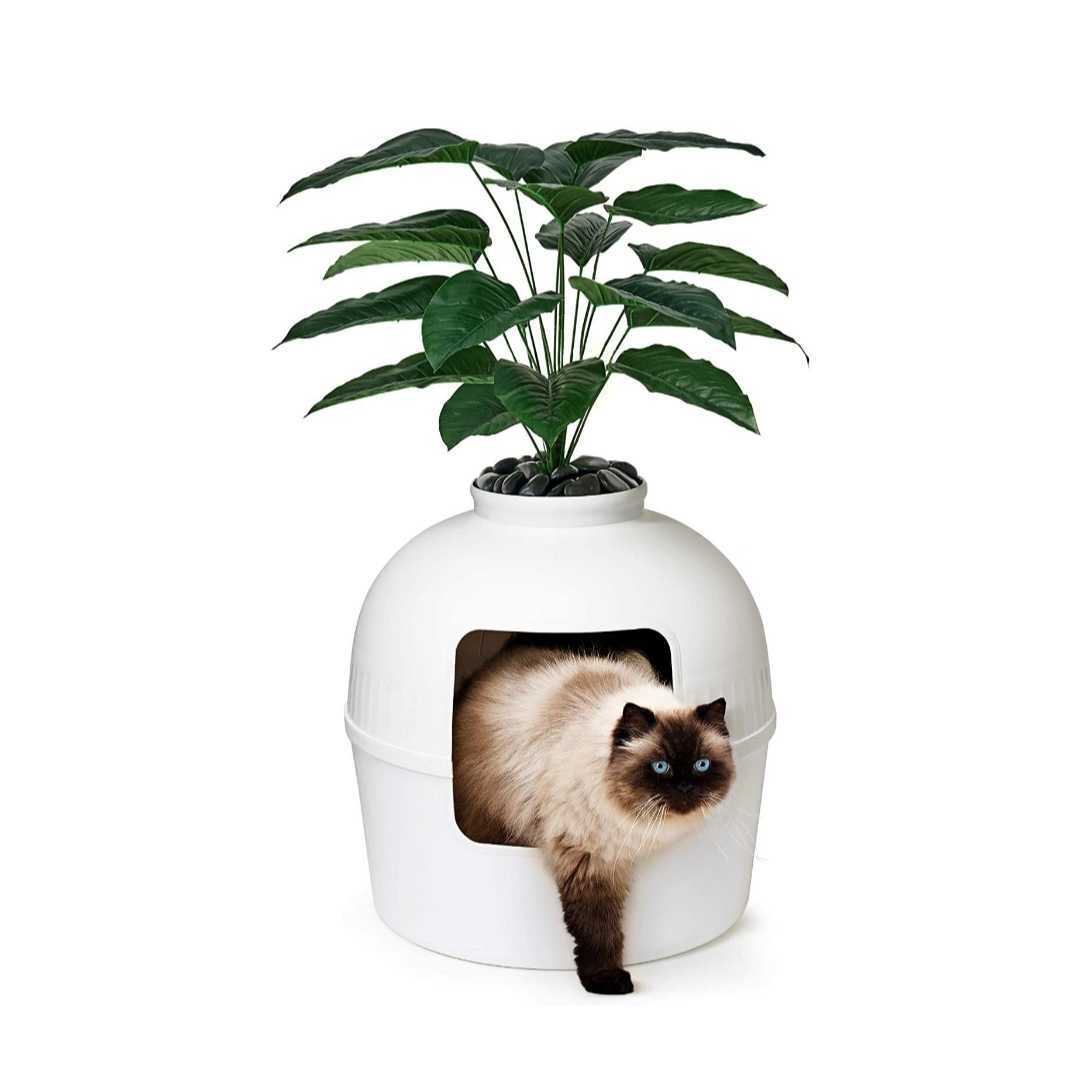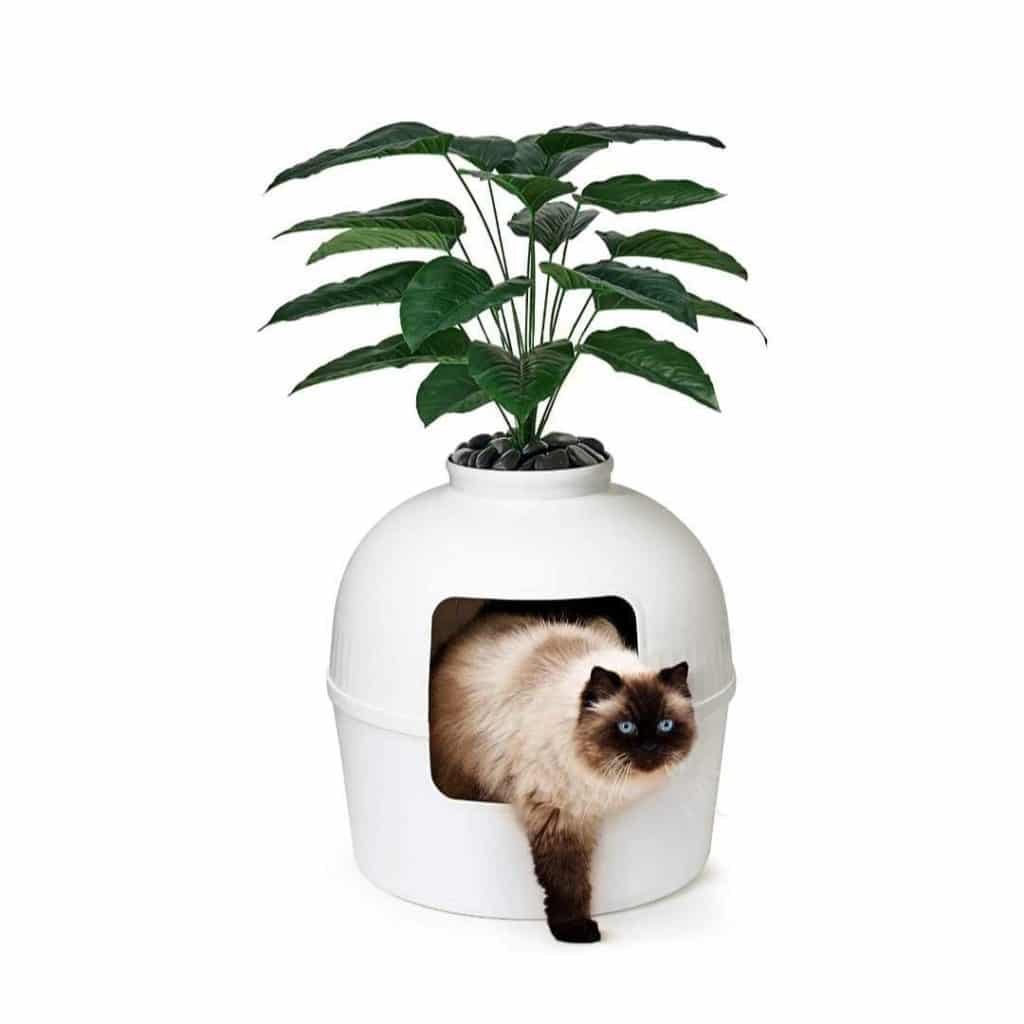 One great option that will blend in seamlessly with your decor, while also offering your cat privacy, is this wooden litter box cabinet. This sturdy cabinet won't absorb odors or water and even features ventilation slots on the back. Charcoal filters can be added to these slots to absorb odors and stop them from entering your home.

People won't realize that this beautiful cabinet contains your cat's litter box. It is available in multiple wood finishes and multiple sizes that will fit any size box. Plus you can even choose from multiple door panels and feet styles to customize it to match your decor. With all of the different litter box enclosures available nowadays, it shouldn't be tough to find one that fits purrrfectly in your home.
Buy a Cat Scratcher That Doesn't Make a Mess
Cats are always going to scratch. So, all we can really do is provide them with better alternatives than our couches to fulfill this natural instinct. Most cats tend to prefer vertical scratching as opposed to horizontal ones. However, it's best to give your cat choices to give your furniture the best chance of survival! The majority of cat scratchers are made of corrugated cardboard but these tend to fall apart and leave shreds everywhere.
To avoid all of the clean-up, it's best to invest in a more durable scratching post that you & your cat can enjoy for years. A scratcher that is made from poly rattan or sisal fiber won't shred when clawed. The Calypso Everlasting Cat Scratcher is made of strong faux rattan and features a modern design that won't clash with your home's decor. Its claw-proof material along with its weighted base that prevents tipping makes it truly everlasting.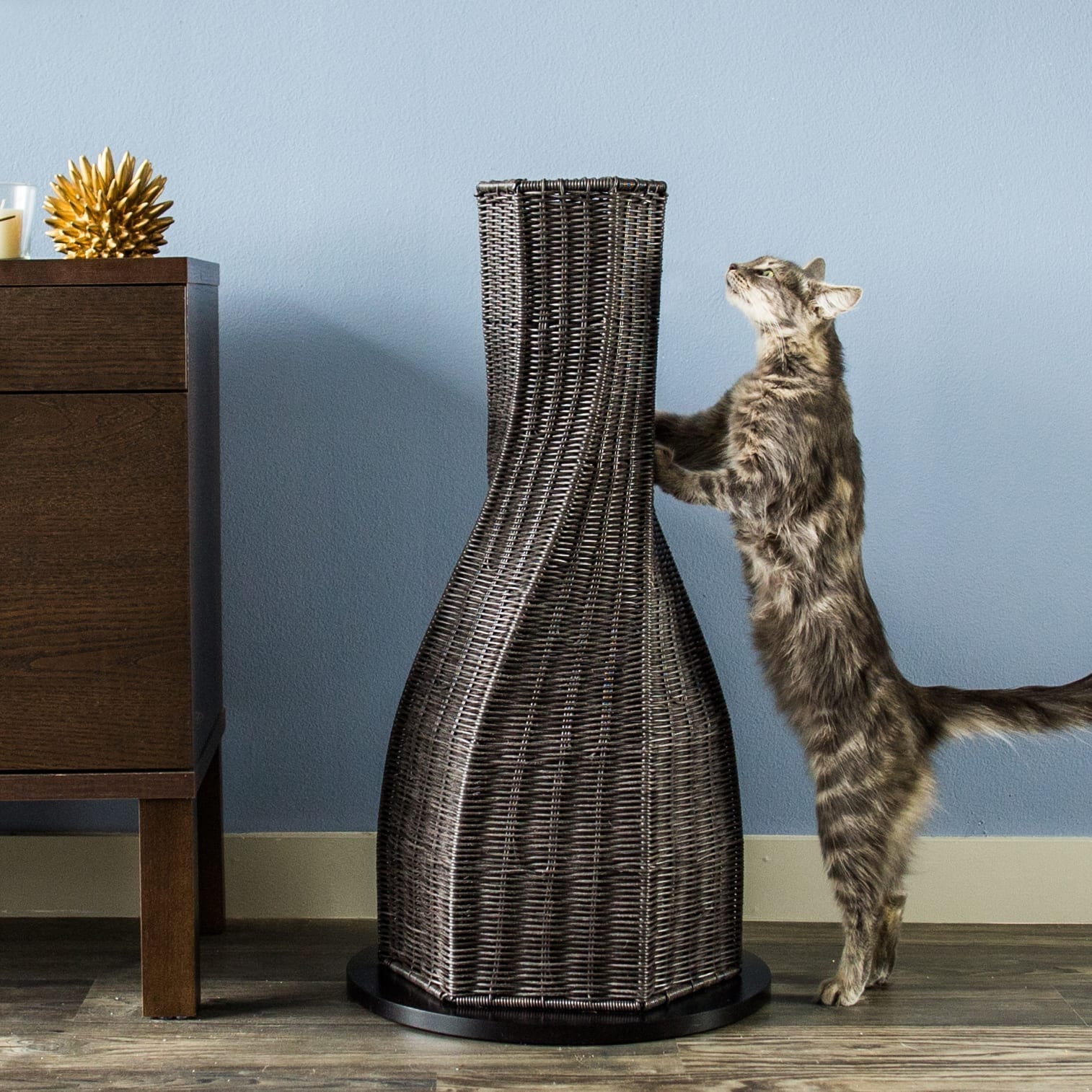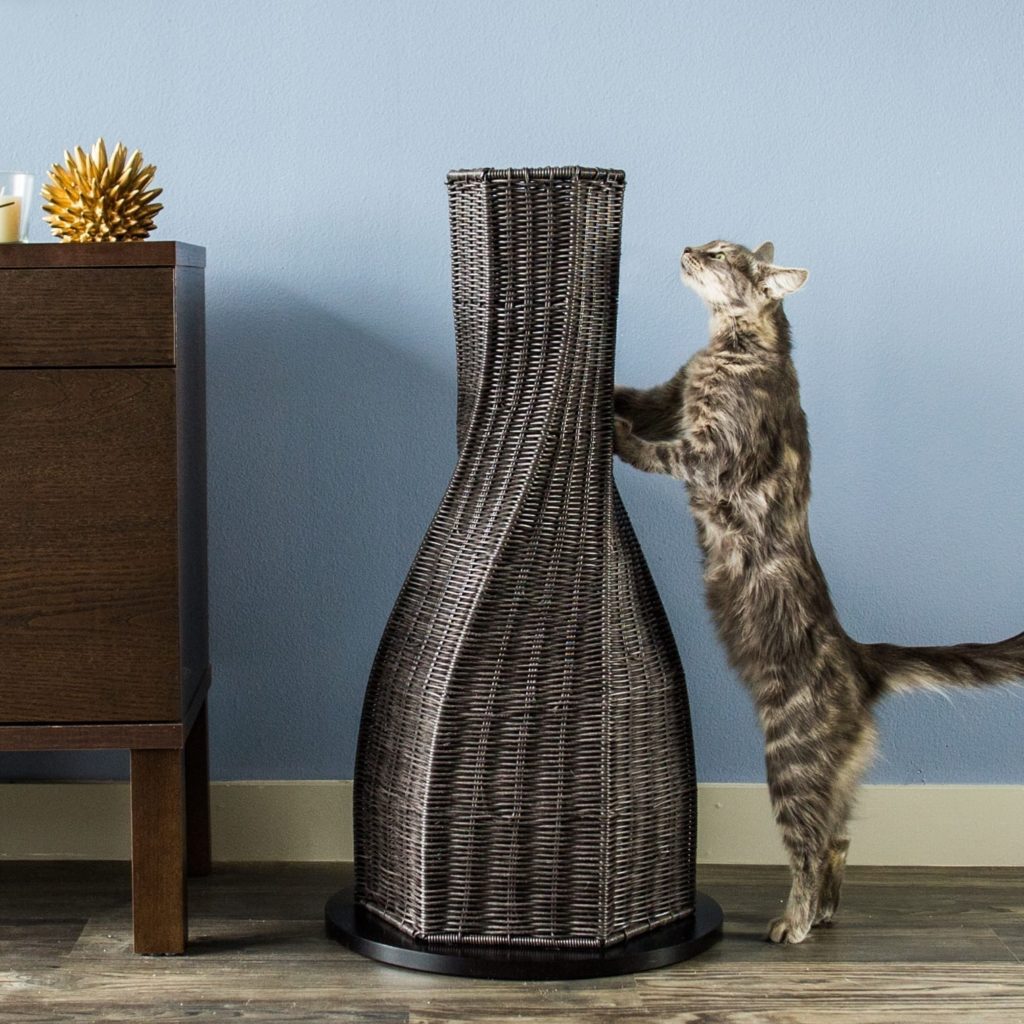 Another great option is the A-Frame Cat Bed which features a large sisal scratching surface. As the name suggests, this cat scratcher is also a cat bed as well as an end table. It fits purrrfectly up against a couch, in an entryway, or over an air vent. The base actually features ventilation holes that allow airflow to heat or cool the bed if placed over an air vent. The best part about this cat furniture is that the sisal pad is available for replacement if it ever gets worn. When you invest in high-quality cat furniture you will spend less in the long run and spend less time having to replaced shredded items.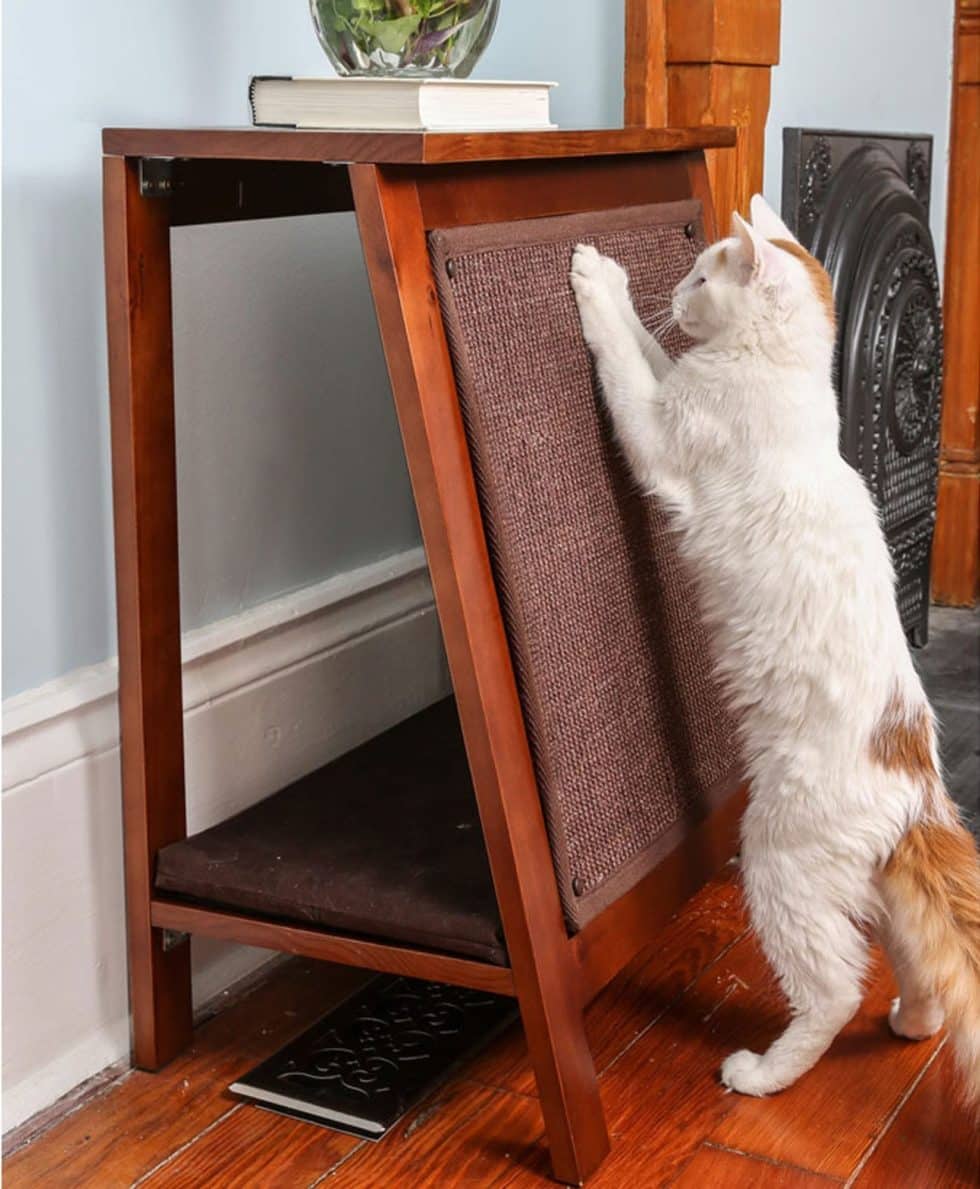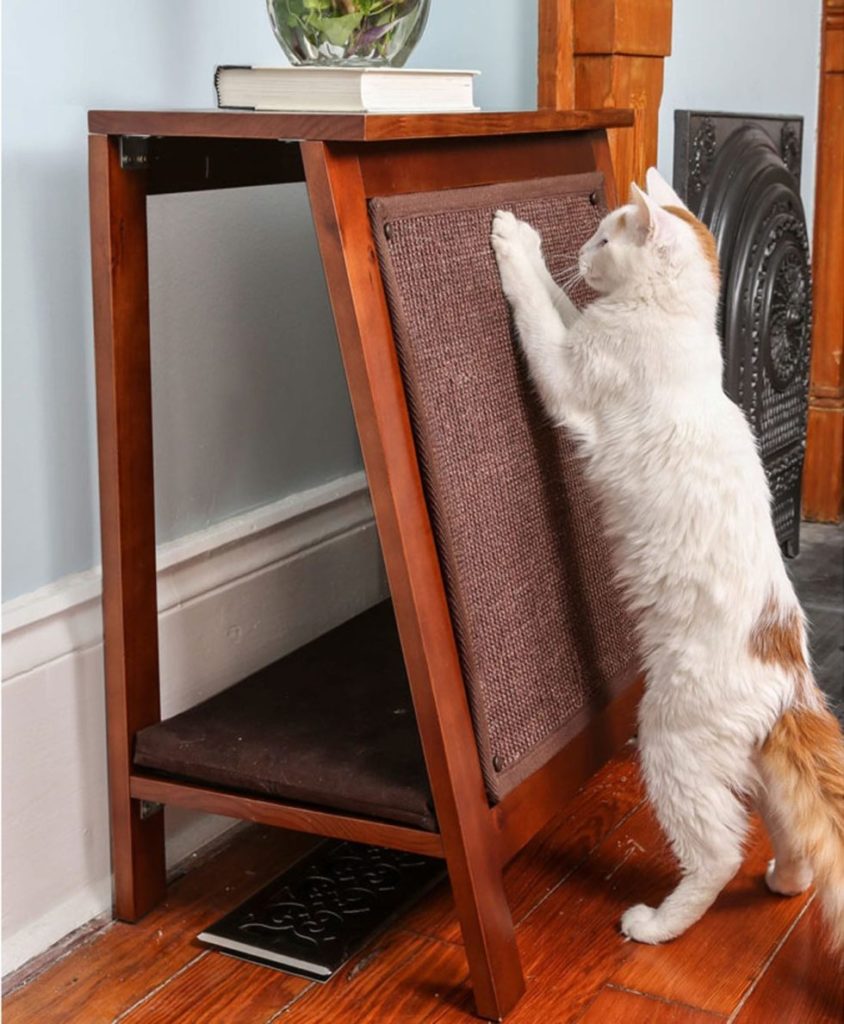 Get Cat Shelves That Match Your Decor
Utilizing your vertical space may not be the first thing that comes to mind when beginning to catify your home. The current shelves on your wall are probably for picture frames or candles. However, many companies now offer sleek and sturdy cat shelves that will blend right in with your home. Your cats have been waiting for this moment!
The Lotus Cat Shelves from The Refined Feline are made of strong wood and come in multiple finishes like white, smoke, mahogany, and espresso. These shelves also have carpeting that can be removed and cleaned, or even replaced. You can place one cat shelf on your wall to create a step for your cat to reach another space. You can also take it a step further and create a catwalk on your wall by strategically placing multiple cat shelves in one space.
Related: 12 Best Cat Products for Your Wall
Get Creative With Your Cat Trees
Cheap carpeted cat trees tend to catch your eye in all the wrong ways. A modern cat tree however will look so seamless that your guests won't even know it's for the cats. Wooden cat trees like the Lotus Cat Tower make a bold statement as a graceful piece of furniture that many would think is just a piece of art.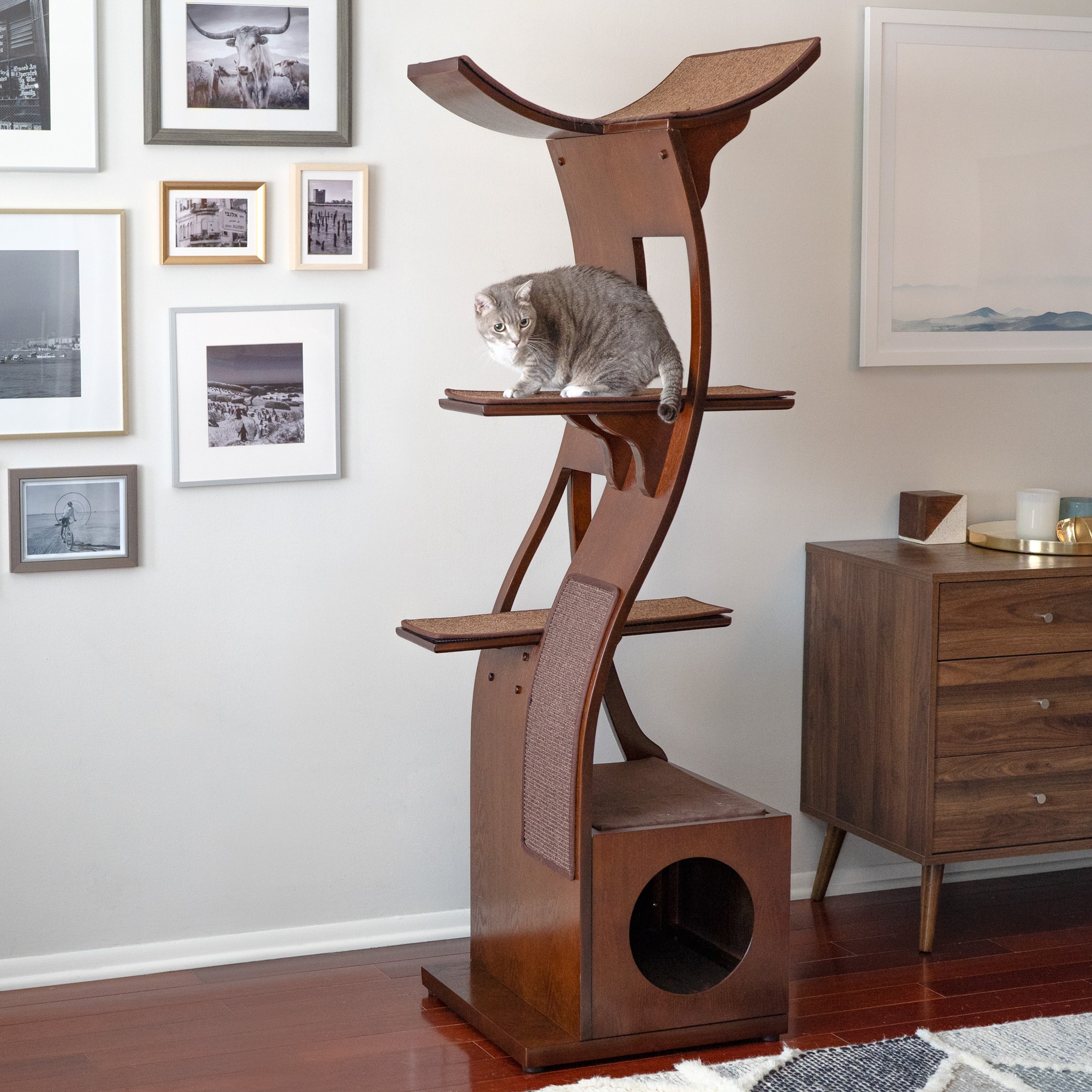 This thoughtfully designed cat tower features comfortable carpeting, a durable scratchpad, and a hidden cat bed. All of these parts are removable, cleanable, and can be replaced if ever needed.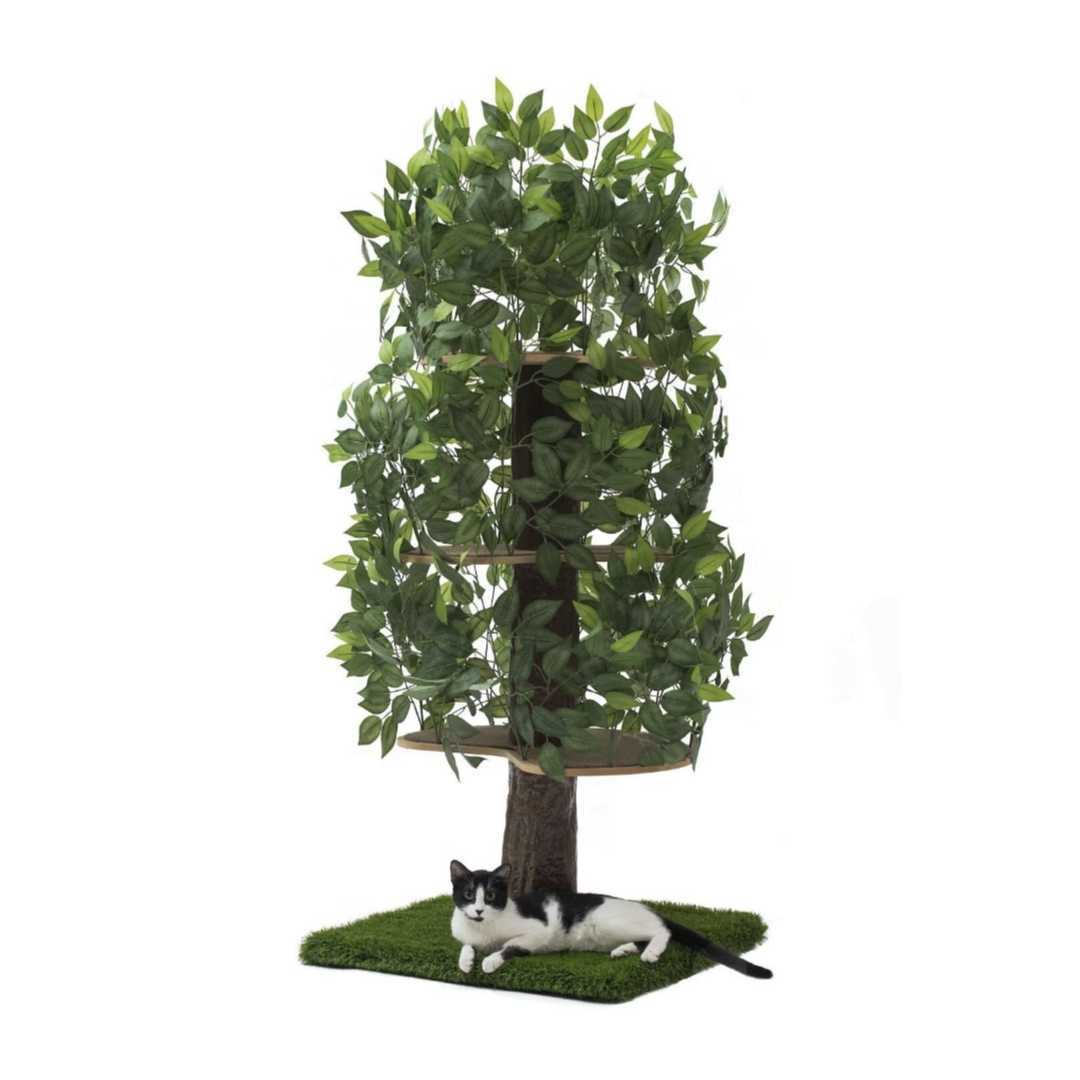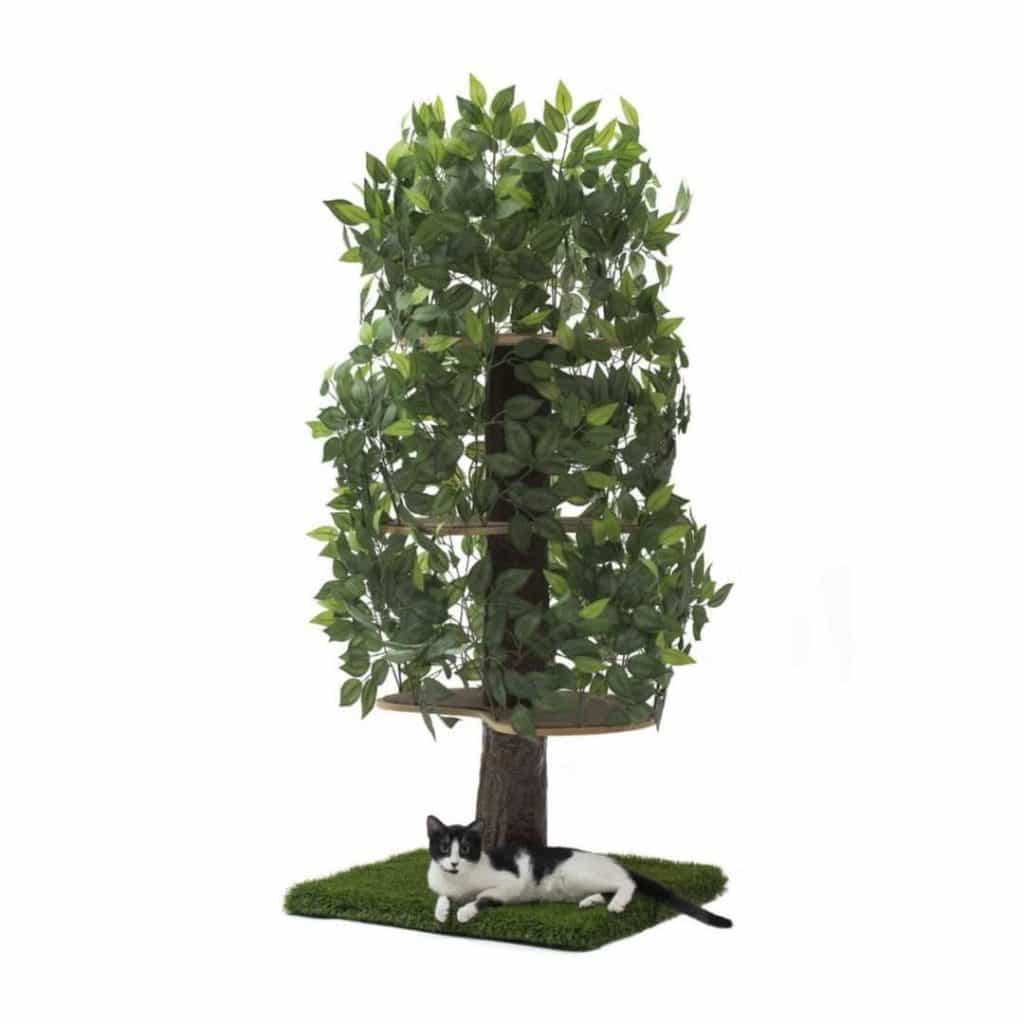 Want to bring some of the outdoors inside for your cat to enjoy? Some cat trees look like actual trees with realistic-looking leaves and branches to create a fun jungle for your cat. Your cat will love to climb up on this tall cat tree and hide within its leaves. Available in multiple sizes, this leafy cat tree can fit purrrfectly into any home! No matter what kind of home you have there's a cat tree out there that's made for it.
Hide the Litter Box and Other Cat Furniture Easily With These Tips
There are so many easy ways to hide the litter box and other cat furniture in your home. Whether you live in a small apartment or a larger home, these are tips that anyone can implement. Finding creative ways of blending cat furniture with your own décor is now easier than ever. The pawssibilities are endless!