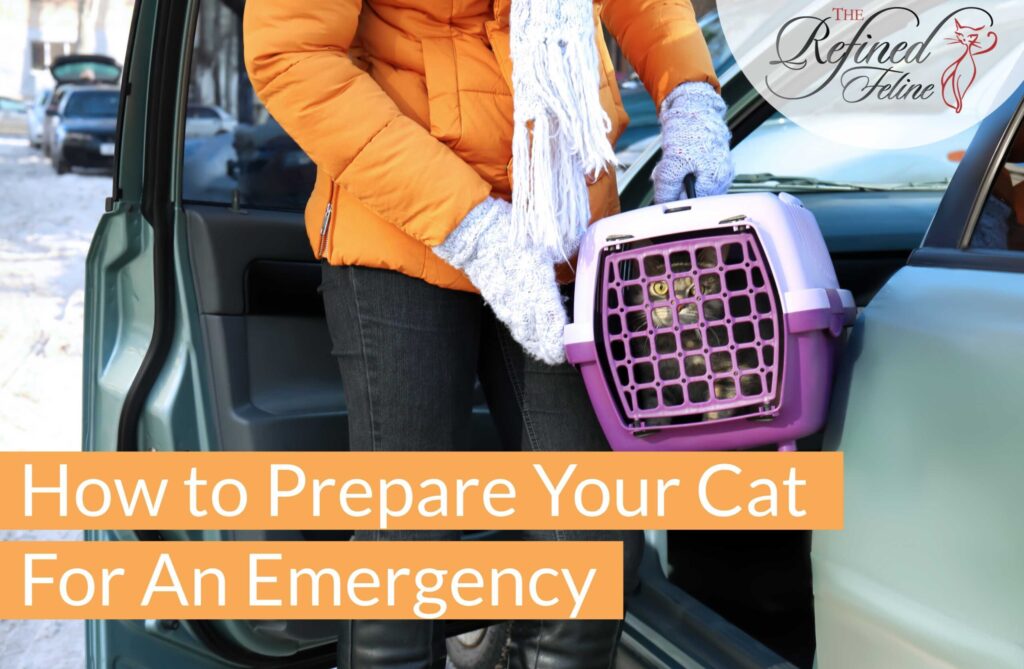 How To Prepare Your Cat For An Emergency
Emergencies happen every day and they come in many different forms throughout the world. Whether it's evacuating due to a hurricane, a fire, or an earthquake, would you know how to prepare your cat for an emergency? If you don't include your pet in your emergency evacuation plan you are not only putting yourself in danger but also yourself as well as first responders. Many pets, unfortunately, get left behind during disasters and are never found or reunited with their owners. So, it's important to get your pet prepared for all kinds of emergencies.
Prepare Your Cat Before An Emergency Happens
First, do some research and see what kind of disasters can affect the area that you live in. We don't think about it often, but disasters usually don't come with a warning.
Keep collar information up-to-date
Microchip your pet
Keep carriers somewhere easily accessible
Get your cat comfortable with the carrier
Put together anything you need for the car
Prepare a disaster kit
Plan where you will stay
Have the necessities packed
Practice evacuating
Know where your pets hide
Keep Collar Information Up-To-Date
Having a collar on your pet with your contact information is a no-brainer. It is the quickest and easiest way to ensure a safe return of your pet in case they happen to get loose. Evacuating can be extremely stressful for both pets and their owners. So, it's important to be prepared, even for the worst-case scenario.
Microchip Your Pet(s)
A collar is a great first step to making sure you and your pet could be reunited if they ever get lost. However, a collar can fall or be removed. A microchip is the best way to prove that a pet is yours. Just make sure to register it and keep your information up-to-date.
Related: Health Benefits of Owning A Cat
Keep Carriers Somewhere Easily Accessible
If an emergency happens, the last thing you want to do is be frantically looking for your pet's carrier. This added stress on top of an already stressful situation is not good for you or your pet. So, make sure to keep carriers in a place that is easily and quickly accessible. A good spot would be in the front of a closet or somewhere near the front door.
Get Your Cat Comfortable With The Carrier
Many cats are not fans of being placed into a tight carrier. A stressful situation can make doing so even more difficult than usual. So, it's important to get your cat comfortable with their carrier or find one that they like. Carriers are usually associated with going to the vet or going in the car which most cats don't enjoy. If you have enough space, it's a good idea to leave the carriers out and even toss toys or treats into them to get your cats familiar with them. Eventually, your cat may even enjoy the carrier and use it as a space for a catnap! This will make handling emergency situations much less stressful for both you and your pets.
Put Together Anything You Need For The Car
Along with your pet's usual carrier, keep any harnesses, seatbelts, or car crates altogether in one location. You should figure out how your cat is the most comfortable in the car before an emergency happens. Some cats feel safest in a small carrier by themselves. Meanwhile, some cats may want to be in a large crate with their pet siblings. It's always a good idea to pack some of their favorite toys or their cat bed to keep them comfortable as well. Finding out how your cat is most comfortable traveling ahead of time is another way to decrease the stress and stay prepared.
Prepare a Pet Disaster Kit
Putting together a pet disaster kit can take some time and you may want to consult with your vet. However, in the case of an emergency, it is well worth the effort. You'll have peace of mind as we knowing that they are always prepared.
Plan Where You Will Stay
Something else to think about ahead of time is where you and your pet will stay if an evacuation is necessary. Local shelters don't always allow pets. It's a good idea to have information handy for boarding facilities, animal hospitals, and even some friends and family that you and your pet could stay with. Having a designated person who could go and get your pet in case you're not home during an emergency is important as well.
Have the Necessities Packed
Having necessary items packed and ready to go can't hurt if ever needed. So, keep a bag packed with some food, litter, and any medications your pet may need.
Practice Evacuating With Your Pet
After you've gotten your pets comfortable with their carriers, you should get them comfortable in the car. Take them on short car rides or whatever mode of transportation they would be on.
Know Where Your Pets Hide
It's important to know where your pets like to hide since they will most likely hide if an emergency like a natural disaster occurs. Eliminate any hiding spots that make it difficult to get them out of, like inside of a couch.
Following these tips on how to prepare your cat for an emergency should offer some peace of mind to cat parents. Hopefully, it will also make dealing with any emergencies a little bit easier!