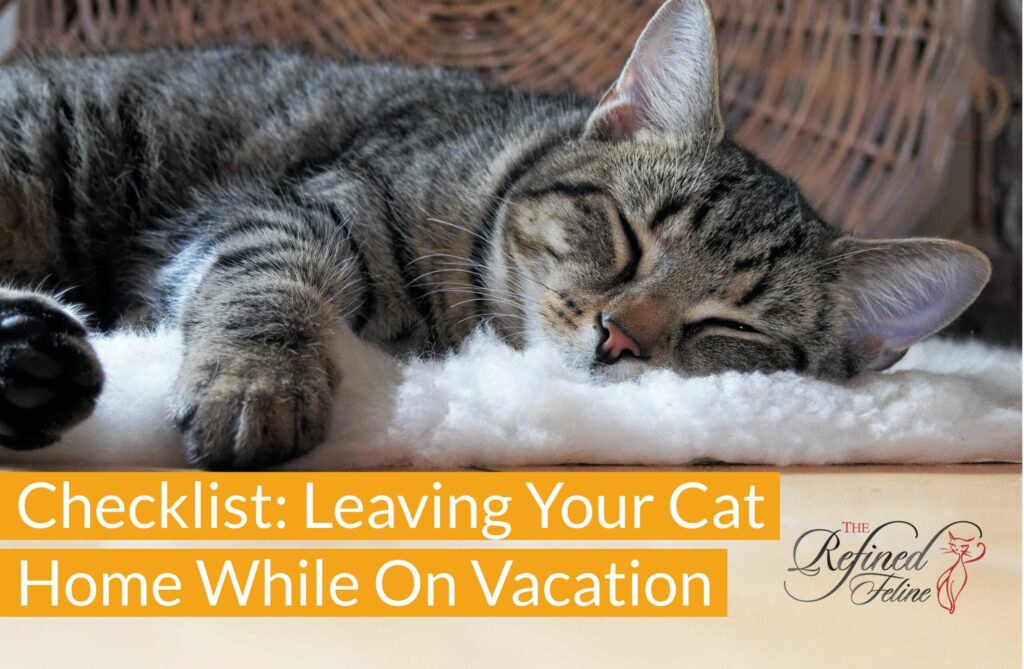 Checklist For Leaving Your Cat Home While On Vacation
Ever come home feeling like you need a vacation from your vacation? Between planning and packing, taking a vacation can be stressful. This is especially true when our beloved pets enter the equation. An adventure cat may enjoy a weekend trip, but your average cat will probably be happier staying in its usual environment. While every pet is different, here are some tips for leaving your cat home while on vacation.
First, Should You Be Leaving Your Cat Home Alone?
Even though cats are pretty self-sufficient, you shouldn't leave your cat home alone for more than 2-3 days maximum. If you have a young kitten, an older cat, or a solo cat, that time should be more like 1-2 days but you know your cat(s) the best. For trips longer than a few days, you should have someone visit your cat daily or even stay with them if possible. It would be ideal to have someone visit your cat(s) even if you're away for just a day or two but if that is not possible you can take precautions to make sure that they will be okay.
If this is your first time leaving your cat alone overnight it can be quite nerve-wracking. Cats can have separation anxiety just like humans. If they were raised during the pandemic or got used to you being home a lot it is even more common. So, the following checklist should help keep your mind at ease when leaving your cat home alone!
Checklist For Leaving Your Cat Home While On Vacation:
Clean Up Before Leaving Your Cat Home Alone ✔️
Even when you're just heading out for the day, it's important to make sure that your home is a safe space for your cat. Put away shopping bags, hide the clutter, and unplug any small appliances that you use. Make sure that all windows are securely closed and that the only food left out is the cat's food. As long as any breakable items are moved to a safe space and your home is secured, your kitties should be safe having access to the whole house while you're away.

Set Up The Cat Food And Water Strategically ✔️
When leaving your cat home alone, leave out more than enough dry food. It can't hurt to leave too much! You also want to move the food far away from the water. This ensures that no water gets into the food and vice versa. Splitting up the food into two locations is another great strategy. This will make sure some of the food stays edible if something happens to one bowl (like a hairball or vomit). If you're worried about your cat overeating while you're away though, you can try an automatic pet feeder! These feeders dispense the dry food at scheduled times or when the bowl is empty. If you'd like your cat to have access to wet food while you're away, some food dispensers are designed with built-in ice packs that will keep the food cold for a day or so.
A cat water fountain is another essential item to get if you don't already have one. Not only is this great for when you leave the house but it also encourages cats to drink more water every day. Some cats also like to play with their water and end up knocking the bowl over. Other cats like to drop their food in their water. Getting a cat water fountain will ensure that the water is filtered and that it does not get knocked over while you're away.

Give Your Cat Some Entertainment ✔️
If you have more than one cat, you've already taken a great first step to keeping your fur baby entertained while you're away! Make sure your cat also has access to the cat furniture and cat scratchers in the house. If your cat enjoys bird watching, leave a couple of blinds open if you can with a tall cat tree nearby. Leave some of your cat's favorite toys out too as long as they don't require supervision and your cat can't eat a piece or get tangled up in it. If your cat enjoys music, use a device like Alexa that can be remotely controlled. This will allow you to adjust the volume or turn the music off when you want to through the app.

Set Up A Pet Camera ✔️
Even when we feel like we did everything we could, we still tend to worry about our fur babies when they're home alone. Setting up a pet camera is a great way to keep your mind at ease so you can enjoy your time away. Wyze is one company that makes affordable cameras and their app is super easy to use. The cameras have 2-way audio so that you can talk to your pets as well as hear what's going on in the house. The ability to pan the camera across the room is a very useful feature of the Wyze Cam Pan Model. All models also have night vision that works amazingly well. Looking for the best place to put the camera? Somewhere that faces their feeding area is best so that you can ensure that they don't run out of food or water.

Make Sure Your Cat Can't Get Stuck Anywhere ✔️
If your cats will have access to multiple rooms while you're away, you'll want to make sure that the doors between the rooms don't close and separate them from their essentials. A simple doorstop will keep the door from shutting & should do the trick. If your cats tend to play with the doors though and lock themselves in rooms, you can tie the door open. Tie something around the doorknob and attach it to a sturdy item nearby like a towel rack behind the door. The last thing you want to happen is for your cat to accidentally get stuck in a room while you're away. Your cat losing access to food, water, or the litter box while you're away would not be good. Even if this has never been an issue before, it's best to be prepared and it's very easy to avoid.

Don't Forget About The Litter Box ✔️
This tip doesn't need much of an explanation! The litter box should be cleaned right before you leave for a trip. If you usually clean the litter box after every use, or you have multiple cats, you may want to add an extra litter box. Another solution is to get an automatic or self-cleaning litter box. These are great for finicky cats who like their litter box to be extra clean. Coming home to accidents around the house due to a dirty litter box is no fun.

Make Sure Someone Can Get Inside If Needed ✔️
Any time you leave home for an extended time period you should make sure someone can get into your home if needed. Having someone visit your kitty isn't absolutely necessary when you're only leaving for a day or two. However, you should still make sure someone nearby has a key in case of an emergency. If you're not sure who will be around at the time, you can always leave a key hidden somewhere outside of your home. Just make sure that you have a couple of people in mind that you could rely on in case of an emergency. The key should also be easily findable and a carrier accessible in case an evacuation is necessary.
Leaving Your Cat Home For A Short Period Of Time Is Fine If You're Prepared
No cat parent wants to leave their furry friend home alone but sometimes it has to be done. Letting your cats stay in the environment that they're most comfortable in is usually the best option for short periods of time. Follow these tips for leaving your cat home while on vacation so that you can relax and enjoy yourself. You'll be back home with your furry friend again before you know it!