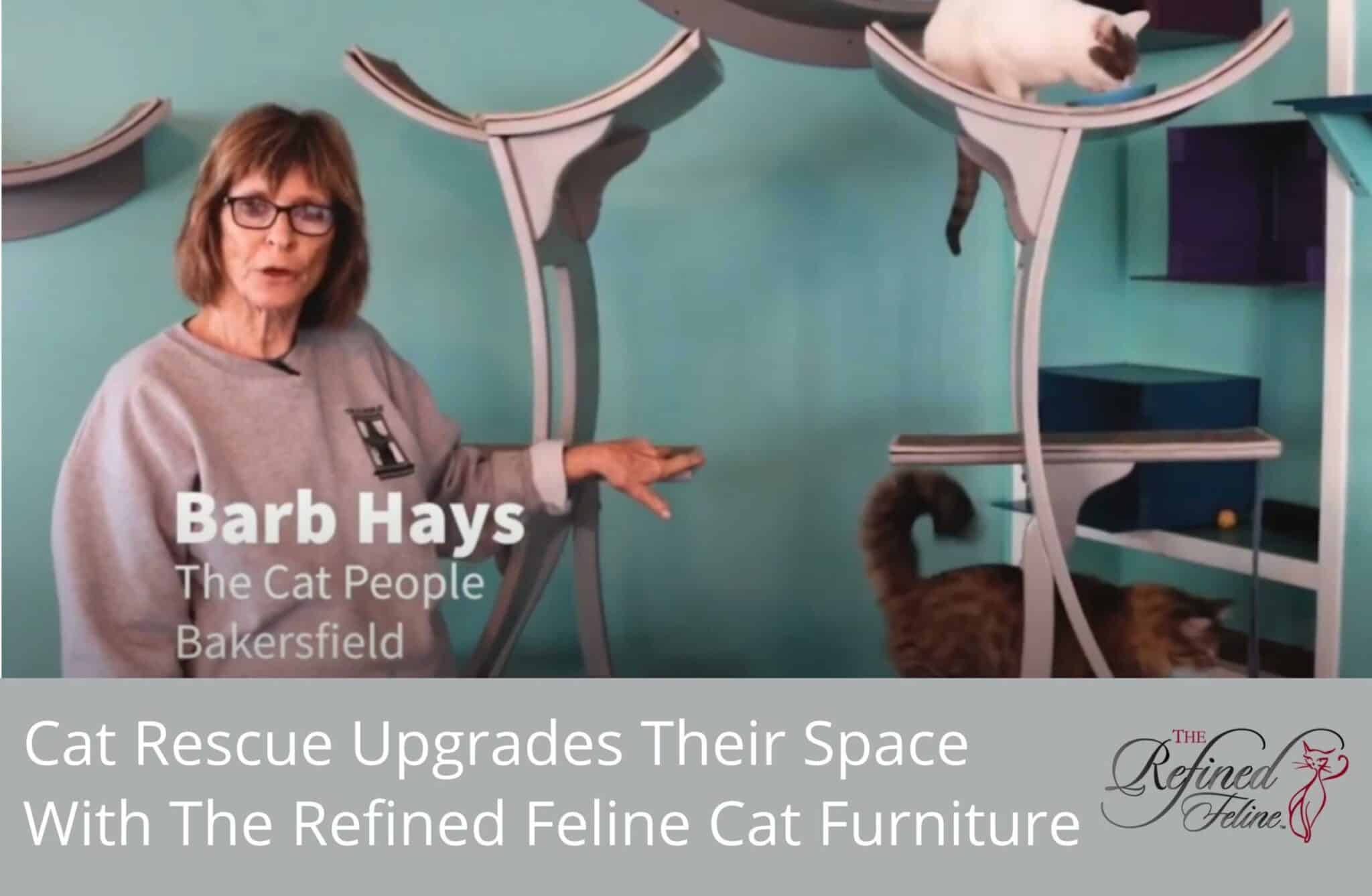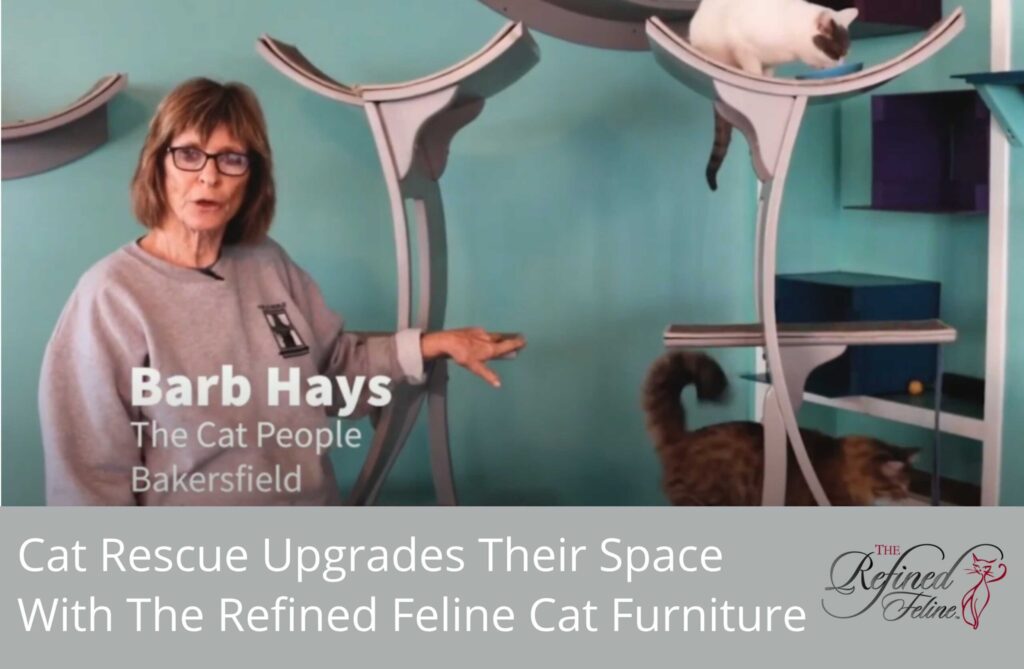 Cat Rescue Upgrades Their Space with Modern Cat Furniture
Furry friends who are waiting for their forever homes need not go without the comforts of life. The good people at animal shelters and sanctuaries, such as The Cat People, have taken it upon themselves to get creative and create a comfortable space for their feline friends, with a little help from The Refined Feline, makers of modern cat furniture. This cat furniture is great for rescues and shelters for many reasons.
Cat Furniture for Happier Cats
At any animal sanctuary, the design of the shelter is just as essential as the functionality. It is important to make sure that the cats coming into the facility are entering a place that is clean and comforting.  Giving the cats ample places to play, nap, and perch is essential to keeping them happy in their new environment and will in turn help them to find their furever homes and to find them faster.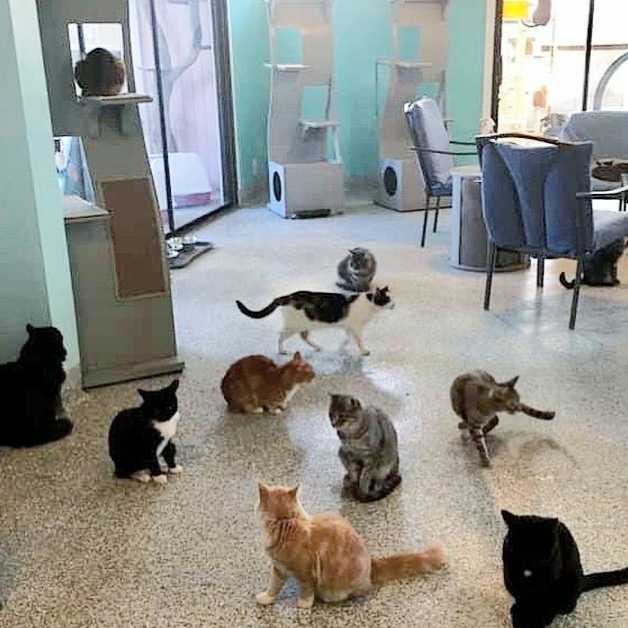 Every cat parent knows how important it is for their cat to have their own space to relax. At a shelter or rescue, this is no different. The Lotus Cat Tower from The Refined Feline is a great cat tower for shelters as it offers multiple perches for cats to play on, space for them to scratch, as well as a secluded cushioned den. Barb Hays with The Cat People, an animal sanctuary in Bakersfield, California agrees! "Our volunteers love them, visitors love them, and the cats sleep on them all afternoon. We have 7 cat towers in the facility!" 
Just like in your home, animal shelters are limited with their space so it's important to make the best use of the given space. Something that is often overlooked is the possibility of using vertical space! Vertical space will be your cat's best furiend. We all know how much they love to look down on humans from above! The Cat People have surely taken advantage of their vertical space by installing the Lotus Leaf and Lotus Branch Cat Shelves along their walls. "We have them in every cat room in our sanctuary! The cats really do love them," said Hays.
Helping Keep Happy Volunteers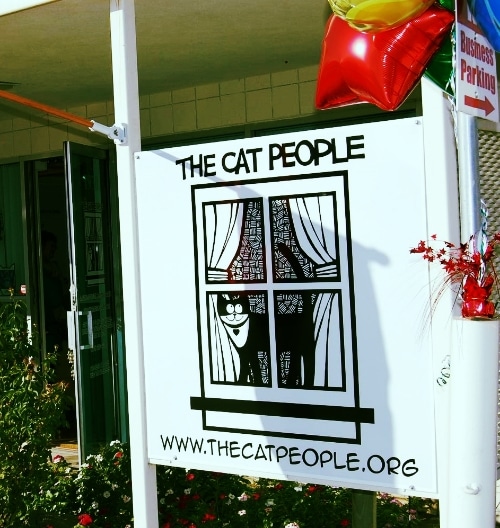 Think it can be hard at times to keep your home clean with only a few cats? Imagine what it's like to maintain an animal shelter with dozens of cats! Furniture from The Refined Feline makes this daunting task a bit easier since the products are made of sturdy wood or metal that is easily cleanable and features parts that can be removed for washing or even replacing if needed. Plus, the furniture's sturdy build allows it to withstand all kinds of feline shenanigans.
"The wonderful thing about these products is they're so hygienically appropriate for a sanctuary… cleaning with 100 cat can be quite problematic." Hays continues, "We can clean them, we can take the strips off to wash and put back on… and the cats absolutely love them. 
Related story: How to Catify Your Home When Space is Limited
Cat Towers and Shelves That are Great for Shelters
Because of these features, all of the products from The Refined Feline are purrrfectly suited for shelters. Without cat furniture that is easily cleanable and parts that are washable and replaceable, the jobs of volunteers would be even more difficult. Plus, the less clean-up work that the volunteers have to do, the more time they have to take care of and rescue more cats.
Though difficult, cat rescue is surely rewarding and worth every minute of hard work. The Refined Feline is happy to make the jobs of these wonderful volunteers a little bit easier by designing cat furniture that is great for rescues and shelters.
Want to join in helping The Cat People help the cats of Bakersfield California? Donations are always welcome and if you're local, volunteers, as well as great foster homes, are always needed!