We know that trying to find the best cat tower for your cats can feel like a hassle. There are many different choices online which can make it tough to sort through them all. Wish you could simply find a list of the best cat towers on the market right now? Look no further! The Refined Feline has put together a list of the best cat towers in multiple categories. Here at The Refined Feline, we know cats. We understand the needs of indoor cats which makes it easier to search through hundreds of cat towers and narrow down our top picks! You and your cat will not be disappointed with these cat towers.
Best Cat Towers, Cat Trees, & Cat Condos
Best Cat Tower for Large Cats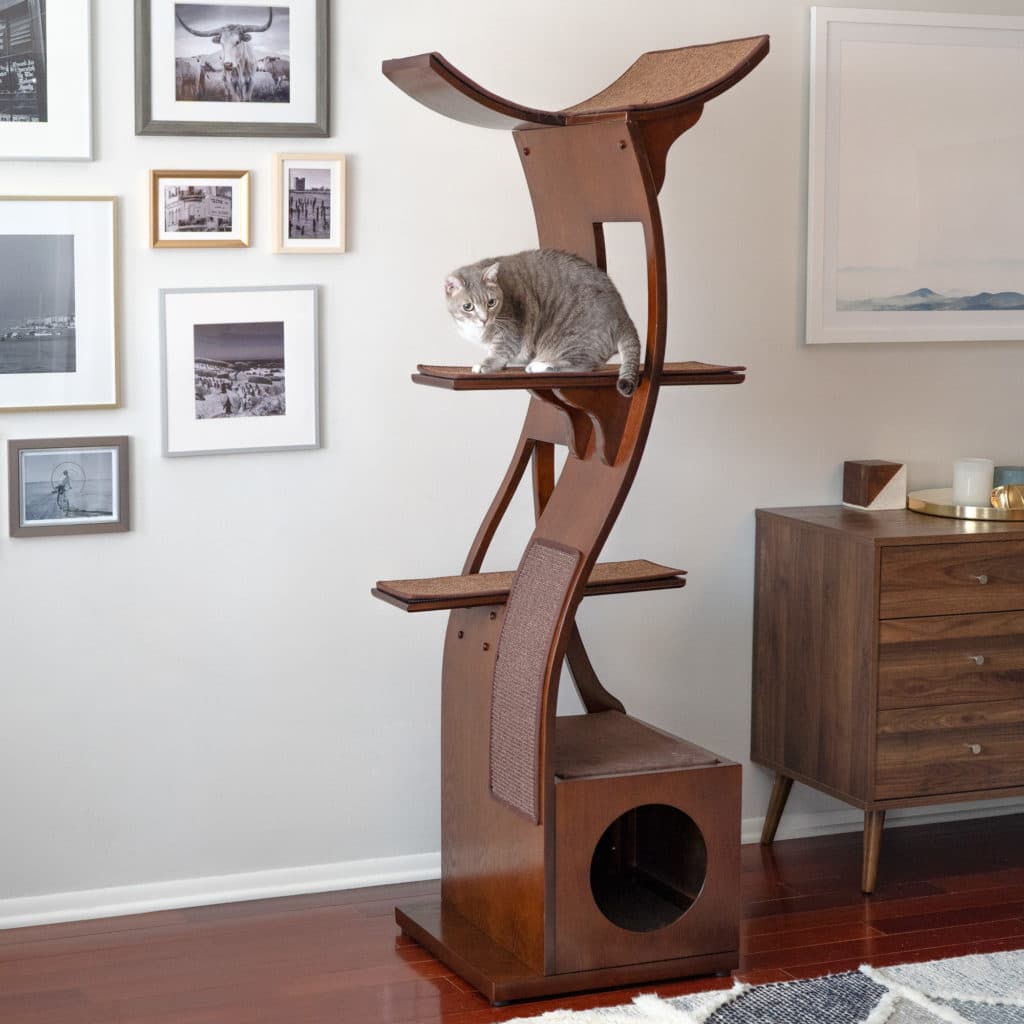 Lotus Cat Tower
If you're tired of flimsy carpeted cat trees that tip over, you're not alone. Finding a sturdy cat tree that'll withstand multiple leaping cats can be tough. The Refined Feline created a great cat tower for large cats though with the Lotus Cat Tower. This durable wooden cat tree stands at almost 6 feet tall and doubles as a piece of art in your home. Your cats will love the vertical space and even the largest of cats will have enough room to jump from platform to platform. It features multiple levels, a sisal scratchpad, and a cushioned den. This cat tree combines everything your cats need to stay busy for hours no matter their size. Plus, it's offered in multiple colors so you can find the right match for your decor. Anyone visiting will be shocked to find out that this work of art is a cat tree!
Pros:
Modern design
High-quality materials
Small footprint
Lots of vertical space
Parts can be removed, cleaned, and replaced
Easy assembly with all tools included
Features:
Multiple perches
Sisal Scratchpad
Cushioned den
Wearable parts can be replaced
Easy assembly with all tools included
Details:
Dimensions: 20″ w x 20″ d x 69″ h
Materials: Ply wood with oak veneer, berber carpet, sisal
Colors: Espresso, Mahogany, Smoke, White (limited edition!
Weight: 72 lbs
$399.99 From The Refined Feline
The Best Cat Tree House
Go Pet Club Cat Tree Furniture
Younger cats and kittens seem to have boundless energy, zooming around the house for hours. If you have a couple of kittens or young cats you will want to make sure they are stimulated. With their adventurous nature, cats can become a little too curious about everything in your house. This cat tree house is the ultimate kitty jungle gym for energetic cats. Standing at 77", this large cat tower provides endless entertainment no matter how old your cat is. It includes multiple climbing sisal posts, two enclosed dens, and multiple lounging areas. Your cats will be sure to explore every square inch of this tree.
Pros:
High vertical space
Multiple beds and scratching posts
Great for energetic cats and multiple cats
Cons:
Takes up a lot of floor space
Not made of durable materials
Hard to clean
Features:
Multiple lounging areas
Multiple sisal posts
Details:
Dimensions: 62" L x 35" W x 77" H
Materials: Pressed wood, sisal rope, faux fur
Color Options: Brown/black
Weight: 80 lbs
$232.99 From Amazon
The Best "Realistic" Cat Tree
On2 Pets Cat Tree House with Leaves
Okay, we know any time there are fake leaves involved, it's hard to convey realism. However, if your cat really enjoys the outdoors, they may not realize this cat tree with leaves isn't a real tree. It's also a great way to add a little extra greenery to your home. On2 Pet's Cat Tree with leaves gives your kitty the chance to be a lion, all while staying safely inside your home. Made in the USA, it contains multiple perches on the inside and features a leafy exterior. Plus, the leaves are available in multiple colors, so you can choose the season!
Pros:
Unique design
Hidden tree for shy cats
Cons:
Some reviews say it's hard to put together
Hard to clean
Features:
Leafy design
Multiple perches
Details:
Dimensions: 26" L x 26" D x 60" H
Materials: Plastic, pressed wood, carpet
Color Options: Green, Fall, Plum, Summer
Weight: 33 lbs
$118 From Amazon
The Best Modern Cat Tower

Photo: @kellyfogelphotography
Metropolitan Cat Condo
Searching for a more modern cat tree can be challenging. There are many types of cat condos online but it's difficult to find more attractive places for your cats to hang out. The Metropolitan Cat Condo, however, delivers on everything you need in a modern cat condo. This sturdy cat tower is stunning while also subtle in that most of your houseguests won't even know it's a cat tree. The multiple levels give your cats a chance to find their own shelf and have some "me time".
There's room for multiple cats to climb up the many shelves of this chic cat condo and have their own spacious perch to lay on. No matter how many cats you have, there's space for them all! You even have the option for four plush cushions and one scratchpad (available in multiple colors) or five faux fur pads. All of the scratchpads and cushions on this cat condo are removable, cleanable, and replaceable. Mix and match the desired frame color and platform options to create the purrrfect cat condo to accent your home.
Pros:
Multiple levels
Plenty of space for multiple cats
Modern design,
Customizable to your home's decor
Lots of vertical space
Easy to clean
Easy assembly with all tools included
Features:
Easily blends into any home's decor
Mix and match frame color & platform color
Platform with built-in food bowl available
Hanging cat toy can be added on
Includes wall anchor for added stability
Cushions are removable for cleaning or replacement
Easy assembly, all tools included
Details:
Dimensions: 31" w x 15" d x 62" h
Platform: 13" h x 18.5" d
Materials: Metal, fabric, sisal
Colors: White, Gold, Grey, Black
Weight: 62 lbs
$349.99 From The Refined Feline
Best Inexpensive Cat Tower
Nova Microdermabrasion 53 Inch Multi-Level Cat Tree
If you're looking for a more budget-friendly cat tree for multiple cats then this inexpensive cat tree is a great option. This is a best-seller on Amazon due to the low price and it offers multiple places to play and lounge. However, you always get what you pay for! It probably won't look new for long and many reviews say that it is smaller than it looks in the photos. It will do the trick for the time being though if you have smaller cats and need something quick and cheap!
Pros:
Inexpensive
Multiple scratchers
Multiple lounge areas
Cons:
Reviews say it is smaller than it looks
Not made of durable materials
Hard to clean
Features:
Multiple spots to lounge
Multiple scratching areas
Details:
Dimensions:19.69" L x 15.75" W x 31.89" H
Materials: Carb environmental board, fabric, sisal
Color Options: Smoky grey, Light grey
Weight: 21 lbs
$59.99 From Amazon
Best DIY Cat Tower
DIY Cat Tower from Ikea
Most pet furniture requires some basic assembly, but this is purrrfect for the people who like to do it all themselves. With this DIY cat tower, putting it together will be fun and a little creative. Using parts from Ikea, combined with ContempoCat's platforms, you can easily make your own basic climbing structure for your cats. You can purchase the post and the brackets from Ikea, either in store or online. Then, you can get either 7 or 9 rectangular or kidney bean-shaped platforms from ContempoCat to finish the design. You can also mix and match the two styles of platforms to give your feline more room to relax. You can choose where to place the platforms throughout the structure which gives you better height adjustments than regular trees. Your cats will be climbing this while you're still putting it together!
Pros: Pros:
Customizable
High vertical space
Small footprint
Easy to clean
Cons:
Very basic
Only provides vertical space
No scratching space
Not aesthetically pleasing
Features:
Mix and match platforms
Adjustable height
Details:
Dimensions: Adjustable height from 87" to 137"
Materials: Aluminum with epoxy coating, carpet, wood
Color Options: White/tan
Weight: 28 lbs
$159-$219 From ContempoCat
Cat Tower: Frequently Asked Questions:
Does my cat really need a cat tower?
The answer is a resounding yes! Cat furniture may seem superfluous to you as your cat already uses all your stuff, right? While that's true, nobody really likes to borrow someone's belongings, either. Just like you have your favorite chair, your cat deserves a favorite perch or bed to call their own too. Cats love to explore and giving them options throughout the house to sleep, scratch, and lounge gives them more freedom.
Outdoor cats have endless possibilities for scratching and climbing, but indoor cats don't. Cats actually prefer being at eye level or above humans, and most furniture in a home doesn't allow for that. If you have multiple cats, they will want a space to call their own away from the other cats. Many cat trees offer enough levels to supply the need for space and territory. Cats will find a spot to sleep on no matter what, like your clean laundry. Having a central location for them to sleep will help deter them from finding spots in your house that aren't ideal.
What should a cat tower include?
The items on a cat tree can vary depending on your budget, your cat's needs, and how much space you have. However, cat towers should at least have some sleeping spaces, one out in the open and one that's more enclosed. Cat towers will usually already contain some sort of scratching post, which is necessary for promoting healthy nails. The taller the tower is the better. Cats love to climb and will find something else (like your drapes) if not given good alternatives. Giving your cat as much height as possible for them to climb is ideal.
Cat tower features vary greatly based on the price point you're looking at. If you already have a scratching post for your cat, having it on a cat tree may not be necessary. If your cat is regularly using the one you have, then smaller areas of sisal are good on the tree. The same goes for any cat beds you may have laying around the house. If your cat loves a few of them, then you may want a different kind of cat bed on your cat tree. If you have an older cat, you may want to find a cat tower that is easier to climb. Find the best cat tower to fit your cat's needs and personality.
How do I get my cat to use the cat tower?
After assembling the cat tower and placing it in a corner, your cat may not even be looking at it. Don't worry, though, as cats are bound to explore new things eventually. The cat tree may be the highest item in your house, which makes it a little intimidating to your cats at first glance. Placing catnip on the bottom and sprinkling it onto the scratching posts will entice your cats to check it out. They will get more comfortable around it, though, and will keep coming back and utilize it more and more. Placing their blankets or toys on the higher shelves will show them that this cat tree is also theirs.
Knowing what your cats enjoy the most will help you narrow down the choices above for the best cat tree. Whether your cat is zany or mellow, there's a purrfect cat tree out there for your cats!