Thinking about fostering a cat? The Refined Feline just fostered its first cat of 2020 and found her the purrrfect furever home so here are some tips!
It can be time consuming, you may lose some sleep, but it's definitely worth it! What is fostering? Most animal shelters and rescue groups have foster programs you can sign up for and they are almost always in desperate need of foster parents for many different reasons. Fostering an animal means that you'll care for that animal as if it's your own for an agreed-upon amount of time. Just like owning your own pet, fostered pets will most likely need to see a vet to get checked for illnesses, get vaccinated, and get fixed if needed. If you foster through a shelter or rescue program, those costs will be covered along with any needed supplies.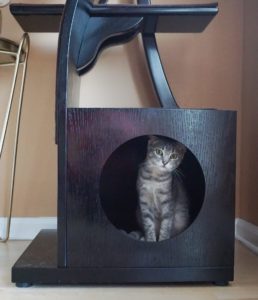 Why are fosters needed? When people bring kittens into shelters that are very young, these shelters rely on fosters to save them since very young kittens need care around the clock which a shelter usually can't provide. If the kittens have their mother with them they're easier to foster, you just feed the mom and get the kittens used to human contact aka playing with them! If the kittens don't have their mom they will need to be bottle-fed every few hours. Usually, if you foster young kittens they will only need to be fostered for a few weeks until they are ready to be adopted at around 8 weeks old! For everything you need to know about fostering young kittens, check out the Kitten Lady on youtube.
Let's be real though, it isn't cute ALL the time (only about 90% of the time). There are definitely Instagram-worthy moments, but there are also times when you'll think "what did I get myself into". If you have cats of your own, it is usually recommended to keep them separate (at least at first) just in case the fostered animal has any kind of sickness. This means that you'll have an extra litter box to clean, extra food dishes to clean, and there will probably be a lot of meowing while the cats are separated from whichever cat is not in the room you're currently in!
There are many reasons why cats need foster homes. Sometimes, a foster home is needed for a feral cat that underwent surgery and just needs a temporary place to heal before being returned to its outdoor home. Whatever the reason is, fostering saves lives and almost anyone with even just a spare bathroom can do it!
Also, prepare to get attached. We like to say that we won't, but as you care for the cat it is only natural. Don't worry though, if you find that you do get attached, fosters tend to get first dibs at adopting the cat!
If there is a local outdoor cat that you want to try to help, you can even call a local shelter or rescue and offer to foster that cat if they will support you. It's a good idea to find a rescue or shelter that will assist you with helping a stray or feral cat not only financially if needed but also with any questions you may have, especially if it's your first time! There are many public community groups on Facebook that you can also join to connect with other cat lovers and helpers in your community.
Not ready to become a foster parent? You can help prevent the need for more fosters in your local community by TNR'ing feral cats. Many cities offer to fix feral/stray cats for free and in Miami, Florida there is even a new program that will pay you to bring in a stray cat to get fixed and vaccinated. When you're ready to help, just call your local shelter and ask what you can do, we're sure they'll be happy to tell you!