As cat lovers, we know that our furry children deserve the world. From high-quality foods to the best cat furniture and toys, we want to ensure that our cats are as healthy and happy as they can be! However, for as long as we can recall, there has been an ongoing battle between our beautiful homes and the not-so-beautiful carpeted cat furniture from the pet store. Luckily, The Refined Feline is here to finally end this battle! 
The Refined Feline designs the best modern cat furniture that is durable, high quality, and made to blend in with your home's decor, instead of being an eyesore. Cat furniture from The Refined Feline is made to last all nine lives because all of the wearable parts are replaceable! The furniture is available in multiple finishes and some products even have multiple customizable parts so that you can design the best cat furniture to purrrfectly match your home's decor. With humans spending more time at home in 2020 than ever before, now is the best time to invest in your cat's happiness and your home with these cat-approved products from The Refined Feline!
The Refined Feline offers multiple solutions for your cat's litter box needs. From hiding the unsightly litter pans to keeping stray litter off of the floor, The Refined Feline is here to help.
With The Refined Litter Box Deluxe, you can discreetly hide your cat's litter pan as well as any accessories. This deluxe cat litter box furniture allows you to customize the size, color, front panels, and feet to purrrfectly match your home's aesthetic. 
Inside, you'll find a large storage drawer as well as a plastic litter liner to catch any stray litter. A litter catch is also available for purchase to catch litter as your cat exits the litter box. Whether your style is modern, or more modern farmhouse, there are dozens of combinations available so that you can design the right piece of furniture for your home.
The only ones who will know there's a litter pan inside are you… & your cat!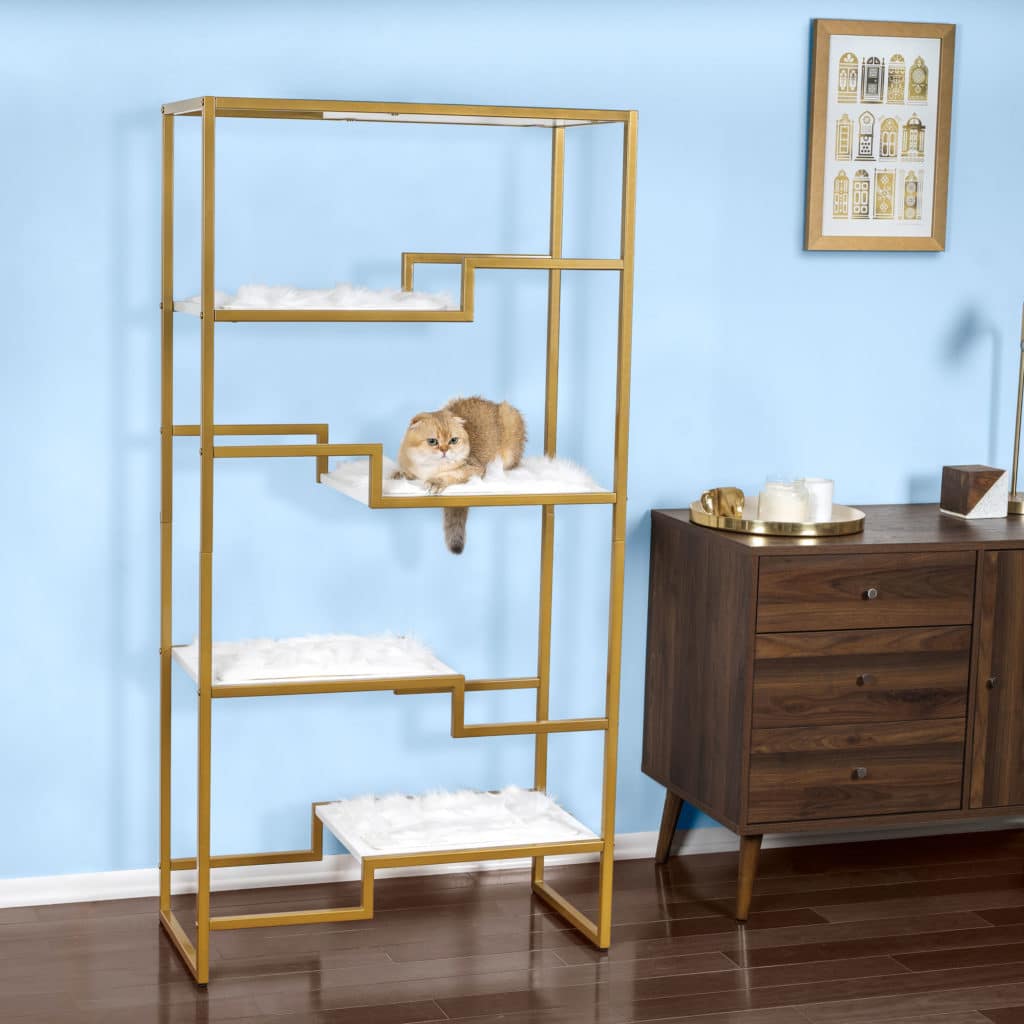 Cat Towers from The Refined Feline are ideal for cats of all sizes and can be customized to you and your cats liking. (With all of the extra perches, you'll have room to adopt more cats!)
At first glance, the Metropolitan Cat Condo may look like an elegant, yet standard metal-framed bookcase. However, your cats will quickly realize the Metropolitan Cat Condo was designed with them in mind. Its stepped design allows multiple cats to climb atop the condo, as each large platform provides ample room to perch.
Mix and match the frame color and platform color to match your home! The sisal scratchpad and the platform coverings are both available for replacement and the platform coverings can be removed and washed as needed! You can even replace one of the platforms with one that includes a food bowl.
Your cats will love to race up their personal perches and you'll love how this modern design looks in your home.
The Refined Feline designs cat beds that are both beautiful as well as functional. These 2 in 1 designs save valuable floor space and also add to your home's aesthetic.
The Purrrrfect End Table is an elegant bed for your cat to crawl into and also doubles as an end table or nightstand. Two curved sisal panels provide your cats ample area to claw when they are not nesting inside. The machine-washable cushion inside gives felines a soft spot to curl up onto for a comfy catnap.
If the sisal panels wear or cushion stains you don't have to worry, replacements are available. Your cat will love to crawl inside and stay close by and you'll enjoy how it looks in your home.
The Refined Feline offers some of the best modern cat furniture available for people who love their cats just as much as their home's aesthetic. You no longer have to compromise your home's decor to enrich your cat's lives indoors. From cat beds to wall shelves, towers, and more, you'll find all the cat furniture to suit you and your cat's needs at TheRefinedFeline.com. Make sure to stop by our virtual booth during CatCon to see more!